The ProShares Ultra Euro ETF (ULE) has declined by about 20% this year since hitting its peak at 18.87 in February 2018. The EUR/USD is currently trading at about 1.14. Recent hawkish sentiment from the ECB is attracting bullish bets on the euro and could make it an attractive time to buy into ULE.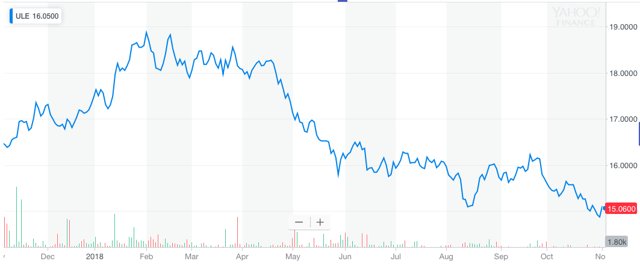 (Source: Yahoo Finance)
Hawkish ECB
On October 25, 2018, the ECB decided to keep rates on hold, and it also reaffirmed that its asset purchase program will end this year and that the current pace of monthly purchases will be 15 billion euros till December 2018.
Improving economic conditions are allowing the ECB to shift towards a more hawkish stance. September inflation came in at 2.1%, and inflation for October will release on November 16, 2018, which is estimated to be 2.2%.
Given that the ECB aims to keep the rate of inflation below, but close to, 2%, it makes sense for the ECB to turn more hawkish, as inflation is presently above target. In fact, inflation in Europe's biggest economy, Germany, reached 2.4% in October, the highest it has been in years. Higher inflation numbers will encourage the ECB to become more hawkish, hence betting on a rising euro using ULE could be a wise bet to make.
Higher Oil Prices
Higher oil prices are the main culprit for the higher inflation in Europe and across the world. Crude Brent oil is presently at around $73.24. While it is not at the $84 level it was recently, the price is still relatively high. Oil prices have rallied in part due to US sanctions being put on Iran, which will limit supply from the country, pushing up the price of the commodity. However, the US could exempt certain countries from buying oil from Iran, which may ease the rallying oil price. Nevertheless, other countries like Saudi Arabia are also able to replace any lost oil supply from Iran. Therefore, one should keep in mind that if the rally in oil prices unwinds, this would ease inflation as well, which would lead to lower inflation and a less hawkish ECB, and thereby put a cap on any rally in the euro. Any traders/investors that looking to make bullish bets on the euro through ULE should keep a close eye on oil prices, as this could drive the euro higher or lower as well.
Italy Fiscal Crisis
Italy is facing a major budget deficit and debt problem. It presently has a public debt level of 132% of GDP. Moreover, on October 23, 2018, the EU rejected Italy's budget deficit plans, which has created greater volatility in the markets and put pressure on the euro. To bring this Italian fiscal crisis under control, the EU is working on an Excessive Deficit Procedure (EDP) to bring the nation's high debt levels back down. Hence, actions by the European Commission would help ease the pressure on the euro to allow it to rally higher.
However, euro bulls should take into consideration that given that the ECB will end its bond purchasing stimulus program, this will remove support for sovereign debt securities. Over the past few years, the ECB's stimulus provided a sort of backstop in periods of market stress, like the one we are seeing in Italy. The fact that the ECB will continue on its hawkish path regardless of the Italian crisis means that from the beginning of next year, any potential sovereign debt crises will lead to more volatility in the markets, and in turn, put more bearish pressure on the euro as well. Therefore, for those who are considering buying into ULE, be aware of the potential risks that may lie ahead due to the absence of ECB's stimulus efforts.
Strategy
It is a good time to long the euro amid the increasingly hawkish ECB. Keep in mind that there could be dips in ULE, as the value of the euro may fall against other currencies anytime negative sovereign fiscal headlines appear. But as long as the European Commission is able to take such situations under control, such as the actions it is taking with Italy, these dips may offer good buying opportunities.
Disclosure: I/we have no positions in any stocks mentioned, and no plans to initiate any positions within the next 72 hours.
I wrote this article myself, and it expresses my own opinions. I am not receiving compensation for it (other than from Seeking Alpha). I have no business relationship with any company whose stock is mentioned in this article.