Another month in the books and we are inching closer to the end of the year. I recently just broke last year's dividend record at the end of Q3. Since then, it has been a pretty uneventful October for my portfolio.
I was able to make one purchase. A few weeks ago I started a position with Bank of Nova Scotia (NYSE:BNS). The position is still relatively small, but the 19 shares I bought will generate another $49.97 to my yearly dividend income or $12.49 per quarter. BNS pays out in the first month of every quarter, but I missed the ex-dividend date so will not be recognizing any dividends from it until next year.
But we are here to review the monthly dividend results, so let's see how we did.
Dividends
CSCO - $7.65
GE - $4.70
CINF - $7.33
KO - $14.19
CAH - $5.43
O - $6.71
LTC - $3.44
October dividends add up to $49.45 which represents an increase of 5% from last year where I made $47.10. These dividends came from 7 companies which is the same amount that paid me last year in the same month. Below are some charts from my portfolio page to better visualize the results.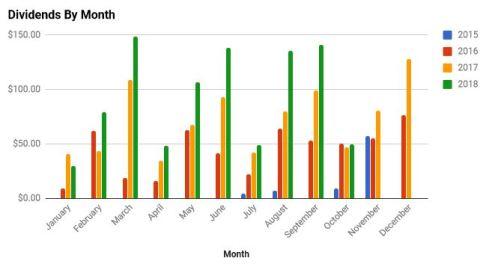 As I mentioned before, the first month of every quarter is usually pretty uneventful for me. October was no different. The past few years the only growth is coming from dividend reinvestment. No complaints about having 5% dividend growth just for holding. Next year will be different with the latest addition of BNS.
I didn't quite hit the $50 mark, but should be able to accomplish that next year with the help of dividends reinvested, dividend increases, and new purchases. There hasn't been many opportunities to expand on these positions lately since capital is limited and it has been going into other companies with more value. It will just take a little time to build these up when the opportunities present themselves.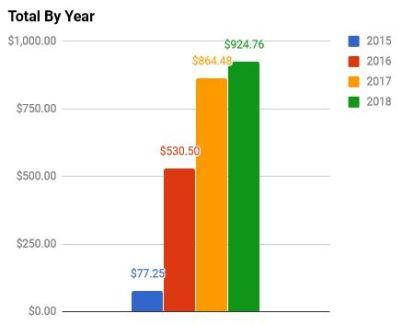 I am pretty happy with these results. Coming up just shy of my goal of $1,000 and my first ever four-digit dividend year. I should easily hit this number by the end of November and make some good progress for a higher all time yearly record to use as a benchmark for next year.
How did your portfolio perform in October? Did you achieve any big growth or even a decrease? Was it a slow month for your dividends as well? Any companies that you are looking at right now to purchase or any that have great value right now to you? Comments are always welcome below.