The S&P 500 gained 2.42% last week in a recovery rally. The good news is that there has been (1) wave after wave of positive third-quarter earnings announcements, (2) more big stock buy-backs, and (3) mergers like Electro Scientific (NASDAQ:ESIO) accepting a $30 per share buyout offer from MKS Instruments (NASDAQ:MKSI), which was announced in conjunction with ESIO's better-than-expected sales and earnings announcement.
(Navellier & Associates owns ESIO, and MKSI, in managed accounts and a sub-advised mutual fund. Louis Navellier and his family own ESIO, and MKSI via the sub-advised mutual.)
This is likely the first of many acquisitions to be announced in the upcoming weeks, now that many top-quality stocks are trading at bargain prices, with historically low price/earnings ratios. Companies often postpone their dividend increases, stock buy-backs, and acquisition announcements until their quarterly earnings are released; so, as this earnings season winds down, I expect to see more positive news!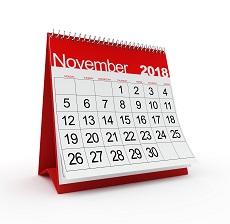 I for one am certainly happy that October is over, since it was the worst month since February 2009 for most stock market indices. Fortunately, November is a seasonally strong month. The Dow Industrials have risen an average of 1.35% and 1.87% in the past 50 and 20 years, respectively, according to Bespoke Investment Group, making November the third best month in both time frames. An early "January Effect," boosting small capitalization stocks, typically commences in November, usually around Thanksgiving,
I also expect to see the stock market celebrate the fact that the mid-term elections will mercifully be over tonight. No matter the outcome, this day removes much of the uncertainty that has been distracting many investors. I live in two swing states, Florida and Nevada, and I have been shocked by the long lines for early voting. Since there appears to be record turnout, we may see some surprising results tonight!
Arbitrage Traders are Targeting Tech Stocks
The arbitrage trade of selling the Nasdaq 100 (NASDAQ:QQQ) and buying the S&P 500 (NYSEARCA:SPY) temporarily took its toll on many popular technology stocks. Despite high-volume selling pressure in recent days – which is providing plenty of evidence of capitulation and a nice rebound – Wall Street loves to retest recent lows, so we may not officially be "out of the woods" until we get another attempted retest out of the way.
In the meantime, the discounts on ETFs relative to their net asset value (NAV) remain problematic; so much so, that in our ETF portfolios, we had to wait for upticks to sell all our ETFs and are now parking those proceeds in two Treasury ETFs staggered along the yield curve. My Monday podcast discussed this.
As more technology stocks announce better-than-expected quarterly results, I hope that they will finally help to "break" this popular arbitrage that has resulted in relentless selling in technology stocks, many of which have posted stunning sales and earnings. Fortunately, in recent days, Amazon.com (NASDAQ:AMZN) has started to recover and Nvidia (NASDAQ:NVDA) has rebounded sharply, after being upgraded by J.P. Morgan.
Approximately 63% of the stocks in the S&P 500 have announced their third-quarter results and so far annual sales and earnings have risen by 8.2% and 25.1%, respectively. There is a lot of talk about the third quarter being "peak earnings" season, but that is what I also heard about first-and second-quarter earnings. The wild card is the amount of stock buy-backs that will occur in the upcoming weeks. So far this year, stock buy-backs are running 88% above a year ago and the S&P 500 is on track for at least $800 billion in stock buy-backs in 2018. However, due to the October correction, I expect that companies will accelerate their stock buy-back pace, so $1 trillion in stock buy-backs are now quite possible in 2018!
After the arbitrage selling in the Russell 2000 that crushed small capitalization stocks in October, most are still grossly oversold and poised to rally strongly, especially in the wake of better-than-expected third-quarter results. So far, the average small-capitalization stock is posting approximately 35% third-quarter earnings growth, versus 25% for the S&P 500. Furthermore, a strong U.S. dollar typically benefits small-cap domestic companies, so I expect a massive resurgence in small-cap stocks commencing in November.
(Navellier & Associates owns NVDA, and AMZN, in managed accounts and a sub-advised mutual fund. Louis Navellier and his family own NVDA, and AMZN via the sub-advised mutual fund and AMZN, and NVDA in individual accounts.)
Economic Indicators Turn Positive Just Before Election Week
The economic news last week was mostly positive. On Tuesday, the Conference Board announced that consumer confidence surged to 137.9 in October, up from a revised 135.3 in September. Consumer confidence remains at the highest level in 18 years (since 2000) and bodes well for a record holiday shopping season. The Conference Board's present situation index rose to 172.8 in October, up from 169.4 in September and is also at an 18-year high. Finally, the Conference Board's future expectations index rose to 114.6 in October, up from 112.5 in September, which is (you guessed it) at an 18-year high!
On Thursday, the Labor Department announced that productivity rose at a very healthy 2.2% annual pace in the third quarter and was revised up to a 3% annual pace in the second quarter. These big productivity gains tend to boost wages and help prosperity rise. In the past 12 months, productivity has only risen 1.3%, despite being strong in the second and third quarters, so the recent productivity surge is great news.
The only downer came Thursday when the Institute of Supply Management's (ISM) manufacturing index slipped to 57.7 in October, down from 59.8 in September. Even though any reading above 50 signals an expansion, the ISM manufacturing index is now running at the slowest pace in six months. The new orders component slipped to 57.4 in October, down from 61.8 in September. Furthermore, the production component slowed to 59.9 in October, down from 63.9 in September. This deceleration in manufacturing is consistent with the massive inventory buildup in the third quarter, which was responsible for 2.1% of the 3.5% estimated GDP growth in the third quarter. Typically, when there is a big inventory buildup in one quarter, the next quarter inventories are depleted. As a result, GDP growth is expected to decelerate in the fourth quarter, which the October ISM manufacturing report is essentially confirming.
The big news on Friday was the Labor Department's payroll report, which reported that 250,000 payroll jobs were created in October, substantially above economists' consensus estimate of 188,000. The August and September revisions, when combined, were essentially unchanged. Unemployment remains at 3.7%, a 49-year low. Average hourly wages rose 5 cents to $27.30 per hour and are up 3.1% in the past 12 months. Previously, on Wednesday, ADP reported that 227,000 private payroll jobs were created in October, the highest pace in the past eight months and well above consensus expectations of 189,000.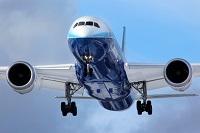 Also on Friday, the Commerce Department announced that factory orders rose 0.7% in September due to strong demand for transportation equipment, especially from Boeing (NYSE:BA). August factory orders were revised higher to a 2.6% increase up from 2.3% previously reported. Factory orders have risen 8.4% in the past 12 months and are painting a positive picture of manufacturing activity.
(Navellier & Associates owns Boeing, in managed accounts and a sub-advised mutual fund. Louis Navellier and his family own Boeing via the sub-advised mutual fund and in individual accounts.)
Finally, the Commerce Department announced that the trade deficit rose 1.3% in September to $54 billion, but trade keeps expanding. Exports rose 1.5% to $212.6 billion and imports rose 1.5% to $266.6 billion. The trade deficit with China rose $3 billion to $37.4 billion, which is not surprising due to new iWatches and iPhones, as the demand for imported consumer goods rose by $2 billion in September.
Trade talks may happen soon. Bloomberg reported that President Trump had a positive call with Chinese President Xi on Thursday and subsequently instructed his Cabinet to draft a proposed trade deal with China. That helped to alleviate recent trade fears, which could set the stage for a strong year-end rally!
Disclosure: *Navellier may hold securities in one or more investment strategies offered to its clients.
Disclaimer: Please click here for important disclosures located in the "About" section of the Navellier & Associates profile that accompany this article.