US mid-term elections this week will be key to say the least.
Trump's election in 2016 meant that the Republicans currently control the House and Senate, making it easier for him to push through his bills. The Republicans currently control 51 seats in the Senate, versus 47 for the Democrats. 34 seats in the Senate will be up for election this week, with the Democrats having to defend 25 in contrast to 9 for the Republicans.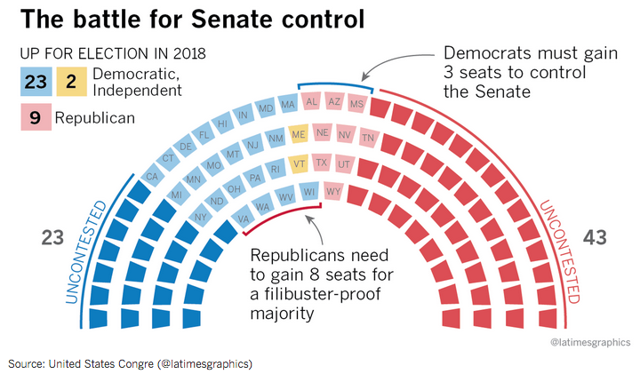 A change in control in the Senate from Republican to Democrat hands might increase the probability of political gridlock, which should be seen as risk-negative. Already, Trump appears to be ramping up the stakes by allegedly promising a 10% tax cut for the middle class. The timing of the announcement was uncannily close to the mid-terms this week, and reeks of a populist promise built on shaky grounds to sway last-minute votes.
Trump also claimed he spoke with Xi Jinping and had productive talks with him regarding trade. This led to a relief rally in equity markets in the first week on November, but once again, I am highly skeptical about the timing of Trump's statement. A last-minute boost to the US equity market will not harm Trump's prospects in the election for sure.
This week, the Federal Reserve meets Nov 7-8. This is another crucial event that must not be overlooked by investors. Although the Fed will most likely stand pat on policy during the meeting, Jerome Powell's press conference will be closely watched for clues on the Fed's rate hike trajectory. Higher Treasury yields have arguably spooked the equity markets, and the Fed's monetary policy direction going into 2019 will be crucial for risk sentiment.
The US 2-year Treasury yield closed last week at 2018 highs of 2.91 after a blockbuster 250,000 non-farm payroll print last Friday, indicative of the market's view that rates are on the rise.
Going into election week, a large amount of volatility should be expected in the equity markets, regardless of the outcome. The Fed meeting right after elections might be a potential banana peel as well. I suggest taking out the event risk and de-risking one's equity portfolio prior to the election on November 6. Support for the S&P 500 should come in lower around 2550, which represents a potential 6% drop from current levels.

Hang on tight, November should be a wild ride.
Disclosure: I/we have no positions in any stocks mentioned, and no plans to initiate any positions within the next 72 hours.
I wrote this article myself, and it expresses my own opinions. I am not receiving compensation for it (other than from Seeking Alpha). I have no business relationship with any company whose stock is mentioned in this article.