The S&P-500 (SPY) has pulled back 11.5% from its highs as of last week's lows, and this has allowed sentiment to come back to more neutral levels. While many analysts are citing current sentiment readings as overly pessimistic and consistent with levels we get at bottoms, I would tend to disagree. It is true that sentiment across some indicators is at levels where swing lows occur after normal 5-7% dips, but it is not consistent with swing lows we see after what I term as corrections (10%+ pullbacks). This distinction is important as 10%+ corrections should instill more fear in market participants than run of the mill 5-7% dips. Based on sentiment alone, I would be very surprised if we are out of the woods yet. The most likely scenario in my opinion is a pullback to these lows at 2595 or an undercut of these lows before a bottom is established.
Taking a look at the daily chart of the S&P-500 below, we have rallied up to the underside of the broken 200-day moving average, and the 50-day moving average has now assumed a negative slope. This is a negative development for the index as the bears are showing follow-through to their early October drive by keeping a lid on price. Previous pullbacks to the 200-day moving average (yellow line) were immediately bought up over the past two years, and that's why this breakdown is clearly a change of character. We can see in the bottom chart below that the market tested this 200-day moving average four times since the 2016 breakout during Brexit, the November Election, the February correction, and the March/April re-test. The current test was the only one that spent more than a day below the 200-day moving average.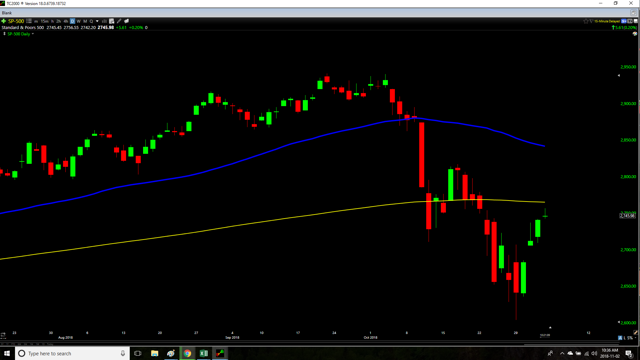 (Source: TC2000.com)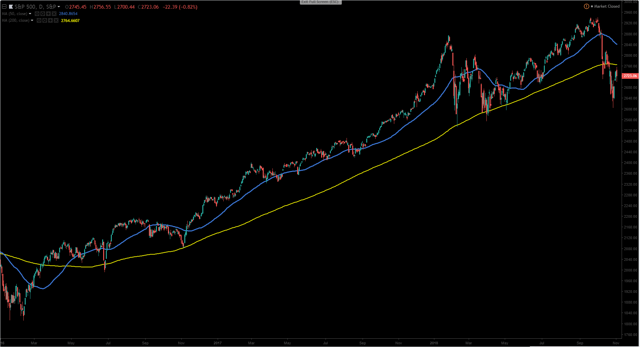 (Source: TradingView.com)
The last time we broke below the 200-day moving average and the 200-day moving average assumed a negative slope was in September of 2015. As we know, this saw the market experience a sharp 10% pullback that eventually turned into a 15% decline and a period of 6 months with the market making no real progress. A chart of this period is shown below: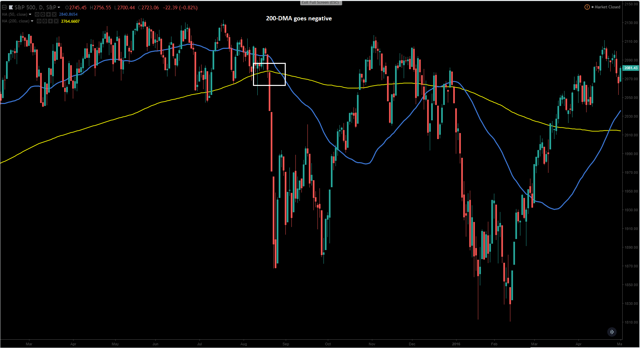 (Source: TradingView.com)
As we can see from the above chart of Q3 2015 to Q1 2016, the 200-day moving average being broken and it's slope moving to negative halted the bull market for nearly 7 months. This was not a time one wanted to be 100% invested as this is what I would term as a mini bear market. While a 15% pullback in the indexes doesn't look bad, the Russell 2000 (IWM) was down 27%, and the average small-cap growth stock was down closer to 30-35%. These types of declines can lead to serious draw-downs in one's portfolio if they choose to stay completely invested.
We've also heard a lot of talk that this pullback is simply a routine pullback like October 2014 where the markets pulled back 10%+ and immediately catapulted back to their highs within a month. While I would agree that the 2013-2014 was very similar to the 2016-2017 environment with a lower volatility grind higher on the indexes, I don't believe the corrections are all that similar. Let's take a look: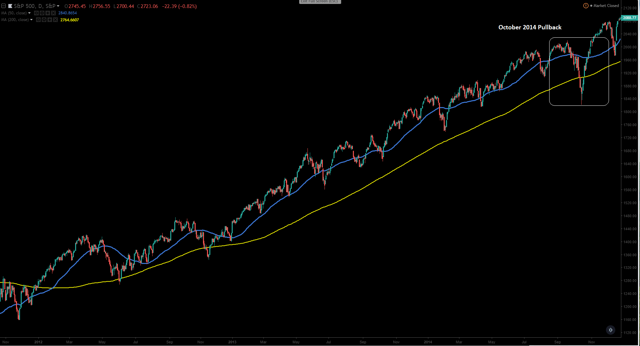 (Source: TradingView.com)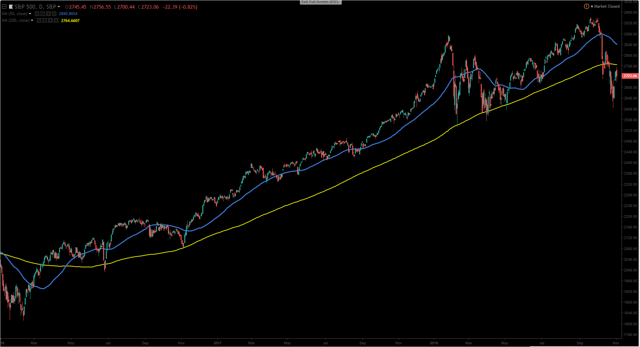 (Source: TradingView.com)
Taking a look at the above two charts, there's no question we have quite similar markets. We have the S&P-500 starting a new uptrend, testing the 200-day moving average twice in six months after starting this uptrend, and then grinding higher for nearly 18 months without testing this level again. The difference in the two charts comes with the pullback. While the October 2014 pullback did break below the 200-day moving average, it did not stay below it. This immediate reversal back above the 200-day moving average did not allow any lasting damage to individual stocks, and it did not allow the 200-day moving average to go negative. We can see a zoomed in look at 2014 below: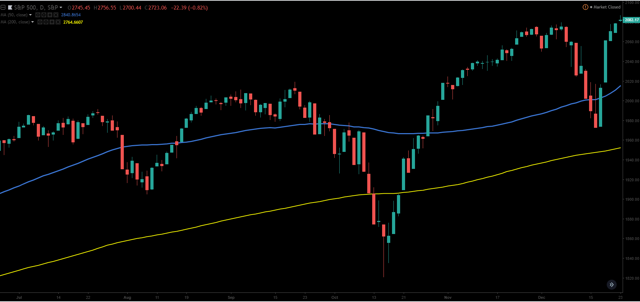 (Source: TradingView.com)
As we can see from the above chart, the S&P-500 spent a total of 6 trading days below its 200-day moving average before regaining it with a strong 1%+ up day showing conviction to reclaiming this level. We've currently seen 13 trading days below the 200-day moving average and this is nothing like the shake-out we saw in 2014.
In my opinion, it was sentiment that helped the October 2014 bottom to be so V-shaped. We can compare the two periods by looking at sentiment indicators below:
NAAIM Exposure Index
Taking a look at the National Association of Active Investment Managers (NAAIM) Exposure Index Survey, the fear we saw in the October 2014 pullback is not even remotely similar to the current reading. The NAAIM Exposure Index measures current exposure by active managers using a survey from a reading between -200 and +200. Before going into more analysis on the indicator, it's worth noting how the data is derived.
The range of responses that active managers can state for their positioning is as follows:
Range of Responses:
200% Leveraged Short
100% Fully Short
0% (100% Cash or Hedged to Market Neutral)
100% Fully Invested
200% Leveraged Long
(Source: NAAIM Exposure Index)
The most bullish reading would be a +200 which would be leveraged long, while a reading of -200 would be the most bearish reading at leveraged short. A reading of 0 then would be completely neutral and 100% cash.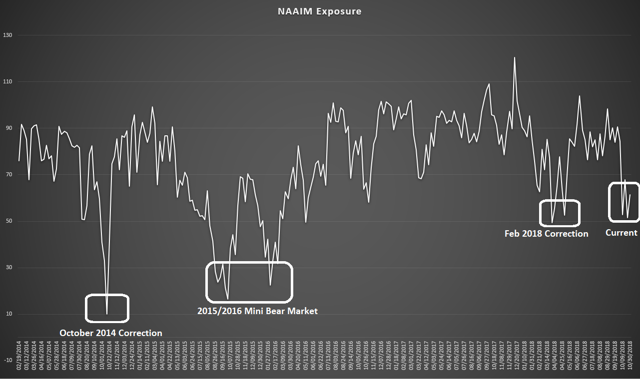 (Source: NAAIM Exposure Index)
As we can see from the above chart of the NAAIM Exposure Index, the October 2014 correction saw NAAIM Exposure drop from a reading of 80% down to 10% within a matter of three weeks during the 10% correction for the S&P-500. The current period has seen the NAAIM Exposure Index drop from a reading of 90% down to 61%. This is a massive divergence on this indicator alone, especially considering that this pullback has actually been 15% deeper at roughly 11.5% vs. 10.0% in October 2014. While this is where the market bottomed during the February correction, I wouldn't consider this pullback to be all that similar to the February correction. We never broke the 200-day moving average during February, we did not see the majority of the market leaders 20%+ off of their highs, and we didn't see the 200-day moving average roll over.
AAII Sentiment Survey
Taking a look at the AAII Sentiment Survey below, we also can see that there's minimal fear out there. Bullish Sentiment currently sits at 37.9% bulls which is just a few ticks below the historical average of 38.5%. We actually had a reading of 36.2% bulls on September 26th just before this correction started, and therefore we have more bulls currently on AAII than we did while we traded 8% higher on the S&P-500. Moving to the bearish camp, we have not converted all that many participants to bears. While we had a reading of 31.1% bears on September 26th, we currently have a slight bump up to 34.5% bears. There's no question that it's nice to see bearish sentiment slightly above the historical average of 30.5%, but this type of reading is nowhere near a wash-out levels.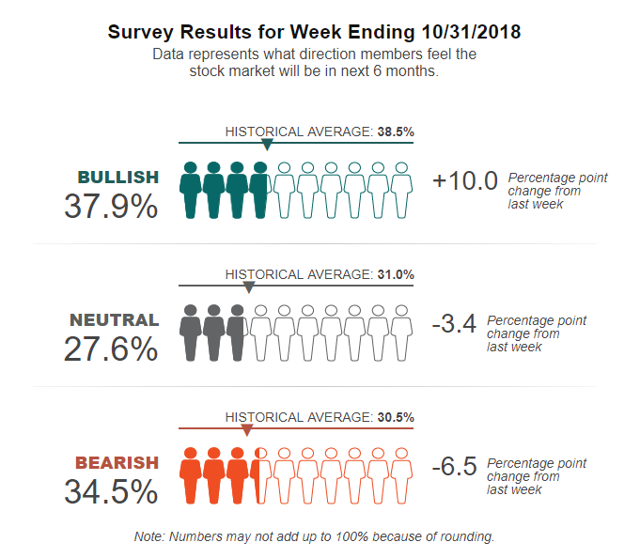 (Source: AAII Sentiment Survey)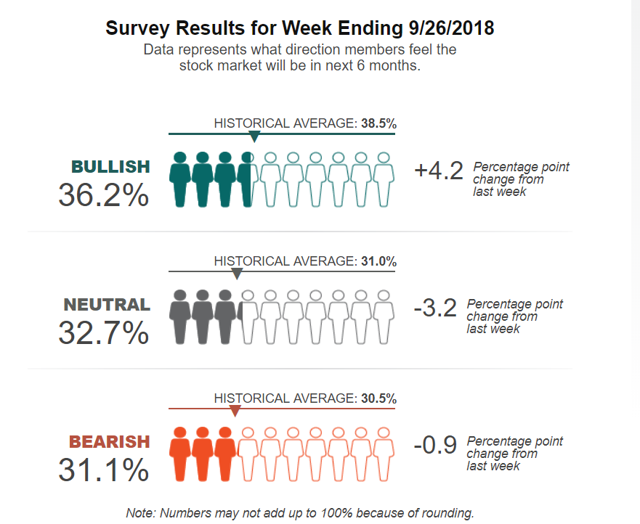 (Source: AAII Sentiment Survey)
Despite the market seeing a reasonable correction of 10%+, we're not seeing any real fear out there. Market participants have been so conditioned to buy the dip that there's absolutely no fear left in doing so. This is because the bulls have been bailed out so many times by doing this that they don't know what losing money feels like anymore. While it's entirely possible that the market has bottomed and these sentiment indicators have suddenly become obsolete overnight, I'm less inclined to believe that. 10% corrections require a certain level of fear to set up durable bottoms and we are not seeing any evidence whatsoever of a wash-out in sentiment. There is no question that we now have market participants more fearful than they were in September, but the current readings in sentiment are consistent with bottoms after dips, not bottoms after corrections. Based on the fact that the market remains below its 200-day moving average, we have yet to see widespread fear, and most commenters are bragging about the great prices they bought on the dip, I see higher odds of the low at 2595 being re-tested or under-cut before the lows are in. The best case scenario I see for the bulls is a higher low near the current low for this drop which would be near the 2645 area.
For the above reasons, I remain positioned defensively as I'm not completely sold on the lows being in just yet. I am not worried about the market running higher by another 2-3% without me in the interim, I am interested in the stocks themselves and not the index. If I was worried what the market was doing while the Dow (DIA) grinded higher in early October to a new high, I would have been buying stocks instead of raising cash like I was at the time. The majority of stocks remain under pressure technically, 70% of the Nasdaq (QQQ) is below its 200-day moving average and this oversold bounce has not done much to improve the technical picture for stocks themselves. It's impossible to know how much a market is going to pullback when we see damage to the market leaders, and that's why my motto is to get out of the way early before the damage is there. Is there a good chance of this turning into a 20-25% correction? Not very likely. Having said that, we are in the second longest period without a 20%+ correction in history so anything is possible. Cash is a position if one knows under what conditions their system performs best, and a market under its 200-day moving average with the leaders being taken out and shot is not a market my systems thrive in. Until that changes, I plan to remain more defensive.
Disclosure: I/we have no positions in any stocks mentioned, and no plans to initiate any positions within the next 72 hours. I wrote this article myself, and it expresses my own opinions. I am not receiving compensation for it (other than from Seeking Alpha). I have no business relationship with any company whose stock is mentioned in this article.