Apple (AAPL) has finally broken a negative trend it was showing for the last 11 quarters. In the most recent quarter, Apple reported operating margin of 25.62% compared to 24.95% in the year ago quarter. This improvement in the operating margin was possible due to significant cost savings in the bill of materials of iPhone Xs. While Apple increased the retail price of iPhone Xs Max by $100 compared to the iPhone X, the BOM increase was only $20.
Apple has also declared that it will stop providing unit sales/ASP numbers from the next quarter. One of the effects of this change is that more attention will now be given to other important metrics like operating margin. If Apple can manage to keep the BOM of iPhone Xr under control, we should see similar operating margin improvement in the important holiday quarter. Future trends in operating margin will also depend on the sales mix of Services segment which has huge variation of margins in different verticals like Music, App Store, advertisement, etc.
Some good news
Apple has seen continuous decline in operating margin since 2015. There are a number of reasons for this. Its R&D expense has shown rapid growth in the last few years. The trailing twelve month R&D expense stands at $14.24 billion or 5.36% of the total revenue.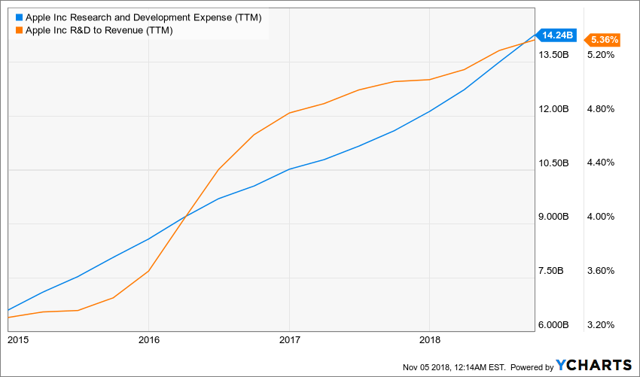 Fig: Growth in R&D expense in the last few quarters
Another big reason is the change in the product mix of Services segment. Although, Apple has shown rapid Services growth, some of the verticals like Apple Music have very low margins. Ben Schachter with Macquarie Research has mentioned in his report that Apple Music's gross margin could be as low as 15% while Spotify (SPOT) has a 25% margin. This is in stark contrast to App Store which is believed to have gross margin of over 90% in this report. As Apple tries to expand its presence in online streaming we could see further negative hit to the margins.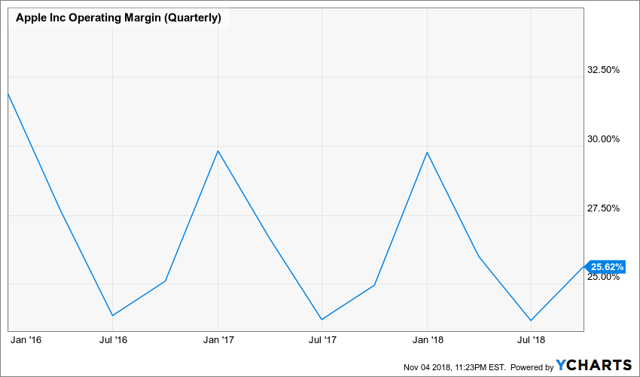 Fig: Year-on-Year fall in operating margin in the past few quarters
The decline in operating margin has been stopped in the recent quarter. In September 2015, Apple reported operating margin of 28.39% while in September 2017 it was 24.95%. This equates to 344 basis point of decline. From June 2015 to June 2018 the decline was 471 basis points and for the March quarter it was 551 basis point of decline.
The recent 25.62% operating margin equates to an uptick of 67 basis points from the year-ago quarter. The main reason behind this increase has been cost savings in bill of materials of iPhone Xs Max. Last year, Apple sold iPhone X at retail price of $999 for the basic model. This model had a BOM of $370 according to IHS teardown. Hence, BOM was 37% of the retail price. Despite a larger screen size and some improvements, iPhone Xs Max has seen only $20 increase in BOM to $390. Hence, BOM is 35.48% of the retail price for iPhone Xs Max.
Will this trend continue?
This is the big question which needs to be asked. Is this current uptick in operating margin a one-off thing? In my opinion, Apple could continue to show marginal improvement in operating margin from year-ago quarter if it is able to keep the BOM of iPhone Xr under control. Gene Munster of Loup Ventures has estimated that iPhone Xr will corner close to 40% of the total iPhone sales in this cycle. Hence, if this model has a BOM under $270 it would be less than 36% of the retail price. At this level, Apple should certainly be able to show better operating margin for the remaining quarters.
Another big piece in the puzzle is the individual services which contribute to the Services segment. Most of the news after the recent earnings have been focused on lack of information about iPhone unit sales. However, it should also be noted that the management has agreed to provide the cost/margins of major services like App Store, Music, cloud storage, mobile payments, etc.
This segment consists of services with widely different business models and margins. There are also a number of conflicting trends within this segment. App Store is believed to have gross margin of over 90%. However, it can face pressure on commission as Apple grows its own streaming business. Several major contributors to App Store revenues are already taking steps to move their payments outside App Store.
Similarly, Music and online content streaming will probably have much lower gross margins compared to other services. Morgan Stanley's Katy Huberty mentioned that Apple could build a subscription Media business by combining Music, Video, news and other media options. According to the report, this vertical can show revenue of $37 billion by 2025.
On the other hand, some verticals within Services segment will have a positive impact on margins. Apple is rapidly growing its ad business. By 2020, it could have a $2 billion ad revenue with a long runway for growth. This vertical will have higher margins, similar to other online ad giants. Its cloud storage vertical is also showing huge potential.
Overall, it should be easier to do a sum-of-parts valuation when Apple shows the individual costs for different verticals within Services segment.
Valuation
Even after the recent correction, Apple's stock is quite expensive when we look at the historical valuation multiple given to the company.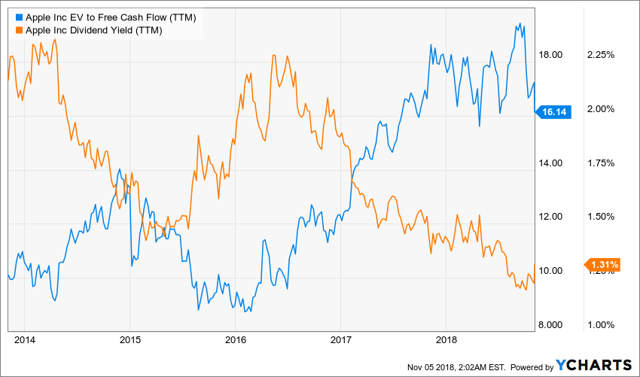 Fig: EV to FCF multiple over the last five years
It would take the market some time to adjust to the lack of information on unit sales. Apple's management has made it clear that they value growing the Services business over all other metrics. If Apple is able to deliver stronger growth in higher margin Services verticals, it would provide a better sentiment for the stock.
Investor takeaway
Apple has been able to reverse a negative trend of falling operating margin in the recent quarter. After 11 straight quarters of falling operating margin, the company showed 67 basis points YoY improvement in this metric. We could see further increase in margin if iPhone Xr's bill of material is under control.
Over the longer term, Apple's performance in individual Services verticals will set the pace for the company wide margins. Although the stock has shown decent correction, the company faces a number of strong headwinds in the next few quarters. We could see further bearish sentiment in the stock as these headwinds are priced in.
Disclosure: I/we have no positions in any stocks mentioned, and no plans to initiate any positions within the next 72 hours.
I wrote this article myself, and it expresses my own opinions. I am not receiving compensation for it (other than from Seeking Alpha). I have no business relationship with any company whose stock is mentioned in this article.