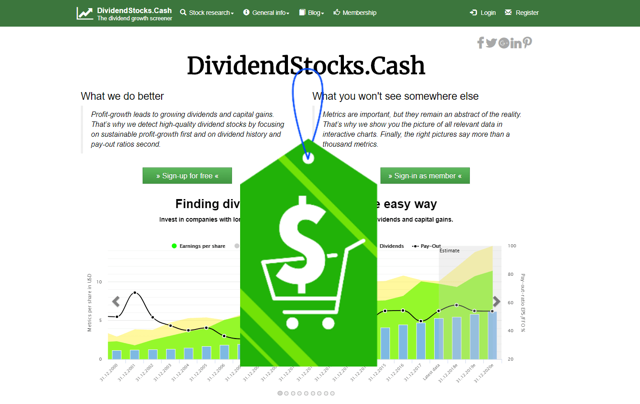 Welcome to the October's edition of "U.S. Dividend Stocks On Discount". Each month, I create a list of U.S. dividend stocks with more than 5% discount in the last month. The purpose is to identify potential bargains for dividend investors.
Though, we need to be careful! As you surely know, a dropping stock price typically means one of the two things: either it is an opportunity to get more bang for your buck, or it is a warning sign that the company is facing serious headwinds and future dividends may be in trouble.
To assist you in evaluating the situation, I look at the 3 dividend stocks with the highest discounts. The objective is to give an overview of the company's current situation by checking the most essential aspects. Namely:
Checking the long-term profit-growth based on earnings and cash flows.
Checking if dividends are secure by looking at cash flows, and if necessary debts and assets as well.
Checking the current valuation using a dividend focused perspective by comparing current to historic dividend yield. This is done by what I call the relative dividend yield, which is based on the logic of the implied volatility rank used in option trading. In short, the relative dividend yield examines the current dividend yield in relation to its historical context. The metric's value ranges from 0 to 100. 100 means the current dividend yield is on all-time-high. If the current dividend yield is on all-time-low, the relative dividend yield is 0.
Checking the current valuation by calculating fair values based on historic multiples of metrics like earnings per share (FV PE), operating cash flows per share (FV OCF) or fund from operations per share in the case of REITs.
Please do not expect multiple in-depth analysis in this one article. Instead, I present to you what I think to be the most essential aspects to give you a solid idea if it's worth digging deeper.
The list of dividend discount stocks considers more than 300 of the most popular dividend stocks in the U.S. To ensure a minimum quality and attractiveness of all stocks, each stock needs to match the following criteria:
Dividend increase of at least 5 years in a row (dividend contender)
Current dividend yield of at least 2%
Market capitalization of at least 1 billion USD
Before we start, let's look back at what happened to the stocks on discount in the previous edition of September.
| Symbol | Company | Discount % | Yield % | Relative Dividend Yield | Years Of Dividend Increase |
| --- | --- | --- | --- | --- | --- |
| | Mercury General | 20.2 | 4.2 | 8 | 31 |
| | Flowers Foods | 4.3 | 3.7 | 74 | 15 |
| | Public Storage | 3.2 | 3.9 | 40 | 8 |
| | General Mills | 2.6 | 4.4 | 85 | 14 |
| | Wells Fargo | 1.9 | 3 | 41 | 8 |
| | LTC Properties | -1.7 | 5.3 | 20 | 8 |
| | Digital Realty Trust | -7.2 | 3.8 | 14 | 13 |
| | Tompkins Financial | -7.9 | 2.6 | 33 | 31 |
| | Williams-Sonoma | -8.7 | 2.7 | 19 | 8 |
| | KLA-Tencor Corporation | -9.2 | 2.8 | 54 | 7 |
| | United Parcel Service | -9.3 | 3.3 | 45 | 8 |
| | Analog Devices Inc. | -9.4 | 2.2 | 12 | 13 |
| | Maxim Integrated Products | -11.4 | 3.1 | 23 | 7 |
| | Polaris Industries | -11.5 | 2.5 | 14 | 21 |
| | T. Rowe Price Group | -11.7 | 2.7 | 43 | 32 |
October's price changes of the stocks in the September edition of US Dividend Stocks On Discount.
The average capital loss of all stocks in October was -3.7% while the S&P 500 was down nearly 7.5%. Furthermore, GIS, LTC and WSM paid dividends in October (based on the ex-date).
New Dividend Stocks On Discount
Due to the heavy losses of the stock market, the table below contains the 15 U.S. dividend stocks with the highest discounts in October:
| Symbol | Company | Discount % | Yield % | Relative Dividend Yield | Years Of Dividend Increase |
| --- | --- | --- | --- | --- | --- |
| | Bank OZK | -27.1 | 2.9 | 68 | 20 |
| | IBM Corp. | -24.6 | 5.3 | 98 | 20 |
| | Stanley Black & Decker | -20.9 | 2.1 | 14 | 51 |
| | Caterpillar Inc. | -20.3 | 2.6 | 10 | 25 |
| | Occidental Petroleum | -19.3 | 4.5 | 81 | 15 |
| | Bristol-Myers Squibb | -18.6 | 3.1 | 20 | 11 |
| | Eaton Corporation | -18 | 3.6 | 38 | 9 |
| | Leggett & Platt | -16.8 | 3.9 | 19 | 47 |
| | Harley-Davidson | -16.3 | 3.8 | 27 | 7 |
| | General Dynamics | -16 | 2 | 29 | 27 |
| | Lockheed Martin | -15.5 | 2.7 | 32 | 15 |
| | Home Depot Inc. | -15.3 | 2.2 | 19 | 7 |
| | Microchip Technology | -14.7 | 2.1 | 9 | 14 |
| | Eaton Vance | -14.2 | 2.8 | 43 | 37 |
| | Nu Skin Enterprises | -14.1 | 2 | 23 | 16 |
15 U.S. dividend stocks with the highest discounts in October 2018
If you didn't find an interesting dividend in the last edition, I am confident that today you will. At the end of the article, you will find two more lists containing these dividend stocks to help you pick the most interesting ones.
Bank OZK
Formerly known as Bank of the Ozarks, this stock was already present in the last edition of Dividend Stocks On Discount after losing 6.3% in September. Before going into detail what happened in the last quarter, we look at the big picture first.

Bank OZK: Earnings, cash flows and dividends
As seen in the chart above, growing profits and dividends made this stock a good investment for more than a decade. The yearly yields by capital gains and dividends can be seen here:

Bank OZK: Yearly yields
Yet, the success story took a battering last month, with the stock price falling 27% last month. Something must have gone terribly wrong. In fact, the last quarter incurred some extraordinary charges.
First, additional expenses of 10.8 million USD due to the name change (Source: Management Comments, page 2). Second, and much more important, charge-offs on two loans of 45.5 million USD in total, including a pre-existing allowance of 19.1 million USD (Source: Management Comments, page 3). Related to these charge-offs is an increase in allowance for loan losses of 6.3 million USD (Source: Management Comments, page 4).
In total, OZK faced a charge of 62.6 million USD (allowances included).
Two questions arise here:
How important are these 62.6 million USD to the shareholder?
Will extraordinary charge-offs happen again?
Regarding the first question, OZK's net interest income in this "terrible quarter" was 179 million USD (source: 3rd quarter press release). This includes the additional provision of 26.4 million USD related to the two charge-offs exceeding the pre-existing allowance of 19.1 million USD. Finally, earnings per share were 0.58 USD compared to dividends of 0.20 USD. Hence, OZK was able to absorb these charge-offs without endangering dividends.
But how likely are additional charge-offs in the future? That's an important question. Luckily, OZK handled the charge-offs in a transparent way. To me, it was reassuring to read that both problematic loans were classified as substandard in 2008 already. To give you an idea what substandard means:
"Loans classified Substandard are inadequately protected by the current sound worth and paying capacity of the obligor or of the collateral pledged, if any. Loans so classified must have a well-defined weakness or weaknesses that jeopardize the liquidation of the debt."
Source: How Do Examiners Assign Loan Classifications On Your Examination?
Today, these two loans remain the only ones classified as substandard. Their down-sized balance of 20.6 million USD makes the remaining risk of additional charge-offs for these two loans manageable.
The valuation of the stock is the next big thing. After the recent price drop, it's obvious to expect a bargain here. And you won't be disappointed. The Relative Dividend Yield of 68 to 100 points already indicates a slightly undervalued territory.

Bank OZK: The Relative Dividend Yield is 68 out of 100.
Why only 68 and not 100? Because during the Financial Crisis in 2008 the stock also took a beat sending the dividend yield up to 3.7%. Today, you get 2.9% which is still much more than in the last years since 2010.
What's even more important than dividends? Profit and profit-growth! Because without profit there would be neither dividends nor capital gains. Hence, based on historic multiples of earnings and operating cash flows, fair values can be calculated. Doing so draws a clear picture of a highly undervalued stock.

Bank OZK: Undervalued, undervalued, undervalued
Until recently, fair values nicely matched the evolution of the stock's price. It seems obvious that without additional unexpected charge-offs, investor's confidence will come back, leading to substantial capital gains.
Yet, before pressing the buy button, I highly recommend reading some more articles about OZK available here on SA and at least the management comments page 2-8 dealing with the charge-offs.
IBM
IBM's stock price is on decline. And the decline didn't start with the announced acquisition of Red Hat (RHT) last month. When IBM made the announcement to buy the shares of RHT for 190 USD, the stock market traded them at less than 120 USD, which represents a premium of more than 60%.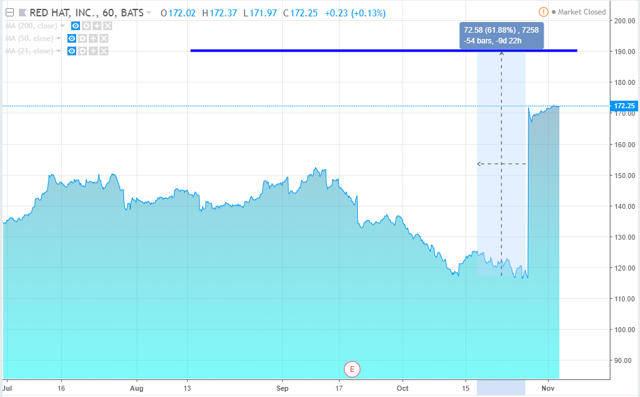 IBM's planned acquisition of Red Hat at 190 USD represents a premium of more than 60%. Source: TradingView.com
IBM's stock price reached its peak in early 2013. Although revenues are on decline since 2011, today they remain stagnant at best with operating margins on the retreat from 2013 until very recently.

IBM: When a dinosaur remains a dinosaur
Compare this to companies like Microsoft (NASDAQ:MSFT) and you see the difference.
IBM's cash and cash-equivalent position is less than 15 billion USD, while the acquisition of RHT costs about 34 billion USD. The chart below indicates dividends of IBM prior to the acquisition to be safe. And this won't change if IBM's statement that the acquisition will be free cash flow accretive within 12 months holds true.

IBM: Per share data looks better – thanks to massive buybacks
IBM's slow decline is less obvious when looking at per share metrics, because of massive share buybacks in the past. The total volume of share buybacks is visible in the balance sheet in the position called treasury stocks. In the chart below, you see that the value of all treasury stocks at cost by far exceeds the total assets of the company (Goodwill + Cash + other + Other Assets).

IBM: Treasury stocks of 166 billion USD made per share metrics looking better
The Relative Dividend Yield of 100 points tells us that the current dividend was never higher before.

IBM: High-tech for dividend income investors?
Fair values indicate an undervalued stock. Because IBM's dividend yield gets higher and higher, the stock seems to be aggressively undervalued when using historic dividends as a metric. But for historic undervaluation to become a good investment, the company needs to deliver. Will IBM do so?

IBM: Fair values indicate an under-valued stock
I don't consider dividends to be pain and suffering money and I don't consider IBM to be an investment until they get back to long-term profit growth again.
Stanley Black & Decker
SWK is a stock I cover for the first time. Maybe because I am not a craftsman at all. However, I know their brand, which is a testimonial for their strong brand name. Unfortunately, this did not prevent the stock to tank in October when SWK lost 21%. I suppose there are two major reasons for the stock's decline:
EPS and margins outlook down (Source: Q3 2018, page 8)
Difficult market in October
Although cyclical in nature, in the long run, SWK shows long-term profit growth and dividends are nicely covered:

SWK: Growing profits and dividends for the patient investor
Although share buybacks exist, their size is modest compared to IBM. Furthermore, focusing on goodwill reveals that an important part of SWK's growth strategy is based on acquisitions. The goodwill of 9 billion USD comes close to all remaining assets of the company slightly exceeding 11 billion USD while the company's current cash position is the weakest since the Financial Crisis. I consider balance sheets like this with some reservation because of possible surprises related to write-offs.

SWK: Most important balance sheet items reveal acquisitions and some share buybacks in the past
The Relative Dividend Yield is 14 out of 100 points. Indicating no bargain for dividend investors at all.

SWK: The Relative Dividend Yield of 14 indicates overvaluation
Fair values show a mixed picture about the current valuation of the stock. According to the Relative Dividend Yield the dividend based fair value indicates an overvaluation. Yet, profit based fair values indicate a fairly valued stock based on last twelve trailing months.

SWK: The stock seems to be fairly valued right now
Due to missing undervaluation and a rather risky balance sheet combined with moderate growth rates within the mid-single digits, I don't consider SWK as an investment.
Final overview
The table below shows the 15 US dividend stocks with highest discounts in October, including some more dividend-related data.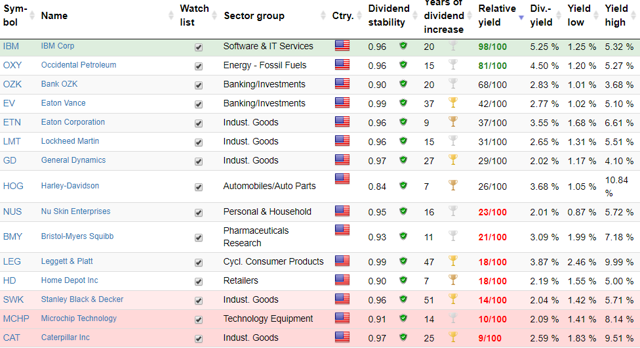 Overview of the Relative Dividend Yield including some additional dividend-related data
Dividend Payment Months
The screenshot below is taken from the Dividend Calendar. It shows in which month you need to own which stock to claim dividends based on the ex-date (bell symbol) and when dividends get paid based on the payment date (dollar symbol):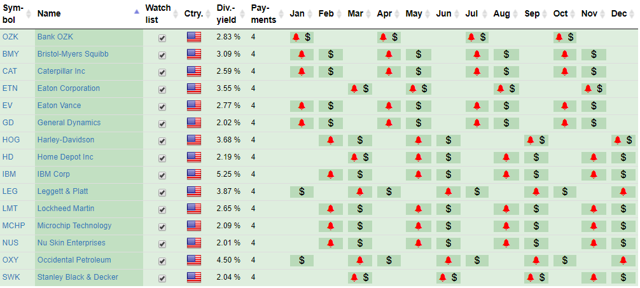 Dividend ex-dates and payment months
Conclusion
I presented a list of U.S. dividend stocks with the highest "discounts" in October and looked at the "top 3" stocks to give you an idea if they are worth any further analysis. What do you think? Did you find any stock of interest? Did you even take the chance to "buy the dip"?
Disclosure: I/we have no positions in any stocks mentioned, and no plans to initiate any positions within the next 72 hours. I wrote this article myself, and it expresses my own opinions. I am not receiving compensation for it (other than from Seeking Alpha). I have no business relationship with any company whose stock is mentioned in this article.
Editor's Note: This article discusses one or more securities that do not trade on a major U.S. exchange. Please be aware of the risks associated with these stocks.