"Tim's not a product person, per se," Steve Jobs told Walter Isaacson for his biography. It's an interesting comment that analysts and investors revive every once in a while. It's no secret that Tim Cook isn't exactly a product person. He's the guy credited with sorting out the supply chain, not blowing minds on stage with new product announcements.
Over the past seven years, Apple (AAPL) investors haven't bothered about this much. The products are still dominating their industries, at least in terms of profitability. Unit sales have soared, wearables are literally saving lives, and there are rumors of some interesting products being built behind-the-scenes.
However, an accounting decision by the company's management this past quarter indicates where the company is heading. Apple plans to halt publishing unit sales figures and average selling prices for iPhones, Macs and its other product lines. In other words, everything physical will be lumped together.
Jefferies analyst Timothy O'Shea said this decision may be an indication that the company has something to hide. With the 6.63% drop in stock price after the earnings report, it seems investors agree.
I think it's reasonable for investors to assume this move implies softer sales figures. However, I think the decision also indicates a paradigm shift in Apple's fundamental business model. I believe Tim Cook and his team are trying to transition the company away from Jobs' vision of the 'ultimate product company' to an 'efficient services provider'. I believe Apple has depleted its product pricing and unit growth potential and will have to squeeze out growth by selling more services to its installed base. At least till new products are developed.
With this in mind, here's a look at what the standalone services business does, who it competes with, how much it can grow, and what it's probably worth.
Apple Services Inc.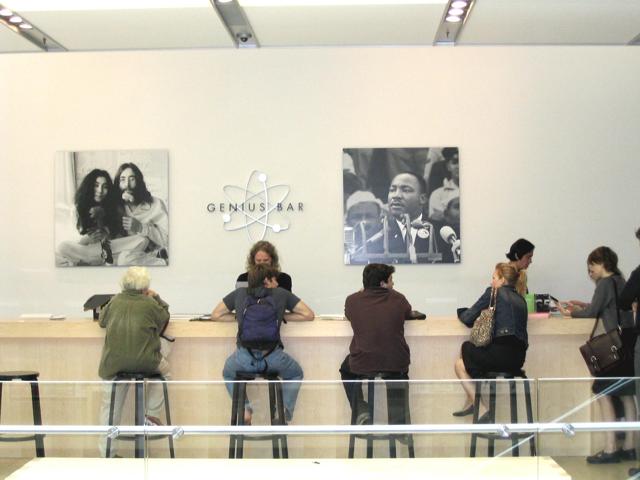 Source: Wikimedia Commons
If it were a standalone business, Apple's services would be nearly as large as Facebook in terms of revenue. The division brought in $10 billion in this recent quarter and there's no reason to believe it can't beat $40 billion in annual revenue over the next twelve months. FB's TTM revenue was $48 billion
However, Apple's services have nothing to do with social media so Facebook isn't the best comparison. Instead, the business is divided into Apple Music, the App Store, the Mac Store, and iCloud.
All these are, by themselves, different businesses with different margins. So, here's what I'll do - take each section apart, estimate the proportion of revenue they contribute, estimate future growth and then compare them to similar publicly-listed businesses to estimate their fair value. Combine them all together you have the fair market value for a standalone services businesses which you can weigh against Apple's market capitalization. Here goes:
App Store: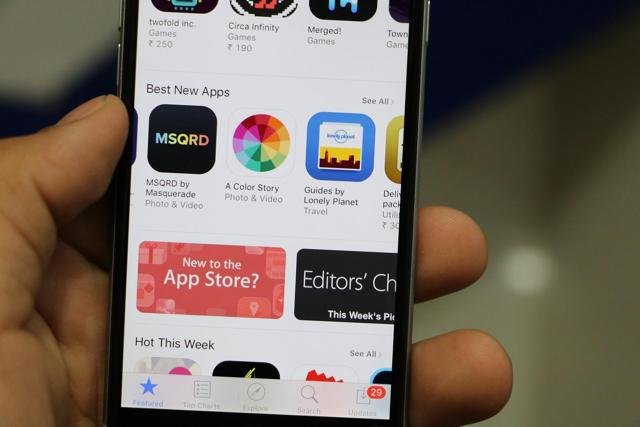 Source: Pixabay
Apple and Google are the gatekeepers of the most interesting market in the smartphone era - apps. Consumers spend billions of dollars on these apps every year, and these two tech titans take a hefty chunk of every transaction.
According to Sensor Tower data, Apple's App store earned double the revenue of Google Play during the first half of 2018. During the first half of 2018, app revenue on iOS was $22.6 billion. For the full year, you can safely assume revenue will cross $45 billion. Apple reportedly takes 30% commission on outright sales of apps and in-app purchase, but only 15% on subscription services like Netflix.
I'll assume the App Store has a blended margin of 25% on its revenue, which implies $11.3 in annual profit.
| | | | |
| --- | --- | --- | --- |
| Est. Annual Income | Closest Rival | Assumed PE ratio | Fair Value estimate |
| $11.3 billion | Google Play Store | 15x | $170 billion |
Apple Music: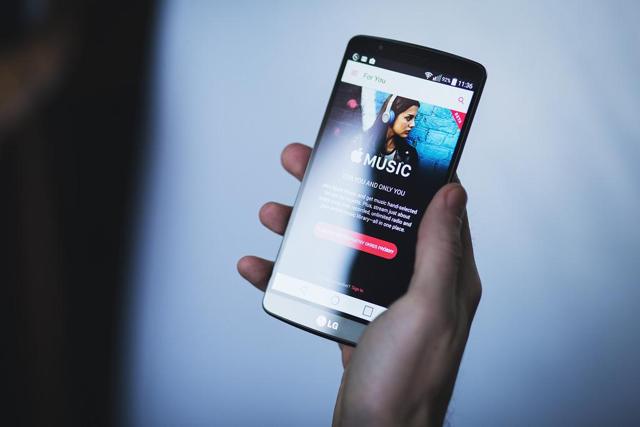 Source: Flickr
Tim Cook has never mentioned an exact figure, but he did once say there were over 50 million paying subscribers of Apple Music. Pricing for this music streaming platform is complicated. It costs roughly $10 a month if you live in the US but only $2 a month if you live in India. Students and family packs get special rates. Since there's a lot more users in Europe and America, I'll assume the average monthly cost of Apple Music is around $6. That implies annual revenue of roughly $3.6 billion.
The industry leader here, Spotify, is public, so we know for a fact that Spotify has 88 million premium subscribers, 25% gross margin, and negative earnings per share. I believe Apple will easily outperform Spotify because it has more leverage with record labels and artists, lower cost of customer acquisition, and presence in more countries (Spotify doesn't yet operate in India, for example). Nevertheless, a like-for-like comparison leads to:
| | | | |
| --- | --- | --- | --- |
| Est. Annual Income | Closest Rival | Assumed PS ratio | Fair Value estimate |
| $3.6 billion | Spotify | 5x | $18 |
Everything else:
So far we've only accounted for 40% of annual revenue. All the other services - iTunes, Mac Store, iCloud, Apple Care and Apple Pay - should account for the rest. However, it's really difficult to say how this 60% of revenue is distributed. There's no real comparison because of the mix of businesses. There's also a chance I've miscalculated the revenue from Apple Music and the App Store.
Nevertheless, I'll follow Apple's lead and just lump all these together. Miscellaneous services should account for $25 billion in annual revenue and some analysts claim the blended gross margin could be as high as 50%. I'll assume net margin is 25%, which implies $6.25 billion in annual profit.
I think the best comparison for this bunch of sundry services is Microsoft. Microsoft offers a similar cloud storage solution, desktop software store, and warranty services.
| | | | |
| --- | --- | --- | --- |
| Est. Annual Income | Closest Rival | Assumed PE ratio | Fair Value estimate |
| $6.25 billion | Microsoft | 25x | $156.25 billion |
Final thoughts
There's a lot more to dig into here, so I guess I might have to make this a series of articles delving into Apple's service business. But to sum up my thoughts, I'll say Apple understands that another monumental business like the iPhone is going to be difficult to recreate.
Instead, Cook has started to transition the company into a media software company instead. The margins for these kind of business are great. However, most service and subscription companies struggle with upfront investment in content, striking deals with big players, customer churn, or customer acquisition costs. Decades of building the Apple brand and user base means the company doesn't have to bother about any of these.
As a standalone company, Apple Services Inc. is probably worth $344.25 billion (all my estimates above combined). That's a third of Apple's market cap. About one-fourth of the company's market cap is pure cash.
I haven't even mentioned Apple's upcoming video streaming service which will compete against Netflix (worth $134 billion at the moment) and which I affectionately call iFlix. Also, the number of people who pay for subscriptions is only a fraction of the company's installed user base which is now over a billion.
In short, Apple is seriously undervalued.
Disclosure: I/we have no positions in any stocks mentioned, and no plans to initiate any positions within the next 72 hours.
I wrote this article myself, and it expresses my own opinions. I am not receiving compensation for it (other than from Seeking Alpha). I have no business relationship with any company whose stock is mentioned in this article.