Background
The U.S. Department of Commerce said on Oct. 30 that it had put Chinese DRAM manufacturer Fujian Jinhua Integrated Circuit Co. on a list of entities that cannot purchase components, software and technology good from U.S. firms.
U.S. Department of Commerce Secretary Wilbur Ross stated in the release:
"When a foreign company engages in activity contrary to our national security interests, we will take strong action to protect our national security. Placing Jinhua on the Entity List will limit its ability to threaten the supply chain for essential components in our military systems."
Fujian was established by Fujian Electronics & Information (Group) Co Ltd and Jinjiang Energy Investment Co Ltd. through a $5.65 billion investment to develop DRAM technology and build a manufacturing fab. Fujian, focusing on specialty DRAM, postponed its trial production until Q3 2018 and mass production until 1H 2019, reaching a production value of $6 billion each year. The company is using technology claimed to have come from Micron Technology (MU).
In December 2017, Micron filed a lawsuit against Taiwan foundry United Microelectronics Corporation (UMC) and Fujian with the United States District Court for the Northern District of California, claiming that they infringed upon its DRAM patents based on a claim that two former employees of MU handed the company's DRAM technology to UMC, which was working with Fujian. The two companies countersued and in July 2018, a Chinese court temporarily stopped MU from selling a range of products in China.
In July 2018, Fujian claimed victory in a lawsuit filed against Micron Technology in China asserting the U.S. company infringes its patents concerning certain memory products including those under Micron's Crucial brand. The allegedly infringing products have been prohibited to be sold in China, according to the China-based DRAM firm.
UMC, which helps Fujian develop production technologies for DRAM memory according to a deal struck between the two companies in 2016, also previously said a Chinese court ruled in favor of the Taiwan-based company in a patent infringement lawsuit against Micron and barred the US firm from selling 26 chip products in China.
UMC originally planned to help Fujian roll out its first-generation 3Xnm DRAM production technology by the end of 2018. Until the U.S. Commerce action, UMC was also to help Fujian develop its second-generation 2Xnm DRAM production technology.
With the US banning exports to Fujian, UMC said it will suspend its R&D assistance to the China-based DRAM firm until further notice. UMC said the company will halt temporarily its R&D activities with Fujian Jinhua until those activities are "clear to resume by the appropriate regulatory authorities."
So Far it is Just Retribution for China Stealing IP from Micron Technology
The day after the Commerce Department action, a federal grand jury indicted China's state-owned Fujian Jinhua Integrated Circuit, Taiwan-based UMC and three Taiwan individuals, charging them with crimes related to a conspiracy to steal, convey and possess stolen trade secrets of Micron.
The U.S. also filed a civil lawsuit seeking to enjoin the further transfer of the stolen trade secrets and to enjoin certain defendants from exporting to the US any products manufactured by UMC or Jinhua that were created using the trade secrets at issue.
It could get worse as tariffs spread
As it stands, there is limited impact on major U.S. public semiconductor equipment companies including Applied Materials (AMAT), Lam Research (LRCX), and KLA-Tencor (KLAC). Most or all of the equipment has already been installed at the Fujian plant.
There is also limited impact on the three DRAM memory companies Micron Technology (MU), Samsung Electronics (OTC:SSNLF), and SK Hynix (OTC:HXSCL) through 2019. But that will change beginning in 2020 as current fabs ramp up production.
In Table 1, I present data for all DRAM manufacturers by fab, including Fujian. Based on reports by the company, chip capacity through 2019 for Fujian is insignificant at 150,000 wafers per year.
Beyond 2019 is a different story. Fujian has a capacity of 60,000 wafers per month (NYSE:WPM) equating to 720,000 wafers per year. At that time, output would be a bit less than that of Nanya's capacity in 2019.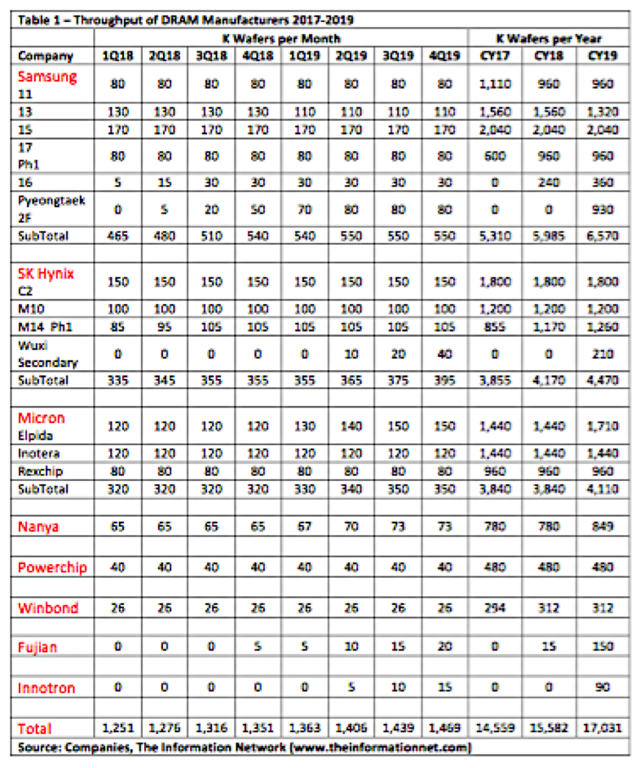 However, if the two other Chinese memory companies are included in the fray, Innotron, a DRAM company and YMTC, a NAND company, then there could be significant positive impact on the three DRAM companies and on Intel (INTC), Toshiba, and Western Digital (WDC) in the NAND space.
Innotron - DRAM
Equipment was installed at Innotron's fab in Q3 of 2017, but the company has postponed trial production until Q3 2018, which will be followed by mass production in the first half of 2019.
Back in April 2018, Innotron CEO David NK Wang, executive VP of Applied Materials and president of Applied Materials Asia, disclosed company would start trial production of 8Gb DDR4 chips at the end of 2018.
Not only was Wang replaced as CEO by Yiming Zhu in July, there has been disagreement at Innotron whether to make the chips at 17nm or at 20nm, which is the technology stolen from MU.
Innotron's fab was built with a capacity of 20,000 wpm in 2019. Meanwhile, the firm intends to start building up the second phase of the fab in 2020 to boost its capacity, but I estimate construction will be delayed until 2021.
As I stated above, there has been disagreement at Innotron as to whether chip node should be 17nm or 20nm. All three major DRAM suppliers were at 20nm before 2016. All have migrated to 1ynm DRAM (translation: its second generation of DRAM technology below 20nm). Thus, Innotron's chips will be at least two generations behind the leading DRAM manufacturers.
This is important because each generation of DRAM improvement reduces manufacturing cost by 20%. Most important, moving to a smaller die size increases bit density. For example, the DRAM die size of Micron's 1xnm DDR4 has shrunk by 18.3 percent from the 2ynm die (20nm) with the same 8 Gb memory density. The 1xnm LPDDR4 die has shrunk by 17.14 percent compared to the 2ynm die.
As a result, the bit density of the DDR4 die is 0.137 Gb/mm2, an 11.4 percent increase. Bit density of 1x nm LPDDR4 die is 0.152 Gb/mm2, about 60 percent higher than the previous 2y nm devices.
YMTC - NAND
Founded in 2016 with $24B funding, Yangtze Memory Technologies Co., Ltd. (YMTC) is a memory solutions company headquartered in Wuhan, China, and the property is sufficiently large for the construction of two more fabs. YMTC should break ground on a second plant if its 96- and 128-layer chips is competitive, which I forecast to be in 2022. YMTC may choose to build a third plant simultaneously if the chips are competitive enough.
Leveraging its wholly-owned subsidiary XMC's existing 12-inch IC fab in Wuhan, its more than 10 years of memory and specialty IC R&D experience, and international partnerships, YMTC successfully designed and manufactured the first 32-layer 3D NAND flash chip in 2017.
At the 2018 Flash Memory Summit, YMTC announced significant progress in developing a 64-layer 3D NAND. YMTC plans to start mass production of 64-layer chips from end-2019 to mid-2019. The news comes less than years after the Chinese firm unveiled 32-layer NAND in November 2016. YMTC is supplying 32-layer MLC 3D NAND flash to some Chinese clients. Most of these chips are used in USB devices and embedded multi-media cards (eMMCs). Production capacity at its wholly owned subsidiary XMC is less than 5,000 wpm. I discussed these activities in a September 14, 2018 Seeking Alpha article entitled "Memory Stocks: How Bad Is Bad?"
In Table 2, I present data for all NAND manufacturers by fab, including YMTC. Based on reports by the company, chip capacity through 2019 for YMTC is insignificant. At only 150,000 wafers per year, capacity is less than any fab or line by any existing NAND manufacturer.
However, YMTC plans to manufacture 300,000 wpm of 3D-NAND by 2020, equating to 3,600,000 wafers per year, which is larger than MU's 2019 capacity.
Impact on Equipment Supplier
Fujian broke ground on its 300mm fab in July 2016 and started to move in production tools late in 2017. Equipment move-in was completed by early July 2018 and the first phase of the fab projected to start volume production of DRAM in the third quarter. So the U.S. Commerce action of blocking equipment sales to the company is inconsequential.
Innotron currently has one fab, and construction was completed in Jan 2018. Equipment move-in was in mid-2018. Phase 2 is scheduled for 2020, but that should be delayed for a year.
As shown in Table 3, I present capex spend for all DRAM manufacturers, showing that total spend will reach $32.2 billion in 2018 (YoY 46%) but drop to $21.5 billion in 2019 (YoY -33%). Both Fujian and Innotron will spend minimal capex through 2020 after spending $2.4 billion and $3.6 billion, respectively, in 2018. Thus, equipment companies will secure minimal sales to these companies in 2019 and 2020.

YMTC's first NAND fab building was completed in 2016 and equipment move-in started in April 2018. Two additional fabs are planned, and total capex for all three is $24 million. When the second fab construction is to begin is unclear, but I expect construction to begin in 2019 followed by equipment move-in in 2020.
As shown in Table 4, I present capex spend for all NAND manufacturers, showing that total spend will reach $29.6 billion in 2018 (YoY 8%) and increase to $30.7 billion in 2019 (YoY -4%). Here we see YMTC's capex spend of $4.2 billion in 2019 on construction and $5.3 billion in 2020 on equipment. If the U.S. Commerce acts against YMTC as it did with Fujian, 2020 equipment capex will drop significantly.
Investor Takeaway
Addressing the subject of this article, the U.S. Department of Commerce's action on prohibiting equipment sales into Fujian appears to be a political tactic with no impact on the either memory companies or equipment suppliers. Equipment is already at Fujian's fab. This assumes Commerce's actions were motivated to punish Fujian because of theft of MU's IP.
But if this is the first step in extending tariffs, then Innotron and YMTC would be next to be on notice by Commerce. DRAM manufacturer Innotron currently has only one fab completed, and equipment is already delivered to the company's fab. The second phase should start construction in 2021.
NAND manufacturing is a different story. YMTC has one fab completed and equipment installed. However, currently two more fabs are planned. With a total capex spend for the three fabs, the remaining two will cost $16 million in construction and equipment. Referring back to Table 4, I anticipate YMTC will spend $4.2 billion on construction in 2019 and $5.3 billion on equipment in 2020. The $5.3 billion is significant, representing 10% of the overall semiconductor equipment market in 2020, according to The Information Network's report "Global Semiconductor Equipment: Markets, Market Shares, Market Forecasts."
3D NAND is comprised of a series of deposition and etch processes. Key deposition and etch equipment suppliers, Applied Materials and Lam Research would be the biggest losers.
Memory suppliers will face competition from the Chinese DRAM and NAND manufacturers, regardless of any Commerce actions. Wafer capacity of Fujian, Innotron, and YMTC will erode revenue and market share of existing manufacturers beginning in 2020.
What is the justification of any future Commerce actions? Key would be national defense. I discussed in a November 29, 2017 Seeking Alpha article entitled "Restricting Semiconductor Equipment Shipments Could Force The Chinese To Stop North Korea." This was before tariffs came to light when the Korean nuclear issue was front page news.
Disclosure: I/we have no positions in any stocks mentioned, and no plans to initiate any positions within the next 72 hours. I wrote this article myself, and it expresses my own opinions. I am not receiving compensation for it (other than from Seeking Alpha). I have no business relationship with any company whose stock is mentioned in this article.
Editor's Note: This article discusses one or more securities that do not trade on a major U.S. exchange. Please be aware of the risks associated with these stocks.