November CEF distribution announcements came and went without much fanfare, which is just the way we like it. On the first of the month we typically see the announcements from several of the large fund sponsors like Blackrock, Nuveen, PIMCO, MFS, Dreyfus, Invesco and Eaton Vance.
We are on top of these announcements - down to their somewhat predictable timing during the day - as any surprising cuts do not typically get reflected into the price for several minutes or hours (and in some rare cases, days!). This gives us and our members a leg up to unload the funds with large, unexpected cuts. That can save us several percent by avoiding these big cutters.
So far this year, we have navigated the minefield of distribution cuts well.
On November 1st, we saw Blackrock come through unscathed with no cuts (or increases for that matter). Nuveen had one cut in a target term fund while PIMCO had no changes on the month. Eaton Vance, which tends to increase and cut more often, had five funds (all floating rate) increase their distributions. All of the increases fell below our 4% meaningful threshold.
For example, Neuberger Berman Real Estate (NRO) cut their distribution by 11.1%. In hindsight, the call was an easy one, but we just do not know when the fund company would pull the trigger. The problem is that they could go many months, if not longer, before they actually cut. The board can simply decide to wait - and then cut deeper- in order to fully assess the situation.
In the N-CSR from July (data through the end of April), the fund is showing significant losses on their securities at -$0.63. Compare that to past years and except for moderate losses in 2015, they have had gains. In fact, in 2014, they had a similar gain for the whole year compared to the loss in six months through April. In 2014, they raised the distribution in response to that performance.
The fund is ~42% preferreds which have been hit in recent months as interest rates have risen depressing prices.

(Source: NB.com)
The losses on their holdings given that they are primarily common stock REIT positions, pushed down the NAV and forced the cut. The fund has $110M of leverage (out of a $125M million secured) with a fixed rate of 3.53%. In other words, they don't have a lot of room to increase their leverage to produce higher earnings.
Distribution Increase
Voya Prime Rate (PPR): Monthly distribution increased by 8.16% to $0.0265 from $0.0245 per share.
Templeton Global Income (GIM): Monthly distribution increased by 8% to $0.031 from $0.0287.
EV Floating Rate Income (EFF): Monthly distribution increased by 3.95% to $0.079 from $0.76.
EV Sr Income (EVF): Monthly distribution increased by 3.2% to $0.032 from $0.031.
EV Float Rate Income (EFT): Monthly distribution increased by 3% to $0.069 from $0.067.
EV Floating Rate 2022 Target Term (EFL): Monthly distribution increased by 2.3% to $0.044 from $0.043.
EV Sr Float Rate (EFR): Monthly distribution increased by 1.4% to $0.071 from $0.07.
Distribution Decrease
Nuveen Emerging Markets Debt 2022 Target Term (JEMD): Monthly distribution decreased by 13.8% to $0.0375 from $0.0435 per share.
Nueberger Berman Real Estate Securities Income (NRO): Monthly distribution decreased by 11.11% to $0.04 from $0.045 per share.
Invesco Quality Muni Income (IQI): Monthly distribution decreased by 7.5% to $0.0531 from $0.0574.
EV Muni Bond (EIM): Monthly distribution decreased by 3.81% to $0.0429 from $0.0446.
MFS Sp Value (MFV): Monthly distribution decreased by 3.1% to $0.04583 from $0.04731.
Templeton EM Income (TEI): Monthly distribution decreased by 2.5% to $0.0663 from $0.068.
MFS high Yield Muni (CMU): Monthly distribution decreased by 2.44% to $0.02 from $0.0205.
MFS Ind High Income (CIF): Monthly distribution decreased by 1.99% to $0.02015 from $0.02056.
Currently Wide Discounts Spells
In 2015, we saw some of the widest discounts on CEFs ever as investors fled the space scared about rising interest rates. They feared not only rising long-term rates that would depress current bond prices but rising short-term rates (driven by the Fed) increasing leverage costs.
In 2016, the Fed raised rates just one time and long-term rates FELL to near all-time lows. That created one of the best bull market in CEFs in the last two decades (the only other better time was in 2008).
We think the current environment is setting itself up to be very similar to late 2015. In fact, we started our marketplace service based on the fact that the opportunity in the CEF market at that time was so good, it had to be exploited. Investors were just "finding" closed end funds at the time because global yields were so low - and we had approximately $15T of sovereign debt with a negative yield.
Leverage costs for CEFs have risen substantially, with some funds that were previously paying less than 50 bps for 30% of leverage now paying well over 1.50%. The Fed Funds targeted rate continues to rise sharply which should continue to push up leverage costs. If the entire interest rate curve shifts up (all maturities see higher rates), then there is a lagged effect between when the fund starts realizing increased net investment income.
However, leverage costs are typically assessed and reset quarterly, in arrears - meaning that each quarter, if rates are rising steadily, interest cost will increase. However, the curve is not shifting together as the curve has been flattening. As held positions in bond CEFs mature, they will replaced by higher coupon debt for the first time in quite a number years.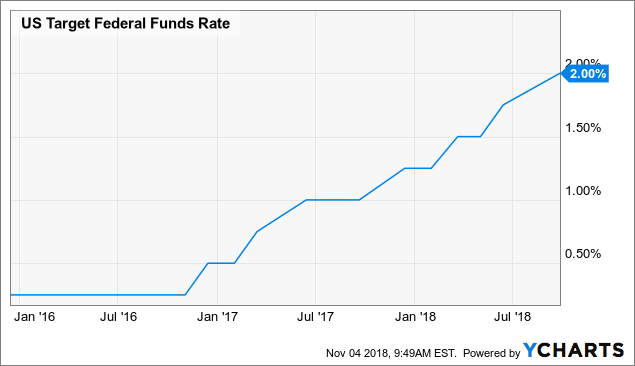 Future Cuts Coming?
Blackrock recently reported their September EPS and UNII figures for all of their funds. Ratios fell across most of the fund complex and UNIIs continue to bleed lower. Below is the table of the taxable set of funds. 11 of the 12 taxable funds saw a reduction in coverage with only terribly run Enhanced Government (EGF) seeing a very small gain.
While ratios remain above 90% for most of the funds, they are starting to trend lower again. UNIIs have been trending lower for most of the year on the majority of their funds.
Funds that are likely to see a cut in the next several months:
Longer Term Potential Cuts:
Blackrock Multi-Sector (BIT)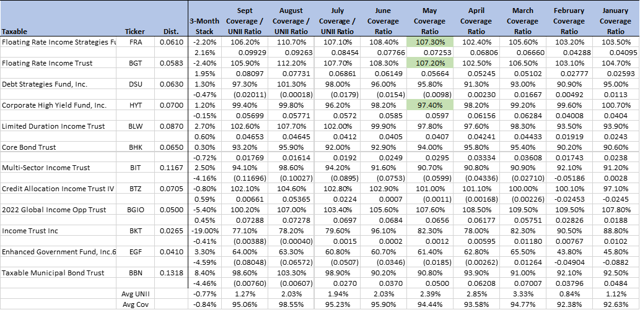 (Source: CEFData.com)
Nuveen taxables continue to show strength, much better than their municipal funds. We've been pushing their floating rate funds which have performed well on a NAV basis this year and after cutting the distribution in April of this year, have seen a strong rebound in coverage. All five funds are largely equivalent, so selecting based on opportunity and potential total return (use NII yield) is warranted.
The five floaters continue to be resilient despite the high yield sell off, and they are obviously immune to higher rates. However, investors are selling them to de-risk - scared that this recent sell off will turn into a bear market. While we do not want to own these during a bear market, we do not think this is anything but a routine correction.
Below is Nuveen Short Duration Credit Opps (JSD), which now yields 7.73% and trades near a 9% discount. The one-year z-score, a measure of cheapness, is -2.70. Typically anything below -2 is a sign of a fund being really cheap. The current discount of 9% is well below the 1-, 3-, and 5- year average discounts of 5%, 5%, and 7%. We believe the fund is poised to rebound sharply with both an increasing NAV and the equity market coming back - something we foresee through the end of the year.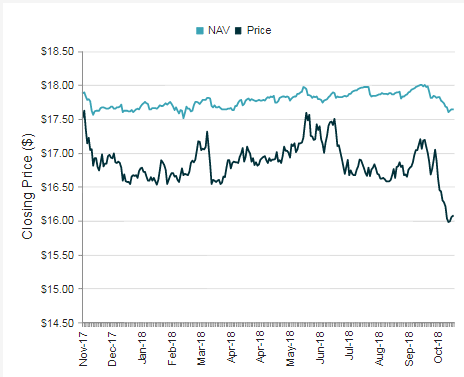 (Source: CEFConnect.com)
Concluding Thoughts
November distribution announcements were mild and given the month of October we just had, this is a positive sign. However, we need to closely watch coverage ratios and UNII levels going into the end of the year. We saw significant losses in some areas of the taxable bond and equity sectors which can force a distribution cut- as we saw with NRO.
Continue to position portfolios for a bull market but with increasing volatility. High yield spreads widened out in the last month but only modestly from 3.25% to 3.81%. In the world of high yield bonds, that is NOT signaling impending stress and increased defaults. That is being driven solely by fund flows out of high yield. Net outflows in the last week of October were over $1 billion (over $3.7 billion for investment grade). This has the effect of lowering ALL bond prices, even if they do not trade.
When this happens, the NAVs of all credit risk CEFs eventually see NAVs that roll over as the underlying bonds get repriced with lower marks. As high yield spreads come back in - which is something we expect over the next month in conjunction with a declining VIX and rising equity market - these NAV marks will reverse and start to rise. We believe the prices of these funds will then snap back as well as investor confidence is regained.
Yield Hunting: Take Advantage Of Our Limited Free Trial
A comprehensive service for income investors and retirees intended as the core of your fixed income approach, aiming to produce a safer 8%+ yield. We are the preeminent researchers of closed-end funds. Our goal is guiding members through markets and identifying income opportunities.
Our Core Portfolio is an easy-to-follow model with clear Buy/Sell/Hold indications, updated real-time. We augment that with 'peripheral' income ideas including closed-end funds, babybonds, preferreds, REITs, and other dividend equity payers. Almost half the service centers on properly planning/structuring your portfolio for retirement.
Disclosure: I am/we are long JSD. I wrote this article myself, and it expresses my own opinions. I am not receiving compensation for it (other than from Seeking Alpha). I have no business relationship with any company whose stock is mentioned in this article.