Investment thesis
We first covered SolarEdge (SEDG) in April 2017. At the time, amidst a difficult solar market, along with First Solar (FSLR), we found both companies to be compelling buys. Last week, in light of its strong Q3 earnings result and clear strategic intention in the acquisitions of UPS and Kokam, the market reacted negatively. We report to find out why.

Quick recap
For new investors in SolarEdge, it generates its revenue mainly from the sale of power optimizers, inverters and cloud-based monitoring services to distributors, installers and PV module manufacturers. This year, it has acquired Gamatronic Electronic Industries, an uninterrupted power supply (UPS) in July 2018, and Kokam, a battery solution business in Oct 2018. The company has had little time to finalize all the details and integration so we will make limited commentary on these two acquisitions.
Long-term goal achieved
Before diving into the Q3 results, we have to give credit to the management for meeting their long-term goal to expand their product globally. Explicitly, they set out an aim for a 50/50 revenue split (US vs non-US) by the end of 2018. Here is what they said in Q1 2017.
Our long-term plans is to reach in the end of 2018 more or less 50 percent between residential and commercial and 50 percent between U.S. market and markets in Europe and in Asia. We are above 25% today and moving to the direction of the reaching 50% sometime by the end of 2018.

Source: Q1 2017 Earnings Call
Their revenue mix at the time was at 65% US, 25% EU, 10% Japan and Australia and 10% Rest-of-the-world (RoW). Now, it's 50.6% US, 35.4% Europe, and 14% RoW.
We find this bullish as the company is now more diversified and less dependent on the US market. Finally, time and time again we think it's healthy to judge management not by quarters but years. Management has done particularly well here.
Q3 results - gross margin tighten
We felt most items in the Q3 results were good. Revenue growth was strong, at $236.6M; it's up 42% year-over-year, on strength from commercial sales, which represented 46.2% of total megawatt shipped. Reported cash flow from operations was $34.3 million. Its YTD cash flow from operation was $142.2M and has already surpassed the amount of the 12 months in FY 2017, which was $136.7M.
One niggling item was the fall of its gross margin. It dropped 2% to 33% from 35% YoY, mainly due to their inefficiency in the customer support function. The root cause was because the customer support failed to keep up with their increasing range of products. We thought that is a reasonably standard issue in high growth situations, and it's not a long-term issue. In the long run, the management target gross margin to be 37% +/-1%, so we will revisit this number in the future.

Source: SEDG Q3 2018, investor presentation
Conversely, their operating expense reduced to 18.6% from 19.6% YoY. One thing worth keeping an eye on is the R&D from the newly acquired UPS unit Gamatroni. Historically, the company invested around 5% of its revenue in Capex; this might change with the recent acquisitions.
Tax and tariffs
While we are not tax experts, we understand enough to see the tax benefits of $12M helped EPS tremendously. Without it, the EPS would have been $0.73 instead of $1.00. Its deferred tax asset this quarter of $13M has also doubled from what it was in Q3 2017. Although not a material amount it will help shore up EPS going forward.
On the other hand, higher import tariffs will negatively affect gross margin going forward, by how much? We are unsure, and the management disclosed very little information. However, the fact that the company has substantial exposure to international markets and can divert some of the production outside of the US will mitigate some of the impacts.
Ambiguity with Kokam acquisition
While there is not a great deal of information given by the management on the UPS and the Kokam acquisitions, as an investor in Micron (MU), we think that the opportunity for UPS in the cloud and storage business is bullish as the expanding of hyperscale data centers and IoT-enabled devices is secular.
In regards to Kokam, the reasoning for the acquisition is clear, to achieve product synergy, providing a customer with an end-to-end smart energy solution. Kokam provides battery solutions in consumer applications, electric vehicles and stationary energy storage (ESS). It is a medium sized battery vendor that is strong in Asia, thus provides SEDG with not just a different product offering but also strengthen geographical exposure in Asia where Korea, China and India will be a large part of the global ESS market.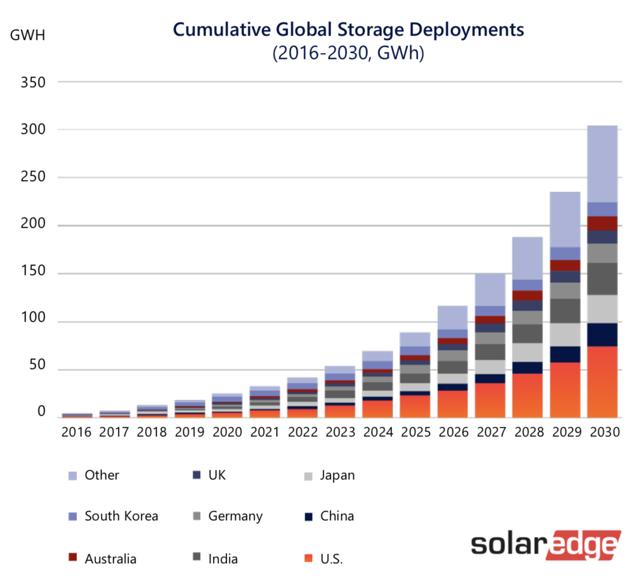 Source: SEDG investor presentation, Kokam acquisition
The acquisition of Kokam also allows SEDG to enter a high-growth battery market that estimated to experience 17% CAGR.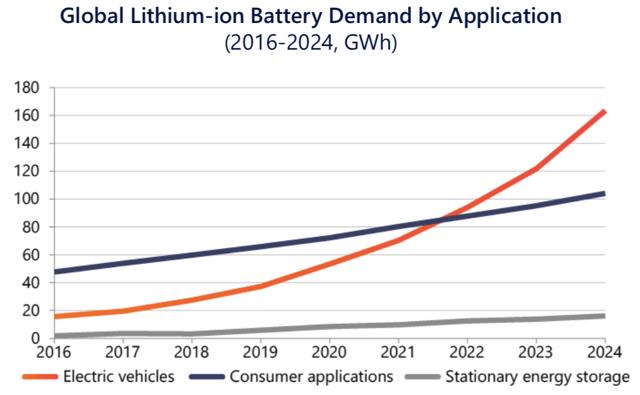 Source: SEDG investor presentation, Kokam acquisition
We find the strategic intention is clear and we expect that it takes at least a few quarters to see the impact on the company financials. As Guy Sella said:
We think it's not a matter of the metrics, it's more a matter of the strategic.

Guy Sella, SEDG Q3 earnings call
Pristine Balance Sheet and Cheap
We were bullish of SEDG partly because it has a pristine balance sheet. It was debt free last year, and it still is. The last time it had debts was dated back to Q2 2014. It now holds a liquidity cushion of $350M in cash and short-term investments, of which most are held in US denominated money market funds, so there is minimal exposure to exchange rate risks.
The cash accumulation is nothing short of stellar given it has been growing at 49% on average in the last six quarters. Moreover, it is trading at just over 11x FCF, using the TTM number $150M. Investors looking for growth should not look at FAANGs; the best growth value deal is right here.
Takeaways
We find the earnings call to be "progress-as-usual" at SolarEdge. The strategic intention of the acquisition was also clear; however, the market was neither happy about the transaction or the slight decrease in gross margin (its temporary!). After the earnings, the share price dropped by 8% to $37.7 a share. Thus, we find this quote from Jack Bogle fitting:
Your success in investing will depend in part on your character and guts and in part on your ability to realize, at the height of ebullience and the depth of despair alike, that this too, shall pass.
We have been bullish on SEDG for a long time, and we think that SEDG has performed well in the difficult market conditions. Its average growth in the last seven quarters since we last covered is 42%. Meanwhile, the growth was funded entirely by recurring cash flow. Debt remains nil, and share numbers have increased by share options to employees. Importantly, it is trading for peanuts multiples compared to FAANGs and the S&P 500. Investors who look for growth at a reasonable price should at the minimum save SEDG in their watch list.
Follow us
We would love to extend our friendship and we invite you to follow us on Seeking Alpha (click the "Follow" button next to our profile picture at the top) as we continue to uncover investment opportunities.
If you found this article helpful and/or would like to easily refer back to it in the future, please click the "Like" button and it will be saved to your favorites.
Disclosure: I/we have no positions in any stocks mentioned, but may initiate a long position in SEDG over the next 72 hours.
I wrote this article myself, and it expresses my own opinions. I am not receiving compensation for it (other than from Seeking Alpha). I have no business relationship with any company whose stock is mentioned in this article.