Introduction
Micron (MU) is expected to report its earnings for the first quarter of its FY19 on 18 December. While the company beat earnings estimates last time around yet again, shareholders were disappointed with its weaker guidance for Q1, which includes downside revenue from $7.9 billion to $8.3 billion and downside EPS of $2.87 to $3.02. Gross margins are also expected to be lower than Q4 levels or from 57% to 60%.
Market research firm DRAMeXchange reported that contract prices in the DRAM space rose by just 1~2% quarter on quarter in Q3 2018 and that a decline of 5% or more is expected in Q4 2018. What's more, DRAM prices are expected to fall by 15~20% year on year in 2019 due to high output in server DRAM products. It seems that the super cycle of price growth for nine consecutive quarters in the industry could be finally coming to an end.
However, DRAM prices are hard to predict as I pointed out in my previous article about Micron here. For example, in April 2017, Gartner forecast that prices would peak during the second quarter of that year, which obviously didn't happen.
With major DRAM players Samsung (OTC:SSNLF), Hynix (OTC:HXSCF) and Nanya (OTCPK:NNYAF) all releasing their Q3 2018 earnings reports over the past weeks, I think that several clues can be found regarding Micron's upcoming results and the future of the DRAM industry as a whole.
Nanya
Nanya is currently the world's fourth largest DRAM manufacturer and I consider the company to be a technology follower meaning that things could look very bad for them when the cycle turns. In Q3 2018, the company's revenues slipped quarter on quarter due to a decrease in bit shipments in the low-single digits percentage but the net profit climbed by 13.8% thanks to improved manufacturing costs. The gross margin hit an all-time high of 58.9% as Nanya's 20nm DDR4 contributed about 30% of total revenue.
The company is on track to launch LPDDR4/4X products in Q4 2018 and bit shipment were guided for flattish in the period. Nanya added that it has made good progress in returning to the server DRAM market after a five-year hiatus – it plans to ship a small volume of server DRAM to a first-tier U.S. data center operator from this quarter.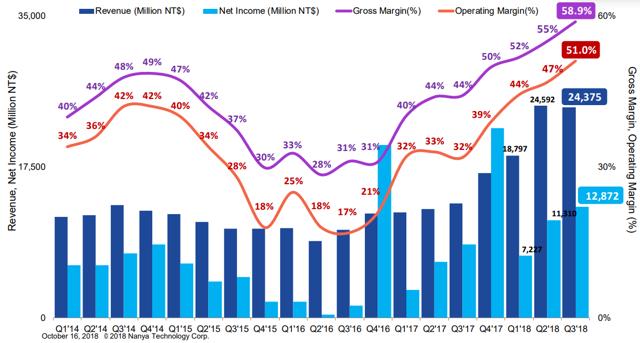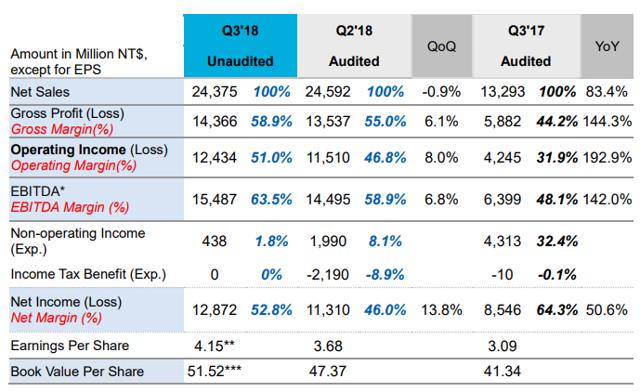 While the results for the quarter look fantastic, Nanya sounded less than upbeat about the future. The company cut capital expenditures for 2018 by more than 12% to NT$21 billion ($680 million) from NT$24 billion as the trade war between the U.S. and China affected demand from users like Huawei ahead of the holiday shopping season. Nanya said that ASP remained relatively flat during the quarter and that DRAM prices will likely see a correction that continues into 2019. However, the Taiwanese firm doesn't see the correction leading to a major price crash.
Despite the record profits, Nanya's shares are almost 55% off their 52-week high.
Regarding the impact on Micron, I don't consider Nanya a significant enough player to influence the DRAM market as its market share in branded products is just over 3%. And I remain skeptical of Nanya's server plans considering that the company has been talking about them for over a year now with little to show for it. Still, it's interesting to see that Nanya doesn't expect a collapse in DRAM prices, which I consider a positive for Micron's earnings in the long run.
SK Hynix
The company posted the highest quarterly revenues in its history, but the increase was due to shipment growth as DRAM ASP rose by just 1% quarter on quarter. SK Hynix said that DRAM bit shipments increased by 5% thanks to the seasonal effect on mobile demand and that server demand stayed strong. The company generated an operating profit of 6.5 trillion won, beating a 6.3 trillion won average forecast from 19 analysts.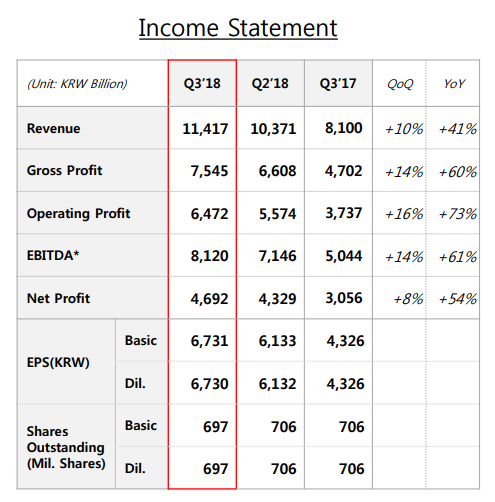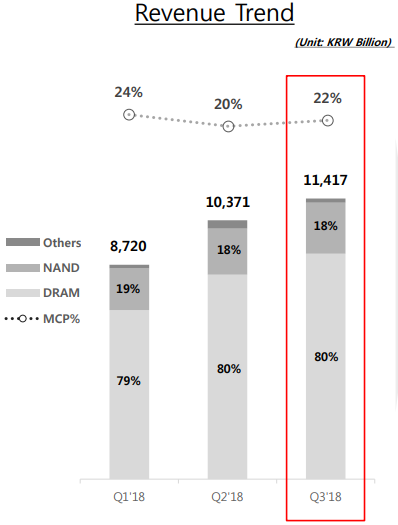 The gross margin also continued to climb due to cost reductions from smooth tech migration. Hynix expects the development of 1Ynm DRAM to complete by the end of 2018.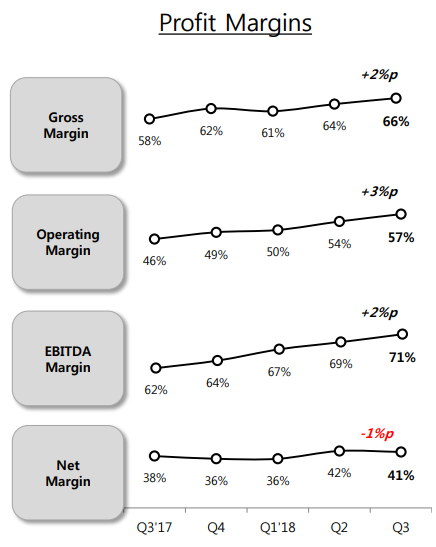 Something I find interesting is that Hynix is also betting heavily on share buybacks like Micron. At the end of July, the Korean firm announced that it planned to buy back up to KRW 1.83 trillion ($1.63 billion) of its own shares on the open market from July 28 to October 27. Well, during the quarter, SK Hynix splashed 1.74 trillion won for share buybacks, almost the entire amount of the program which I think comes to show you that it believes that its shares are massively undervalued: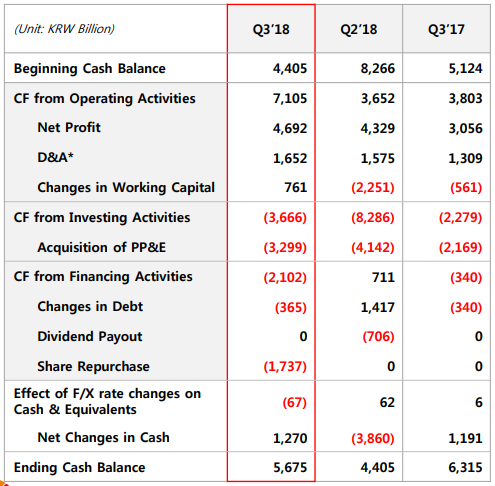 However, SK Hynix said that it plans to cut its capital spending for next year, although no numbers were mentioned. It also plans to set up quarterly investment plans instead of an annual budget to better respond to demand uncertainty. SK Hynix invested some 10 trillion won ($8.8 billion) in capex in 2017 and plans to increase that figure by more than 30% in 2018 to boost output.
Regarding DRAM prices, SK Hynix said that it expects growth to slow through the first quarter of 2019 and then to remain flat or rebound. The company does not expect a sharp decline in ASP, just like Nanya.
SK Hynix holds around 30% of the DRAM market and its influence is much more substantial than Nanya. I find it very positive for Micron that the company is cutting its capex and is moving to quarterly plans to respond to demand problems.
Samsung
The group posted a net profit of 13 trillion won ($11.4 billion) in Q3 2018, thus beating the 12.9 trillion won average of estimates compiled by Bloomberg.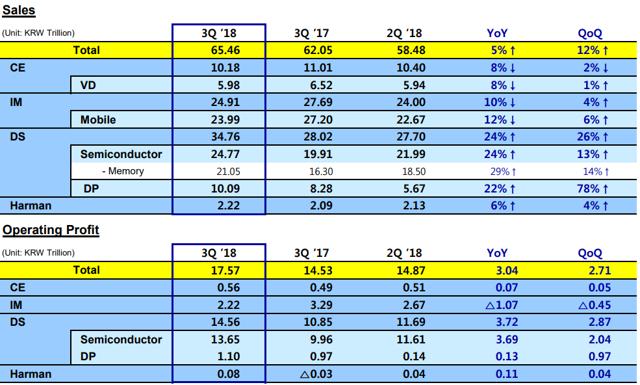 However, Samsung warned about weak seasonality for the chip market in Q4. While the memory business is doing great, mobile revenues declined by 10% year on year. Capital spending for 2018 is expected to fall by 27% to 31.8 trillion won ($27.9 billion).
Samsung expects earnings in Q4 to decline compared to Q3 due to weak demand for memory chips and higher smartphone marketing spend during the year-end holiday season. Looking at 2019, earnings are expected to be weak in Q1 but then improve thanks to better business conditions, particularly in the memory market.
Regarding memory, Samsung said that there is solid demand from servers as cloud-based data services grow fast, therefore, a steep downturn in prices is unlikely.
Samsung reiterated a previous forecast for 2018 DRAM industry bit shipments to rise a moderate 20%. It added that it might convert some NAND production lines to DRAM in 2019, rather than build brand new DRAM lines.
Samsung holds a market share of over 43% in the DRAM space and I find it a very good signal to Micron and SK Hynix that the group has confirmed that it plans to keep supplies tight amid a slowdown in demand. There have been reports about this development in the press for months now, for example, here and here.
Implications for Micron
Samsung, SK Hynix and Nanya all posted record profits and beat analyst estimates in the third quarter of 2018 which leads me to think that Micron will also comfortably beat its conservative Q1 FY19 guidance. Micron has a history of under-promising and the last time it didn't manage to beat analyst estimates was more than three years ago.
There are some interesting takeaways from the earnings of Micron's DRAM competitors. Samsung, SK Hynix and Nanya are all cutting capex which should affect the supply side and they expect the business to start improving after Q1 2019. Not one of these companies expects a sharp decline in prices over the next year. Also, newer DRAM manufacturing processes are boosting margins, which should soften the effect from falling prices.
Regarding the latter, Micron's $10.5 billion FY19 capex is focused on technology transitions, which I think should be a nice boost to margins. The U.S. firm is actually the only DRAM manufacturer which is increasing capex.
With only three major DRAM producers left on the market, I think they are taking the right steps to soften the coming trough and I view the valuations of all four companies as very attractive at the moment. Overall, I expect higher server demand to be a major driver for the DRAM market in 2019 and help the industry regain stability after Q1. However, I think that any escalation in the trade war between the U.S. and China could affect DRAM demand in a number of industries.
Regarding Samsung's weak smartphone sales, I think this could be a positive for Micron considering that the new iPhone has DRAM and NAND memory chips from the latter. Apple's average selling price was $793 for the last quarter, crushing analyst estimates of $750.93. This could mean that the sales of the more expensive iPhones are going well.
If you like my articles, you'll be pleased to know that a Marketplace Service is coming soon. You can expect to see a more in-depth look at the companies from my weekly series, my current portfolio, early access to articles and exclusive interviews with analysts and investors from the mining space as well as geologists. The service will be focused on analyzing under-followed companies from the metals mining space (particularly gold) and my aim is to create a great community where we can gain insight into the market together.
Disclaimer: I am not a financial adviser. All articles are my opinion - they are not suggestions to buy or sell any securities. Perform your own due diligence and consult a financial professional before trading.
Disclosure: I am/we are long MU.
I wrote this article myself, and it expresses my own opinions. I am not receiving compensation for it (other than from Seeking Alpha). I have no business relationship with any company whose stock is mentioned in this article.
Editor's Note: This article discusses one or more securities that do not trade on a major U.S. exchange. Please be aware of the risks associated with these stocks.