I wrote an article on July 26th named 'Anheuser-Busch InBev Is A Great Company At A Fair Price'. It's still a great company, and the price has completely tanked.
Let's adjust my view presented in that article with the new facts that have been presented over the past few months. Most importantly, the Q3 results gave investors an insight in how the company is tackling some of its challenges. Or some might say: failing to tackle.
Anheuser-Busch Inbev (BUD) cutting its dividend in half was also big news. Banks had been hinting that this might occur. The company finally did it, but investors didn't seem to take it lightly. I'll get back to the dividend story later.
Let's first refocus on the three threats I discussed in the previous article:
Volumes in hectoliter have been going down, especially in the U.S.
The craft beer hype in the U.S. can potentially dampen growth
The high amount of debt is scaring away investors
Declining volumes: it's not over yet
Mission failed. Total volumes were down quite strongly again, especially in the regions where it matters: the U.S. and Brazil.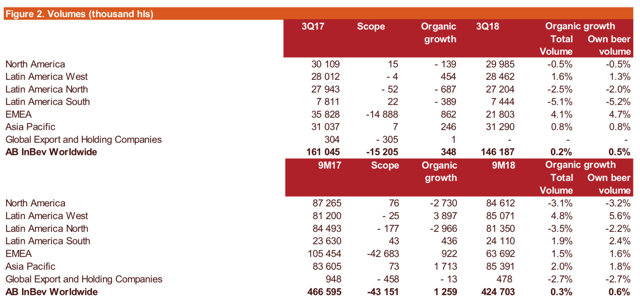 Source: AB Inbev's Q3 results
The positive news is that the decline in beer volumes in North America seems to be slowing down. In Q3 volume decline was only 0.5% compared to 3.1% for the first 9 months. They have stopped some of the bleeding.
Competitors such as Molson Coors have struggled as well: U.S. brands volumes decreased 3.3% due to soft sales in the light beer segment. Heineken said volume was flat for the USA.
Now, one might see some other nasty downturns in Latin America North and South. Brazil is a major market for AB Inbev and this is what management had to say:
Revenue grew by 2.1% in 3Q18, though volumes declined by 3.3% with beer volumes down 3.1% and non-beer volumes down 3.9%. This follows a price increase for beer within the quarter, which was similar to last year's timing. As a result, revenue per hl grew by 5.6%.
Source: AB Inbev's Q3 results
This is obviously not good, but there are some reasons for it. First of all, it's more than normal to have a volume decline when you increase prices. If that wouldn't be the case, it meant the company had been 'under earning' for years by not finding that sweet-spot price.
Secondly, business in general hasn't been buoyant in Brazil. A new pro-business president could improve consumer sentiment going forward, and get people buying more beer again.
Thirdly, Heineken gained market share and grew double digits in Brazil.
Lastly, the Argentinian crisis and hyperinflation was a true hit to revenue as well.
Due to hyperinflation, the company marked down a total $442 million of revenues and $225 million on its EBITDA.

Source: AB Inbev's Q3 results
All in all, total revenues for the group globally rose 4.5%. This is in line with expectations (I modeled for 4% and 5% in my previous article) and considered above average for a consumer staples company of this size.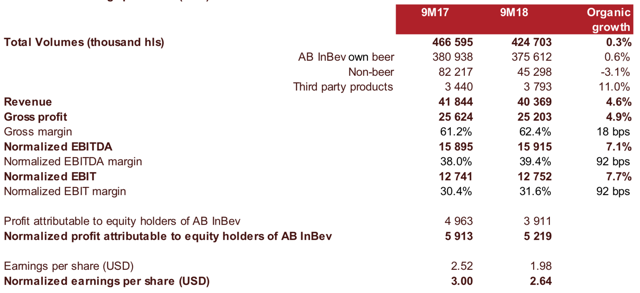 Source: AB Inbev's Q3 results
There's not that much to say about the craft beer threat many are talking about. AB Inbev hasn't made any new acquisitions in the space and seems to try to sell what it has. Unfortunately, one of AB Inbev's biggest brands in the space, Michelob Ultra scores a 1.9/5 and 1.13/5 on online rating sites.
In an interesting twist, the Michelob Ultra scores 4.52/5 on a different rating site called Influenster. Now what could be the difference between this website and the two biggest online beer rating site? It's the audience.
Out of the first 30 reviewers on the Influenster website, 30 are women. This is a sign that the beer is not marketed at 'the average joe' and it makes sense to have a low rating on specialized beer rating sites: the point is that women seem to like it. I believe it's a good strategy to tap this market as well.
Pay down that debt!
It finally happened... Anheuser-Busch Inbev cut its dividend in half to a mere €1.80 per share payment for 2018. Back in July I wrote that the dividend was around 4.5%. Now, you get only 3.2% at the current prices. This shows you how much the stock has fallen over the summer.
That was the negative news. Now for the good news: this opens up another $4 billion in yearly free cash flow! Isn't that what everyone wanted?
For me, in particular, this is great news. As a Belgian resident, we pay 30% taxes on any dividend paid out. Instead of this money coming to me as a dividend, it will now be used to pay down debt, immediately yielding a return as it pushes down interest costs.
The company had ~$2 billion in free cash flow after capex and dividend payments in the past. This now increases immediately to ~$6 billion.
Let's take the same assumptions as my previous article. If the company grows revenues 4% globally until 2022, revenues should be at ~$66 billion.
For the latest quarter, EBITDA was $5.38 billion on $13.28 billion in revenue, a 40% EBITDA margin.
Keeping this margin rate and adding 2 percentage points due to the projected cost synergies of $3.2 billion per year, EBITDA should come in at around ~$26 billion on a yearly basis in 2022, based on projected revenues of ~$66 billion.
With a projected EBITDA of ~$26 billion and 4 payments of ~$6 billion in free cash flow to pay down debt, barring new acquisitions or a major downturn in the market, would give us a decent net debt/EBITDA of $84/$26 billion or a ratio 3.23.
Five things to notice
1. Mark-to-market losses
Here's a scary thought: mark-to-market losses of $616 million.
Net finance costs (excluding non-recurring net finance costs) were 1 787 million USD in 3Q18 as compared to 1 135 million USD in 3Q17. The increase was predominantly due to a mark-to-market loss of 616 million USD in 3Q18 linked to the hedging of our share-based payment programs, compared to a gain of 240 million USD in 3Q17, resulting in a swing of 856 million USD.
Source: AB Inbev's Q3 results
Because the share price has plummeted, and AB Inbev hedged their share-based payment programs, there was a swing in profits of $856 million. This should be a temporary thing.
2. No cannabis investment yet
While other industry behemoths are placing bets on the cannabis sector, AB Inbev has done nothing yet. Research shows that alcohol volumes decline when weed is legalized. This makes sense. The pertinent question is, "Why hasn't AB Inbev entered the space yet?"
3. The FIFA world cup advertising hasn't done much
The company has spent a lot of money on the FIFA world cup ads. In fact, it was its largest advertisement campaign ever. CFO Felipe Dutra stated this could boost volumes in Argentina and Brazil by 0.5 to 1 percentage points. Both markets were a disaster in the Q3 earnings report, although the advertisement probably did more good than bad.
4. The insiders are loading up (again)
Belgian authorities post insider trades publicly on their website. In the final days of October, some prominent figures loaded up heavily. It's not to say that the stock will rebound immediately because of this, but it's a sign of confidence of those close to the action.

Source: FSMA website
The Brazilians loaded up on $88 million of shares and an Italian director bought $10 million.
5. Management is quiet about everything, but especially about China
It strikes me that management hasn't said a lot about the situation. They simply cut the dividend and told everyone they would work on improving the business. But how? Where are the targets?
There hasn't been a strong interview of top management explaining what is going on. To be honest, this is not a good sign.
There used to be a lot of talk about China. Remember the mega brewery that opened up last year in December? Or their promise to be completely dependent on solar energy in China by 2025?
For the first 9 months, volume grew 1.8% and revenue grew 6.3%. In Q3, however, this slowed down to a 1% volume growth. Revenues grew stronger by 7.4%. EBITDA growth was strong for Q3 at 22.8%.
Conclusion
In hindsight, I initiated my position in AB Inbev too early. Averaging in is always important, and this situation has showed it yet again. I was able to secure a decent average cost price and will likely add more to the position if it stays around these levels, in the coming months.
AB Inbev's earnings per share after 9 months were $2.64. A simple extrapolation gives us $3.52 for the full year, if everything stays as-is. This means AB Inbev is trading at a 21x earnings multiple today, taking into account the 0.31 hit per share because of the mark-to-market accounting losses. If we filter that out, earnings for the full year come in at $3.93, and AB Inbev trades at around 19x earnings.
If the company is able to keep growing revenues at 4.5% a year, EBITDA could reach ~$27 billion by 2022 and yield ~$8.85 billion profit attributable to shareholders or ~$6.6 EPS. This is based on how much is currently trickling down from the EBITDA to EPS.
Bear in mind that this is without taking into account the decreasing interest expenses as the company pays down more debt.
The company has grown organic revenues steadily at a 4.6% clip between 2012 and 2017. It should be able to continue to do so by unfolding its premiumization strategy in new markets and offering new products (such as craft beers or non-alcoholic beers).
By then, if things pan out as projected, the stock would trade at a 11x earnings multiple, while leverage would be decreased to a more prudent 3.2x net debt/EBITDA multiple.
In my opinion, shares of BUD should trade at multiples similar to today (around 20 times earnings), so at twice that price. Therefore, I still believe shares of BUD should be worth €135 euro or $153 by 2022.
Disclosure: I am/we are long BUD.
I wrote this article myself, and it expresses my own opinions. I am not receiving compensation for it (other than from Seeking Alpha). I have no business relationship with any company whose stock is mentioned in this article.
Editor's Note: This article discusses one or more securities that do not trade on a major U.S. exchange. Please be aware of the risks associated with these stocks.