Realty Income (O) keeps making news with the bears and bulls coming out of the woods after the company reported its 3rd quarter results.
On one hand, you have a long-time bull who argues that Realty Income remains a BUY because of:
Strong and diversified portfolio
Cost of capital advantage
Superior track record
And, on the other hand, we have another analyst who is turning increasingly bearish, mostly because of:
Excessive valuation
Low yield in an increasing interest rate environment
Potentially eroding NAV
Where do we side? The arguments are compelling on both sides, but the market is today leaning more towards the bull thesis with the shares back at over $60 per share.
After all, in times of high market volatility, it is not surprising to us that Realty Income becomes increasingly attractive. The company is a true blue-chip, and it has served investors very well in the past. That said, past performance is no guarantee of future performance, and even a great company can quickly become a poor stock if the thesis/price change materially.
Back in February, we built a large position in Realty Income as part of our Core Portfolio at HDO, because it had recently dropped from a high of over $70 to less than $50 per share. At that time, the shares were yielding an attractive 5.4%, and the fundamentals were not any worse than today.
Yet, after the recent surge to over $60 per share, this yield has come down to "just" 4.3%: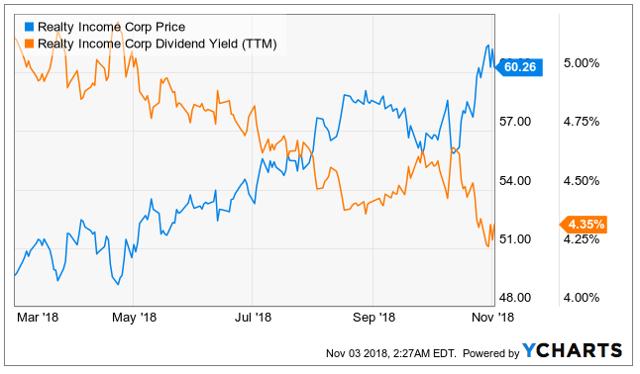 Clearly, Realty Income has become a less attractive investment than it once was.
The monthly income is now significantly lower.
The future upside potential is much more limited.
And yet the downside risk is much greater at the higher share price.
In short, upon a fresh review of the company, we have decided to sell and take our +25% gain here because of 5 key reasons that we explain below.
1 - The Yield Spread is at Dangerous Levels
Interestingly, during our ~9-month holding period, we saw the dividend yield go down by over 100 basis point, while the 10-year treasury rose by over 50 basis point.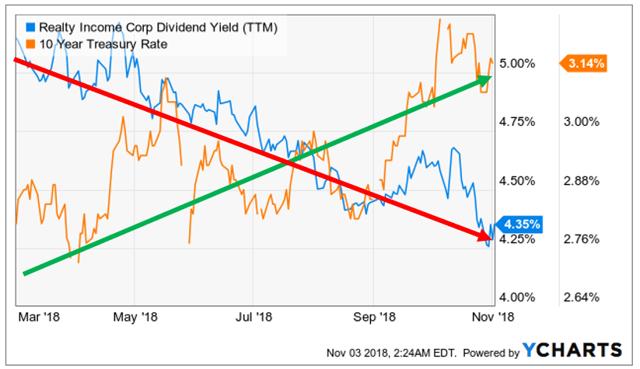 This is very curious because simple theories of valuation would dictate the exact opposite: rising interest rates should result in rising dividend yields. Otherwise, Realty Income becomes decreasingly appealing as compared to the 10-year treasury (ceteris paribus).
Back in February, the shares of Realty Income had crashed by over 15% because interest rates had risen to new highs. Now, however, the yield of the 10-year treasury is even higher, and yet, the dividend yield of Realty Income has move back to very low levels. In consequence, the spread between the dividend yield and 10-year treasury rate is at its lowest levels in over 5 years!!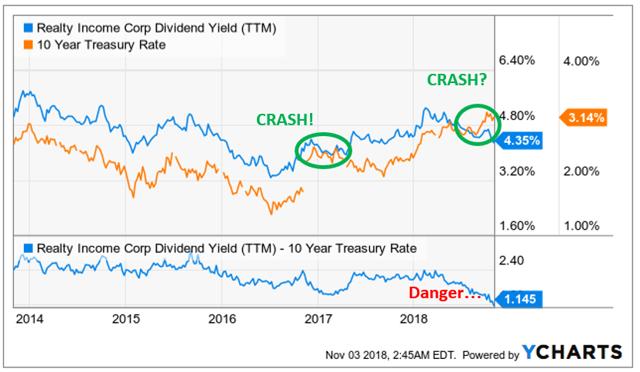 The spread is actually even lower than back in 2016 when Realty Income traded at over $70 per share, and it is a clear sign that the shares have become overvalued in comparison to treasury rates.
Back then, Realty Income suffered a significant crash in the subsequent periods when interest rates kept on rising. Proof that valuation (and yield spread) matters!
2 - Abnormally Strong Performance
While the REIT market (VNQ) has been under pressure in 2018 due to a pessimistic market sentiment, Realty Income has kept on moving up at a fast pace: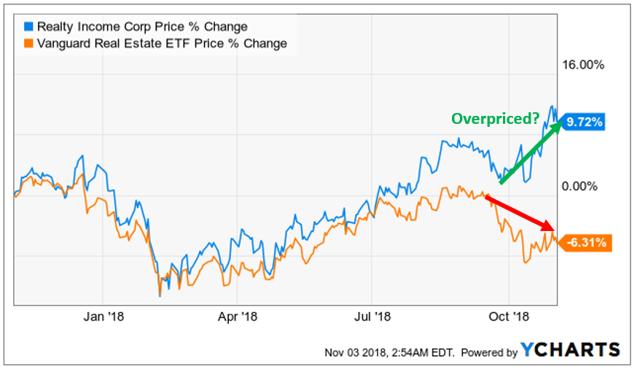 If this was due to materially improving fundamentals as compared to other REITs, it could be justified, but this is not the case today. Realty Income continues to enjoy strong fundamental performance, but nothing great to the point that could justify it moving up by 10% while other REITs go down by 6%.
It leads us to think that there are better opportunities elsewhere and adds to the evidence that Realty Income may have become overpriced once again.
3 - CEO is Leaving with a Golden Parachute
Very recently, the long-time CEO of Realty Income, John Case, left the company and was replaced by Sumit Roy. At least, part of Realty Income's outperformance has been achieved thanks to the exceptional skills of the former CEO:

Now, with the new CEO, the company could well continue to perform just as well, and we have nothing against Roy, but it adds uncertainty and increases risk. Will Roy be able to follow the steps of Case, who put the expectations to the very highest level? Will the new CEO be able to weather the next storm as well as Case did? These are all open questions that cannot be answered with complete certainty at this point.
It should also be noted that the former CEO left Realty Income with a rather hefty $28 million bonus. This is in line with his employment agreement (and perhaps well-deserved), but nonetheless, it is the investors who will pick up the bill here.
Put simply, it adds cost, risk, and uncertainty. Nothing for shareholders to gain from such a transition.
4 - NAV Could Erode as Cap Rates Expand
Most REIT analysts, including us, pay more attention to FFO-based valuation metrics rather than NAV because unless the REIT is liquidated, the NAV is not paying you anything.
The NAV does, however, act as a "weighting machine" in the long run as valuations tend to converge towards NAV over time. Some REITs trade at a slight discount, while others trade at a slight premium, but the NAV is a good direction of long-term value.
Priced at over $60 per share, Realty Income is today trading at a massive premium of ~22% over the underlying value of its properties (SNL Financial). In comparison, other REITs trade on average at close to a 6% discount to NAV:

REITs are today priced at a discount to NAV to absorb the impact of potentially rising cap rates and declining NAV in the near term. The market is being cautious because interest rate increases have in the past led to cap rate expansion.
Example: If a property ABC yields 6% today, but interest rates rise from 2% to 3%, perhaps now investors will start demanding a 7% cap rate on the same property - leading to a lower NAV.
The average REIT is today already priced at a discount, so it can absorb this risk. Realty Income, however, with its aggressive valuation, is much more exposed to the risk of eroding NAV in the future.
5 - Better Opportunities Elsewhere
Investing money is always a question about finding the most appealing investment in comparison to others. In this sense, Realty income is only appealing, if other alternatives are less favorable.
We find that the opposite is true today as many comparable companies trade at much more attractive valuations despite enjoying very similar fundamentals.
One great example of that is Spirit Realty Capital (SRC), a very similar net lease REIT, and yet so much more opportunistic from a yield and valuation standpoint:
| | | |
| --- | --- | --- |
| | Realty Income | Spirit Realty Capital |
| Dividend Yield | 4.3% | 6.3% |
| Payout Ratio | 84.5% | 75% |
| FFO Multiple | 19.2x | 11.8x |
Realty Income has a hefty 200 basis point lower dividend yield despite having a much more aggressive payout ratio of up 84.5%. Similarly, the valuation multiple is over 7 turns higher.
And yet, have a look at the portfolios. Both companies are investing in very similar net lease assets and share many of the same high-quality tenants among their top 20, including Walgreens (WBA), Dollar General (NYSE:DG), CVS (CVS), Circle K, BJ's (BJRI), Home Depot (HD) and many other directly comparable retailers.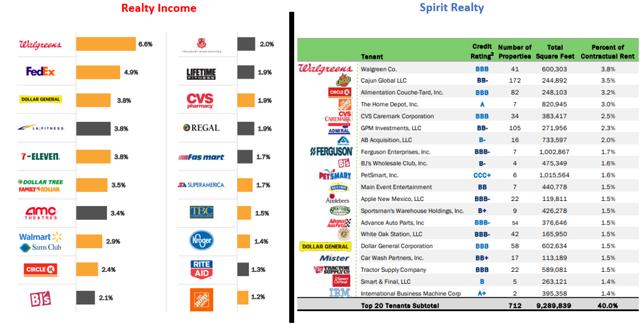 In other words, with Spirit Realty Capital, you are getting a comparable portfolio to Realty Income with:
Higher yield
Safer payout ratio
Lower valuation multiple
Arguably more upside and less downside
We are currently working on a detailed full investment report on Spirit Realty Capital. We expect to publish it to our private investment community next week along with a detailed market update and plan of action for the coming months.
Bottom Line
Realty Income is a fantastic company with solid assets, but its high valuation and low yield make it increasingly risky in today's market environment. We are glad to have been able to generate a +25% total return on the company in a short 9 months holding period, and now is the time to reallocate capital in more lucrative ventures.
Spirit Realty Capital appears to be a perfect portfolio replacement as it shares many similar traits as Realty income but comes with a much lower price and higher yield. After all, we are "high yield" investors, and Realty income's 4.3% dividend yield is hardly satisfying our needs for income. We would reconsider opening a new position if the yield gets back to ~5%, but otherwise, we feel much more comfortable investing in other high yielding real estate opportunities for now.
About High Yield Landlord
High Yield Landlord is one of the largest and fastest-growing communities of real estate investors with over 150 members. We provide a comprehensive service ranked among the very best in uncovering high-yielding securities of undervalued real estate companies. Subscription includes:
A real-money portfolio funded with $50,000 currently yielding 7.6%.
Timely BUY & SELL alerts for simple portfolio emulation.
A wealth of data and market intelligence on REITs, mREITs, and other real assets.
If you are looking for the newest and most profitable real estate opportunities, you have come to the right place. For a 2-week free trial, click HERE.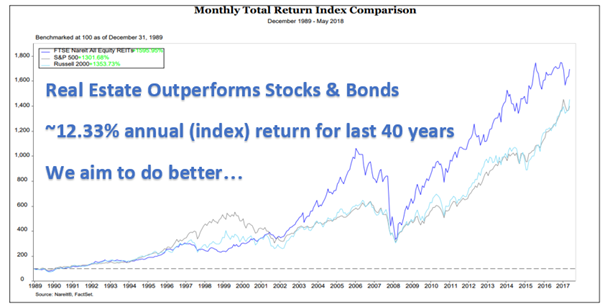 Disclosure: I am/we are long SRC.
I wrote this article myself, and it expresses my own opinions. I am not receiving compensation for it (other than from Seeking Alpha). I have no business relationship with any company whose stock is mentioned in this article.
Additional disclosure: I am part of the HDO research team along with Rida Morwa.