Note: This report reviews the official Q3-18 earnings results, earnings presentation, and the conference call transcript for Capital Product Partners (CPLP). For a greater background on the company itself, I highly recommend reviewing our Top Idea report published in late September 2018.
Company Overview
Capital Product Partners is a shipping holding company specializing in vessels with medium and long-term charter contracts, primarily in the product tanker and container sectors. CPLP has superior forward revenue visibility due to the nature of its contracts and staggered roll-offs. This allows it to appeal to more income-focused investors versus direct rate speculators. Despite this strength and a very strong balance sheet, the stock has been trading terribly towards the end of summer 2018.
CPLP currently trades at $2.76 with approximately 130 million common units outstanding, for a current market capitalization of just over $360 million. CPLP common units currently offer a quarterly distribution of $0.08 for a current yield of 11.6%.
Overall Results
CPLP reported results above my expectations, with DCF climbing as interest rates came down and they took less of a hit than I expected on their spot exposure. They confirmed the sale of the "Amore Mio II" for $11.2M as expected, and they locked in an MR extension at $12k/day, with a picture-perfect expiration set for January 2020.
Even with their extremely conservative method of calculating DCF, they still managed to report 1.1x coverage. This was huge! I was privately expecting as weak as 0.8x as a possibility depending on how poorly the spot markets performed.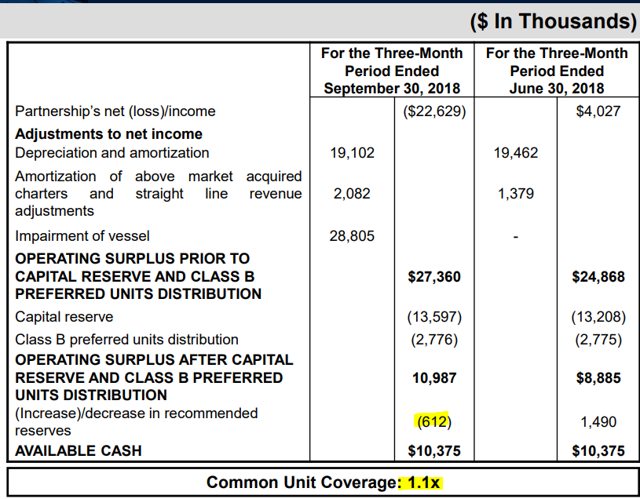 Source: CPLP, Q3-18 Earnings Presentation, Slide 4
Liquidity Boost
The sale of the Amore Mio has resulted in a liquidity boost of $5.3M while also reducing debt by $5.9M. The details are shown below (slide 8).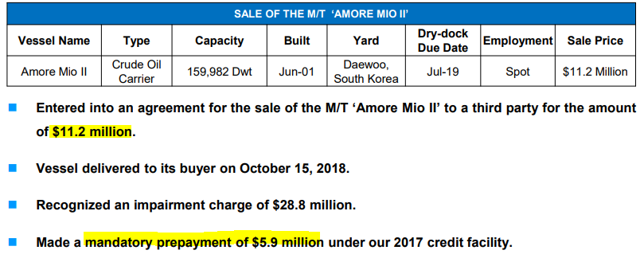 Source: CPLP, Q3-18 Earnings Presentation, Slide 8
Riding Spot Exposure...
CPLP is making a major bet on the spot markets into the coming winter. They are notable holding all 3 Suezmax vessels and 6 product tankers into the direct markets. Thus far the Suezmaxes are killing it- with spot rates reportedly hitting the $30k/day range! Product tankers aren't doing as well, but the inflection normally comes around Thanksgiving and recent commentary from Scorpio Tankers was promising.

Source: CPLP, Q3-18 Earnings Presentation, Slide 9
The Suezmaxes are going to contribute a massive amount to DCF this coming quarter and likely Q1-19 as well. This more than offsets any risk from product tanker hits. However, there is significant risk during 2019 as all 5 MR2 charters are set to expire from very bullish levels. These are high-class vessels, but I estimate their rates around $14-$15k/day in these markets.
Major Scrubber Deal
The biggest news on the call was the announcement of a deal with HMM where Capital Product Partners will upgrade all five of the associated containerships with scrubbers. CPLP is responsible for the full scrubber capex, but HMM will compensate by raising the hire from $4,900/day effective January 2020 (or later if scrubber installation is delayed). This means that instead of jumping from $23,480 to $29,350, the new rate for the five ships will jump to a massive $34,250/day in Jan 2020.
This shift adds nearly $5M in quarterly cash flow, nearly 4 cents, probably 2-3 cents of DCF adjusting for scrubber amortization per quarter. That's massive.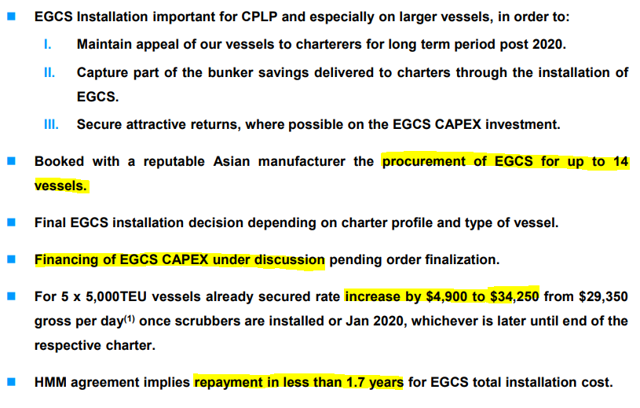 Source: CPLP, Q3-18 Earnings Presentation, Slide 7
The payback period is a remarkable 1.7 years. Using $4,900/day as a proxy, this suggests the equipment will cost just shy of $3M. Considering the remarkable charter coverage, CPLP should have no issues financing at least 60-70% of the installation, so I expect liquidity impacts to be minimal.
Focus Question Review
The following section presents our original 'focus questions' from Value Investor's Edge earnings coverage along with review commentary based upon the actual Q3-18 results.
Another coverage stinker? I've recently covered in excruciating detail how CPLP under-reports their coverage. I expected that this quarter could be slightly worse, even down to 0.8x. However, I expected a clear lift into Q4 and Q1-19 as crude tankers perform stronger and debt comes down.
CPLP reported 1.1x unit coverage, blowing my bearish expectations out of the water!
Recent transaction confirmation? They indeed confirmed the $11M sale of the Amore Mio, but we didn't see a dropdown...yet. I'm guessing they are waiting to secure financing for the scrubbers and deciding if they want to exercise options on the remaining 9 scrubbers before pressing forward with a dropdown.
At a cost of $2.5M average with 60% assumed financing, CPLP needs around $10M to get the rest of the deals done. I expect the targets are the 5 other containers (3x CMA, Agamemnon, Archimidis), the "Cape Agamemnon" bulker, and the 3 remaining crude tankers.
Unlike Scorpio Tankers (STNG), CPLP doesn't seem interested in the economics of scrubbers on MRs.
Do we turn the corner on interest costs? I expected to finally see a clear q/q savings in interest rates (even better into Q4-18) as lower debt balances were set to finally overcome the pesky rise in LIBOR.
Sure enough, interest costs dropped from $7.21M to $6.94M. This might seem like small potatoes, and honestly right now it still is, but that's nearly $0.01 a year in savings already. We should see costs drop to nearly $6.6M next quarter. This is a sort of snowball-savings effect.
Conclusion & Price Target
This was a fantastic quarter. CPLP honestly blew out my expectations and they are set up arguably perfectly into the spot exposure. The HMM deal was nothing short of brilliant as the charterer now takes 100% of the risk on the fuel spreads. A guaranteed payback (not a gamble like virtually all other firms are taking) in about 1.7 years is clearly strong.
I'm keeping my 'fair value' target at $4.50. That seems silly with the stock price at $2.76 as I'm writing this report, but NAV is right around those levels and if anything we're likely to see further upside in products.
Unfortunately CPLP is going to keep trading on yield for now. As the market 'wakes up' that the distribution clearly isn't getting cut and coverage next quarter could be 1.3x or better, I suspect we could return to a 9-10% range. That's $3.20-$3.56. So if I'm speaking like an analyst, my 'price target' would be $3.50.
In other words, its worth $4.50, but it's only likely to trade to $3.50 for now... $3.50 is still a 27% profit (38% including dividends) in a year. That's pretty nice!
J Mintzmyer collaborates with Michael Boyd and James Catlin on his Marketplace service.
Disclosure: I am/we are long CPLP.
I wrote this article myself, and it expresses my own opinions. I am not receiving compensation for it (other than from Seeking Alpha). I have no business relationship with any company whose stock is mentioned in this article.