MACRO NEWS
Global: Last week, market conditions eventually eased on the back of a decrease in implied volatility and strong US jobs report. However, it looks like the situation is still worsening in Asia after China Caixin composite PMI, a better proxy of operating conditions in the manufacturing economy, has fallen to 50.5 in October (vs. 52.1 previous), its weakest level since June 2016. The CNY 403.5bn 1Y MLF (medium-term lending facility) operations to financial institutions was not reflected in the market and the Hang Seng index was down 2.1% at the closing (according to Eikon Reuters). The Chinese yuan is still under pressure flirting with the 7 psychological resistance and could potentially break that level if US LT interest rates continue to rise in the medium term. Figure 1 (left frame) shows that the 10Y US-China interest rate differential has been leading (4M) the exchange rate since 2014.
US: Last week was filled with strong economic data for the US economy, with non-farm payrolls coming in higher than expected at 250K (vs. cons, 200K), leaving the unemployment rate unchanged at 3.7% in October. Earnings were also very strong, the Employment Cost Index (private workers), usually referred as a good proxy for wage inflation, was up 3.1% in the third quarter, its fastest pace in a decade. The Fed is meeting on Wednesday and we expect US policymakers to keep their Fed Funds rate steady at 2.25% (market prices a 6% probability of a hike according to the Fed Watchtool).
UK: The first estimate of UK annual GDP growth in coming out on Friday and is expected to increase to 1.5% in the third quarter (from 1.2% previously, figure 1). Over the past few months, we have been warning that the economic activity was subject to a lot of uncertainty as macro indicators, the housing market and consumer spending have all been weighing on the growth outlook. Short-sterling Jan19 and Mar19 futures contracts are trading at 99.07 and 99.01, respectively, implying that the market is expecting a hike somewhere in the first 6 months of next year.
EZ: As expected, real growth slowed in the Euro zone to its lowest level in 4 years, down to 0.2% QoQ in the third quarter (vs. previous 0.4%). Italy registered no growth at all and the nation remains at risk for the time being, as our leading economic indicators are currently pricing in a potential recession coming ahead. Composite PMI and German industrial output are out this week, but we do not see any indicator impacting the market volatility.
Figure 1

Source: Eikon Reuters
USD SPECULATIVE POSITIONING
According the CFTC, net specs on the US dollar rose by 32.7K (contracts) in the week ending Oct 30 on the back of a strong in increase in MXN net shorts (+24.2K). The USD recovered from Thursday losses ; the next resistance on the US dollar index stands at 97, which corresponds to the highest level since June 2017.
Figure 2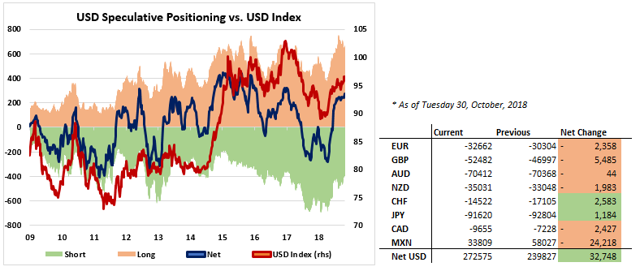 Source: CFTC
FX POSITIONING

EURUSD: EURUSD managed to find support once again last week around the 1.13 – 1.1330 zone, but the single currency still remains under pressure for the time being. A break of the 1.13 psychological level could push the exchange rate down to 1.1185, which corresponds to the 61.8% Fibo retracement of the 1.0340 – 1.2550 range. Being short EURUSD this week could be the winning trade.
Figure 3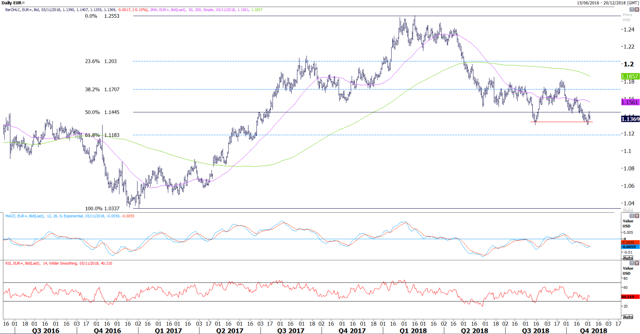 Source: Eikon Reuters
EURGBP: EURGBP is still trading within its 0.87 – 0.8920 range and we expect the exchange rate to remain between those levels for the time being. Trading the range on the pair could be interesting this week, and we will try to buy some if it falls to 87cents with a tight stop at 0.8665.
GBPUSD: Cable recovered significantly last week following a few weeks of negative momentum ; GBPUSD found support at 1.27 and surged by three figures following Bank of England's comments that the Bank Official Rate could rise at a faster pace in the event of a smooth Brexit. However, we would not initiate any position on Cable as the uncertainty around UK political negotiations remains elevated.
USDJPY: USDJPY has been on a rise last week along with equities' recovery ; the FX pair broke its short term resistance at 113 and the next one stands at 114.20 (23.6% Fibo retracement of the 99.60 – 118.70 range). Steady and rising equities in Europe and US could potentially send USDJPY up to 114.20, however we would closely watch Japanese equities' performance in the next few sessions (traditionally, yen appreciates in periods of market 'sell-offs'). We exited our AUDJPY position after reducing the stop to 80.70, making a 2.77% gain. Even though the trend still looks bearish, being short AUDJPY would imply further equity losses, hence we would wait for higher levels to short it.
Figure 4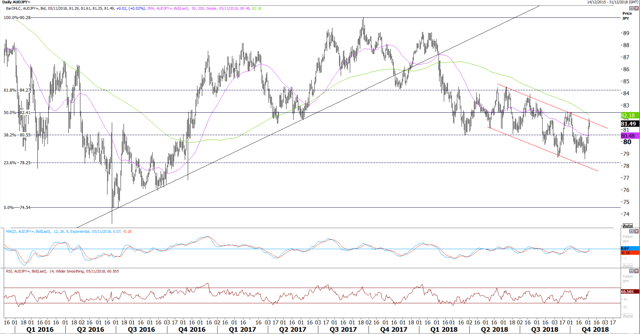 Source: Eikon Reuters
USDCHF: We entered a short position on USDCHF at 1.0070 last week as we thought that the momentum on USDCHF seems to be fading after a significant rise from 0.9550 to over 1 over the past couple of months. The trade is purely technical as we are playing a short-term reversal ; 1.0070 corresponds to the 76.4% Fibo retracement of 0.9250 – 1.0330 range. We would keep a tight stop at around 1.0125 with a first target at 0.99.
Figure 5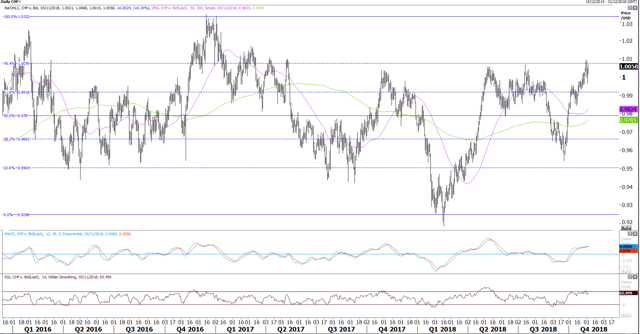 Source: Eikon Reuters
CHART OF THE WEEK
In our recent weeklys, we have suggested that the Euro economy was likely to experience a potential downturn within the next 6 to 8 months. We saw significant drops in manufacturing and services PMIs, a ZEW index (a proxy for economic outlook in the Euro area) at its lowest level since 2012 combined with signs of flattening yield curves in most of the countries. In addition, the annual real M1 money growth has also been slowing down over the past 2.5 years, from 10 per cent in January 2016 to below 5 per cent in August (figure 6). As the chart shows, real money growth has tended to act as a good 9-month leading indicator of industrial production growth: there is close correspondence between the two series since 1998. In addition, the deceleration of money growth has also reduced the amount of excess liquidity that is entering into the system (computed as the difference between real M1 and industrial production), usually perceived as negative for risky assets such as equities. This combination of factors limits the upside potential for economic growth and financial asset performance in the Euro area.
Figure 6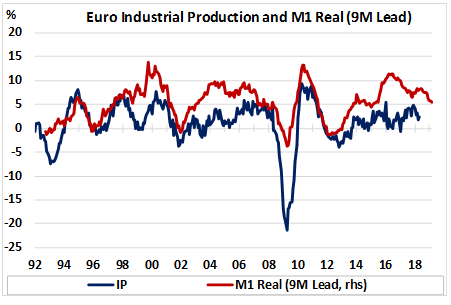 Source: Eikon Reuters
Disclosure: I am/we are long USDCAD. I wrote this article myself, and it expresses my own opinions. I am not receiving compensation for it (other than from Seeking Alpha). I have no business relationship with any company whose stock is mentioned in this article.
Additional disclosure: Short USDCHF