In the century and a half since Edison threw the first switch, not one regulated US provider of electricity has ever gone out of business. That's a remarkable track record for longevity.
Regulated electric, heat and water utilities today are as healthy as they've been in decades from a business and balance sheet perspective. And the best in class companies are growing earnings and dividends at the fastest rate in half a century.
But nothing is guaranteed to last forever. Only by adapting to change while absorbing innovation can utility companies ensure they'll be around another hundred years.
Some of today's disruptive forces are the result of rapid technological change that could fundamentally change how services are provided. Others have been triggered by regulatory changes, demographic trends affecting preferences and economic shocks. But the challenge is the same: Management teams need to figure out solutions and execute plans to turn disruption to their favor.
Today, the power sector's urge to merge is as pressing as ever, as demonstrated by the continuing flow of M&A. This summer, for example, Great Plains and Westar capped 20 years of attempting to merge by forming Evergy Inc. (NYSE: EVRG).
Earlier this year, Sempra Energy (NYSE: SRE) joined leading utilities in the two biggest US states Texas and California, buying the electricity distribution utility of the former TXU.
Meanwhile, two deals in progress will further consolidate the electricity industry in the southeast: Dominion Energy's (NYSE: D) attempted purchase of SCANA Corp. (NYSE: SCG) and NextEra Energy's (NYSE: NEE) much less controversial acquisition of Southern Company's (NYSE: SO) Florida unit.
The fact that not one merger of regulated power companies has ever broken apart is a compelling testament to sector scale economics. That's in large part due to the fact that this business is so similar across the country. Adding scale always provides opportunity to improve efficiencies, as well as to strengthen balance sheets and improve purchasing power.
The economics of building ever-bigger power plants, however, are somewhat less clear. US utilities are still planning and constructing large-scale natural gas-fired facilities, made possible by abundant shale supplies and new pipelines.
Plunging prices of components have made utility scale solar farms and wind farms increasingly profitable. And by early in the next decade, the US will have its first major offshore wind facilities.
The era of large-scale coal-fired power plants in the US, however, is over. Barely a decade ago, companies had plans to build 107 new units. Only two have entered service - Duke Energy (NYSE: DUK) facilities in Indiana and North Carolina - while the rest have been scrapped.
Meanwhile, existing coal continues to shut down. The latest is the recent announcement by American Electric Power (NYSE: AEP) that it will shut the 1,590-megawatt Conesville facility in Ohio by May 31, 2020. That's two years ahead of a previous projection.
As for nuclear, Southern Company's Vogtle project is now the only facility being built in the US. Meanwhile, older units like Exelon Corp.'s (NYSE: EXC) Oyster Creek continue to be permanently shut down.
Because switching from coal and nuclear is also cutting costs, utilities have been able to boost rate base with investment in gas, solar and wind, even while keeping rate increases quite modest. That's meant higher earnings and faster dividend growth.
Rising penetration rates for distributed sources like rooftop solar, however, are also playing a role in shifting power economics. That's especially true in sunnier states like California, Arizona and Nevada. But adoption of distributed solar is also increasing in places like the Northeast, where local government policies and consumer preferences increasingly favor it.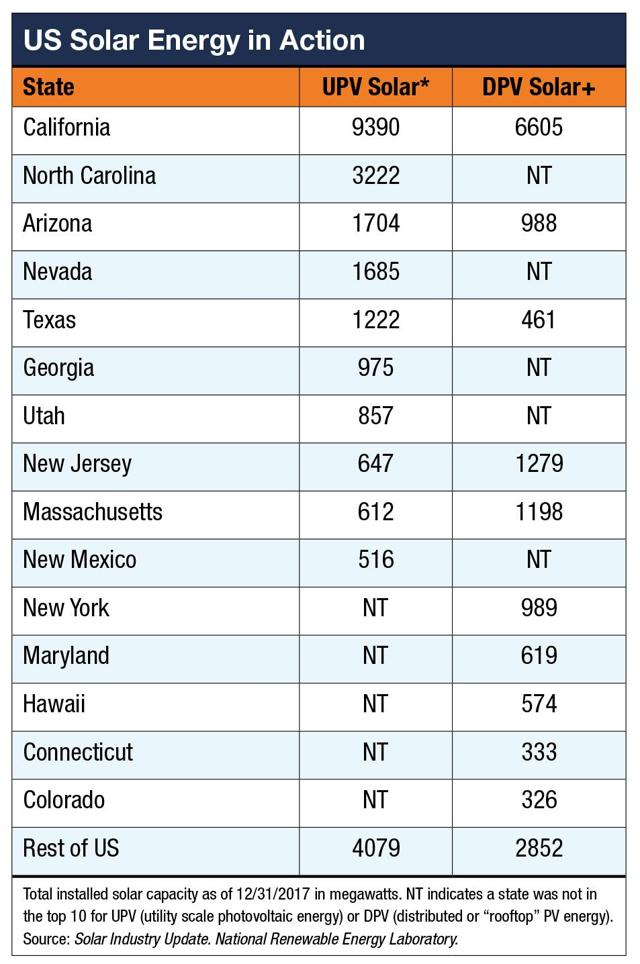 The more DE solar capacity is adopted, the less the demand for grid generated electricity during daylight hours. That means lower wholesale power prices and more shutdowns of conventional power plants. That also increases the need for more dispatchable sources and battery energy storage, which is still relatively expensive.
Electric vehicle adoption is another potentially disruptive force. All else equal, having more EVs on the road means greater demand for power. California's big three utilities, for example, estimate their annual rate base growth will accelerate 2 percentage points over the next decade. That's from constructing charging stations and to accommodate additional demand from the state's goal of having 1.5 million EVs on the road by 2025.
In 2010, California regulators restricted utilities' ability to build new EV infrastructure. Now they've greenlighted $750 million in new spending, ensuring the big three will win a big piece of this market.
A third potential disruptor in the power market is increased adoption of "behind the meter" technologies. The focus of these is now mostly on increased efficiency by providing greater user control over usage. But some like Tesla Inc.'s (NSDQ: TSLA) PowerWall will actually encourage less use of grid electricity.
Utilities have pushed back by convincing state regulators to change rules on "net metering," which require them to buy power generated from rooftop solar and other distributed energy at preferential retail rates. Some states have also imposed new fees and other restrictions on deployment of rooftop solar, on the premise that cord cutters should still pay their share of grid costs.
State policies, the tariffs on imported solar panels and the collapse of "growth at any price" business practices of many rooftop solar companies have slowed defections from utilities the past couple years. Ultimately, however, utilities will have to adopt DE and behind the meter technologies to their business models, as well as drive their development.
Encouragingly, this is happening very fast in regions where solar power is most economic. Hawaiian Electric (NYSE: HE), for example, is building a power grid across its state's archipelago that will run wholly on renewable energy within the next 30 years, mostly generated from distributed energy systems.
Edison International's (NYSE: EIX) plug-and-play grid envisions DE combined with advanced energy storage as the building blocks of an ultra-efficient grid. That investment is fueling rate base growth of nearly 10 percent a year, along with commensurate earnings and dividend increases.
The death spiral scenario remains possible for some companies. But even the most sluggish utility responders to potentially disruptive change have a trump card to play. Mainly, they're established regional companies with deep pockets.
That means they can deploy new technologies and processes faster than any rival thanks to deep pockets and unmatched customer connections. And at the end of the day, a sale is a sale, whether it's from providing grid generated electricity or meeting a customer's specialized needs for onsite power.
The success of utilities like Dominion Energy winning what amount to DE contracts with large technology firms operating in Virginia and Maryland testifies clearly to the fact that these entities would rather let the incumbent power company continue providing their electricity, even if the means are changing. So does Southern Company's ability to win all-in contracts with US military bases.
Utilities also continue to be successful convincing regulators that they're the best agents for carrying out America's energy transition. The passage of legislation in California last month to allow securitization of fire damage costs, for example, is unmistakable affirmation that the state wants to preserve the balance sheet health of utilities to invest in a future grid, even as on the other hand it encourages DE by requiring every new home built in the state be equipped with solar panels.
For investors interested in a marriage of storage and solar, AES Corp. (NYSE: AES) remains a great choice despite the stock's mighty surge this year. We have seen this stock rally to our buy below target of $15 several times in recent years, only to plunge back toward $10.
I believe this time will be different as the company nears its goal of a parent level investment grade credit rating and has shed most of the cyclical operations that made earnings growth more difficult to predict. Those without a position can still buy AES below 15.
About "Utility Investor": I will be launching a brand new service (very soon) aimed at individual and professional investors looking for the very best in dividend-paying stocks in utilities and other essential services companies (reliable dividend and income strategies for REITs, utilities and other essential services). To stay in touch for our launch of "Utility Investor," follow my Seeking Alpha profile here.
What will be included in Utility Investor:
Access to our managed portfolios.
Breakdown of our key investment themes and focus area coverage.
In-depth company profiles and company analysis.
Real-time buy/sell alerts through our tracked portfolio.
Disclosure: I am/we are long AES, D, DUK, SO, NEE, EIX. I wrote this article myself, and it expresses my own opinions. I am not receiving compensation for it. I have no business relationship with any company whose stock is mentioned in this article.