Intuitive Surgical, Inc. (ISRG), the 800 pound gorilla in the medical robotics industry, reported another in a long line of strong earning reports after market close on October 18, 2018. Mr. Market was not impressed, and the stock fell approximately 10% over the next five trading days. What's more, the ISRG stock chart printed an ominous Doji Star on October 1st and then fell approximately 20% to its low on October 29. Why did Intuitive's stock price correct before and after earnings, if the earnings report was strong? And, what about the price recovery over the first few days of November? Is it for real, or just a minor leg-up before a more dramatic correction? In this article, I will discuss how the 3rd quarter earnings report shows the company's continued strength, despite stock price weakness, and I will provide a rational for the disappointing October price movement (hint: Blame Mr. Market), as well as (most importantly) what price action we can expect in the future.
First, let's take a look at the strong 3rd quarter earnings report, and then I will try to make some sense of the stock's price behavior via trendlines, doji's, and other technical wizardry. The earnings conference call transcript is extensive, thirty-four pages to be exact, and there is no way I can cover all of the details here, but let me present a few important highlights. (You can settle into your La-Z-Boy chair and read the full report here.)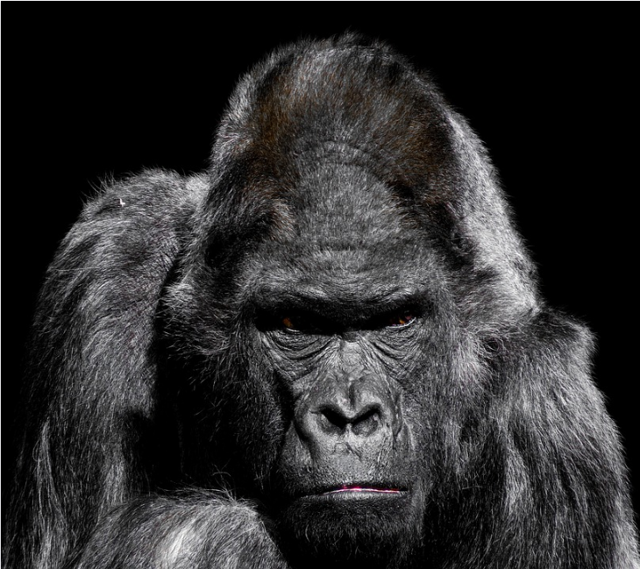 The Intuitive Surgical gorilla is not pleased with Mr. Market.
Free Image on Pixabay - Gorilla, Monkey, Ape, Zoo
Revenue up 14%, $921 million vs 808 million (yoy)
For those of us used to hyper-growth tech companies, like Tesla (TSLA) or Square (SQ), 14% revenue growth does not seem impressive; but for a large cap of $59 billion, 14% growth is excellent. We need to realistically temper our expectations given the large size of this company. To put things in perspective, large cap medical products and robotics company Medtronic (MDT), with a cap of $124 billion, has reported revenue growth averaging in the low single digits over the last 8 quarters.
Net Income: Better Than it Looks
I was initially really disappointed by the earnings income figure: $293 million; $2.45 eps; -2% yoy. (3rd quarter 2017 numbers were $299 million or $2.56 eps). Intuitive's eps percentage growth has averaged in the mid-thirties over the previous 4 quarters. However, according to the conference call, the 3rd quarter of 2017 benefited from $21 million in revenue from a customer trade-out program, which raised 3rd qtr eps by $0.09, and it was elevated by $68 million, $0.59 eps, related to "tax benefits associated with the expiration of statutes to limitations."
If you back these extras from 3rd quarter 2017 out, the comparison is $2.45 eps vs $1.88, a 30% INCREASE, yoy. That growth is consistent with the last handful of earnings reports.
da Vinci System Shipments Up 37%
During the quarter, Intuitive shipped out 231 machines versus 169. This is awesome news because of Intuitive's recurring revenue model; Intuitive is a "sell the razor to sell the razor blade" type company. It makes the majority of its revenue from recurring service fees, leasing of systems, system upgrades, instruments, and accessories. Total recurring revenue in the quarter was $660 million, representing 72% of total revenue, up one percentage point from last quarter (71%, 643 million).
The Mountain of Cash
Intuitive's mountain of cash has been steadily increasing for many quarters, and it now stands at a towering $4.6 BILLION, an increase of $311 million from the prior quarter. The company can use this cash for:
Share buy backs (more on this later), which has the dual benefit of stabilizing the stock price and making each existing share more valuable (or at least counteracting additional shares issued to upper management).
Acquisitions, like Medronic's pending acquisition of Mazor (MZOR) for $1.64 Billion. (Intuitive could have bought Mazor and had plenty of cash to spare...)
Initiating a dividend. Since it's near(ish) Halloween, let me quote Poe's "Cask of Amontillado" and say, "For the love of God, Montresor," start a quarterly dividend! It will add value and stability and make long-term shareholders very happy.
Profit Margin a Bit Disappointing, but Still...
Profit margin nudged down from 71.8% to 71.5% this quarter. Still, 70+% profit margin is very impressive; the general rule of thumb is to look for companies with a gross margin of 50+%.
Things to Look Forward To:
The da Vinci SP now shipping
Intuitive shipped its first three da Vinci SP systems, the company's latest new system and an innovation in minimally invasive surgery. It has three, multi-jointed, wristed instruments and a 3D HD camera, all emerging through a single cannula (aka, thin tube). The SP is "designed for deep and narrow access to tissue in the body... through a single, small incision." Intuitive now has three robotic systems, the flagship Xi, the value-oriented and upgradable X, and this, the SP.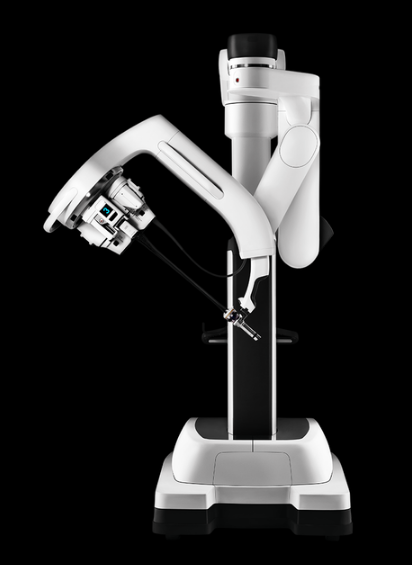 The new da Vinci SP
Ion Lung Cancer System under development
Intuitive's next machine will be the Ion, a revolutionary new robotic system for extracting lung biopsies. It is currently being shown to doctors, and the company is readying the product for launch. I discuss this exciting new product in more detail in my previous article on Intuitive, located here.
October's Disappointing Price Action and November Speculations
Take a look at this one-year ISRG price chart, and then I will share my thoughts. Note that I have annotated the bearish price wedge (in blue), and the bearish head and shoulders top (red circles), and I have indicated the last three earnings dates with vertical black lines: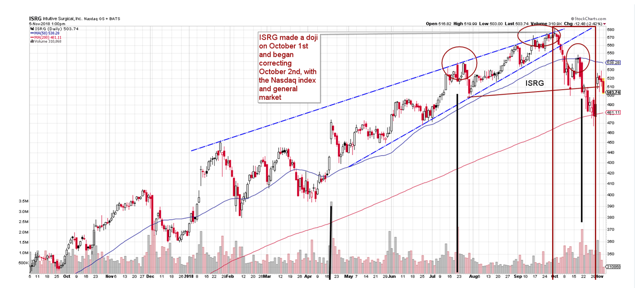 ISRG One-Year Chart. Courtesy of StockCharts.com
As I mentioned in this article's introduction, ISRG's share price fell approximately 20% during October, both before and after third quarter earnings were released. This disappointing price action illustrates a very important investing maxim, that virtually all premium-priced, "blue chip" stocks go down (and up) with the general market. Barring unforeseen news events (major earnings surprises, unexpected guidance changes, acquisitions, etc.), stocks with strong fundamentals and "fully-valued" share prices will almost always move in the direction of the general market. Strong fundamentals help lesson the severity of a stock's price correction, but Mr. Market is still the king. If the market indexes suffer a sustained correction, premium-priced stocks like ISRG will be dragged down with it, despite the fact that the company, as shown by the October 18 earnings report, is stronger than ever. The earnings report was strong, but not unexpected; Intuitive Surgical has posted a positive earnings report for the last 8+ quarters, and therein lies the rub. Without a major surprise of some sort, Intuitive's stock price is governed by the market at large; it goes down, ISRG goes down, and vice-versa.
But, there is hope. Let me count the ways (there are three):
When we have surprising positive news (aka, an acquisition announcement, approval for a new surgical procedure or global expansion; or most enticingly, announcement of a dividend), we should see ISRG move up independently of the general market.
If the overall market continues to correct, a scenario no one is hoping for, we will begin to see value investors swoop in as the stock becomes undervalued, supporting the stock price,
Intuitive has a share buy-back plan in place, $718 million to be exact, and it didn't buy back a single share during the 3rd quarter - smart, in my opinion, as the shares were fully valued... wait until they are selling at a discount. If the recent bounce fades and the stock price falls again, we can expect the company to start buying back shares, which will help stabilize the price. In fact, there is a fair chance that the bullish bounce off the 200 day average at the end of October was caused from Intuitive buying shares; it was either the company itself or some big fund managers, perhaps both, opportunistically waiting for the price to touch-up with this line to pull the trigger. (Technical analysis note: If a stock falls through the 50 day average, the 200 day average line is often the next place of support. Make sure you have these two lines indicated when you are studying the charts.)
Where will the share price go from here?
Unless Intuitive makes an unexpected news announcement, it is my opinion that its share price is at the mercy of the general market. The Nasdaq is trying to rally after a steep correction, and ISRG is likewise rallying after a bounce off its 200 day average. Currently, there are two games of "chicken" being played: The first is the Fed, who said it would raise rates four more times, versus Trump, who has criticized the Fed's hawkishness. Now, the Fed can't back down without losing face, and Trump can't back down because, well, he is Trump. The second is the escalating trade war between the U.S. and China; each side wants the other to capitulate and is refusing to blink, so to speak. Both of these situations are causing major uncertainty in the general market, and the market, which hates uncertainty and was ripe for a sell-off has reacted by correcting.
It is my educated guess (note the word "guess,") that the Nasdaq (the index containing ISRG) will retest its September highs and then slump again, unless either of the above chicken matches are resolved via the Fed adopting a "wait and see" attitude on its rate hikes or China agreeing to back off a bit on tariffs. Unfortunately, I anticipate that ISRG will correct again with the general market. But, when the general market stabilizes, and it will stabilize eventually, I expect ISRG, the 800 pound gorilla, to come roaring back.
Here is the Nasdaq One-Year Chart for perspective. Note the similarities between the October and November portions of the Nasdaq and ISRG charts: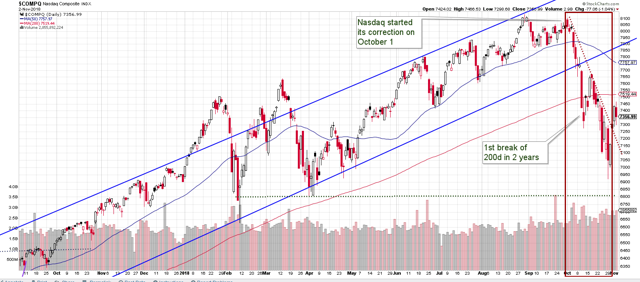 By the way, I mentioned in the introduction that ISRG printed a Doji Star on October 1st. What the heck is a Doji Star? It's a Japanese candlestick chart pattern, and during and uptrend, it often signals the end of the trend. It sure did in this case, unfortunately. You can learn more about dojis here.
If you are interested in an introduction to Intuitive Surgical, you may wish to read my previous article, located here.
Please do post your comments and questions regarding Intuitive Surgical on the comment board below, and/or share ideas on other medical robotics companies in this revolutionary industry. I enjoy reading them (most, anyway) and will respond when I can. Also, feel free to "like" this article and to become a follower of my articles, if you are so inclined. I write about biotechs, growth stocks, and investing strategy, as well as an occasional technical analysis blog post.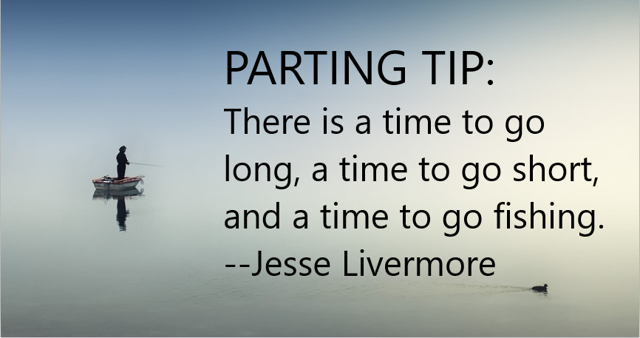 Source: jplenio, Pixabay
Disclosure: I/we have no positions in any stocks mentioned, but may initiate a long position in ISRG over the next 72 hours.
I wrote this article myself, and it expresses my own opinions. I am not receiving compensation for it (other than from Seeking Alpha). I have no business relationship with any company whose stock is mentioned in this article.
Additional disclosure: I am not a professional stock analyst or money manager, and the information provided is for educational purposes only; it is not a recommendation to buy or sell a stock. Please do your own research and invest accordingly.