Apple (AAPL) reported another blowout quarter easily beating estimates on the top and bottom line by some magnitude. However, relatively soft guidance for the all-important holiday quarter immediately sent the stock down. During the call, Luca Maestri, Apple's CFO, dropped a bomb when he announced that starting with the December quarter Apple will stop reporting information on unit sales and ASPs for iPhone, iPad and Mac. As a result the stock tanked more than 7% the day after earnings and dropped even below $200 on Monday.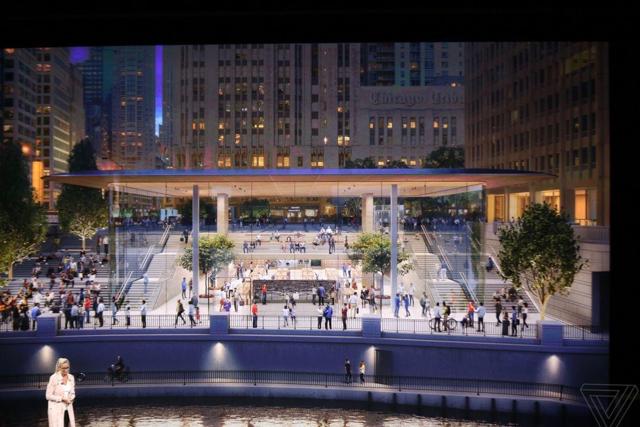 Source: apple.com, Apple Store at Michigan Avenue in Chicago
In this article, I want to shed light on why I consider this change to be positive, and which metrics and factors we as investors should rather pay attention to while the stock price is likely to decline further.
What is going on at Apple?
After Apple released its first ever iPhone in 2007, unit sales growth went through the roof for the next couple of years before starting to slow down in 2015/2016. The release of the iPhone X has reignited growth in unit sales as many existing customers upgraded to the new device, bringing substantial improvements compared to the rather dull iPhone 7. Four quarters into iPhone X sales and one week into the release of the new iPhone XS, Apple reported iPhone shipments of 46.9 million, which was shy of the 47.5 million consensus.
Over the years analysts have been paying way too much attention to that figure while the metrics which really count, namely ASP and overall revenue, were just taken for granted as long as this all-important unit sales figure met expectations.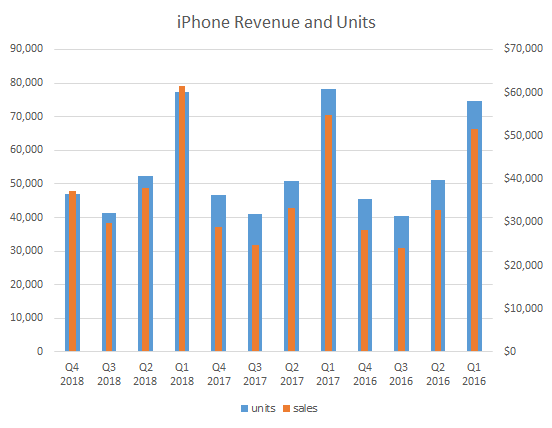 While revenue for iPhones has set new quarterly records throughout Apple's FY2018, unit sales have been virtually flat and analysts are largely treating this as something bad. While they acknowledge that Apple's supreme pricing power as it remodeled its iPhone line-up towards higher priced models has been extremely successful and profitable, they still continue to be overly obsessed with that unit sales figure.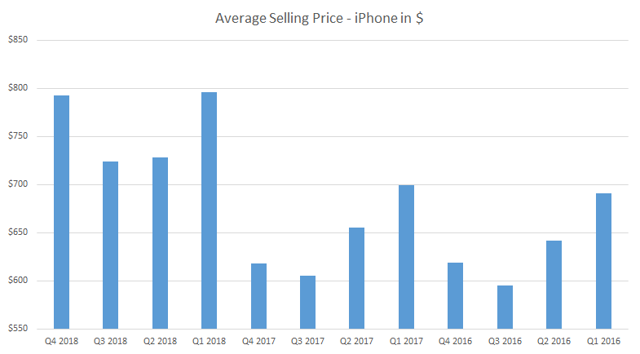 For instance, BMO stated
We believe that the new iPhones are boosting ASPs nicely, but unit growth is still lacking. We are skeptical about the sustainability of ASP increases as a growth driver. Management will no longer provide unit numbers, and some investors may be disappointed by the lower level of disclosures. We are lowering our estimates and price target, and remain Market Perform
One chapter closed as a new one is opened
Apple's story has changed. The days of strong growth in new iPhone units are ending for now as the markets are largely saturated which is no surprise given how many hundreds of millions of iPhones have been sold. However, this does not mean that Apple won't sell any iPhones, in fact it only means that it will very likely sell less units, at least for the current iPhone generation, but as it sells them at considerably higher prices revenue will continue to grow nevertheless.
Moreover, CEO Tim Cook was very upbeat on Apple's installed base which is continuing to see double-digit growth across all devices suggesting that, as the number of reported shipments is only flat, lots of people with used iPhones are entering the Apple ecosystem, likely coming from Android or real first-time users who simply cannot afford a $700+ brand-new iPhone.
Our installed base is growing at double digit, and that's probably a much more significant metric for us from an ecosystem point of view and the customer loyalty, et cetera
Source: Apple Earnings Call FY2018/Q4, Tim Cook
These users never showed up in that unit sales figure Apple reported and thus, as Luca Maestri mentioned, it is perfectly comprehensible that iPhone sales are "not necessarily representative of the underlying strength of our [Apple's] business".
In fact, Apple's current iPhone product line-up covers a price range from $449 for the 4.7-inch iPhone 7 via the iPhone 8 Plus starting from $699 to its flag-ship model iPhone XS Max with maximum memory with a price tag of $1,449. That's a range of $1,000 and why should investors pay close attention to unit sales given that it could be a unit representing $500 or one worth almost $1,500. In these cases using unit sales to judge the underlying strength of Apple's iPhone business is simply misleading.
Analysts and markets are certainly not liking that Apple decided to stop disclosing unit sales not only for iPhone but also for iPad and iMac. The argument "the more disclosure, the better" simply does not fit here from my point of view. Everybody knows that it is impossible to keep on growing that unit sales figure for ever as markets are largely saturated and replacement cycles get longer. Analysts should not really worry about units as long as revenue keeps on growing and hitting Apple's own targets. In case Apple's revenue is declining, I am dead sure that Apple will also give qualitative commentary on units but as all this is always provided in hindsight the situation would have been the same regardless of whether Apple continued to report unit sales or not.
What's more important is that now that Apple got rid of it unit sales based reporting it can now focus on what truly matters, namely its evolution from a purely hardware company to a services company. Speaking of Apple's Services division, this fast-growing segment has generated $10B in the last quarter representing around 16% of total sales. Apple remains well on track, in fact, even ahead of its own plan, to double its Services revenue of FY2016 by FY2020, which would represent $48.8B or around $12.2B on average by quarter. Compared to the reported quarter, this represents another 28% growth over the next two years, and given the strong momentum we are seeing right now, I would not be surprised if Apple would even exceed that.
In all five geographic segments, Services revenue grew by strong double-digit year over year. Such broad-based growth set quarterly records for all of Apple's Services components such as Apple Care, Apple Pay and the AppStore. Tim Cook specifically pointed out the performance at Apple Pay during the earnings call:
Transaction volume tripled year-over-year. And to put that into perspective, Apple Pay generated significantly more transactions than even PayPal Mobile with over 4 times the growth rate.
Source: Apple Earnings Call FY2018/Q4, Tim Cook
These are staggering numbers. One thing analysts largely did not pay any attention to is that despite Apple no longer disclosing unit sales it will instead break down its sales into products and services including gross margin. Services is where Apple's future growth will increasingly be generated (disregarding any potential but unknown new product line like an Apple car) and it will be very telling to see just how much gross margin Apple is generating here.
Piper Jaffray commented on that change to Apple's reporting as follows:
With increasing disclosure coming for services (gross margin), we believe Apple is simply trying to change the focus towards the overall installed base and services revenue per user.
While I agree to the overall statement here, I am actually substantially more bullish on that change in the narrative. Apple's ecosystem is truly outstanding. Apple Pay has over 330 million subscribers, it's Mac installed base is over 100 million units, it has shipped over 2 billion! iOS devices and its overall installed base across all product categories has reached new all-time highs. This massive user base creates enormous potential to monetize Apple's services business using currently available services and new services Apple will add to the ecosystem over time:
And clearly, we will want to continue to offer new services over time, so there are a number of vectors that allow us to continue to grow the business over time.
Source: Apple Earnings Call FY2018/Q4, Luca Maestri
Investor Take-Away
The big story investors should focus on when investing into Apple is no longer about iPhone but rather how Apple will continue to monetize its giant user base. On top of that the higher-priced iPhones will increase the ASP and should thus offset any volume declines in shipments although these metrics will no longer be reported going forward.
It may be a bumpy road as the markets come to terms with that change in narrative but I fully endorse that change. Also, Apple has been buying back stock at record amounts, has developed into a reliable dividend growing investment and is spending big money in R&D on innovations we don't know at this stage. Admittedly, the latest iPhones have not been breakthroughs in terms of new innovative features but as long as customers keep on buying these incremental improvements there is no need for Apple to release too much innovation. In case it is needed though, Apple's giant R&D department and top-class workforce should allow to either rapidly catch up to competitor's innovations or come up with new ones. It is a smart business decision not to release too much innovation at a time I believe as this maximizes the financial profit per iPhone cycle.
Apple's guidance for the holiday quarter may be disappointing at first glance as it only implies a 3% Y/Y growth rate despite what Apple calls its "strongest product lineup ever". However, at closer inspection we find out that a number of special factors which have nothing to do with how well Apple's business is performing is adversely affecting that guidance range. Luca Maestri points out the following:
The first one is the fact that the launch timing of the new iPhones this year is essentially in reverse order versus last year, and that has had an effect on Q4 and will have an effect on Q1 ...

When we look at the impact of foreign exchange on our revenue for the December quarter, we're looking at 200 basis points of headwinds which translates, given our the size of our business, to almost $2 billion of headwind to our revenue ...

The ramps [of Apple's new products, most notably iPhone XS/XR, iPad Pro, the new Mac) are going fairly well, but obviously we have some uncertainty around supply/demand balance for some of these products.
Source: Apple Earnings Call FY2018/Q4, Luca Maestri
In the last couple of quarters Apple always managed to comfortably beat its own guidance and analysts lofty estimates and I see no reason what that couldn't happen again if one of these variables turns around. Even if it does not, I remain very bullish on Apple's future and obviously Tim Cook wouldn't make the following statement if he is only expecting Apple to generate 3% growth going forward:
We are headed into the holidays with our strongest product lineup ever, and we could not be more bullish about Apple's future.
Now that the stock has dipped below $200 and Apple trading below its illustrious $1T market cap it may be a good time to start investing into Apple again. Personally, I will continue my monthly investment plan on auto pilot and buy additional shares in case it drops below $186 which would mark a 20% drawdown from the stock's 52-week high.
Disclosure: I am/we are long AAPL.
I wrote this article myself, and it expresses my own opinions. I am not receiving compensation for it (other than from Seeking Alpha). I have no business relationship with any company whose stock is mentioned in this article.
Additional disclosure: I am not offering financial advice but only my personal opinion. Investors may take further aspects and their own due diligence into consideration before making a decision.