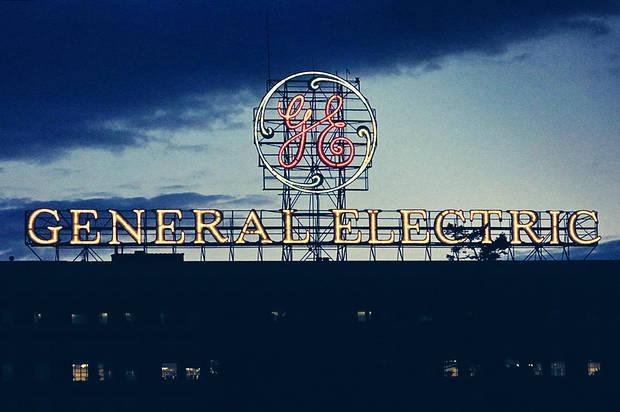 Source: Barrons.com
GE: The Point Of Maximum Pessimism And Capitulation
Since the start of 2017 General Electric's (GE) performance has been a lot like watching a disastrous train wreck in very slow motion. Just when you think you've seen the worst of it, something comes unhinged and the stock cascades lower still.
GE's stock crossed another milestone last week, trading down into the single digits for the first time since the epicenter of the 2008 financial crisis. After reporting subpar earnings coupled with a significant dividend cut GE's stock crashed by 25% in the days following the company's earnings announcement. Incredibly, this brings GE's total meltdown to an unprecedented 70% since the stock peaked less than 2 years ago.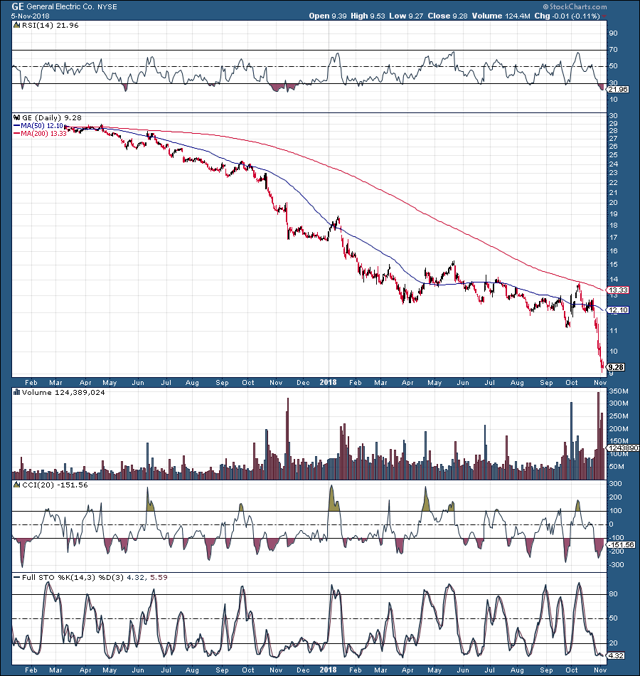 Source: StockCarts.com
However, and despite the less than stellar earnings results, the stock does appear to be vastly oversold right now. Additionally, this was very likely GE's "kitchen sink" quarter, and most of the bad news is likely out in the open by now. Fear, capitulation, and forced selling appear to have forced GE's shares down to an unprecedented level, and the stock's turnaround process is likely to begin now.
When Was the Last Time GE was at $9?
You'd have to go all the way back to the relentless panic selling days of early 2009 to see GE trading in the single digits. However, back then GE was at serious risk of financial failure due to massive write downs, and lack of access to credit markets. Right now, such risks and others warranting a market cap of just $80 billion do not exist in my view.
The Kitchen Sink Quarter
Larry Culp's addition to GE is an extremely welcomed development. Incidentally, I wrote about how desperately GE needed a change in its CEO position the day John Flannery got fired. The dismissal of the long-term company insider Flannery, who is now essentially the fall guy, and the appointment of Larry Culp (the savior) signals that a real transformational process is ready to take place at GE.
It is logical that an outside CEO modernizes the company, as one of the primary concerns at GE is the culture, which no insider was likely to clean up. Additionally, Culp recently made a $2.2 million stock purchase, sub $10, another encouraging sign that a bottom in the stock is likely very near.
Looks Like Culp's Kitchen Sink Quarter
GE reported EPS of 14 cents, 6 cents below consensus estimates.
Revenue came in at $29.57 billion, a 4% YoY decline.
On a GAAP basis, the company lost $2.63 a share.
A $22 billion noncash charge related to Power business acquisitions.
Dividend reduction to 1 cent.
As a result of the dividend "reduction" GE will be able to retain $3.9 billion annually. This should enable the company to navigate the current stormy waters much more flexibly, and is a logical and welcomed development in my view. The dividend can always be reinstated in the future when the company transitions into a more favorable operating environment.
Also, the slowdown in revenues and EPS is mostly due to continued issues with the Power segment, which is now receiving increased attention from the newly appointed CEO and his management team.
Generally, this could mean that most of the potentially negative news has been revealed in this latest quarter. It is quite conceivable that under Culp's guidance GE could begin to report some positive developments down the line that could shift the overly negative tone surrounding GE to a much more positive note.
Maximum Pessimism and Capitulation
It's difficult to be 100% certain if this is indeed the point of "maximum pessimism", however, a lot of negatives are already priced in to the stock. Also, I have repeatedly stated that if GE removed its dividend the stock will freefall, which would likely create the ultimate long term buying opportunity in GE shares. There is also the fact that the new CEO came in and threw everything he could at this quarter, and then bought $2.2 million worth of GE stock in the open market.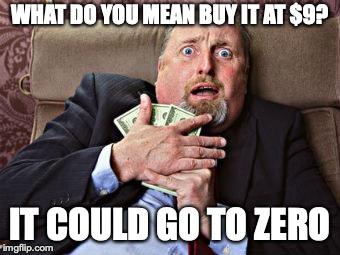 Source: Imgflip.com
Also, there is the insane sell volume, some of the highest selling volume we've ever seen in GE's stock, and this is on top of all the relentless selling we've seen since the start of 2017. In general, I would call what we've seen in GE in recent days capitulation. The stock fell by 25% over 9 straight down sessions trading 5-10 times normal volume on most of these days.
So, Why Should You Own GE Today?
It seems that just about everyone used to own GE, and now almost no one does. GE was a coveted stock due to its "solid reputation" as a blue chip, being a DOW component, and being a stable dividend paying stock. So, naturally everyone wanted to own the stock, pension funds, mutual funds, individual investors, and so on. But now that GE has been booted from the DOW, and its dividend has been essentially dismissed many portfolio/fund managers were simply forced to liquidate their GE positions.
This stock essentially went from being loved by many at $31, to hated by most at $9. So, why would you want to own GE now? My thesis remains that GE's value is substantially higher than the market is currently giving the company credit for. The sum of GE's parts, and the earnings potential of GE's businesses should prove to be significantly higher than today's depressed valuation suggests. Several years from now GE's units combined should deliver far higher EPS than $0.76 (this year's estimate), $0.88 (next year's estimates), or even $1.05 per share (2017 results). Therefore, the stock should move higher in accordance with the company's earnings results.
GE's Individual Business Performance
The Good
Aviation: Aviation reported $7.5 billion in revenuesand $1.66 billion in segment profit last quarter. Revenues rose by 12%, YoY, and profit surged by 25%. Segment profit margin came in at 22.3%, 2.4% higher than last year.
Oil & Gas: This segment delivered $5.7 billion in revenues, 7% YoY increase, and $180 million in profits, an 18% YoY increase.
Healthcare: Revenues remained essentially flat at $4.7 billion compared to last year, yet segment profit climbed by 2% to $861 million, and profitability rose by 0.3% to a profit margin of 18.3%.
Transportation: Revenues came in at $932 million, down by a modest 2% from last year. But profit rose by 15% to $162 million and profitability increased by 2.5% to 17.4%.
The Bad
Renewable Energy: Revenue increased to $2.9 billion by 15% YoY, but profitability declined notably to just $60 million. Segment profit margin fell from 8.7% to just 2.1%.
Lighting: Revenues fell by 18% YoY to $385 million, segment profit rose by 86% to $26 million, segment profit margin more than doubled to 6.8% YoY.
The Ugly
Capital: Revenue $2.5 billion, 3% YoY increase, net earnings $0.1billion.
Power: Revenue dropped off a cliff by 33% YoY, the segment lost roughly $630 million, and profit margin collapsed from 5.4% to -11%.
Essentially, most of GE's businesses are performing relatively well. We see stellar performance from Aviation, steady to improving performance from Oil & Gas, Healthcare, and Transportation. Lighting is largely insignificant, and Renewable Energy has been plagued with problems related to wind turbines. While Renewable Energy's issues are probably transient in nature, they likely weighed heavily on last quarter's profitability.
GE's real issues remain with Power, and Capital. The Capital unit is essentially a black box that brings very little profitability to the table, but has a tendency to periodically expose billions in write downs, and other financial short comings. The Capital unit has also become a source of uncertainty for investors, and a decoupling from this unit would reduce overall investor anxiety, take away unneeded risk exposure, and could add to GE's (stock) multiple expansion prospects.
GE's Power a is business in decline, not to mention that it directly competes with GE's Renewable Energy in some segments. It's not enough that this unit is not producing any profits for GE any more, it's leading to substantial losses. The Power fix may be a long and tumultuous one, although possibly very profitable down the line. There could also be sense to sell the unit and use the capital to optimize some of GE's other segments and to pay down some debt. (This would likely have to be done down the line a bit, not at its current rock bottom valuation).
The Bottom Line
I am optimistic that the new CEO is a capable manager and will rid GE of some of its dead weight businesses that are ultimately holding back GE's profitability potential. Granted, this undertaking will likely be a lengthy process, but the bottom line is that GE's stock price should be worth substantially more several years from now if the company's turnaround is engineered properly.
Right now, due to the dividend cut, and the kitchen sink report GE could be at the point of maximum pessimism. This thesis is further supported by the incredible, panic like selling we've seen in GE's shares over the past several trading sessions.
Therefore, GE is likely a strong long-term buy at these decade-low, rock bottom levels. Nevertheless, I suggest keeping your GE position relatively lite, perhaps just a few percent of a portfolio. This way not a great deal of capital is locked away for an extended period of time (in case the turnaround process takes longer than expected). The dividend is essentially gone for now and there is no telling when the company will be able to afford to reinstate a decent yield. Nonetheless, I firmly believe that if GE's transition is handled properly 2-3 years from now GE's shares price should be 100%, or possibly even 150% higher than where it is today.
Thank you for taking the time to read my article. If you enjoyed reading my work please hit the "Like" button, and if you'd like to be notified about my future ideas, hit that "Follow" link.
Disclaimer: This article expresses solely my opinions, is produced for informational purposes only, and is not a recommendation to buy or sell any securities. Investing comes with substantial risk to loss of principal. Please conduct your own research, consult a professional, and consider your investment decisions very carefully before putting any capital at risk.
Want more? Want full articles that include technical analyses, trade triggers, trading strategies, portfolio insight, option ideas, price targets, and much more? To learn how to best position yourself for a rally in GE please consider joining Albright Investment Group.
Subscribe now and receive the best of both worlds, deep value insight coupled with top-performing growth strategies.
Enjoy access to AIG's top-performing portfolio that has outperformed the S&P 500 by 40% over the past year.
Take Advantage of the limited time 2-week free trial offer now and receive 20% off your introductory subscription pricing. Click here to learn more.
Disclosure: I am/we are long GE.
I wrote this article myself, and it expresses my own opinions. I am not receiving compensation for it (other than from Seeking Alpha). I have no business relationship with any company whose stock is mentioned in this article.