Background
The Institute for Supply Management ("ISM") Manufacturing Business Survey and Purchasing Managers Index ("PMI") are two closely-watched gauges.
Both indices are providing information about current business (mostly ISM) and manufacturing (mostly PMI) conditions, e.g. employment, production, inventories, new orders, supplier deliveries, and manufacturing firms to company decision makers, analysts, and purchasing managers.
The latest readings among the largest and/or most-closely monitored economies are drawing quite a mixed picture.
While the global manufacturing PMI remains at expansion mode (above 50), it's hard to ignore the synchronized global slowdown.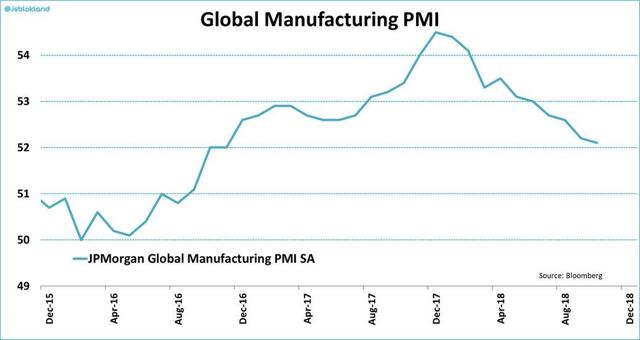 United States
The ISM Manufacturing index in the US (SPY, DIA, QQQ, IWM) fell more than expected in October, yet remains at a very healthy level - 57.7!
Chances of overheating of the US economy have come down somewhat.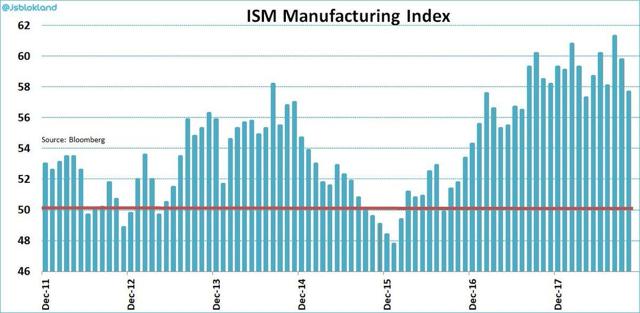 Meanwhile, US productivity growth also remains stubbornly low.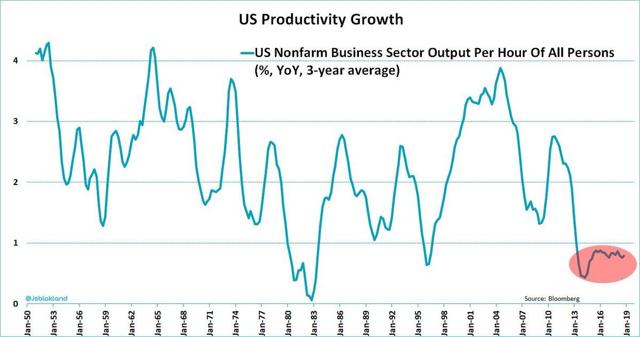 Italy
After zero growth in Q3, Italy's (EWI) Manufacturing PMI fell to 49.2. Recall that a reading below the 50-threshold is pointing at an economy which is contracting.
This reading was not only below expectations but also the first time since June 2016 it's below the 50-mark.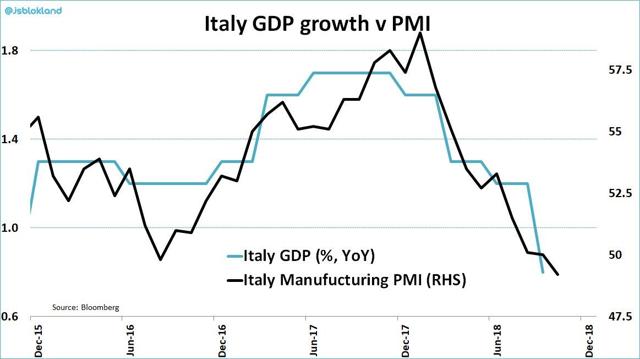 This also signals that little or no growth is waiting for the boot country down the road.
The 49.2 reading on October is a sharp decline for the 53.3 reading in September - the largest drop in two years and the weakest/lowest reading since 2014.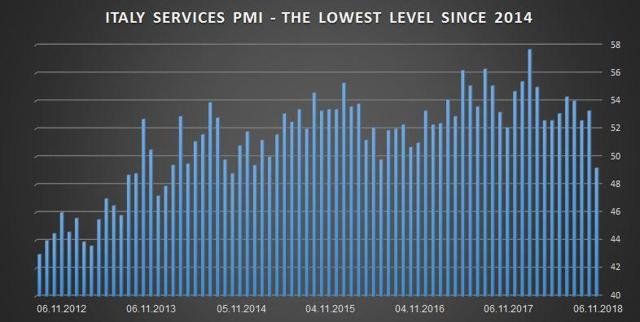 As a matter of fact, based on the country's composite PMI (which is now in contraction territory too), Italy might be on the verge of another recession.
The leading indicator fell to 49.3 in October, the lowest reading since 2013. If and when the country enters a recession - that would be the third time in less than a decade.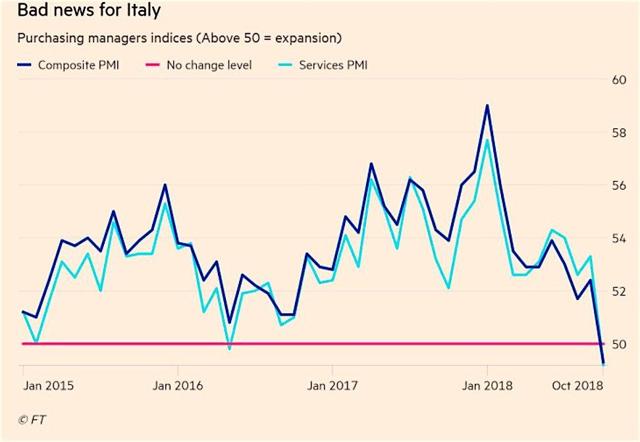 Germany
Germany (EWG), Europe's (VGK, EZU, HEDJ, FEZ) largest economy, October factory orders came in at +0.3%, better than the -0.5% expected. However, the -2.2% Y/Y growth is still deep in negative territory.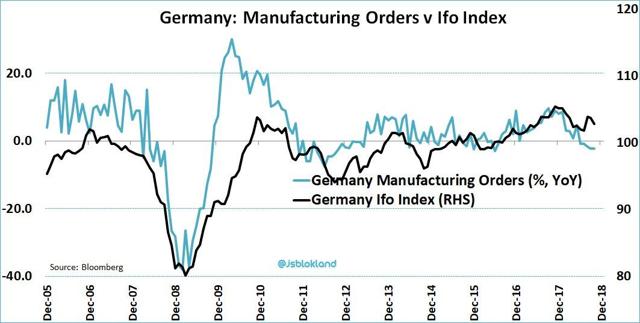 The unexpected rise was mainly a result of domestic demand gaining momentum, climbing 2.8%, as well as investment and consumer goods moving up.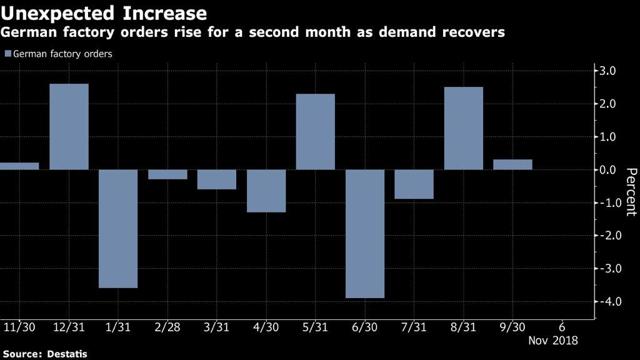 Emerging Markets
Keep an eye on Emerging Markets ("EM") (VWO, EEM, IEMG, SCHE).
In-spite of it coming from much lower levels (in absolute terms), the EM Manufacturing PMI ticked up in October, seeing the gap against Developed Markets ("DM") (VEA, EFA, IEFA, VEU, SCHF) Manufacturing PMI at its narrowest level in over a year.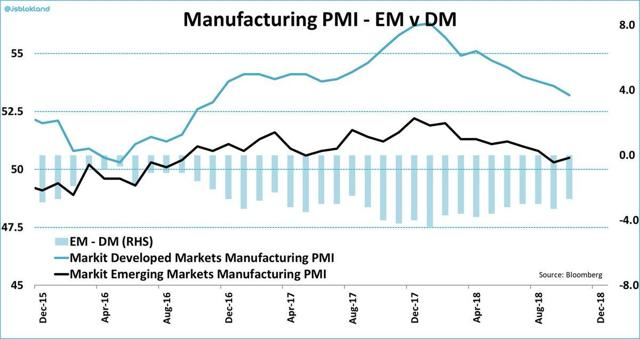 China
China's (FXI, MCHI) economy continues to slow. Caixin Composite PMI fell in October to the lowest level since June 2015.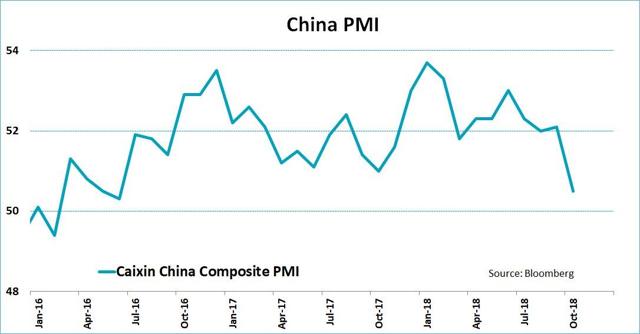 Bottom Line
According to the latest IMF forecasts:
World GDP is expected to grow at the same pace three years in a row.
EM vs. DM growth will finally increase again.
China and Italy are expected to see lackluster growth.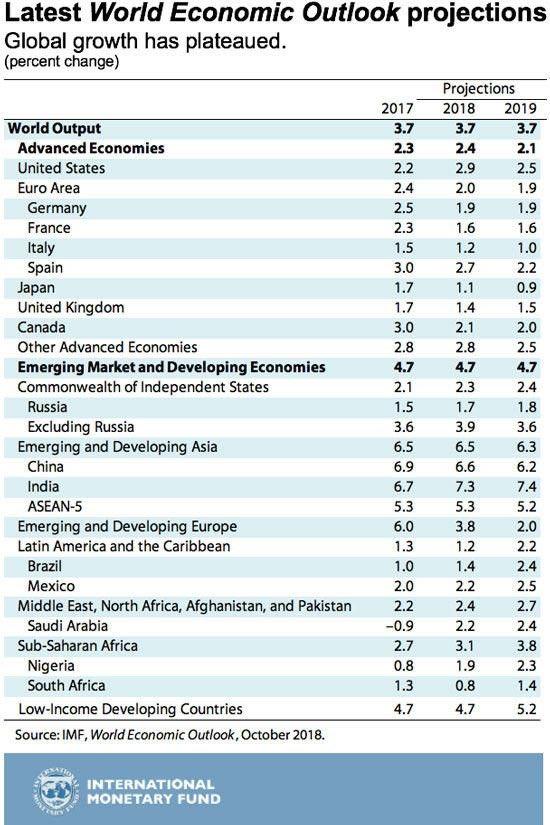 If you wish to see how world GDP (by country) is heading to, perhaps the following animated videos will help:
Spoiler alert: US is expected to drop two places between 2018 to 2100. Actually, based on this projection, the US is going to lose its place as one of the two largest economies as early as in 2059.
Author's note: Blog post notifications are only being sent to those who follow an author in real time. In order to receive notifications for both articles and blog posts, go to Author Email Alerts, which lists all the authors you follow and turn on "Get e-mail alerts" (see below).


The Wheel of FORTUNE is one of SA Marketplace's most comprehensive services. We view our service as a "supermarket of ideas" with an emphasis on risk management and risk-adjusted returns.
Our monthly review for October, where you can find all suggestions since launch, is only one click away.
We cover all asset-classes: common stocks, preferred shares, public debts, baby bonds, options, currencies, and commodities.
With Trapping Value on-board, you're getting two leading authors for the price of one.
Before committing to the service on a long-term basis, take advantage of the two-week free trial.
Disclosure: I/we have no positions in any stocks mentioned, and no plans to initiate any positions within the next 72 hours.
I wrote this article myself, and it expresses my own opinions. I am not receiving compensation for it (other than from Seeking Alpha). I have no business relationship with any company whose stock is mentioned in this article.