Despite disappointing the market relative to Q2, Universal Insurance (UVE) still delivered a very strong third quarter, keeping the company on track to deliver outsized shareholder returns over the long term. The company weathered numerous weather incidents during the quarter to compound equity at a high rate.
Enhanced Safety
After Q3, UVE's balance sheet remained pristine and even grew stronger. Unrestricted cash and investments grew 8.6% year over year to a total stockpile of $1.11 billion, while the quality and safety of the investment portfolio retained its high quality (99.5% investment grade fixed income securities) and liquidity (weighted average duration is 3.1 years), and maintained minimal debt and goodwill (long-term debt and debt-to-equity declined year over year from $13.2 million to $11.8 million and 3.1% to 2.2%, respectively).
UVE also continued to improve its hurricane resistance by executing its diversification efforts outside of Florida, as "other states" premium growth far outstripped Florida's once again. With each passing quarter, UVE continues to warrant gradual multiple expansion by increasingly becoming a national insurer rather than a high-risk Florida one.
In addition to the sound financials and hurricane resistance, UVE's net earnings from investments grew by a whopping 115.3% year over year during the quarter, outpacing total net earnings growth to now consist of 17.8% of total company profits. As investment income continues to grow, UVE achieves another diversification aspect to its revenue streams, further strengthening it against sudden hurricane expenses.
Strong Growth
UVE's growth machine continued with direct premiums written growing by 12.5% year over year (9.1% in Florida and 34.9% outside of Florida), with business access to 20 states. Meanwhile book value per share grew at a robust 7.7% sequentially and 24.5% year over year, thanks to the 28.4% return on equity during the quarter.
The company also showed itself to be a prudent allocator of shareholder capital during the quarter by temporarily pausing share repurchases due to the elevated share price getting a bit ahead of itself: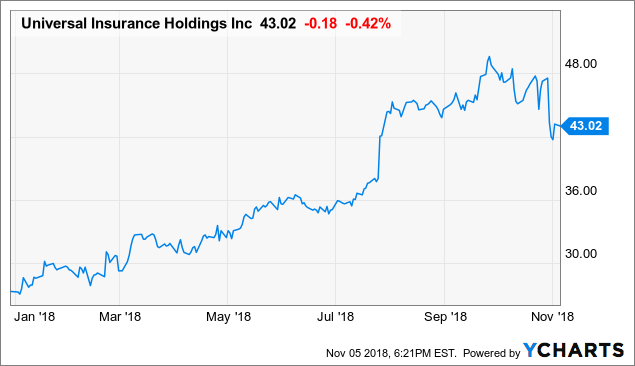 Now that prices have come back down following the earnings release, share repurchases look a lot more attractive.
Though the growth rates were slower both in and outside of Florida, this is to be expected given the laws of large numbers gradually slowing growth. Furthermore, they still remained very strong and reflected a favorable diversification trend outside of hurricane-prone geographies.
Attractive Valuation
UVE continues to compound shareholders' equity at a rapid rate while growing revenues at a high single-digit, low double-digit pace. Looking ahead, as the law of large numbers increasingly weighs on growth and the one-time boost to EPS growth from the tax cuts passes, it is safe to assume that EPS will likely grow in a mid to high single-digit rate with occasional disruptions from severe weather activity.
With shares trading below 10x TTM earnings and yielding a ~1.5% dividend alongside share buybacks that should total 1-2% of market cap per year, 10%+ annual total returns should be very achievable (~3% from buybacks and the dividend and 7%-10% revenue growth).
Investor Takeaway
UVE continues to be one of the best wealth compounders in the insurance industry and looks poised to continue delivering outsized shareholder returns. However, it does remain somewhat risky due to its substantial Florida exposure. As a result, investors should maintain a small exposure (no greater than 10%, but preferably less than 5%) in their portfolios.
Disclosure: I am/we are long UVE.
I wrote this article myself, and it expresses my own opinions. I am not receiving compensation for it (other than from Seeking Alpha). I have no business relationship with any company whose stock is mentioned in this article.