The Fashion Doll aisle at the major retailers has for nearly two years been missing something - no Bratz Dolls! But now, they are back! Amazon (NASDAQ:AMZN) just announced that they are offering five new Bratz collector dolls on preorder for shipment on December 1. And, they are moving very well according to one of my friends at the retailer. Whilst they are currently an exclusive at Amazon, it will only be a matter of time until you see a much wider rollout, and my friends at the large brick-and-mortar retailers told me that they would definitely give the brand shelf space when this happens.
To understand why this is so important and such a source of worry for Mattel (MAT), it may be useful to quickly revisit the history of Bratz.
Barbie, Mattel's flagship doll, was launched in 1957 and quickly took off to the point where the brand became the dominant factor in the U.S. doll market. In fact, Barbie created the category which we now call the Fashion Doll category. In the year 2000, Mattel also obtained the Master License for Disney's (DIS) Princess dolls and launched the range in 2001. In fact, the Disney Princess dolls were very similar in appearance to the Barbie range on the premise that what worked for Barbie would also work for Snow White and its sisters. This license acquisition propelled Mattel's market share in the U.S. Doll market onto the high 80% level.
However, this dominant position was then already untenable for two reasons. There was a generational change underway and the consumer choices of the preteens became less dictated by what their parents thought than what was considered "cool" by their friends. The second was that Barbie had been around for several generations without the innovative changes needed to keep pace with shifting demographic preferences. Both factors opened the door for a new entrant presenting a fresh and clear alternative.
MGA Entertainment was then a small toy company owned and headed by Isaac Larian. He was aware of both factors and realized that a major opening existed in the Fashion Doll market provided he had the right product with which to exploit it. This is when Carter Bryant entered the scene. Carter was a product designer at Mattel between 1995 through 1998 and from 1999 through 2000. He maintains that he got the idea for a fashion doll that was radically different from Barbie during the time when he was between stints for Mattel. In any event, he presented the idea to Isaac Larian in 2000 who recognized it as the opportunity he had been seeking. The proposed doll line was everything Barbie or Disney Princess was not. These dolls were not nice and pretty and ladylike like Barbie, nor were they from fantasy land like the Princesses. They were brash, pushy, and yes, bratty like real girls often can be. And hence Bratz was born.
Bratz was launched in 2001 and immediately became a major threat to Barbie. All efforts from the side of Mattel to stop its progress failed. Finally, Mattel decided that if they could not beat Bratz in the marketplace, they could bleed MGA Entertainment to death in the courtroom. Mattel initiated court proceedings claiming that the Bratz idea had been conceived whilst Carter Bryant was in their employ, and the brand hence was rightfully theirs. The costs of the legal defenses incurred by MGA Entertainment were such that the company was nearly forced in bankruptcy by 2006. Mr. Larian had basically two choices - pay for Bratz advertising or pay the lawyers. He wisely chose the latter, but the end effect was that Bratz sales nosedived. Whilst the brand still hung on for a good while, it became less and less of a factor and finally disappeared from the shelves in 2014. The company tried to revive the brand again in 2015 but to no avail and Bratz again became history in 2016.
However, by end of that year, MGAE had two other and very successful doll lines on the shelves. One was MC2 which had been released in 2015 and the other LOL which entered the fray in December 2016 and immediately became a major factor in the doll space. In fact, LOL began to equal or even surpass Barbie as the top selling doll range in the majority of the worldwide toy markets,
Mattel, in turn, had not stood still either. They launched in 2010 the Monsters doll line - which was clearly designed to fill the void left by Bratz. The Monsters did very well for a while but eventually began to decline because, just like in the case of Barbie, Mattel did not adapt the range to shifting consumer preferences and the brand went from a high of 34% in 2015 down to 11% this year.
Barbie, too, went through a rough patch. Whilst there was an uptick in sales once Bratz had fallen off a cliff, this was a very temporary thing, and the brand began to languish again. In fact, the brand hit its lowest point in the U.S. in 2015 when its market share stood at a dismal 19%.
So, who was the winner when the three heavyweights - Bratz, Barbie and Monsters - all lost market share? It was Disney Princess, a range which had been stuck in the mid-teens until 2010 when it began to rise through the twenties and finally hit an all-time peak in March 2015, commanding 39% of the Fashion Doll market in the U.S. Incidentally, and somewhat ironically, it was also early 2015 when Disney told Mattel that they were toast and that the Princesses would move over to Hasbro (HAS) in 2016. Their market share dropped from that point onwards and now, in August of this year, stood at 18% - about where they had been in 2010.
This is how market shares in the U.S. evolved in 2017 and 2018 according to the Klosters Retailer Panel: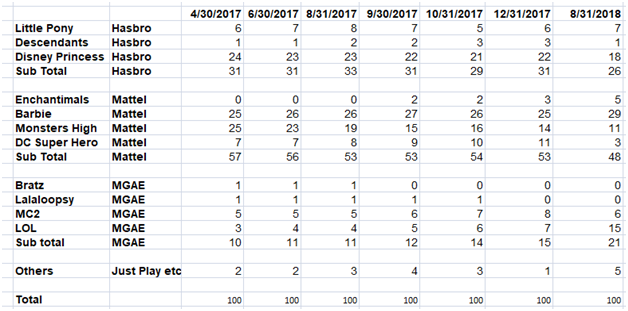 Source: Klosters Retailer Panel
(Incidentally, whilst this information will undoubtedly be redundant for most of my readers, the editors of Seeking Alpha insist that I explain how I get the data for the Klosters Retailer Panel quoted at the bottom of each of the chart above. It is derived from my proprietary U.S. retailer panel consisting of ten individual stores - one Walmart, one Target, one Barnes + Noble, one J C Penney, one Kohl's, one CVS, one Walgreens and three Learning Express specialty stores. I will not provide any further identification given the confidential nature of the relationships.]
Three things stand out. One is the decline of Disney Princess discussed above. The second is the inexorable rise of MGA Entertainment mainly thanks to LOL. And thirdly, the resurgence of Barbie which deserves closer scrutiny.
Mattel's loss of Disney Princess was a major shock to its system and a wake-up call for its board of directors. On January 26, 2015, a couple of days after being told that they had lost the license to Hasbro, their CEO Bryan Stockton was fired. His successor, Chris Sinclair, initiated a complete review of the factors that had led to this disaster and called for immediate steps to refocus the company's marketing effort. Barbie, the company's icon and major money spinner, was the obvious choice for a makeover.
The company announced a year later, on January 28, 2016, that Barbie would now be more inclusive and would be available in three body types and a variety of skin tones and hairstyles. This was the first time that the doll became available in body types beyond its original stick-thin frame. In addition, the top people were told in no uncertain terms that the era of using the brand as a cash cow was over and that the objective driving the marketing of the brand was to recapture the position it had held at its high day. As a result, Barbie's come-back since its low point in 2015 has been extremely impressive - from 19% market share to 29% in less than three years. All indications are that this progress continues and that we will see a share in the low thirty percent by year end.
The question now is whether the reintroduction of Bratz could again be a game changer and could thus imperil the Barbie comeback and the ongoing turnaround of Mattel as a company. This is quite possible, of course. MGA Entertainment is now a Billion Dollar company with the people and financial resources to make this happen. There is also the motivation to do so. The court battles between MGAE and Mattel that started in 2013 and which are still ongoing have led to deep enmity between both organizations. The whole thing is no longer business - it is personal.
While it is much too early to tell whether Bratz is in fact going to make a major difference in this battle between MGAE and Mattel over the long haul, some short-term predictions can be made. One is that five dolls sold exclusively through Amazon U.S. are not going to make a major difference. Barbie will not be affected over the next twelve months even if MGAE strengthens the Bratz SKU count and follows up with a heavily backed roll-out next year provided that Mattel continues its current strong support for the brand and keeps on innovating. The second is that the immediate victim will likely be the Monsters as they are very dated and already on the slippery distribution slope. The other victim could be the Princesses since they are struggling, and the Frozen movie is still twelve months away. A lot can happen between now and then.
The final take-away of this is that Barbie will continue to increase its market share, the Monsters will take a hit, but Mattel's turnaround in the Fashion Doll category will remain on track. Hasbro's Disney Princesses could lose some market share at least for the first nine months of next year and possibly much longer if the Frozen 2 movie is less of a success than is now expected. The real winner in all this is MGAE who hope to have in Bratz a third arrow in their quiver - the other two being LOL and MC2.
Disclosure: I/we have no positions in any stocks mentioned, and no plans to initiate any positions within the next 72 hours.
I wrote this article myself, and it expresses my own opinions. I am not receiving compensation for it (other than from Seeking Alpha). I have no business relationship with any company whose stock is mentioned in this article.