Developing treatments of eczema, which creates an economic burden estimated to be $5.3 billion, Hoth Therapeutics (HOTH) is targeting a large market. In addition, with other competitors having enterprise value of more than $300 million, HOTH seems undervalued with an enterprise value of $72.64 million.
With that, the company is still at an early stage and may need further financing in 12 months. For these two reasons, perhaps the company is not a buy right now. It may be a buy in 2020 or 2021 when the results from the Phase 2 clinical trials are due.

Source: Prospectus
Research Objective And Market Opportunity
Incorporated in 2017 in Nevada and headquartered in New York, Hoth Therapeutics develops treatments for patients suffering from atopic dermatitis, or eczema. With the BioLexa Platform, developed at the University of Cincinnati and sublicensed from Chelexa Biosciences, Inc., HOTH has beneficial results in preclinical studies.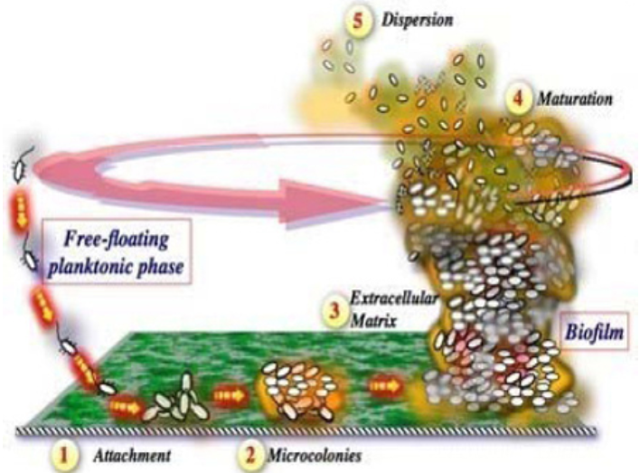 Source: BioLexa Platform From The Prospectus
The company expects to develop two types of products: cream product to treat eczema and the products to reduce post-procedure infections and improve outcomes for patients undergoing aesthetic dermatology procedures. The target market for these solutions seems huge. The National Eczema Association notes that 31.6 million Americans suffer from eczema, and the economic burden is estimated to be $5.3 billion.

Source: National Eczema Association
The prospectus reads that charging $300 per annum per patient, the total target market could be $9.5 billion in the U.S. alone. However, the market may be a bit smaller for HOTH. The National Eczema Association notes that the health system had costs of $314 million, which means that there are many patients that are not treating their condition. The lines below provide further details on the amount of money utilized to treat this illness.

Source: National Eczema Association
Preclinical Research
The company's platform is made up of Glyceryl Stearate/PEG-100 Stearate, Lanolin Alcohol, Cetyl Alcohol, Mineral Oil, Sorbitol 70% Solution, among other components. The image below provides further details:

Source: Prospectus
HOTH conducted preclinical studies using a porcine model in the Miller School of Medicine of the University of Miami and University of Cincinnati obtaining beneficial results. Using the BioLexa Platform, the company was able to trap all the zinc ions that help bacteria grow in a biofilm, which is implicated in over 2/3 of all skin infections. The image below shows further details and the most relevant results table:
"The Staph biofilms form when thread-like thread-like proteins (Aap or SasG) on the bacterial surface stick to one another holding the cells together. The Herr Lab, run by Dr. Andrew Herr at the University of Cincinnati discovered that these proteins only become adhesive when exposed to zinc ions. The BioLexa Platform traps all the zinc ions by adding a chelator called DTPA, which prevents Staph biofilm formation." Source: Company's Website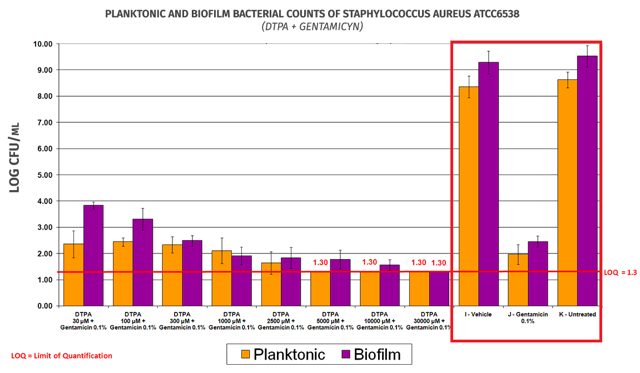 Source: Company's Website
The company still needs to test safety and tolerability. It expects to test 50 to 100 patients in a Phase 2 trial that should commence by the middle of 2019. In addition, HOTH expects to complete its clinical program by 2020 or early 2021. The New Drug Application will be filled from mid to late 2021.
The company seems to be at an early stage of development. With this in mind, investors should understand well that the share price should not move quite a lot until 2020 or 2021. This means that stock returns should not be expected soon.
Assets
On June 30, 2018, with an asset/liability ratio of 11x, the financial condition of HOTH seems in good shape. The company showed $1.46 million in cash and total assets of $1.49 million. The image below provides further details:

Source: Prospectus
The amount of liabilities should not scare investors. The company reported only $0.128 million in accounts payables and total liabilities of the same amount. The image below provides further details on the list of liabilities:

Source: Prospectus
The balance sheet shows the profile of a company that commenced operations very recently. Investors should be a bit concerned about this fact. In addition, it does not seem beneficial that the company was not successfully raising capital from venture capital investors. The small amount of cash shows that no big group was attracted by the business model of HOTH.
High Cash Burn Rate
The most worrying financial statement is the income statement. For the six months ended June 30, 2018, the total expenses were almost equal to total amount of assets. The company reported $0.257 million in R&D, $0.164 million to pay the company's licenses, and a total loss from operations of -$1.29 million. It is a bit worrying that the company paid $0.319 million in compensations and $0.422 million in professional fees. It shows that the company does not have a lot of people working inside the organization. The company has to pay other companies to run research. Should running these activities in house not be cheaper? The image below shows the income statement: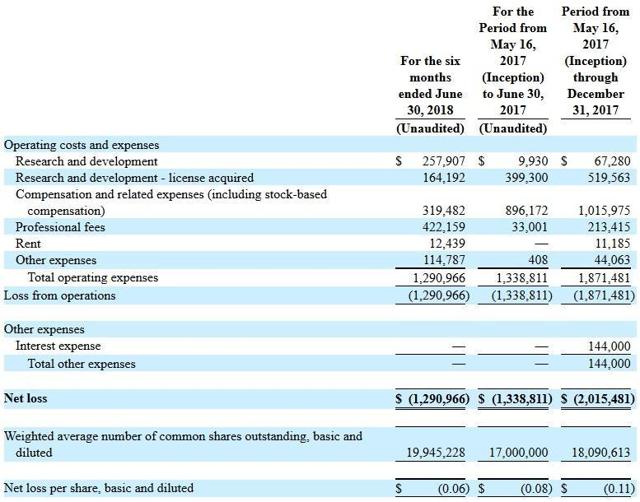 Source: Prospectus
Use of Proceeds
The company expects to receive approximately $5 million to $8 million from the IPO and intends to use the proceeds to finance the Phase 2 clinical trial and the development of the BioLexa Platform. The lines below provide further details:

Source: Prospectus
Investors should understand very well that HOTH may need new financing soon. The prospectus reads that HOTH should have cash in hand for at least 8 to 12 months. This means that the company could raise further capital soon, which could lead to stock dilution and share price depreciation.

Source: Prospectus
Capitalization
HOTH expects to have $10.36 million in cash after the IPO and no financial debt. The company expects to have approximately 13.835 million shares after the offering. At $6.0 per share, the total market capitalization is expected to be equal to $83 million. Deducting cash, the total enterprise value should be equal to $72.64 million. It seems beneficial that HOTH expects to convert its convertible preferred stock once the IPO goes live. Shareholders should not fear from stock dilution of these securities. The image below provides further details in this regard: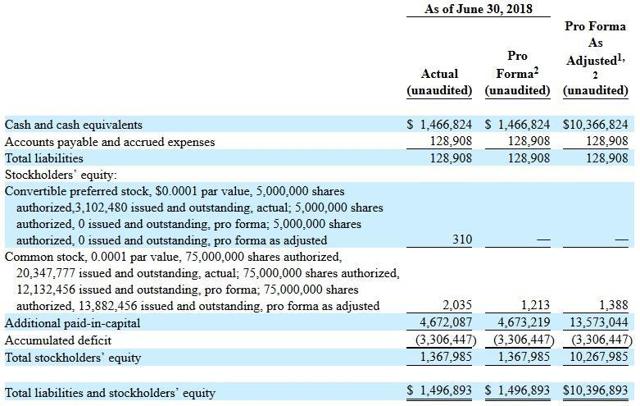 Source: Prospectus
Competitors
The following are some of the competitors commercializing products that may compete with that of HOTH:
Bausch Health Companies Inc. (BHC) has an enterprise value of $32.51 billion and trades at 3.82x sales.

Aspen Pharmacare Holdings plc (OTCPK:APNHF) has an enterprise value of $12 billion and trades at 3.62x sales.

Theraplex

Mustela
Most competitors are too large to be peers of HOTH. They cannot really be compared to HOTH, which complicated valuing HOTH.
Among competitors researching treatments to fight atopic dermatitis, there is Menlo Therapeutics Inc. (MNLO). The company had three product candidates at Phase 2 before its treatment of atopic dermatitis did not return beneficial clinical data in April 2018.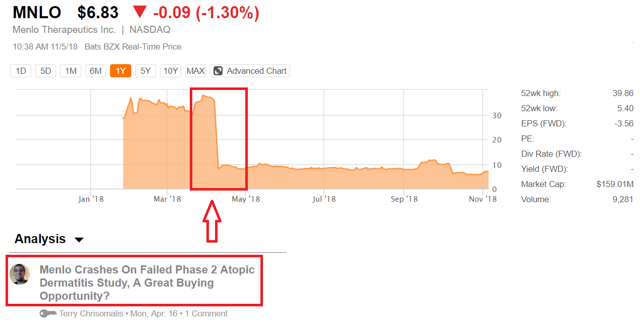 Source: Seeking Alpha
MNLO seems interesting. Its size is similar to that of HOTH and market capitalization is $159 million. It has an enterprise value of $31.97 million. Its enterprise value, before the results were delivered, should be a bit higher than that of HOTH. Keep in mind that its target market is bit larger than that of HOTH as it does not intend to treat only atopic dermatitis.
The enterprise value before the market received the results for MNLO was very large, equal to more than $500 million. When the results were delivered, the company lost about $350 million to $400 million.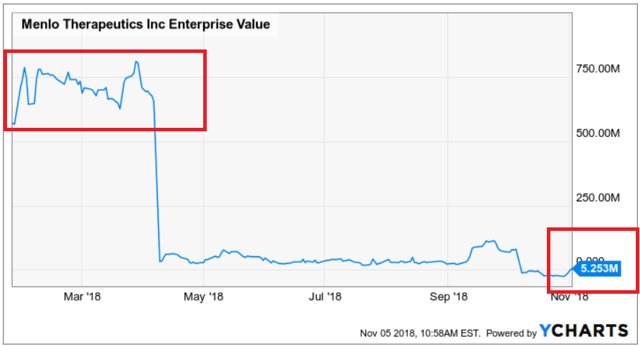 Source: Ycharts
With this in mind, the enterprise value of HOTH seems small at $72.64 million. Perhaps, the company is too small as of today, and investors are not willing to value the company at $350 to $400 million. However, in the future, the company's enterprise value may reach this valuation.
Study The Trading Behavior Of Directors
The assessment of shareholders does not reveal any large institutional investor behind the company. There is Spherix Incorporated (SPEX), which trades with a market capitalization of $7.24 million and owns 18% stake in HOTH, and Chelexa BioSciences, which is also a small company. The company lacks a powerful sponsor, which is not ideal. The image below provides further details on this matter: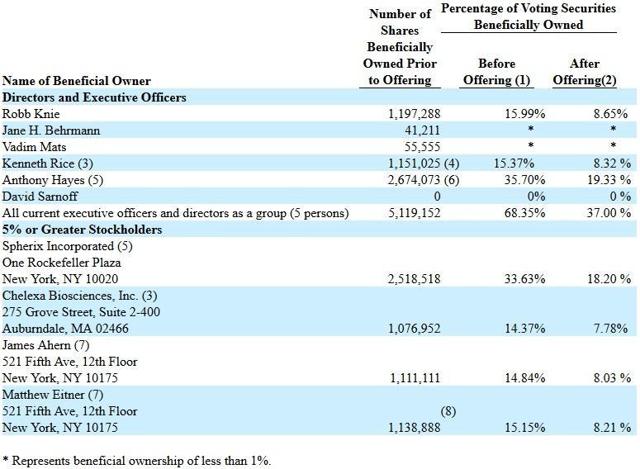 Source: Prospectus
Directors own a 37% stake in the company. With this in mind, investors following the stock should study their trades closely. If they sell shares some time before the clinical results are released, the share price decline may be significant.
Conclusion
With a large target market, HOTH could have a larger enterprise value. Other competitors targeting treatments for atopic dermatitis trade with a larger capitalization.
HOTH may not have a larger size since it was recently created and has high burn cash rate. The company may need to raise further capital in 12 months, which is not ideal. Further sale of equity could push the stock down. With this in mind, perhaps buying shares in 2020 or 2021 makes more sense. It should be when the company should release its clinical data and when the stock returns may show up.
Disclosure: I/we have no positions in any stocks mentioned, and no plans to initiate any positions within the next 72 hours.
I wrote this article myself, and it expresses my own opinions. I am not receiving compensation for it (other than from Seeking Alpha). I have no business relationship with any company whose stock is mentioned in this article.
Editor's Note: This article covers one or more microcap stocks. Please be aware of the risks associated with these stocks.