The Rates Roller Coaster Ride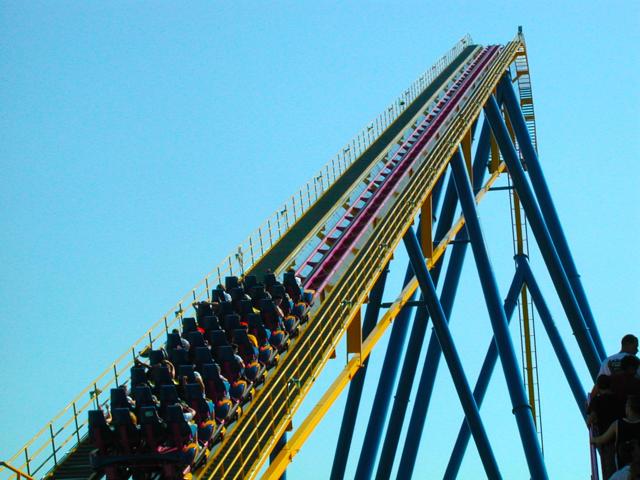 As you know, President Trump is quite unhappy with the Fed current hawkish stance, especially ahead of the US midterm elections.
This is a fairly nuanced criticism of the Fed by Trump, given his prior tweets, not to mention sort of dissonant to see him quoting Wall Street research.
Whether president Trump likes it or not - and ahead of an important meeting/decision later this month - he, i.e. his fiscal policy, is the main trigger for the shift in monetary policy, which sees rates moving up.
After many years of rates staying near-zero levels, the Fed funds roller-coaster is climbing again over the past 2.5-years.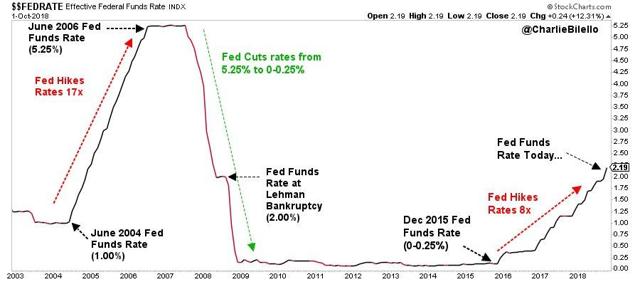 Not all Central Banks are Born the Same
Nonetheless, not all central banks are following the Fed's footsteps here.
The most recent countries that saw rates rising (by 25 bps, to 1.75%, each) are Canada (EWC) and the Czech Republic. While this was the 5th hike since July 2017 for the former, this was the 7th hike since August 2017 for the latter.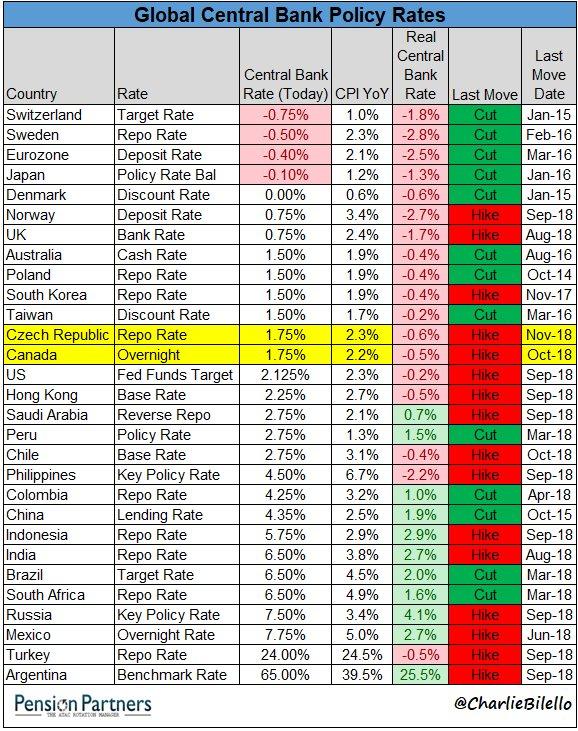 By how much US Treasury (SHV, SHY, IEF, TLT) yields have increased from their all-time lows?
2-Year: +270 bps
10-Year: +177 bps
30-Year: +127 bps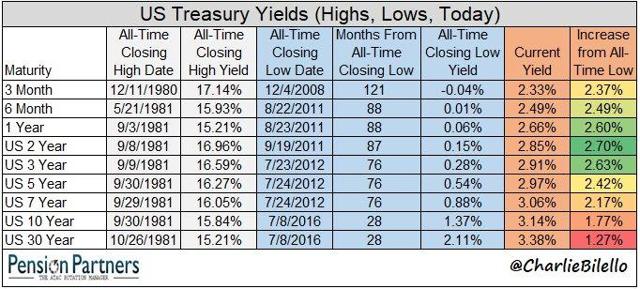 Multi-Year Record Highs
1-Year US Treasury yield ended October at 2.70%, its highest level since January 2008.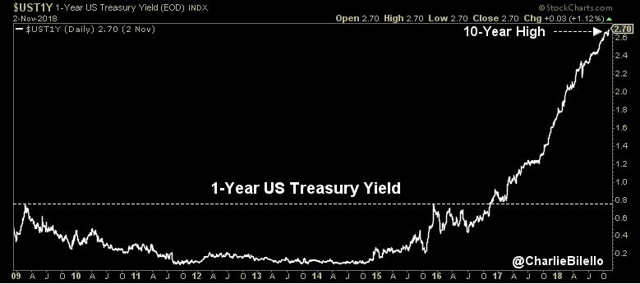 That puts the US somewhere in the middle of the global 1-year yields ranking: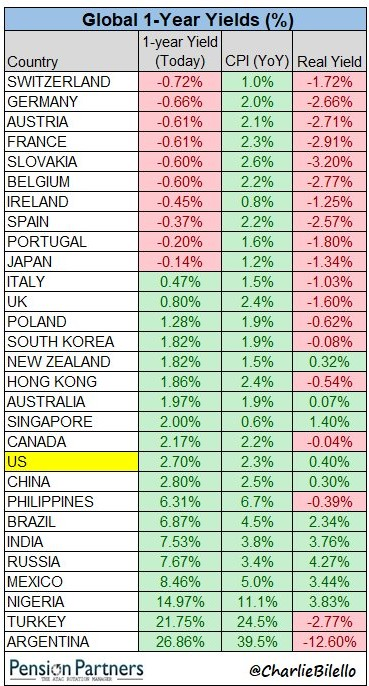 At 3.44%, the 30-Year US Treasury yield is at its highest level since July 2014.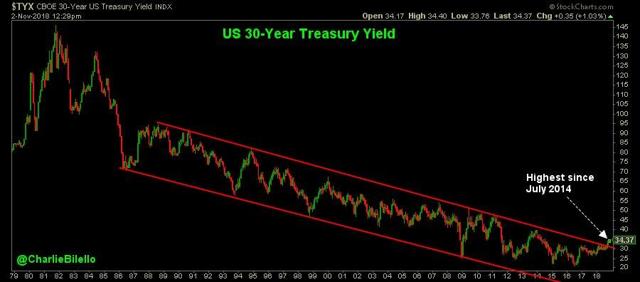 Even as US equities (SPY, DIA, QQQ, IWM) wobble, 3-month Treasury bill yield has climbed to its highest level since 2008: 2.33%.
Cash (JPST) keeps paying more.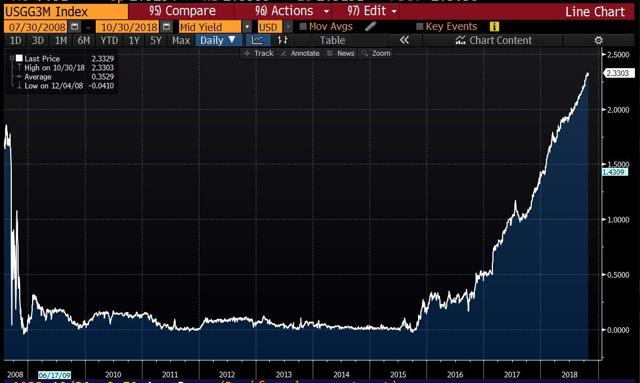 More, but not more enough.
Banks are the Immediate Suspect/Victims
Deutsche Bank's (DB) Torsten Slok says that Americans are starting to move their cash out of banks that don't offer any (or very little) interest.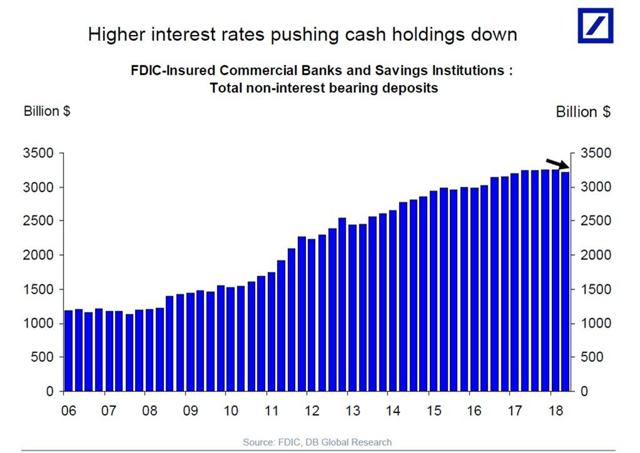 That is happening at a time (and in spite) of the 3-month USD LIBOR rate surging to a new post-crisis high at 2.54%, more than doubling where it was last year.
This is an extremely important trend because so much debt, including leveraged loans (BKLN), is pegged to this benchmark rate.
Borrowing companies are certain to find themselves paying more interest on their debt.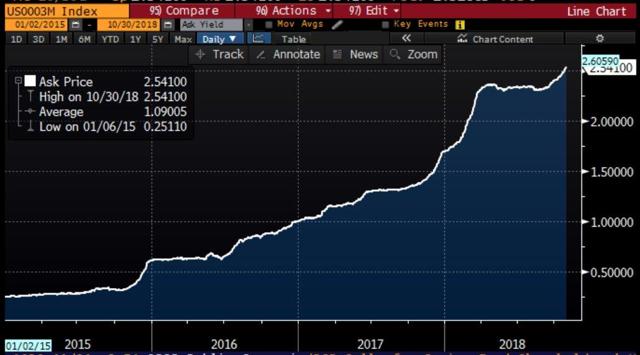 The Next Recession
With rates/yields rising so high (in relative terms), and so fast (in absolute terms), it's only natural to ask (just like president Trump does) isn't this too much and too fast?
On one hand, it's obvious (at least to us) that corporate debt is the more likely place/reason to trigger the next recession, even though it could take a while longer.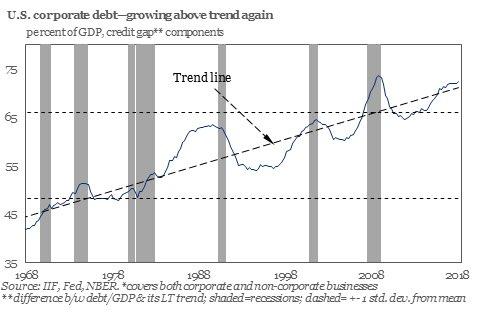 On the other hand, rising rates/yields are affecting many borrowers. It's actually much more than just a growing debt pile and rising debt payments.
The trade-off between rates and growth is obvious/natural: If you wish to stimulus growth - inflation (and consequently rates) would increase, and if you try to control inflation - you would have to raise rates (leading to a lower growth).
How much time do we have until the next recession? We have tried to provide some analysis/answers to this burning question recently.
Guggenheim's strategists say that the yield curve isn't lying about the timing of the next recession. They are now expecting the next recession to begin in early 2020.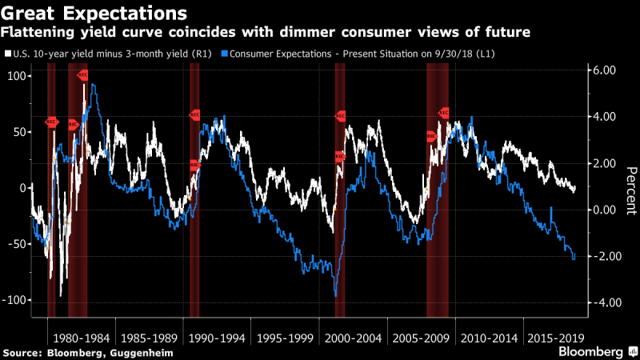 Implications
1. Oversupply of Debt = Investors Runaway
Investors withdrew $36B from bond (LQD, AGG, BND) funds in October, the biggest monthly net redemption in almost three years.
According to JPMorgan (JPM), about $30B of speculative-grade debt (HYG, JNK, AWF) has been sold so far this year to finance dividends for shareholders. That's the fastest pace since 2014.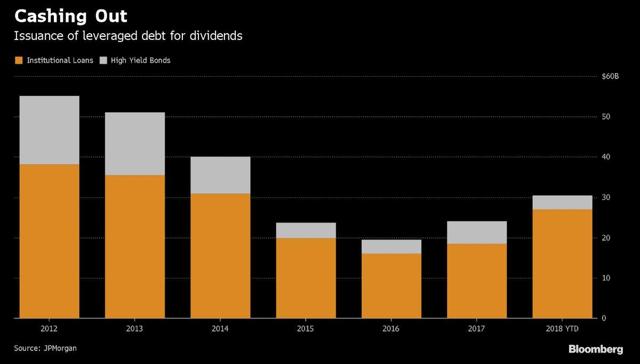 This will be another week of record US debt sales, in the ongoing chase to fund the deepening deficit. Nonetheless, high-grade bonds remain buoyed.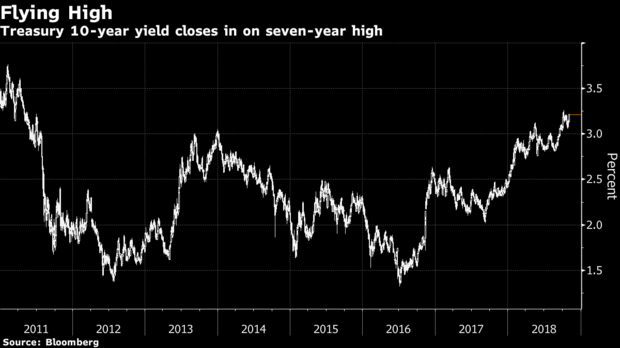 2. Escaping From Long-Duration
While investors withdraw from longer-term bonds, the race to short-term debt has accelerated this year. One ETF, the iShares Short Treasury Bond ETF (SHV), exemplifies this better than others, as its assets nearly doubled (so far) in 2018, to almost $16B!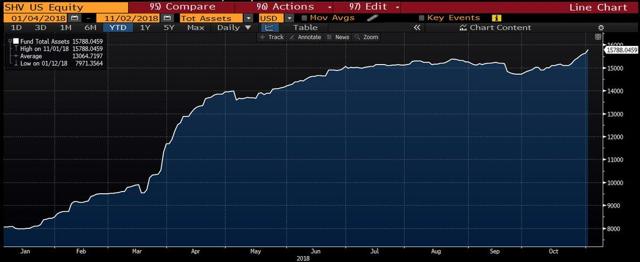 3. Housing/Property Market Readjustment
As the Fed stops buying mortgage debt, home-loan rates are poised to go up faster than Treasury yields.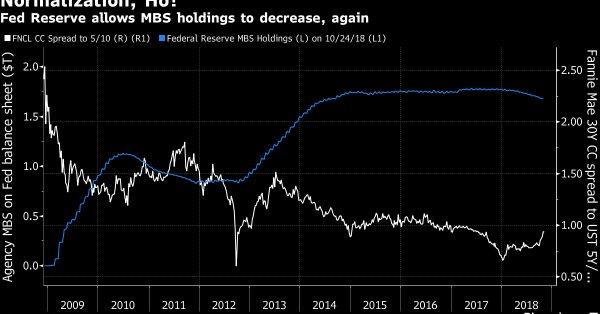 Where's the Money Going to?
1. High-Grade and US Treasury Debt
According to a recent CFA UK Survey, fewer investors see government bonds as overvalued now (versus Q2). Although two-thirds of investors in this poll still see the debt as being overpriced, that's down from 76% in the prior period that thought so.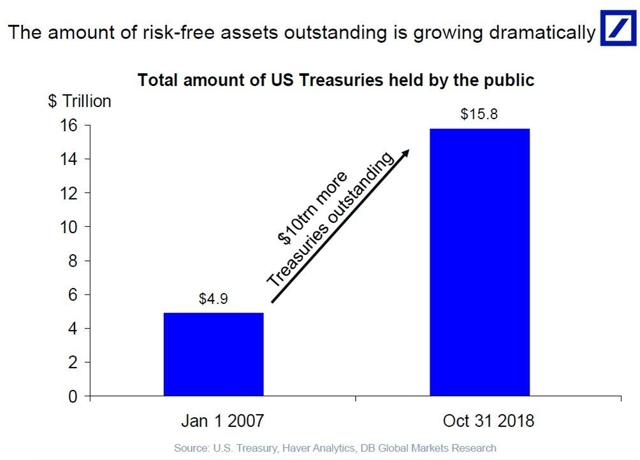 2. Rushing into Short-Duration
BlackRock's (BLK) 1-3 Year Treasury Bond ETF (SHY) just had its biggest one-week inflow since 2014.
Remember: If You Are Not Growing - You Are Dying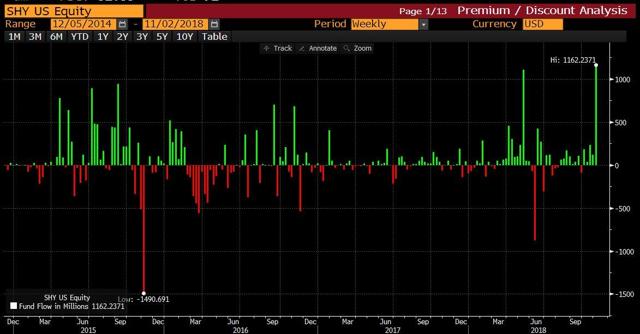 3. Infrastructure
Infrastructure funds raised a record $37B globally during the third quarter, with nearly three-quarters of the money dedicated toward North American transactions.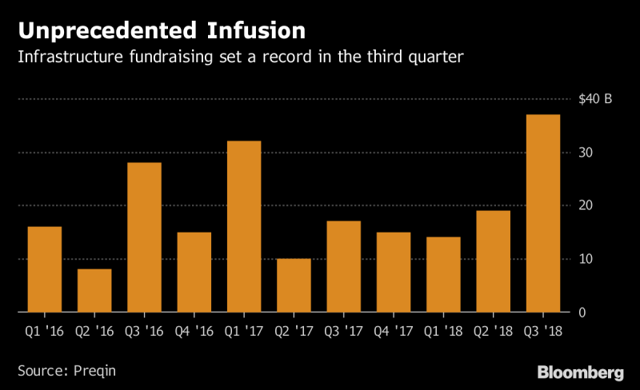 Bottom Line
The bad news?
A whopping 89% of global assets are in the red this year, in US Dollar (UUP) terms. That's the worst stats of any year since (at least) 1901!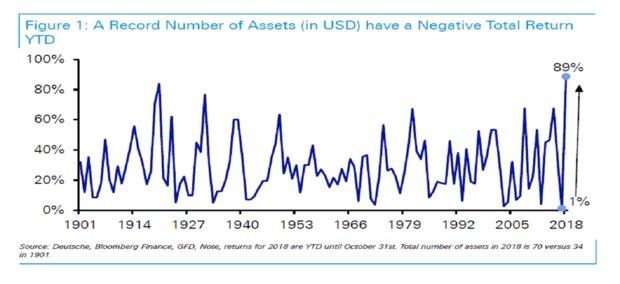 The good news?
What just happened in October - S&P 500 making a 5-month low, then moving up 1% on three consecutive days - is extremely rare; since 1950, that only happened seven times.
Nonetheless, when it happens - positive performance is following through. Three months following such events, the S&P 500 was higher (100% of the time), with an average gain of 7.2% (That's on top of the 1% gain during the initial bounce)

As the midterm elections are upon us, it seems like any outcome is better/positive for the stock market than the current one.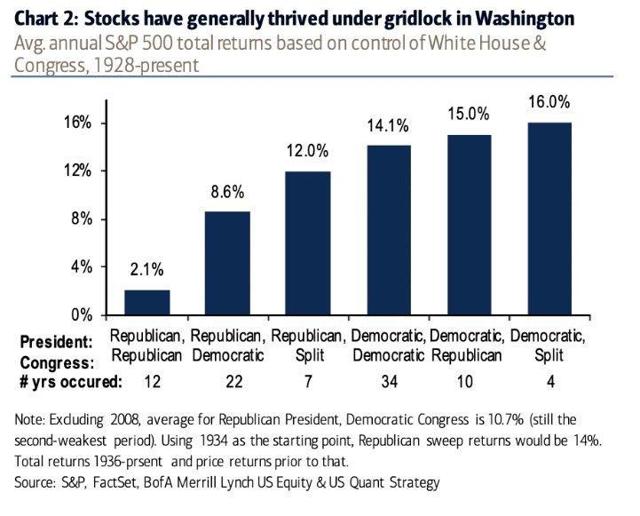 In addition, since 1946, the S&P 500 has not declined during the 12 months following midterm elections.
Average return for a year post midterm elections: 15.3%!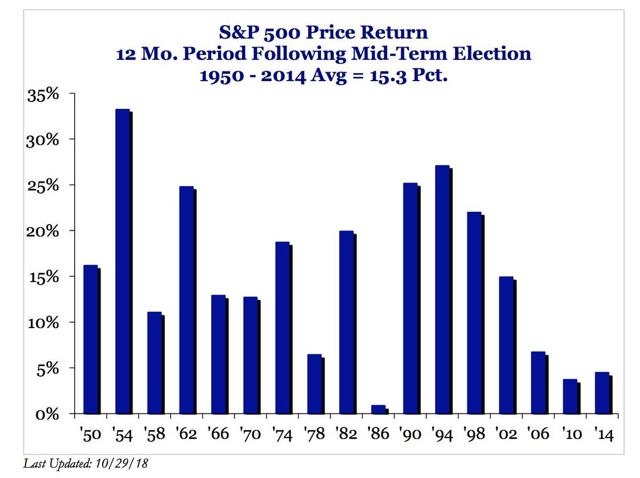 Who fears what's coming next?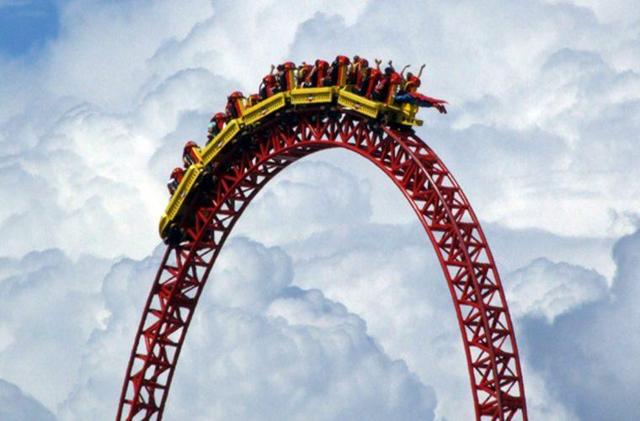 Author's note: Blog post notifications are only being sent to those who follow an author in real time. In order to receive notifications for both articles and blog posts, go to Author Email Alerts, which lists all the authors you follow and turn on "Get e-mail alerts" (see below).


The Wheel of FORTUNE is one of SA Marketplace's most comprehensive services. We view our service as a "supermarket of ideas" with an emphasis on risk management and risk-adjusted returns.
Our monthly review for October, where you can find all suggestions since launch, is only one click away.
We cover all asset-classes: common stocks, preferred shares, public debts, baby bonds, options, currencies, and commodities.
With Trapping Value on-board, you're getting two leading authors for the price of one.
Before committing to the service on a long-term basis, take advantage of the two-week free trial.
Disclosure: I am/we are long JPM. I wrote this article myself, and it expresses my own opinions. I am not receiving compensation for it (other than from Seeking Alpha). I have no business relationship with any company whose stock is mentioned in this article.