Investment Thesis
Old Republic International (NYSE: ORI) is a solid investment choice for investors for three key reasons: its outstanding dividend track record, the safety of its dividend, and its rapidly improving financial performance.
Business Overview
A quick overview of the company before tackling the investment thesis.
Old Republic International is an insurance provider operating in the United States and Canada. The company is one of the 50 largest insurers in the US, although it's very small compared to the largest players in the market: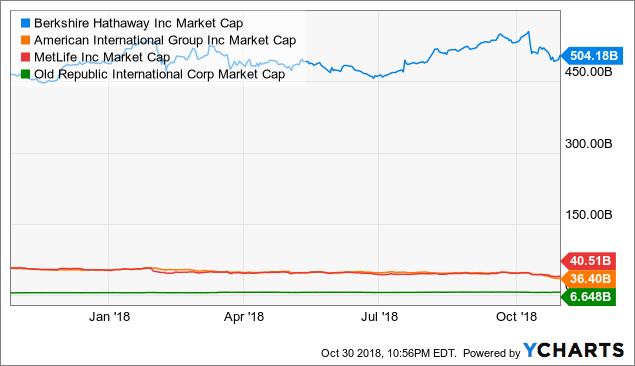 The company operates in two main business segments: commercial property and casualty insurance, responsible for 56% of the company's income, and title insurance for real estate, responsible for the remainder.
ORI is very conservatively managed, with the company's management having an explicit long-term outlook:
"The Company's affairs are managed for the long run and without significant regard to the arbitrary strictures of quarterly or even annual reporting periods that American industry must observe. In Old Republic's view, such short reporting time frames do not comport well with the long-term nature of much of its business."

(Source: Old Republic's 3Q 2018 Report)
A great perspective, and a very beneficial one to long-term shareholders.
Not much else to say about ORI's overall business, it is quite simply a boring, low-risk, conservative insurer.
Dividend Track Record
ORI's dividend track record is outstanding, and one that very few companies are able to match.
ORI has paid dividends for 77 years in a row, an incredibly achievement. This is all the more surprising considering the company was only founded 1923, which means ORI has paid dividends for the vast majority of its history. The company has also increased its dividend for 37 years in a row, managing to thrive under three separate recessions throughout the years. As per The DRiP Investing Resource Center, only 75 other companies have a better track record than ORI in this regard, most of which are mainstays in the dividend investment community.
Past performance is not indicative of future results, of course, but ORI's outstanding dividend track record is a very positive sign of the company's priorities, capabilities and long-term outlook. It's clear the company and its management places heavy emphasis on dividend payments and long-term dividend growth, so the company is unlikely to cut or freeze its dividend, a boon to investors, especially retirees seeking a bit of safe income.
Although ORI's long-term dividend track record is stellar, dividend growth has lagged for the past few years: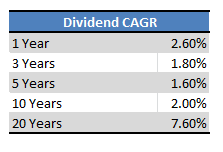 (Source: Old Republic Company Fillings)
It's clear the company's dividend has remained basically stagnant for the past decade, but I believe the situation is quite a bit better than it looks at first glance.
First, the above excludes a special one dollar dividend earlier in the year. That extra payment, of one dollar per share, amounted to an extra 5% in yield for investors in 2018, more than doubling their dividends for the year. Although smoother, and more permanent, dividend growth is probably preferable to most investors, I can't imagine most are complaining about the company's special dividend.
Second, as the company's earnings are rapidly increasing, and it has a relatively low payout ratio, growth is likely to increase in the near future. Let's take a look at each of these points.
Earnings Growth is Accelerating
ORI's financial performance throughout the years has been good, but growth has really picked up during the last year.
The company's latest quarter was beyond stellar, with EPS more than quadrupling, even after excluding the impact of unrealized investment gains (important source of income for insurers, but very volatile). Results were due to a combination of rising revenues, lower claim ratios/expenses, and lower taxes, a solid combination of factors. Figures for the year as a whole are slightly less impressive, but the company's outstanding performance for the year is still undeniable:

(Source: Old Republic 3Q 2018 Quarterly Report)
Very impressive results, and although triple-digit earnings growth is unlikely to persist in the future, I believe the company will likely see double-digit growth rates for a few quarters more, as claim ratios and expenses continue decreasing. Taking into consideration management guidance and past results, lowered expense ratios should increase the company's earnings by around $88 million a year, a very hefty increase for a company with $776 million in annual earnings, and that is after almost doubling its income in the last year!
The above, combined with organic revenue growth and the company's reduced tax rate due to Trump's tax cuts, should ensure strong future earnings growth for the company, benefiting the company and its shareholders.
Low Payout Ratio
ORI's skyrocketing earnings, combined with relatively lackluster dividend growth, have led to an incredibly low payout ratio. The company has a TTM payout ratio of only 30%, 21% if you only take into consideration the latest quarter. These are extremely conservative numbers, the company could very easily double its dividend and it would still be able make its quarterly dividend payments without undue financial hardship, not a small feat! The company's payout ratio also compares favorably to its peers. According to the DRiP Investing Resource Center, dividend champions have an average payout ratio of 58%, almost twice as high as ORI's.
This is, of course, beneficial for dividend investors, especially those looking for a bit more safety in their investments, as it means a dividend cut is extremely unlikely.
Dividend Growth Prospects
Due to ORI's low payout ratio and rapidly increasing earnings, one should expect future dividend growth to be relatively high, but I'm not sure that this will actually be the case. I've seen no company guidance concerning future dividend growth, but if the recent and not so recent past is any indication, management won't be making any significant dividend hike in the near future. Still, I admit the above is little more than a hunch, the company definitely has the room for double-digit dividend increases for the next few years.
Shareholder Returns
Although ORI's dividend growth is below average, at best, capital appreciation and overall shareholder returns have been significantly better. ORI's shareholders have been very well rewarded throughout the years, with the company generally outperforming the market:

(Source: Ycharts, ORI's 2017 Annual Review)
ORI's slight underperformance during the past five years was mostly due to some rough years the company had after the financial crisis. Simply put, the company was in the mortgage insurance business, and had massive losses after the housing bubble burst.
The above is obviously not ideal, but I believe the company's overall results speak for themselves. ORI has outperformed the market for more than 50 years, and by a sizable amount, a very impressive accomplishment. Past performance is not indicative of future results, but the company's long-term strategy seems to be working so far, and I expect it to continue to do so in the future.
Conclusion
ORI offers investors a safe, growing dividend, backed by a low payout ratio and increasing earnings. Income investors should take special note of the company's low payout ratio and its outstanding dividend track record; they can rest easy knowing the company's dividend is safe. Investors looking for a bit more growth should take note of the company's earnings growth and long-term performance, as these mean the company will likely be an excellent long-term investment. In general terms, I believe ORI to be an excellent investment choice for investors.
Thanks for reading! If you liked this article, please scroll up and click "Follow" next to my name to receive future updates.
Disclosure: I/we have no positions in any stocks mentioned, and no plans to initiate any positions within the next 72 hours.
I wrote this article myself, and it expresses my own opinions. I am not receiving compensation for it (other than from Seeking Alpha). I have no business relationship with any company whose stock is mentioned in this article.