For the first time in many quarters, shares of Zendesk (ZEN) actually skidded modestly after reporting Q3 results - unusual for a company that typically jumps more than 10% after earnings, as it did after beating estimates in Q2. This quarter the story is no different - Zendesk beat Wall Street's numbers all around, but the beat margin on the top line is thinner than in quarters past. In a quarter where many well-known technology companies have crumbled due to weaker-than-expected top line results, Zendesk's post-earnings pullback is not an anomaly.
A look at the year-to-date chart for Zendesk clearly shows a stock that is down meaningfully from its highs. The stock touched an all-time high point of $72 in September and is now down 25% from those levels. That would officially put the stock in bear market territory. Keep in mind, however, that even with the sharp decline in October (which is more or less in-line with other high-growth SaaS stocks), that Zendesk is still up an enviable 60% for the year. In my view, a correction was long warranted for this hot stock.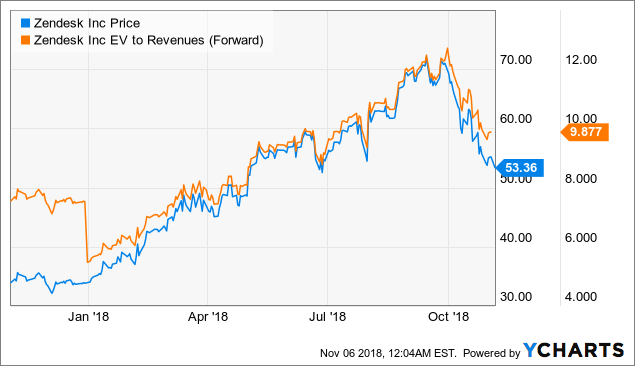 Even with the pullback, Zendesk's stock doesn't scream cheap just yet. Its revenue multiple has sunk below 10x for the first time in months, but paying just under 10x forward revenues for a company whose top-line growth rate has slipped below 40% and is still only generating minimal free cash flow isn't terribly appealing. The market has reacted coldly to high-growth tech stocks in the month of October, and many other high-growth names like DocuSign (DOCU) have slipped now far below 8x forward revenues, so I'd much rather nibble at those than at Zendesk.
Zendesk is a hold right now. At 9.9x forward revenues against a 40% forward revenue multiple and a nascent free cash flow profile, I'd say the company is fairly valued. There are many things I like about the company. Even after reaching a ~$600 million annualized revenue run rate, the fact that Zendesk is still able to grow at ~40% is astounding. However, risks for the company abound. It is one of the top recognized leaders in customer service software, but other SaaS giants like Salesforce's Service Cloud (CRM) and ServiceNow are also high-profile players in the space. As the number of greenfield market opportunities declines and the space becomes less fresh, Zendesk's battle for market share will only intensify.
It's also worth noting that Zendesk is still mostly a one-product company at this point. Yes, it's true that Zendesk now markets the Zendesk Suite, which is comprised of a number of different products/modules for support, customer ticketing, and other functions, but Zendesk is still in only one category of software.
It's fine for Zendesk to be focused on its niche of service software at this stage in its lifecycle - it's still a mid-cap tech stock at a market cap of ~$5 billion, but the software stocks that have been able to grow into the next level have all found a lucrative pivot to extend their product lineup into. Workday (WDAY) did it with ERP and finance software, building on its flagship HCM strengths to create an integrated backend software package. Atlassian (TEAM) did it with enterprise chat (and so too did Facebook (FB), as a matter of fact). The list goes on and on. The few software companies that have managed to scale into mega-cap territory, like Salesforce and Adobe (ADBE), have all been multi-product successes. Zendesk can't grow to a $2-3 billion revenue scale on one product line alone. Until we see that Zendesk has a credible extension for its brand, we have to assume that the company's growth trajectory will be fairly limited as it approaches the $1 billion revenue mark.
I'm a buyer of Zendesk if the shares fall into the low $40s. My price target on the stock is $46, representing an 8x forward revenue multiple and 18% downside from current levels.
Q3 recap
Let's take a closer look at Zendesk's third-quarter results:
Figure 1. Zendesk 3Q18 earnings results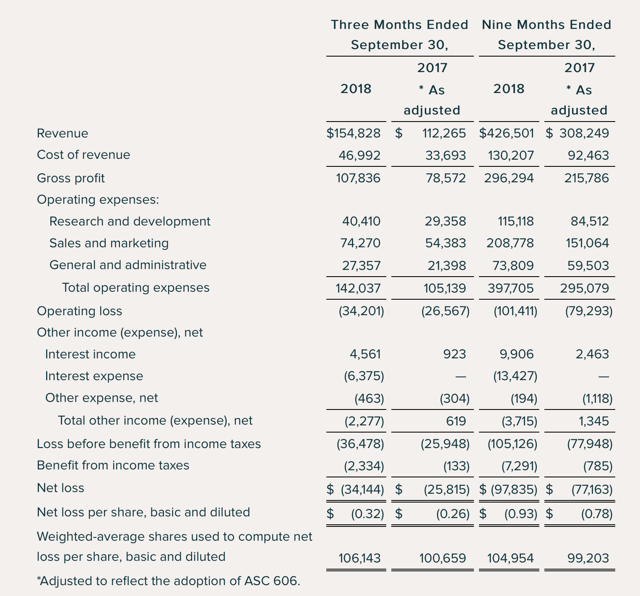 Source: Zendesk investor relations
Total revenues grew 38% y/y to $154.8 million, beating Wall Street's estimates of $112.3 million (+35% y/y) by a comfortable three-point margin. Last quarter, that gap between results and expectations had been slightly wider at four points. Still, a beat is a beat - and we do have to acknowledge again that for a company that is generating >$150 million in quarterly revenues, a near-40% growth rate with barely any deceleration from prior quarters is truly impressive.
A few useful qualitative comments from CEO Mikkel Svane's prepared remarks on the Q3 earnings call:
We're seeing a few factors driving our growth. The demand for customer experience software is strong and experienced tremendous change as companies adopt new and modern ways to engage with our customers. Our products are built to help companies adapt and communicate with today's consumers who expect quick and easy interactions across multiple channels.

At the same time, we made major progress on our two key priorities for the year, maturing our omnichannel offerings and accelerating our move upmarket. The Zendesk Suite, our new omnichannel bundle has gotten off to a solid start and continues to perform ahead of our expectations."
Zendesk's greater push into enterprise deals will be especially important for the company to retain its ~40% growth range. Zendesk has historically been strong in the SMB space, but if it wants to hit its goal of becoming a $1 billion company by 2020 (a goal it has repeated on numerous occasions, including this quarter's earnings call), it will have to gain greater traction upmarket. Major wins and expansions in the quarter included Yext (YEXT), RPM International (NYSE:RPM), Ingersoll Rand (NYSE:IR), and tax firm Jackson Hewitt.
Gross margins, however, did not see the same strength as top-line growth. Margins declined 40bps to 69.6% this quarter, down from a gross margin of 70.0% in the year-ago quarter. Management blamed the margin drop on the company's acquisition of the lower-margin FutureSimple, but this still continues a disappointing trend from Q2, where gross margins had dipped 110bps.
Operating margins also saw little improvement. Zendesk is still obviously focusing on its growth, but at its scale, we'd be a little happier with Zendesk's results if it struck a better balance between growth and profitability. The company achieved only a tiny amount of leverage on its sales spending, which grew 37% y/y to $74.3 million, consuming 48.0% of total revenues (only 40bps less than 48.4% in the year-ago quarter). Operating losses widened to -$34.2 million, representing a GAAP operating margin of -22.0% - only slightly better than -23.7% in 3Q17.
Pro forma EPS of $0.09 beat Wall Street's consensus of $0.04 by five cents, largely thanks to the revenue upside. The company's free cash flow margins, however, remain slim. While free cash flow has grown tremendously in the year-to-date (nearly 4x last year's FCF), cumulative free cash flow generated since January of $23 million only represents an FCF margin of 5%.

Source: Zendesk investor relations
Larger and more mature software companies, by contrast, have been able to generate FCF margins in the 20-30% range - including Dropbox (DBX), which only went public this year. Going forward, Zendesk's margin profile and free cash flow generation will become more important for investors as growth cools off.
Key takeaways
My outlook on Zendesk shares over the next six months is neutral. Though the company has continued an impressive pace of growth, its margin expansion and cash flows leave a lot to be desired. At a valuation of nearly 10x forward revenues, Zendesk is essentially priced for perfection, and the risks to the downside far outweigh those to the upside.
In particular, investors will be watching for Zendesk's FY19 guidance, due when it reports Q4 earnings in February. If Zendesk guides low for FY19 (as in, a growth rate in the low 30s), investors may begin to strip Zendesk of its premium valuation relative to other SaaS peers. Buy the stock if it slides considerably lower, but otherwise, stay on the sidelines.
Disclosure: I/we have no positions in any stocks mentioned, and no plans to initiate any positions within the next 72 hours.
I wrote this article myself, and it expresses my own opinions. I am not receiving compensation for it (other than from Seeking Alpha). I have no business relationship with any company whose stock is mentioned in this article.