Something funny happened when Micron (MU) stock briefly plunged below $35 per share in late October. Shares saw heavy accumulation even as the stock fell, resulting in an anomaly of roughly 100 million more shares where the purchase was initiated by buyers than based on random chance over a 10 day period. Could this have been an acceleration in the buyback? I have a hunch that the answer may be yes. Wall Street treats Micron as its punching bag, but the Boise, Idaho-based company is quietly making billions of dollars per quarter, far from both Wall Street and Silicon Valley.
With book value at $28 per share and rising, Micron is a compelling bottom-up value investment. Micron is unlikely to fall more than 25 percent and has 100+ percent upside over the next 12-18 months. While I was too optimistic on Micron before Q4 earnings, the stock has since seen a strong bid below $40 per share.
Micron is being accumulated heavily under $40
Technical analysis can provide interesting clues as to what is going on behind the scenes for a given stock. While I don't rely heavily on technical analysis, I sometimes like to use accumulation/distribution to uncover clues about what large market participants are doing. The accumulation/distribution line shows whether buyers or sellers are initiating more of the transactions (market makers typically take the other side). Thus, it tracks the money flow and supply/demand dynamic in the stock. Random noise tends to cancel itself out, and money flow strongly tracks the price of the stock over time (more explanation on money flow here).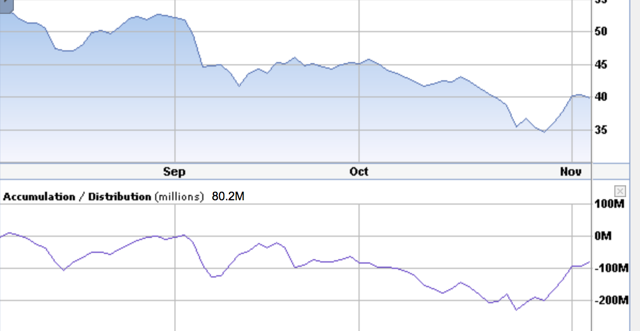 There are some odd things going on in the graph since the second half of October. For example, over the preceding 3 months, shareholders had distributed a net of -200 million shares by the time Micron first broke below $40 on October 22nd. When Micron returned to $40 on November 1st, the cumulative money flow was 100 million shares better than it was the last time the stock traded for the same price. Pay attention to the divergence as Micron slides from $37 to $35 in particular. The stock price was in free-fall, but the money flow showed strong accumulation.
Notably, even on days that Micron fell late in the month, the shares saw accumulation. If you assume an average price of $37.50, then 100 million shares purchased is roughly 3.75 billion dollars. While there likely are other buyers that contributed to the accumulation, 3.75 billion is well within Micron's authorization to repurchase 10 billion in stock.
Here's what CEO Sanjay Mehrotra had to say about the buyback on the last conference call.
As I reflect on the tremendous progress we have made improving our competitive position this year and amazing opportunities that drive our industry, I'm very excited about my Micron's future. Against this backdrop, we certainly view our stock as being undervalued at current prices and are aggressively implementing our stock buyback program. We will continue to maintain a healthy balance sheet and use strong free cash flow to support our $10 billion buyback and assess opportunities to accelerate the timeline for its completion.
Micron had 6.8 billion in cash and short-term investments on the balance sheet as of the last quarter. They're conservatively expected to earn 3.2 billion this quarter and 2.5 billion next quarter.
They purchased Intel's stake in IMFT for 1.5 billion, but likely won't have to fork over the cash until the deal closes in 2019. They also have long-term debt of 3.25 billion dollars, which they have signaled they want to eliminate. The crazy thing is that Micron can pay back all their long-term debt, buy out Intel in their joint venture, and buy back 5 billion in stock and still have close to 3 billion in cash on the balance sheet. That's plenty of cash cushion in my view, and if Micron wants to shore up their cash, they can hit the commercial paper market for money and pay it back in 3-6 months with the billions they earn per quarter.
Even if the DRAM cycle starts to turn bearish as the NAND cycle has, the decline won't happen all at once. The certainty in forecasting earnings is much higher 1-2 quarters out. Confused about the DRAM and NAND cycles? Here's an excellent explanation of the semiconductor market by Seeking Alpha contributor Zynath Investment.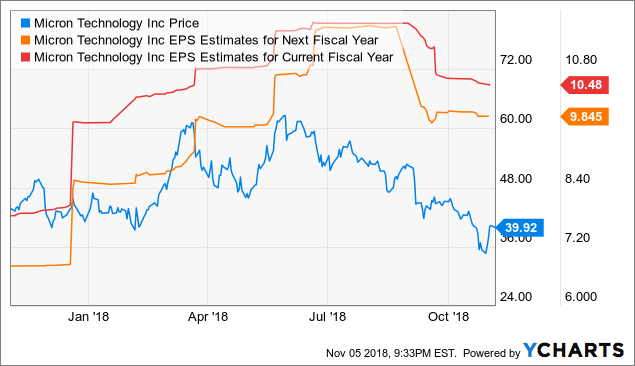 Book value is $28 per share and rising.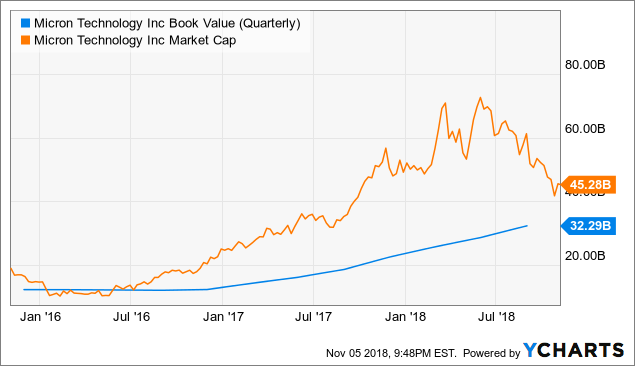 Micron's book value is $28 per share or higher (the buyback won't kill the book value as the price difference isn't big), depending on their current share count. You'll also notice that as the share price is coming down, the book value is rising. Something has to give. I will note that Micron traded below book value in 2016, but Micron was a different company back then. Remember the 7.5 percent yielding convertible debt that Micron has been fervently attacking? They issued a lot of the debt back then to finance capital expenditures when the company didn't have the cash flow to pay for it out of operations. Issuing convertible debt dilutes the common stock, so shareholders didn't trust the book value as a floor.
If 7.5 percent convertible debt sounds like a bad deal, it's because it is a bad deal. However, Sanjay Mehrotra wasn't the CEO then. Under his leadership, Micron has aggressively paid down the debt so they won't wind up in a similar position in the future.
Even if the current slowdown sees EPS begin to turn lower after the current quarter, Micron's book value will continue to incrementally crank higher. Book value should continue to rise in 2019 even under pessimistic assumptions. This provides a nice safety net for investors in the stock.
It's hard to see the company falling too far below book value. After all, Micron isn't huge by large-cap tech standards. It's conceivable that they could be acquired or go private if their price fell too far below fair value.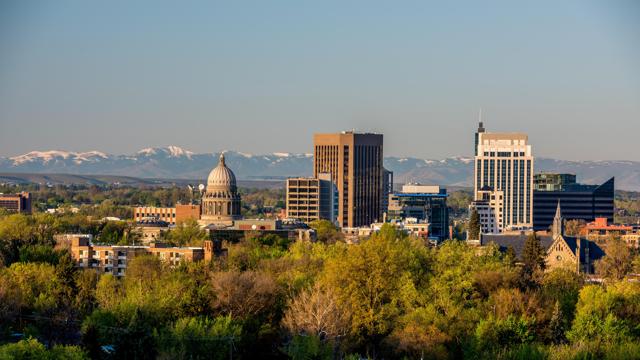 Boise, Idaho, home of Micron Technology.
Micron stock has asymmetric risk/reward
Unless there is a risk of sustained negative earnings or shareholder dilution, stocks typically shouldn't trade under their book value. While it happens from time to time, Micron's commitment to removing shares from the market if they trade low enough puts an implicit floor at book value. The balance sheet is as close to impeccable as you will ever see for large-cap value, so I wouldn't lose sleep over the prospect of future debt issuance.
Taking Mehrotra at his word that the downturn will only last 2-3 quarters, Micron won't have to earn a lot in dollar terms to put up some dazzling EPS numbers against a potentially 25+ percent lower share count especially if their net income isn't affected by any interest payments whatsoever. While I think sell-side estimates are often garbage, the fact that Micron even has the potential to earn $10+ per share yearly at the current share count and trades for $40 means that we have a lot of room to be wrong–or margin of safety, for fans of Ben Graham. Also notably absent from the Micron picture is the presence of large short positions. Micron's short interest ratio of 5.3 percent, while above average, does not raise any alarms. If the company were truly the disaster that bears think it is, then you would see short interest at least double the current figure.
Once the rain stops on the broader market sell-off and semiconductor supply situation, it will be obvious just how much money Micron is capable of making when the cycle turns favorable again. When that happens, Micron could see its stock trading in the triple digits, courtesy of half its former outstanding shares sitting in a vault at Micron headquarters in Boise, Idaho. Then, the shareholders who sold their shares to management will finally learn that Micron understands the semiconductor cycle better than they do. MU is a strong buy.
Did you enjoy this article? If so, then follow me!
Disclosure: I/we have no positions in any stocks mentioned, and no plans to initiate any positions within the next 72 hours.
I wrote this article myself, and it expresses my own opinions. I am not receiving compensation for it (other than from Seeking Alpha). I have no business relationship with any company whose stock is mentioned in this article.