Investment Thesis
Although I have made a bearish claim on the marijuana market as a whole recently, I do think there will be companies that succeed and Pyxus (PYX) might be one of them. Pyxus has been an established dry leaf tobacco company for quite a while and has recently stated that it is entering the cannabis world. This is a bold yet very smart move that can change the company's direction and enter them in a new, hyped up market.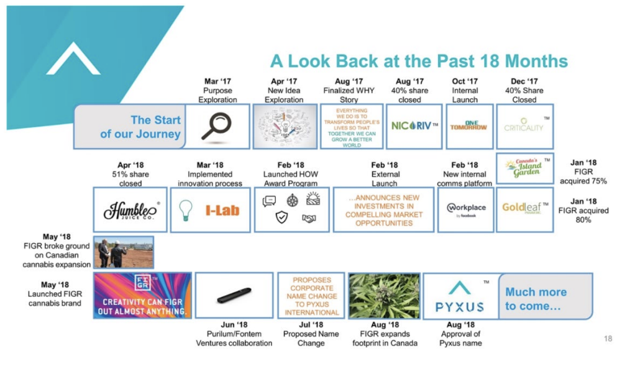 Image Source: Citron
This entry is a huge turning point for the company as it shows it is modernizing and is ready for change. With this move, Pyxus is able to soak in a safe profit from tobacco and make progress diving into the marijuana market. What sets them apart from other marijuana companies would be their experience, knowledge and connections. If this is the case, this would give shareholders a huge payday.
Experience
Pyxus has had experience in agriculture by growing tobacco for a long time and creating connections with over 300,000 farmers. This is a big and important point as they know the ins and outs of the agricultural world and will be able to put forth this knowledge into their marijuana ventures. Their tobacco success is remarkable and is proven through their market share of 40-50% of the US market, 30-35% of Brazil, 50-55% of Uganda, 30-40% of Malawi and 20-25% of Zimbabwe. If Pyxus is able to invest correctly and transition its company's tobacco background into a marijuana foreground, it is looking at a huge profit.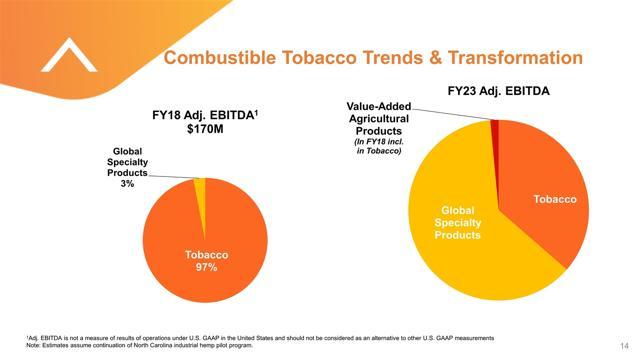 Image Source: Investor Day Presentation
This leads into my next point as Pyxus plans on moving from tobacco to other products such as e-liquids and marijuana within the year 2023. If this is the case, this shows that Pyxus is making the right steps to move forward and grow as a company.
To go further on this point, Pyxus moving into the new up and coming marijuana market shows that they are willing to make the necessary steps to a new found profit.
Partnerships and Management
Pyxus has been making moves that put them in the perfect position to succeed. These moves include hiring Bryan Mazur, former executive at Dr. Pepper Snapple Group and a supply agreement with Prince Edward Island to ensure the sale of their product. Although there is no guarantee that the recent hire will lead to a partnership, at the very least, it shows that they have a connection. This is a pretty huge connection as a bunch of companies have considered moving into cannabis infused drinks. When we take a look into the supply agreement, we realize how important it is. Pyxus has confirmed the deal and says it will supply the island with 1000kg of weed products. This is equivalent in size as the one given to Canopy (CGC). As for Tilray (TLRY) and Cronos Group (CRON), they have not disclosed the size of the deal. This gives way for the assumption that Pyxus was awarded the biggest agreement besides Canopy. This is huge due to the fact that this shows that Pyxus is able to keep up with the competition.
Value Versus Competitors
As I have stated in a previous article, the marijuana market has stocks with valuation through the roof, and Pyxus is quite undervalued in comparison. When Canopy is trading at 10.7x 2020 sales of $1.05 billion, Cronos Group is trading at 12.3x 2020 sales of $160m, Aurora Cannabis (OTC:ACB) is trading at 8.6x 2021 sales of $1.1 billion, Aphria (APHQF) is trading at 9.4x 2021 sales of $360m, and Tilray is trading at 43.8x 2020 sales of $350m, it's obvious that they are overvalued. As for Pyxus, it is trading at 0.8x fiscal 2018 sales of approximately $1.8 billion. This shows that Pyxus is clearly not being traded as a marijuana stock. To go even further, Pyxus's market cap is $261.7 million, which doesn't even value them near their sales. Even if they weren't in the marijuana market, they would be undervalued. This is the fact that makes me love this stock the most. As known through my recent bear article on the marijuana market, I would avoid many stocks, yet I see Pyxus standing the test due to their connections, experience, and value.
Disclosure: I/we have no positions in any stocks mentioned, but may initiate a long position in PYX over the next 72 hours.
I wrote this article myself, and it expresses my own opinions. I am not receiving compensation for it (other than from Seeking Alpha). I have no business relationship with any company whose stock is mentioned in this article.
Additional disclosure: Although I wrote a bear article on the marijuana market as a whole, I did mention that there will be stocks that succeed and believe PYX will be one of them.