We Noticed that Cirrus Logic's Ticker (CRUS). .
brilliantly glowed green on November 2, the day after its September quarter report. During the day, the green price reached a high of $43 before closing up $1.25 at $41.5. Cirrus' price had already climbed more than 5 points from its low near $34 just a few days earlier. We can't remember the last after earnings Green Day for Cirrus, particularly made impressive with the market clocking Apple (AAPL), down $16, Skyworks Solutions (SWKS) and Qorvo Inc. (QRVO), both retreating more than $4. The Apple report was less than stellar for a company whose stock price has almost doubled in the last year. But for Cirrus being up on the day after earnings, oh myyyyyy!
We Noticed that Cirrus . .
reported on the same day with Apple instead of one or two days later. We appreciated this change especially since the company reported details on its future growth vectors believing with a high level of certainty significant growth is coming over the next several years. By doing so, Cirrus helped the market focus on its bright future, while ignoring Apple's perceived weak report. Did Cirrus' management use ideas from our article on Qorvo? Regardless, we send our gratitude for this wise approach.
We Noticed that Cirrus . .
expects a second 10% customer beginning in late March or in the June quarter of next year. From the conference call, "We do expect in the Q4 time frame to get back to having a second customer that is north of 10%. . . we're excited about that, and that should drive a good result for us through the year." We continue to believe that Samsung (KRX: 005930) is the new 10% customer.
When asked by Christopher Adam Jackson Rolland of Susquehanna Financial Group, LLLP, "Just quickly on the second customer over 10%. Are you providing them enhanced or better features that you're already supplying? Or are these totally new features for that customer?" Cirrus answered, "It's kind of new functionality for us to ship them."
What new functionality is Cirrus expected to deliver and at what value? We believe Samsung began using 3 55 nm amplifiers for sound and haptics valued at $1.6/phone. We also believe that a new Galaxy in the near future will include digital headsets employing a new combined Cirrus integrated USB-C chip valued between $1.25-$1.50. From a recent description for the new Galaxy S10, "Around the back, the S10 models will pack a Huawei-rivalling triple camera setup, and on the bottom, there won't be a 3.5mm headphone jack." Continuing, a recent news report described a new Galaxy feature, "Samsung will also provide a dongle in the box to make the transition from 3.5mm to USB-C easier," an offering if true adds an additional $1.25+ to the ASP.
Although the research reports for the flagship Galaxy models reveal bullish content increases, recent unit sales for those phones are pretty dismal having dropped significantly compared with prior years. "Shipments are expected to top off at around 31 million units this year, where the Galaxy S7 sold around 50 million in total." But recent reports concerning Samsung's new Galaxy phones indicate plans for major upgrades. We expect significant increases in total volumes going forward perhaps as high as 60 million units a year, a mid-ranged estimate based on past highs and current lows. Unlike the Cirrus codec, which is only in the foreign marketed Galaxy model, we expect all the new phones to include Cirrus amplifiers and DACs. At 60 million possible unit sales for both the S and Note, Cirrus might gain 60 million times $3-$4 for content increases equaling $200-$250 million. At 40 million units, increased revenue reaches approximately $150 million.
We Noticed that Cirrus . .
still expects significant long-term growth beginning with growth for 55 nm amplifiers and digital headsets starting in March. Rhode commented during the conference call, "I think, obviously, the short term is being driven significantly by progress in amplifiers and haptics in particular, broadening out our penetration into more and more the Android ecosystem." Continuing with describing future growth, the company included this within its shareholder letter,
"Further, after our initial win in a single smartphone model last quarter, we expanded our footprint with one of the largest Android OEMs and are now shipping in multiple models. We expect additional flagship devices to launch utilizing our technology over the next 6 months."
Further into the letter,
"we continue to expect strong growth of this [amplifies] business, particularly in the Android market, for the remainder of FY19 and FY20."
The company also noted that a North American Android customer, believed to be Google, now uses a Cirrus amplifiers and haptics device in its new flagship handset.
After the beginning of growth in FY-20 from amplifiers, the company is working on several other large "vectors" of growth. With respect to its headset products and markets,
"And we are seeing good uptake of that from the customers that are choosing to launch such products. So it's probably, I would say, relative to expectations a year or so ago, amps and haptics are better than our expectations in that time frame and headsets probably a little bit lower, but we're still working on trying to shore that up."
Cirrus still expects several new product releases for wired and wireless headsets during the next 6-12 months.
With respect to haptics,
"While design activity with our first-generation haptic driver is robust . . . we are also planning on taping out our first product designed specifically for haptics in the spring of calendar 2019. Trends driving increased demand for sophisticated haptic solutions include a push by OEMs in the Android market to maximize screen size, improve overall device robustness by eliminating mechanical buttons and the desire for advanced tactile feedback for gesture-based navigation."
With respect to Cirrus codecs, the desire for always on functionality continues to drive future growth opportunities.
"We expect to benefit from that. Certainly more voice activation means that you need to be even more conscious about power than handset manufacturers already are. So that creates good opportunity for us."
With respect to the China market, Rhode added,
"And so I would say the still and rank order, the amplifiers and haptic are probably a bigger -- we expect them to be a bigger driver of revenue growth in the China market over the near term."
With respect to voice biometrics, the shareholder letter noted, "We remain actively engaged with several key customers and continue to optimize our solution to enhance environmental robustness, security and power consumption. The company is also capitalizing on our growing expertise in applying deep neural networks to signal processing related challenges in voice and user interface applications to improve performance and reduce power consumption." Rhode added to the call when asked about product introductions in calendar year 2020, "We could see some contribution before that, but it's -- that's probably a reasonable placeholder for when the potential is for it to be meaningful." The United States Patient Office (USPO) recently issued a patent to Apple regarding voice identification. This bodes well for Cirrus' biometrics future with Apple.
With respect to microphones,
"Q2 was also a productive quarter for MEMS microphones, as we continued to solve technical challenges and remained actively engaged with key customers."
With respect to hardware unit sales, Cirrus isn't counting on unit sales growth.
"There's not any miraculous growth in the market or a rosy outlook in that perspective. This is based on content gains and continued expansion."
We included expected revenue growth ranges with respect to Samsung, but it isn't the whole picture. Growth is coming from China this coming year primarily from ampfliers and haptics devices. Figuring a magnitude is difficult, but at $1.50-$2.00 per unit and given the size of the China OEMs, 100 million isn't out of the question. Adding possible Samsung growth with China growth, Cirrus long-term run rate revenue is likely to increase by $250 - $350 million in calendar year 2019. Because we are uncertain about the effect on growth from other new headsets, we added nothing.
In our view, the revenue growth beginning in CY-19 is just a beginning for significant long-term growth.
We Noticed that Cirrus . .
included the same bullish TAM growth chart in its presentation. With all of the uncertainty for mobile product unit growth, we find this interesting.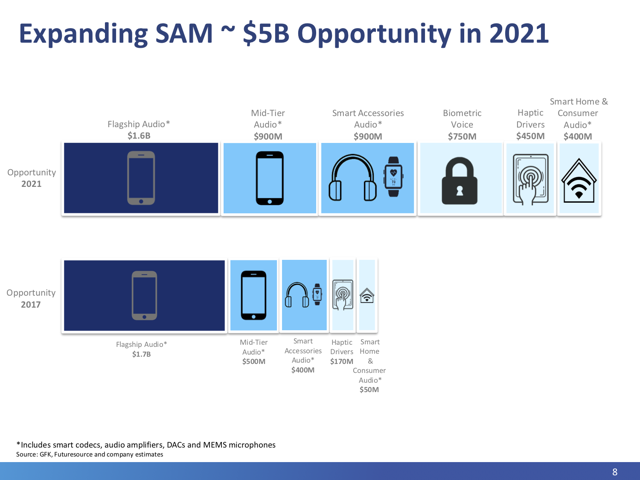 We Noticed that Cirrus'. .
chart, developed by us, turned bullish. The price on Friday, November 2 closed above the 200 SMA (white line). Past lows near $34.5 held three times creating a triple bottom. Since last January, the volume, during event days (generally negative), decreased over time. Decreasing volume during periods of less than stellar news is a strong sign of exhaustion, a technical sign often found with long-term bottoms. Not included with this chart, but very much a real part for Cirrus' chart technicals, is the critical significance of resistance and support at $45. Before the price of Cirrus moves significantly upward, it must in our view breakout above $45 on significantly higher volume.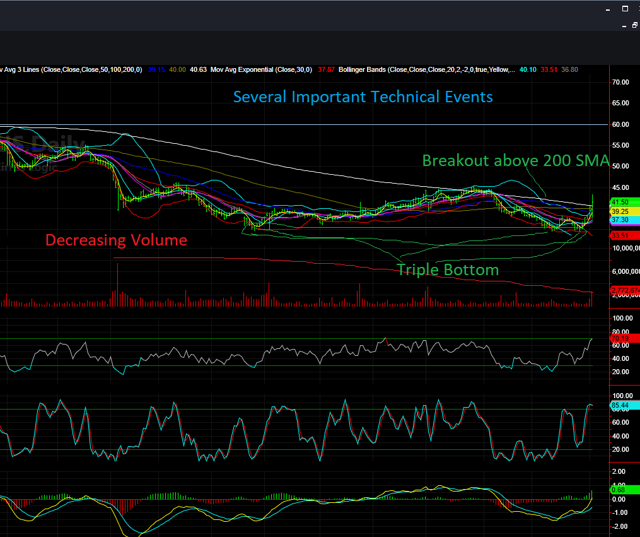 We Noticed that Cirrus . .
offered a quiet and friendly rebuke. The company answered a question about forecasting the rest of FY-19,
"And then also in the Q4 time frame, we expect to get back to having a second customer that's over 10%. And so the timing of that launch is -- also add some variability as it relates to Q4 versus Q1 of FY '20. And so those are kind of the remaining bits of variability. And given all of that, we would just, as usual, try to be conservative and maybe drop it a bit. But any range of things is possible. I think depending on how things go, we could potentially be significantly higher or we could potentially be significantly lower, maybe not lower than your number for consensus."
The individual involved has at least in our view been often quite disingenuous in his coverage.
We aren't in any means against negative comments concerning Cirrus Logic, but we do expect fairness both in evaluation and timing. Craig-Hallum lowered its price target on November 2 based on Cirrus' downside guide for the coming next two quarters. We openly accept this opinion, because in our view it represents a thoughtful and honest reflection of reality.
We Noticed that Apple . .
changed its policy of previously reporting specific unit sale numbers for individual products on a quarterly basis. We view this negatively for Apple and its suppliers. We believe Apple is no longer is trying to drive profits and its future by propagating hardware market share, but rather defining its future profitability by ASP growth through higher priced models and non-hardware products. What is Apple hiding? Flat or slower unit sales or . . .
We Noticed a Major Uptick Coming in General Market . .
product sales.
"So the return to growth is really based on things where we know what we're shipping and we know the content we have and the content gains that are associated with that, the progress the team has made penetrating an increasing number of accounts in China, some of which are smaller and we have to aggregate up a larger number of wins, but some of which are not so small either in China or Korea."
General market products carry higher gross margins (2%-5%). Cirrus' gross margin will likely continue near or slightly above 50%, several points above its low of 47%.
What Are We Doing . .
We bought 20 January 2021 strike priced 60 calls during September and October increasing our total call ownership to 30. We plan to buy more. We also sold 6 January 2018 $45 calls against 600 trading shares purchased in September.
Disclosure: I am/we are long CRUS.
I wrote this article myself, and it expresses my own opinions. I am not receiving compensation for it (other than from Seeking Alpha). I have no business relationship with any company whose stock is mentioned in this article.