Welcome to the revenge of the bear edition of Natural Gas Daily!
Housekeeping item first.
We expect a +60 Bcf change in the storage report for the week ended November 2. A storage report of +60 Bcf would compare with +15 Bcf last year and +48 Bcf for the five-year average.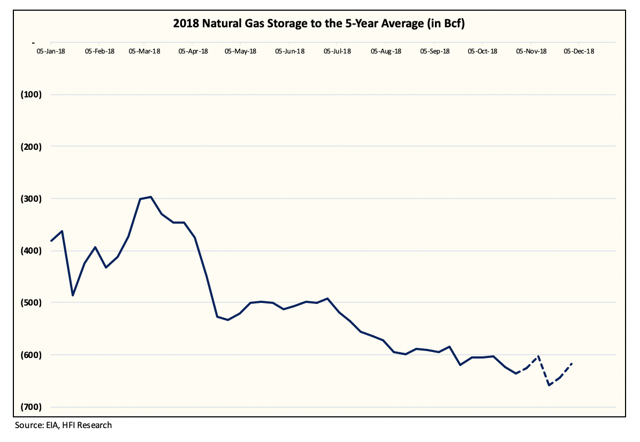 Beware, Cold Blast May Not Last
As we wrote in our NGD yesterday, natural gas prices surged higher on Monday due to a series of very bullish weather model revisions. But we warned that the cold blast may not last past the middle of November, and there are now signs that the very bullish weather will start to fade.

Source: StormVistaWxModels.com
As you can see in the 15-day outlook from the (newest) ECMWF-EPS 12z, the 15-day outlook shows bearish HDDs compared to the norm. Although the rest of lower 48 (excluding Northeast) may turn out to be neutral/bullish, the Northeast is likely to come in warmer than normal and suppress HDD.
The key for natural gas traders over the winter gas trading season is to watch the trend of where the weather models are headed. Even if the absolute HDDs increase, if the trend is bearish, then more likely than not, natural gas prices will fall... at least in the short term.
Coupled with this outlook, the ECMWF-EPS long-range outlook yesterday showed bearish weather leading into Dec. 3. This alongside our trader survey showing traders increasing short positions led us to start a new DGAZ position all over again. Our trading horizon for this trade is going to be very short term.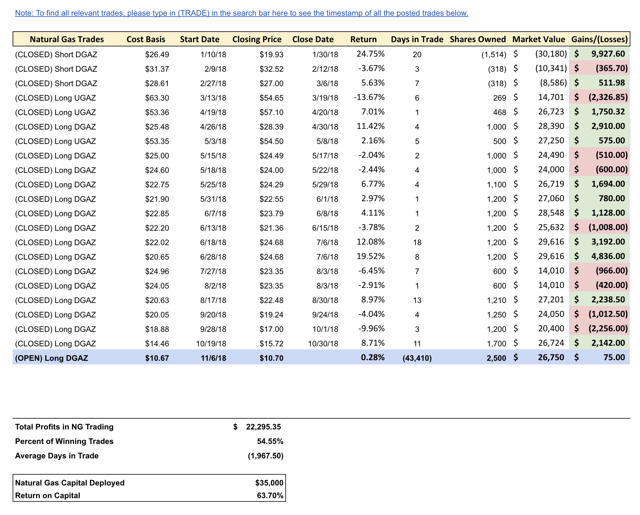 The setup for now appears to be already discounting the bullish weather in mid-November, so any downside surprises may push prices lower. We see December contracts retesting $3.30/MMBtu, which is the level we are targeting to exit our DGAZ long trade. (Note: subscribers receive real-time trade alerts.)
For now, natural gas bulls are winning with natural gas prices near multi-year highs, but the bullish weather may not last into the end of November. We are bearish natural gas in the short term.
Author's Note: Thank you for reading this article. If you found this article insightful, please leave a "Like" below.
For readers who are interested in receiving real-time trade alerts along with our exclusive natural gas fundamental, weather, and trader positioning updates, we highly recommend you to give HFI Research Natural Gas a try.
HFI Research Natural Gas will be increasing its subscription price on Dec 1 to $100/month or $700/annual. If you sign-up before then, you are locked in at the rate of $75/month or $600/annual forever.
You can see here for more info.
Disclosure: I am/we are long DGAZ.
I wrote this article myself, and it expresses my own opinions. I am not receiving compensation for it (other than from Seeking Alpha). I have no business relationship with any company whose stock is mentioned in this article.