Trading Volume Spikes, Issuance Volume Tanks
October 2018 was a record month for US debt ETFs, trading volume wise. Trading volume in BlackRock's (BLK) group of iShares debt ETFs was up 29% Y/Y.
As if we needed it, that's more evidence of how ETFs are quickly becoming the dominant-quick way to express views in credit markets.

Total investment-grade (AGG, BND, LQD, BSV) bond issuance in the first nine months of 2018 was down 12% Y/Y, and high-yield (HYG, JNK, AWF) issuance had fallen by almost a third.
Credit markets are showing more nervousness about defaults now than they did at the beginning of October. Investors are now demanding the most extra yield to own US junk bonds vs. investment-grade ones since the beginning of February.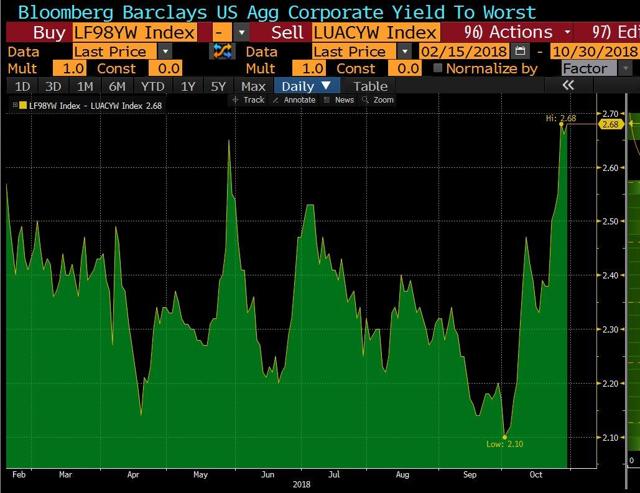 Investment Grade and US Treasury Debts Attract New Money
According to BofAML (BAC) strategists, leverage at US investment-grade companies is historically high, but not signaling an imminent crash. It's at roughly 1998 levels, which is two-to-three years before the dot-com bubble burst.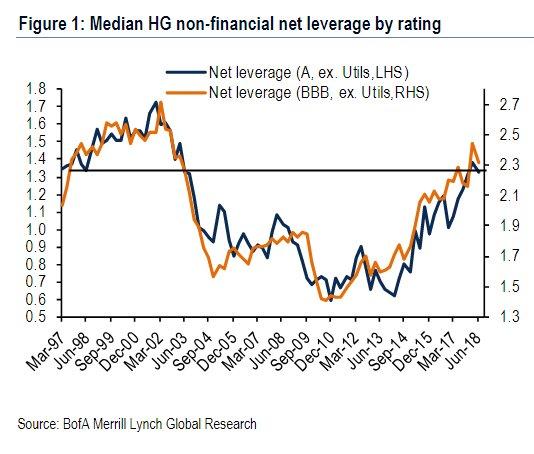 The US Treasury is lifting long-term debt sales for the 4th straight quarter. The US Treasury is going to offer a record $83B of new debt in November, up from a previous $78B high.
The Treasury Department said government borrowing this year will more than double from 2017, to $1.34T. US debt sales are poised to surpass levels last seen when the nation was digging out of its worst financial crisis since the Great Depression.
The difference now is that the economy is booming.
Deutsche Bank's (DB) Torsten Slok thinks rates will rise further and credit spreads will keep widening in a post-QE world because "the supply of risk-free fixed income is growing and demand for fixed income is shrinking."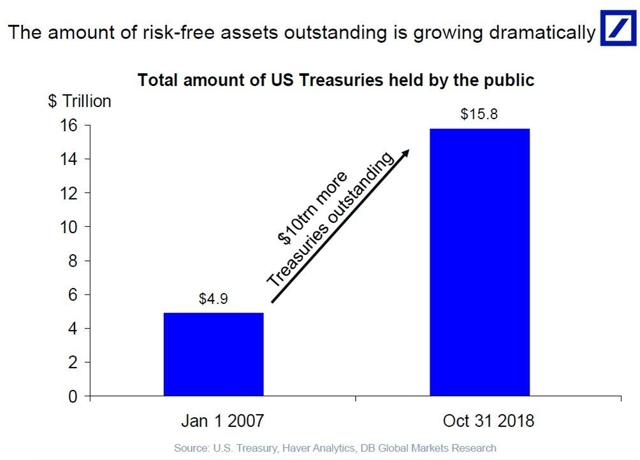 High Yield is Losing Steam
Investors have been drawn to leveraged loans (BKLN, SRLN, FTSL, SNLN) as benchmark rates rise, since they're floating rate in nature. But that seems to be changing now, in part because at this point higher borrowing costs may make some of these companies less creditworthy, thus less appealing.
Short interest in BKLN - the biggest leveraged-loan ETF - has risen to a record high.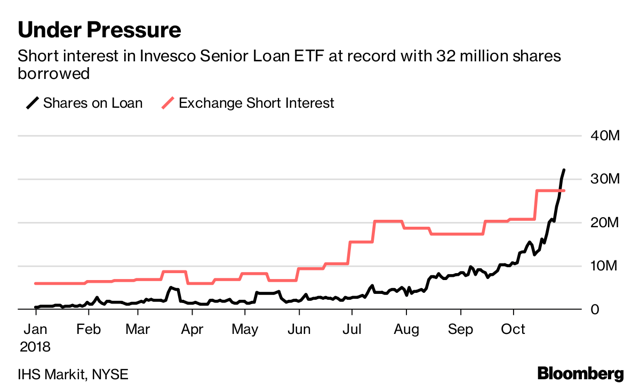 Furthermore, BKLN has just seen its biggest monthly withdrawal since its 2011 inception.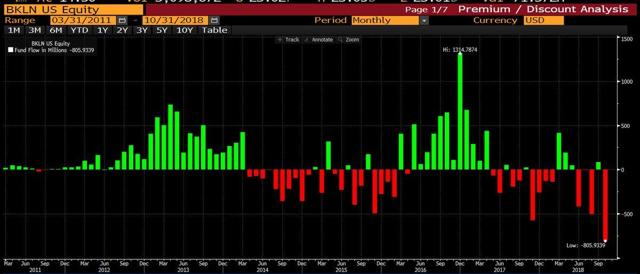 US junk bond yields have risen by more than 1.5% over the past year. In other words, speculative-grade companies would be forced to pay nearly 30% more yield, on average, to borrow money today than they did a year ago.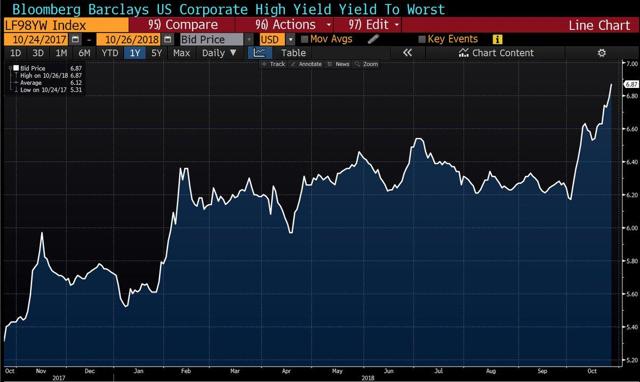 Yields on US high-yield bonds with CCC ratings just climbed above 10%, the highest level since the end of 2016.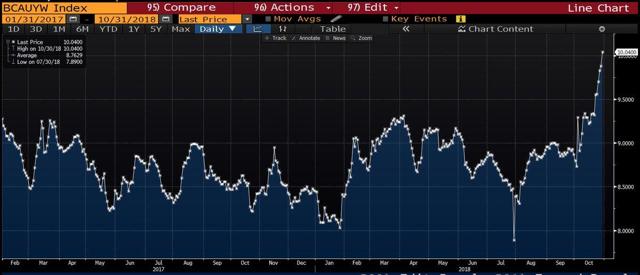 General Motors (GM) and Sprint (S) have been adding some support to credit markets recently, after both reporting better-than-expected earnings.
Together they have more than $90B of debt outstanding!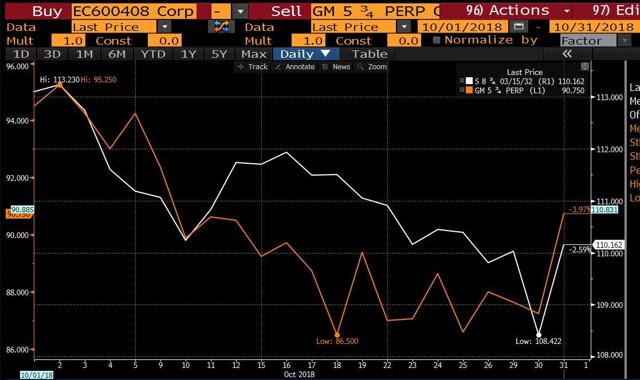 Outside investors may not be the only ones who have pulled money from Bill Gross's Janus Henderson Global Unconstrained Bond Fund (JUCAX, JUCTX, JUCDX). Even the former Bond King himself appears to be withdrawing some of his own cash from the fund.
The manager's stake in the fund fell to ~$566M at the end September from ~$775M a year earlier. When accounting for the fund's 6.3% loss, that suggests Gross may have withdrawn or transferred about $150M of shares.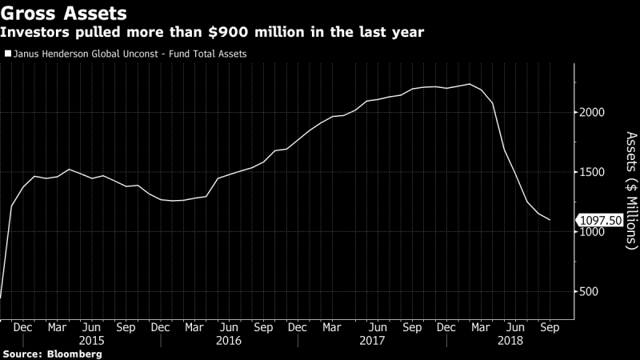 Energy Debts
Oil (USO, OIL) prices remain volatile, losing a lot of steam lately, as OPEC's crude production climbed to the highest level since 2016.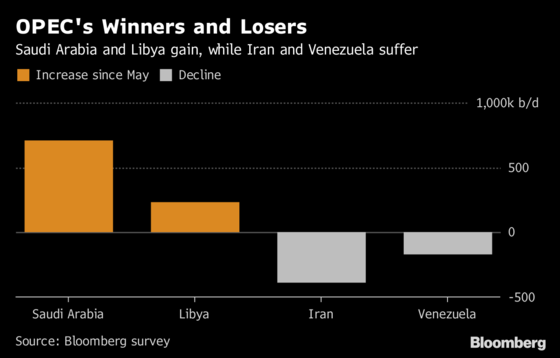 Investors are demanding the most extra yield to own energy (XLE) versus non-energy junk bonds since early April.
According to Bloomberg Barclays index data, energy junk bonds lost 2.7% in October versus a 1.4% decline on non-energy HY bonds.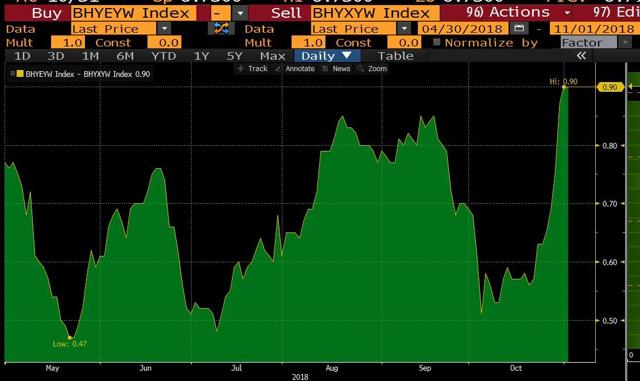 Inflation and Central Banks
Inflation expectations for the next five years have dropped after spiking earlier this year. They are now seem to be heading towards ending the year just where it started.
Here are the 5-year break-even rates: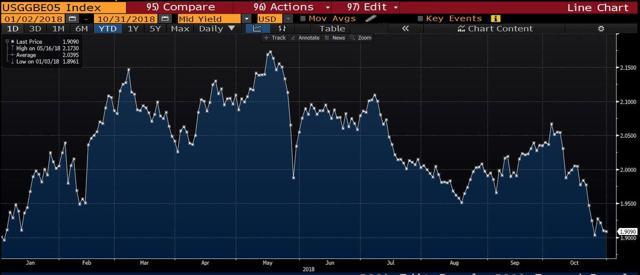 Mohamed El-Erian says that investors should get ready for greater instability as the end of global QE will have significant implications for global markets (SPY, DIA, QQQ, IWM).
As central banks are no longer providing a safety net for the markets, El-Erian believe it's a new ball game from now on.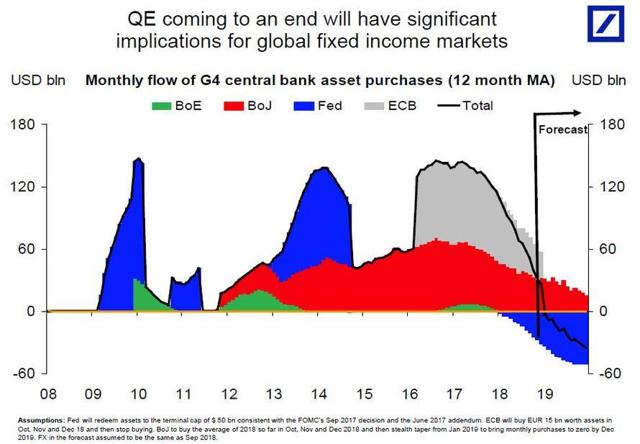 The below chart may explain better why it's about time that this safety net will be removed.
One of the most bizarre outcomes of the massive QE programs can be witnessed in the Eurozone (VGK, EZU, HEDJ, FEZ), where corporate bond yields are lower than corporate bond spreads...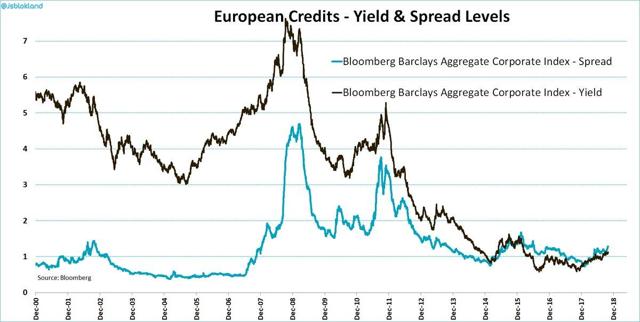 To sum it all up:
Less new debt is coming to the markets as investors aren't embracing new issues warmly as they used.
US Treasury is issuing more debt at record pace.
Investors are shying off high yield/junk bonds.
Bond spreads are widening and investors are demanding higher premiums than they did over the past few years.
Central banks are not providing a cushion anymore.
If this all sounds to you as if credit markets are cautious - you're absolutely right!
Author's note: Blog post notifications are only being sent to those who follow an author in real time. In order to receive notifications for both articles and blog posts, go to Author Email Alerts, which lists all the authors you follow, and turn on "Get e-mail alerts" (see below).


The Wheel of FORTUNE is one of SA Marketplace's most comprehensive services. We view our service as a "supermarket of ideas" with an emphasis on risk management and risk-adjusted returns.
Our monthly review for October, where you can find all suggestions since launch, is only one click away.
We cover all asset-classes: common stocks, preferred shares, public debts, baby bonds, options, currencies, and commodities.
With Trapping Value on-board, you're getting two leading authors for the price of one.
Before committing to the service on a long-term basis, take advantage of the two-week free trial.
Disclosure: I/we have no positions in any stocks mentioned, and no plans to initiate any positions within the next 72 hours. I wrote this article myself, and it expresses my own opinions. I am not receiving compensation for it (other than from Seeking Alpha). I have no business relationship with any company whose stock is mentioned in this article.