Stamps.com was founded in 1996, it has 825 full time employees, market cap about $4 billion, annual sales of about $500 millions. It is a software company and their business are to provide convenient and cost-effective Internet-based services for mailing letters, shipping packages or parcels. The company derives its revenue from monthly service fees and transaction-related fees. A majority of the firm's revenue is generated in the United States.
I liked Stamps.com business instantly, when I first read about it a couple years back, because:
1) it is easy to understand what they do;
2) its business is scalable (number of users and revenue can be increased on demand without much of additional costs;
3) it has dominant position in its market with significant barriers to entry;
4) it has lots of room to grow as it captured so far only about 2.5% of potential customers;
5) it has attractive valuation. We view STMP stock price at current level of $190 as a BUY.
Let's look at these critical points in more details.
1) Understanding what they do
Stamps.com was the first ever USPS-approved PC Postage vendor to offer a software only mailing and shipping solution in 1999. Basically, they developed a software that allows anyone who mail and send packages to optimize their shipping processing. The company grew organically and by acquisitions, buying potential competitors, capturing certain customers and market niches. They operate now through six wholly owned subsidiaries: Stamps.com, Endicia, ShipWorks, ShipStation, Shipping Easy, and recently acquired (in August of 2018) a United Kingdom based company MetaPack Ltd. Here is the company presentation picture that incorporates all subsidiaries (excluding the latest acquisition):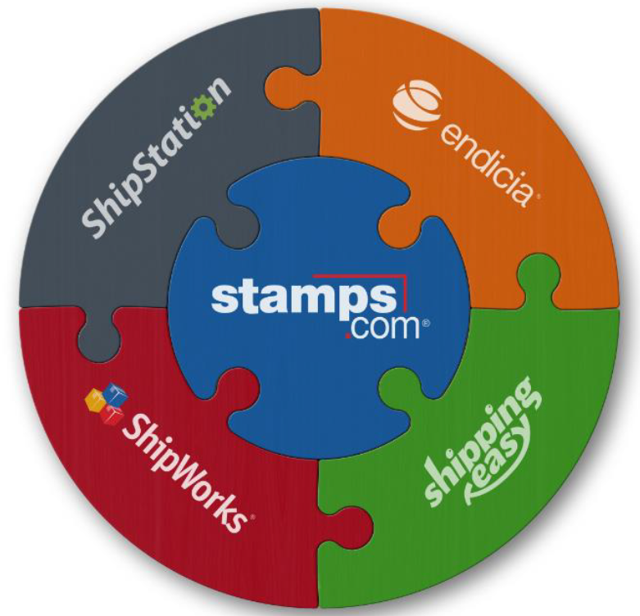 Image source: Stamps.com corporate presentation
The listed subsidiaries and their software are differentiated on what customers they target, geography of the shipments, and what services they offer, with some overlapping of cause. For our analysis this per subsidiary differentiation is not material because their financials consolidated and presented on the single balance sheet.
The universe of STMP customers include the following: individuals and home offices, enterprise mailers, eCommerce shippers, warehouses, fulfillment houses, online retails, small/large volume shippers, mostly domestic US customers, and some international. The international customer reach will most likely increase, especially after recent acquisition of MetaPack Ltd., a United Kingdom based company.
The portfolio of services offered to STMP's customers includes:
USPS Mailing and Shipping Solutions – ship variety of mail pieces and packages through the USPS. Customers can purchase and print postage 24 hours a day, seven days a week. Proprietary software or web interfaces enable users to print "electronic postage" directly onto envelopes, plain paper, or labels using only a standard personal computer, printer and Internet connection. The solutions incorporate address verification technology that verifies each destination address for mail or packages sent using database of all known addresses in the United States. The solutions are also integrated with popular small business and productivity software applications such as contact and address management, and accounting and financial applications. The shipping solutions also allow for integrations with hundreds of partners and carriers including popular shipping management products, shopping carts, online marketplaces and other e-commerce solutions.
Multi-Carrier Shipping Solutions – mostly for type of shippers that use multiple carriers such as the USPS, UPS, FedEx, DHL and others. The solutions download orders from all selling channels and automatically map custom shipping preferences, rates and delivery options across all supported carriers helping merchants to streamline workflow and save on shipping costs, it also enables sending email notifications to buyers, updating online order status, generating reports and many more.
Mailing and Shipping Integrations - offer back-end integration solutions where the solution provides the electronic postage for transactions to partners who manage the front-end users. The solutions integrate directly into the most popular e-commerce platforms, allowing web store managers to completely automate their order fulfillment process by processing, managing, and shipping orders from virtually any e-commerce source through a single interface without manual data entry. Integrations with partners include Amazon, eBay, PayPal, Shopify, Overstock, Bigcommerce, Yahoo! Stores and many others. Carrier integrations include USPS, FedEx, UPS, DHL, Canada Post, UPS Canada, FedEx Canada and many others.
Described above USPS Mailing, Multi-Carrier Shipping and Integration solutions represent almost 90% of the company business by revenue.
Mailing & Shipping Supplies Stores – It is on-line store available within mailing and shipping solutions and sell shipping labels, dedicated postage printers, scales, and other mailing and shipping-focused office supplies.
Customized Postage - is a patented form of postage that allows to turn digital photos, designs or images into valid USPS-approved postage. With this product, clients can create customized USPS-approved postage using pictures of their children, pets, vacations, celebrations, business logos and more.
Branded Insurance – it enables customers to insure their mail or packages in a fully integrated, online process that eliminates any trips to the post office or the need to complete any special forms. This insurance is provided by outside insurance providers.
Why customers choose and stay with STMP services?
Because they save time and optimize their shipping operations:
- the solutions allow customers to easily access more than 30 domestic and international carriers from a single user interface;
- customers can receive a discount of up to 39% compared to USPS.com or retail;
- the multi-carrier solutions allow customers to optimize between carriers by selecting the lowest cost option based on package size, weight, destination distance and delivery times;
- it allows online retailers and e-commerce merchants to organize, process, fulfill and ship their orders quickly and easily;
- the solutions enable larger enterprises to have greater visibility and control over shipping expenditures across their distributed network of locations.
How customers pay for STMP service?
In the financial reporting company classifies its revenue into five sources. The Service revenue (1) is accounted for 87.8% of the company total revenue. It earned from customers paying a monthly fee based on subscription plan, compensation from USPS under partnership agreements, transaction related revenue based on customers purchasing postage or printing shipping labels. Company also earns compensation by offering customers a discounted postage rate that is provided to the customers by integration partners. Product revenue (2) is primarily driven by sale of labels, and accounts for 4.4% of total revenue. Insurance (3) is 3.7% of revenue. Customized postage (4) is 4.1% of total revenue.
To sum up: about 90% of Stamps revenue comes from Subscription to its software + Fraction of USPS discounts that have not been passed to the customers.
Stamps revenue is subject to seasonal variation where the fourth calendar quarter is typically seasonally stronger due to the holiday shipping.
2) Its business is scalable.
Scalability of Stamps business is easy to understand: to serve any additional client all you need is for client to sign up for the service using internet connection. There is no additional capital spending required. Company's cost of revenue principally consists of the cost of customer service, promotional expenses, system operating costs, and credit card processing fees. Cost of revenue as a percentage of revenue was quite a steady number of approximately 13% for the last two years.
Scalability of the company business is also reflected in high gross margins, significant fixed cost leverage, low working capital requirements and strong free cash flow generation that could be observed through analysis of the financial statements. From the table below, it is easy to see quite steady operating margin increase from 9% in 2010 to 40% in 2017. The data used in calculations was taken from Value Line report.


3) It has dominant position in its market with significant barriers to entry.
In the Stamps Corporate Fact Sheet there is a bullet point that company "operate in a very large addressable market with significant barriers to entry". Such barriers allow company to do what potential rivals cannot – thus creating competitive advantage for Stamps. The easiest to see barrier for entry is that you need to be a USPS-approved PC Postage vendor. There are only a few approved companies to sell USPS postage.
Some potential shipping software competitors, like Harvey Software, have to partner with Stamps (through Endicia) to sell Internet postage, some other competitors just went out of business. Along with selling PC postage, this limited number of approved companies including Stamps also offer postage discounts from USPS, giving them unfair cost advantage in comparison to pure shipping software companies. According to Washington Post, more than 1,000 shippers have gotten deep discounts by negotiating directly with the Postal Service for deals, the details of which are not made public.
Because Stamps has such a large number of customers it also has ability to bundle them and offer volume-based postage discounts to smaller shippers who would not get the discount if they went directly to USPS or use shipping management software other than the Stamps'.
Stamps ability to pass to his customers volume-based discounts is based on particularities of the current USPS "re-seller" program, which, unfortunately, is now under review and the new changes could have adverse effect going forward. This "review" is largely to blame for STMP's recent stock price decline.
According to Washington Post, Stamps provides postage to one-third of Priority Mail, the most profitable and lucrative part of USPS business, also according to several industry officials if USPS will eliminate discount program it will be able to collect additional $100 million dollars per year. If we assume that third of this USPS savings would come as Stamps loss, I would very roughly estimate maximum possible impact on Stamps income to be approximately of $15-25 million per year, reducing expected net income in the worst-case scenario by 10% - 15%. Amazon also has similar discounts from USPS, and its agreement recently, on Trump personal initiative, went through "review", and there was no evidence found that Amazon takes advantage of the US Postal Service. On last conference call in October, Stamps management sounded skeptical this "review" will have immediate impact on company business.
On other hand, Stamps had enjoyed this "unfair" advantage for long and build the largest customer and partnership base. That customer and partnership base and synergy associated with it will not go away even if the price-discount advantage from USPS will fade. In the company Corporate Fact Sheet management assess that "based on current information available from the US Postal Service, we believe that we have over 80% of the total PC Postage subscription customers". On conference call for 4Q 2017 company management estimates that "more than 1/3 of all U.S. priority mail packages and more than 1/2 of all first-class mail packages in the U.S. are processed through our systems". I think this evidently confirms domination of Stamps software on the market.
Barriers to entry is not the only factor that provide competitive advantage to the company. Stamps also compete on the basis of technology and innovation; breadth of product offerings, ability to design and tailor solutions to specific client needs, quality and brand. In the slide below company summarized how its service/solutions compares to alternatives offered by competition: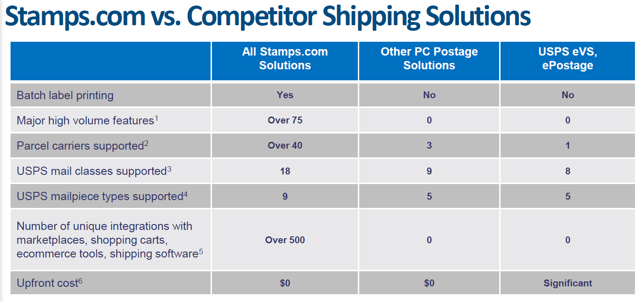 Image source: Stamps.com corporate presentation
The main Stamps competitor is Pitney Bowes (market cap $1.32 Billions), others are EasyPost which are USPS-approved PC Postage Providers, and Shippo which is an approved USPS ePostage provider. Stamps management believes that customers choose Stamps over those of other PC Postage providers because of superior user interface, larger breadth of features, extensive partner integrations and quality of customer service and support. For example, Stamps support more address books than any other PC Postage software, it is also the only mailing and shipping service that is tightly integrated into the native capabilities of Microsoft Office.
Stamps high return (over 15% - 25%) on invested capital over the last 10 years is a clear evidence of the presence of competitive advantage:

Data is from Value Line
4) It has lots of room to grow
Stamps addresses need of any mailers and shippers but especially e-commerce. This market is very large and still new with e-commerce sales growing at 16% annually. Company estimates that there are potentially over 30 million customers out of which Stamps serves only 740 thousand, it is just about only 2.5%! Here is a slide from company presentation illustrating addressable market: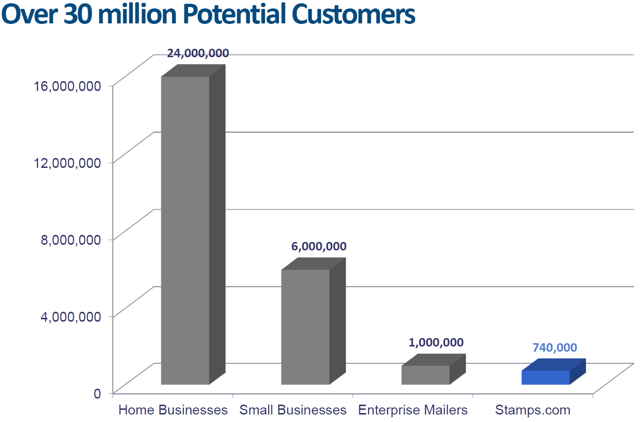 Image source: Stamps.com corporate presentation
Stamps recent growth initiatives that have been in the news and that confirm the company is keeping on the fast-growing track:
March 2018 – the company has launched its Amazon Seller Suite, an unmatched bundle of solutions for every serious Amazon seller.
April 2018: ShippingEasy has been named the preferred shipping provider for AmeriCommerce, a full-service e-commerce solution provider that gives customers everything they need to design and operate a successful online storefront.
April 2018: ShippingEasy has integrated with Bonanza, a fast-growing online marketplace of approximately 28 million items that empowers entrepreneurs to create a sustainable online business.
May 2018: ShippingEasy has integrated with Reverb, the leading online marketplace dedicated to buying and selling new, used, and vintage music gear.
July 2018: ShippingEasy, has integrated with Wish, the sixth largest e-commerce company in the world that is revolutionizing mobile e-commerce.
June 2018: Webgility—the leader in ecommerce and accounting automation solutions and Stamps.com have signed an agreement to deliver shipping technology and discounted shipping rates to Webgility users.
August 2018: it has completed its acquisition of MetaPack Ltd., a United Kingdom based company that provides the world's leading multi-carrier enterprise-level solution to many of the world's preeminent e-commerce retailers and brands. The company's software is using more than 450 different "parcel carriers" operating in more than 200 countries around the world, it generated revenue of about $47 million and gross margin of about 87% in the last year.
August 2018: ShipWorks Integrates with Overstock.com, the billion-dollar online home goods and furniture retailer that sells a broad range of products at low prices.
October 2018 ShippingEasy is integrating its shipping software with Amazon's Alexa devices for order-fulfillment tasks like orders, label printing, and postage rate checks.
It is also important that organic growth and acquisitions would have good "quality" – increase in customer retention (measured as decrease of customer churn rate) and increase of revenue per customer. Stamps reporting shows that these parameters do improve:
Image source: Stamps.com corporate presentation
I wish we could compare these Stamps numbers with competitors but unfortunately, they do not report them.
Another note worth mentioning is that growth of customers is important but not all customers equally profitable. Stamps at this point is focusing on large customers whom they can offer shipping integration, that makes switching costs for customers higher. It is also increasing Stamps customer acquisition costs and depresses profit margins, but in the longer term such customers should generate higher revenue and profit margins. From 2015 till 2017 average monthly revenue per customer increased by over 70%.
The major risk to growth is that so much of Stamps business is build around USPS. USPS is the largest postal company in the United States, it is basically a monopoly in many mailing niches, and subsidized by government - there is no way for anybody to go around it. So, if USPS will make any market changing moves (canceling volume discounts, rising prices etc.) it will affect everybody, and on a relative basis, Stamps would have better chances to survive.
5) It has attractive valuation.
All above points were to establish that Stamps is a "wonderful business" and now is the turn to se if it has a reasonable price. We will use Grinold-Kroner model to get the feeling of what return we could expect from Stamps. The model requires a few inputs: (1) expected dividend (zero in our case), (2) nominal earnings growth, (3) change in shares outstanding, and (4) expected change in P/E ratio. We will justify every input number below. Here is the model description from Wikipedia.org:

(1) Company does not have known plans to pay dividend, so we assume dividend term in the model to be zero. Though, in 2002 company did pay a special dividend of $107 million.
(2) (i + g) is nominal earnings growth. For earnings growth we use analyst estimates, because we believe it is the best estimates available. During last five years Stamps earning growth was 51%, and its closest competitor Pitney Bowes Inc had earnings growth for last 3 years of -9.28%. At this point, analysts' consensus for STMP is 15% for 5-year earnings growth (see Yahoo! Finance or Value Line).
(3) The company claims returning excess cash to shareholders, and in financial statements we could see these numbers:

Here is statistic of outstanding shares from company 10k report:

We can see from this table there are no substantial dynamic in decrease of outstanding shares. Company grants a lot of options to its employees, many of which are will be converted in stock at below market price, creating additional employee compensation expense that is not shown on income statement or balance sheet. The loss of buying shares at market price when they were just issued at option exercise price below the market could be backed out from tax benefit from the loss. In August conference call company made disclosure:

Professional financial analysts incorporate that expense in their earnings forecasts.
In our opinion, Stamps shares repurchase benefit is offset by equity compensation thus, we assume zero for changes in shares outstanding.
(4) Over its history Stamps showed quite a volatility of its P/E. In March of 2016 its P/E reached 469! Here is the graph from Seeking Alpha stock valuation feature: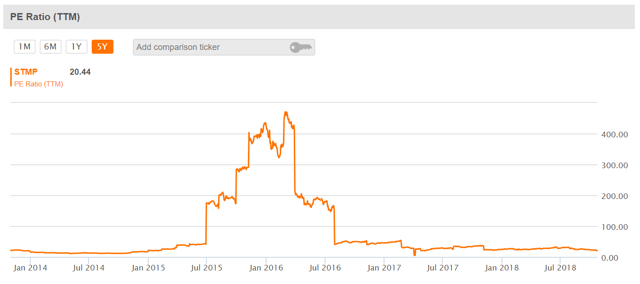 Image source: SeekingAlpha.com
We do believe Stamps is growing company and deserve P/E above market averages. Recently, in September, Stamps.com was named to Fortune Magazine's List of 100 Fastest-Growing Companies, it is the second-highest ranked company on the 2018 list that included technology leaders such as Facebook, Amazon, GrubHub, and Netflix. To be conservative, we use Value Line estimate P/E ratio of 28 for 2019/2020 and make assumption that it will start decreasing in 5 years after 2023.
Here are our calculations: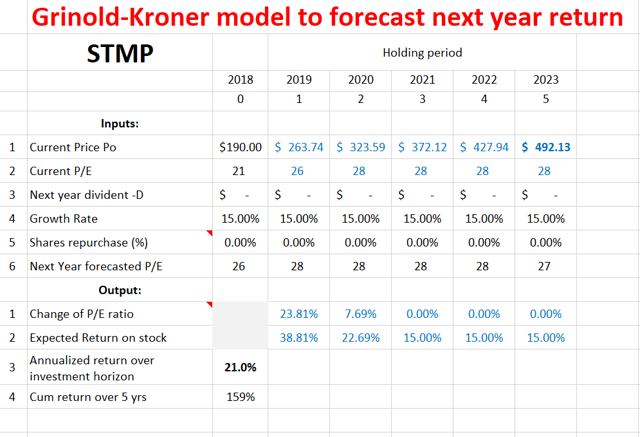 Based, on our analysis we believe STMP stock position should provide approximately 20% annual return over the next five years if purchased now at price of about $190. For risk management purposes we allocate about 3%- 5% of portfolio in this position. Please, remember if the new material information comes out, it will trigger our model re-evaluation. If price will go up too fast you should shorten holding period if there is no revision up in value.
References:
Stamps.com corporate presentation: https://investor.stamps.com/static-files/090c7019-1186-4296-9745-38aef1d31b90
Investor Relations | Stamps.com
Stamps.com Named to Fortune Magazine's List of 100 Fastest-Growing Companies
As U.S. Postal Service struggles, Stamps.com fortunes rise
Disclosure: I am/we are long STMP.
I wrote this article myself, and it expresses my own opinions. I am not receiving compensation for it (other than from Seeking Alpha). I have no business relationship with any company whose stock is mentioned in this article.