Chinese EV manufacturer NIO (NIO) released its inaugural earnings report today. As a company, it's far too early to pass judgment on the financials because it only started generating revenues at the end of June 2018, but there is some important insight into its order and production figures. Here are the key takeaways.
Headline results
Let's be frank. This is the first real quarter of revenues for NIO, so we don't have any sort of benchmark. At first glance, the quarterly revenues stand out - obviously - but so does the growing net loss to ordinary shareholders.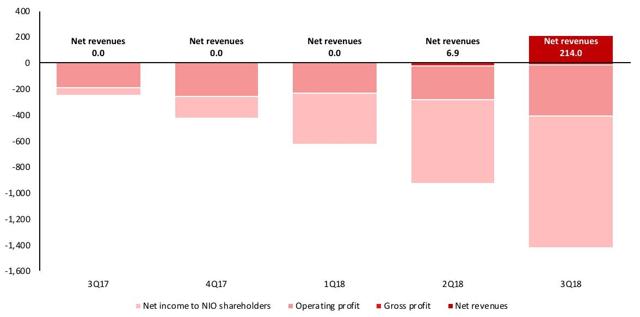 Net revenues, gross and operating profit, and net income to NIO shareholders. Units: $ millions. Source: NIO investor relations
It's worth considering the reasons for this because they are likely non-recurring. These expenses are related to stock compensation for the IPO, the development of the smaller ES6 model - which is expected to be launched at the end of this year - and the promotional events for the ES8.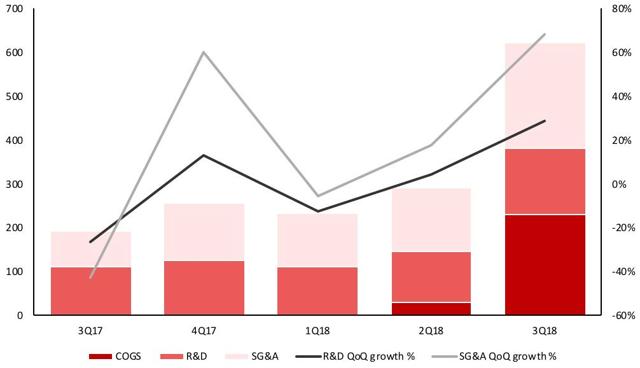 Gross and operating expenses. Units: $ millions. Source: NIO investor relations
I believe that investors should expect this growth to slow in the coming few quarters. This will coincide with the strong revenue forecasts given by the firm for the fourth quarter, which it expects to double quarter-on-quarter to around $425m. This is due to the expected doubling of ES8 sales in the quarter.
Development of the production line
With 100 ES8s delivered in 2Q18 and 3,268 delivered in Q3, we can get a good idea of the revenue and gross profit the model is generating. The 2Q18 gross profit is clearly affected by start-up manufacturing costs, and 3Q18 likely is too as production is ramped up. Investors should hope to see the ES8 generate a gross profit in 4Q18.
| | | |
| --- | --- | --- |
| | 2Q18 | 3Q18 |
| Average price paid per ES8 | $69,488 | $65,476 |
| Average gross profit per ES8 | -$213,236 | -$2,747 |
Source: NIO investor relations
The company also announced its sales figures for October, which came in at 1,573. That's lower than the 1,766 in September, but it's worth remembering that China has a week-long national holiday at the start of October, where the vehicle registration office isn't open. So, essentially, the firm sold 1,573 ES8s in 24 days, which equates to 2,031 in 31 days. It's a continuation of a promising pace. With a total of 4,941 ES8s delivered, NIO is just over 5,000 deliveries away from its end of year target of 10,000. 2,500 each in November and December doesn't seem difficult, given the progress so far. In fact, the firm is forecasting total deliveries of between 5,127 and 5,427 in November and December.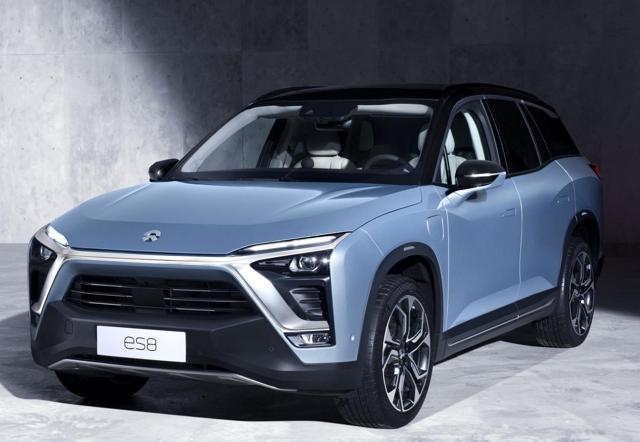 NIO ES8. Source: NIO investor relations
Building market share in China
The growth in ES8 production and deliveries is promising because it is outpacing China's battery electric vehicle industry figures. NIO's monthly market share for both EVs produced and sold has been growing consistently over the four months of deliveries up to September (industry data for October isn't available yet).

NIO ES8 as a percentage of China's total battery electric vehicle production and sales per month. Source: NIO investor relations and the China Association of Automobile Manufacturers
The same is true for NIO's market share among both SUV sales and the sales of Chinese-brand SUVs. While these market share figures are noticeably lower than the EV market share, the SUV figures contain all types of SUVs, not just electric. The ES8 is therefore competing against popular premium foreign models such as the Porsche Cayenne and the Audi Q range.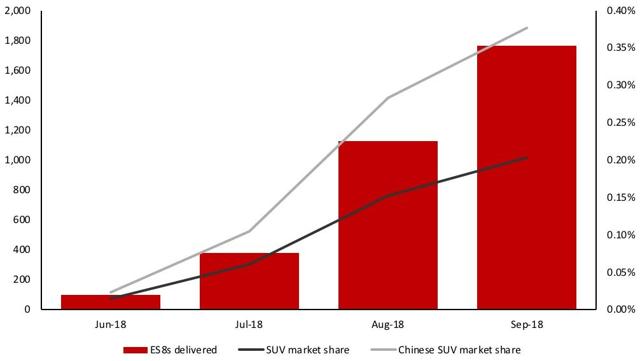 NIO ES8 as a percentage of China's total SUV sales and Chinese-brand SUV sales per month. Source: NIO investor relations and the China Association of Automobile Manufacturers
I'll end on something that I've stated before. Investors should look at NIO in two stages. We're currently in the first stage with the launch of the ES8. This requires a proven ability to deliver an increasing number of ES8s, the ability to generate a premium brand recognition and to quickly generate a gross profit from vehicle sales. This would show that the firm is able to quickly adapt to the launch of a new model. These are prerequisites to the second stage: the launch of the smaller ES6, which will likely begin deliveries next summer. At less than half the price of the ES8, NIO will be entering a price range where it can really thrive. It's at that point that investors should begin to look towards profitability.
-----
Readers can find my other calendar Q3 earnings previews and reviews of Chinese firms, asset managers and investment banks here.
Disclosure: I/we have no positions in any stocks mentioned, and no plans to initiate any positions within the next 72 hours.
I wrote this article myself, and it expresses my own opinions. I am not receiving compensation for it (other than from Seeking Alpha). I have no business relationship with any company whose stock is mentioned in this article.