The purpose of this article is to update the analysis presented in my earlier analysis of Landmark Infrastructure Partners LP ("LMRK") posted in April this year. You can read the article here. The bottom line is that things haven't really changed. In fact, I could make the case that they are going to get a whole lot worse. The conclusions from that earlier article remain accurate: LMRK should be sold, shorted or avoided altogether. Why? The company is excessively leveraged at 9.1x Debt + Preferred/EBITDA. Management has consistently over promised and under delivered. And they pay too much for their assets. We'll get into why this is still the case but first here is a quick revisit to what LMRK does.
A simple description of the business is as follows: The company owns real estate that they lease to: 1 Mobile phone network operators; 2 Tower companies that in turn lease space to mobile phone network operators; 3 Outdoor advertising companies that sell advertising space to billboard advertisers; and 4 Operators of alternative energy sites. LMRK's revenue stream is essentially contractual rental income that should grow 2.5% or so. According to LMRK's most recent Form 10-K, 93% of leases have contractual rent escalators (86% with an average of 2.5% and 7% tied to CPI) then 7% have no escalator. Although structured as a Master Limiited Partnership, or MLP, LMRK is most like a triple net lease REIT from a business standpoint. It has very few expenses, so EBITDA should grow in line with revenues.
In addition to operating lease sites, LMRK is a significant acquirer of sites. In the 4th quarter of 2014 when LMRK went public, LMRK operated 701 sites at the end of the period and produced annualized adjusted EBITDA of $12.5 million. Fast forward to the 2nd quarter of 2018, LMRK operated 2,415 sites and produced annualized adjusted EBITDA of $66 million. Source: LMRK Press Releases.
As a Master Limited Partnership, LMRK pays a distribution from its distributable cash flow. Distributable cash flow, or DCF, is calculated as earnings before interest, taxes, depreciation and amortization (EBITDA) less interest expense, cash income taxes, distributions to preferred unitholders, and maintenance capital expenditures. In LMRK's case, there are no maintenance capital expenditures and certain adjustments are made to EBITDA also. Distributions are made by the MLP from DCF such that the ratio of DCF to distributions is typically greater than 1.0x. A healthy MLP will likely maintain a coverage ratio of 1.1x or so. Excess cash flow is typically used to fund expansion projects or repay debt.
Some MLPs have large amounts of expansion capital expenditures. LMRK uses its expansion capital expenditures to acquire more properties. Generally, expansion projects grow distributable cash flow according to the return on the capital expended less the related financing costs. However, if the financing for such projects includes equity issuance, as it has for LMRK, then distributions increase and the coverage ratio may not be maintained and could, as it has for LMRK, deteriorate.
In fact, LMRK's position is quite precarious since it has been distributing more than the DCF it earns. For the last nine quarters coverage ratios have been meaningfully less than 1.0x. 3Q 2018 will be no different.
For more information, I recommend checking out the company's investor presentation and most recent Form 10-K.
So why does LMRK remain a strong sell?
LMRK has consistently failed to produce enough cash flow to cover its distributions for over two years. The following chart shows LMRK's coverage ratios as reported in their quarterly earnings releases. It's not a pretty picture. The fit line should at least be flat.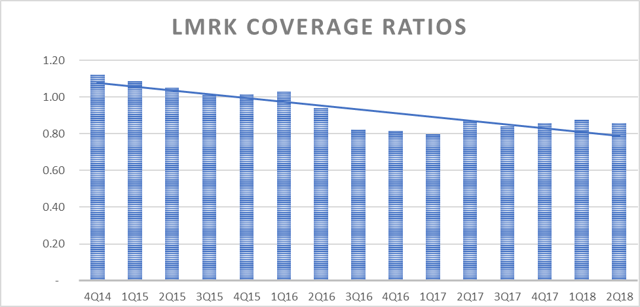 Source: Alacran Investments, LMRK Press Releases
2. Why does this happen? LMRK overpays for its acquisitions given its cost of capital. And what is LMRK's cost of capital? This can be seen from the following chart: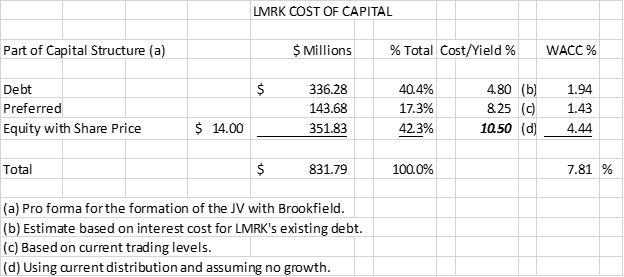 Source: Alacran Investments, LMRK SEC Filings and Press Releases
With a cost of capital of close to 8%, unless LMRK is acquiring assets at a cap rate that is at least as high, any transaction is going to be dilutive until the cash flows from the acquisition grow to yield higher than 8%. Keep in mind that if you expect the common unit distribution to grow then LMRK's cost of equity capital increases. Thus, if you believe management's prognostication that LMRK is going to increase its distribution by 10% (good luck with that) then the cost of equity becomes 11.5% and the WACC becomes 8.1%. When management stated on the recent earnings conference call that they were acquiring properties "north of a 7%" cap rate this is simply not good enough.
3. LMRK remains over leveraged even with the most recent divestiture. Debt/Adjusted EBITDA is 6.4x and Debt + Preferred Stock/Adjusted EBITDA is 9.1x. While these ratios leave LMRK with some debt capacity to acquire new properties the high leverage ensures that the Company's acquired cash flow is used up by financing charges and that the distribution coverage ratios with remain subpar.
4. Increasing interest rates will further push up LMRK's cost of capital.
The Joint Venture (JV) with Brookfield Asset Management
This transaction was announced on September 24, 2018 and the press release can be viewed here. After discussing the transaction with management, its key elements include:
Selling a 50% interest in certain wireless properties to the JV for $65.5 million.
Transferring the debt associated with the properties to the JV. This debt is the securitized debt LMRK issued in June 2018.
Foregoing 50% of the earnings and cash flow from the leases on the contributed properties. Sadly, these leases had some of the more attractive rental terms in LMRK's portfolio with escalator provisions of around 3% on average. In effect, LMRK sold its crown jewels.
Using the cash receipts from Brookfield to repay bank debt.
All in, and as confirmed by LMRK management, on a pro forma basis the formation of the JV caused LMRK's coverage ratios to worsen. I calculate from 0.86x to 0.83x.
This is what the pro forma analysis looks like: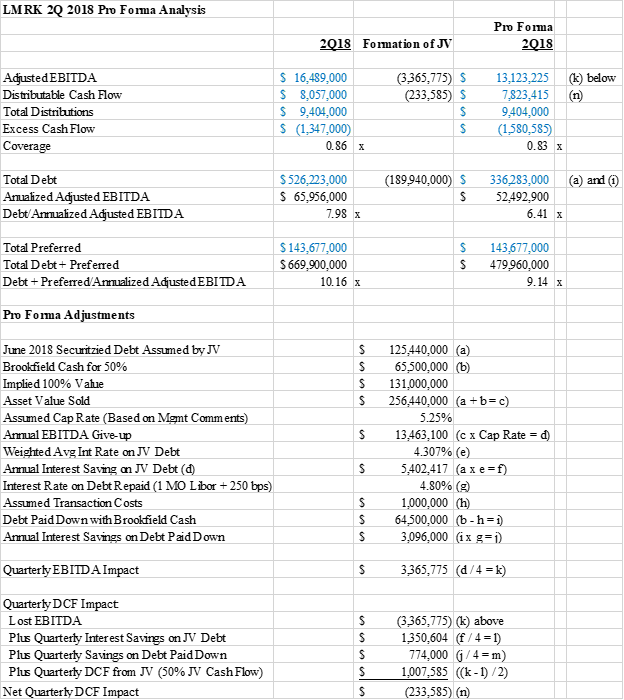 Source: Alacran Investments, LMRK SEC Filings and Press Releases
The Omnibus Agreement
LMRK has an agreement with its general partner (the "Omnibus Agreement") pursuant to which LMRK agreed to reimburse the general partner for expenses related to certain general and administrative services that the general partner provides for acquiring and managing LMRK's properties. The amount LMRK must pay the general partner is subject to a quarterly cap equal to the greater of $162,500 and 3% of revenue during the preceding calendar quarter. This cap on expenses lasts until the earlier to occur of: (i) the date on which revenue for the immediately preceding four consecutive fiscal quarters exceeds $80.0 million and (ii) November 19, 2019. The full amount of general and administrative expenses incurred by the general partner on LMRK's behalf is reflected in LMRK's income statements, and to the extent such general and administrative expenses exceed the cap amount, the amount of such excess is reflected in LMRK's cash flow statements as a capital contribution rather than as a reduction of general and administrative expenses. The capital contribution amount is also reflected as a source of cash that increases distributable cash flow.
The Omnibus Agreement boosted distributable cash flow by $578,000 in 2Q 2018. This cash flow boost will go away on November 19, 2019 if not before. However, just for grins, let's assume it went away in 2Q 2018 then LMRK's distributable cash flow would change as follows:

Source: Alacran Investments, LMRK SEC Filings and Press Releases
Distribution coverage goes down to 0.80x. Now, if we pro forma the numbers for the formation of the JV as shown in the next chart:

Source: Alacran Investments, LMRK SEC Filings and Press Releases
Then things get even worse: Coverage becomes 0.77x. This means that LMRK needs to grow its distributable cash flow by 30% (on a PER UNIT basis) in order to get coverage back to 1.0x. To put that in perspective, LMRK has roughly the same per unit distributable cash flow in 2Q 2018 ($0.3206) as it did in 4Q 2014 when the company went public ($0.3157). And that's without adjusting for the dilution from the formation of the JV.
Source: Alacran Investments, LMRK SEC Filings and Press Releases. Calculated using DCF for the period divided by end of period units outstanding.
What can save LMRK?
The company could start acquiring properties at higher cap rates relative to its cost of capital. In the past, management has not been capable of doing this. Why? Not clear. Although I think the fact that most of LMRK's properties are acquired from related parties might explain why such high prices are paid. According to LMRK's most recent Form 10-K, related party acquisitions represent over 82% of the the company's total acquisitions in the three years to December 31, 2017. As described in footnote 3 to the financial statements, related party drop-down acquisitions are $118.3 + $205.7 + $268.2 = $592.2 million and total acquisitions are $592.2 + $41.0 + $85.7 = $718.9 million over the period. As this math clearly shows, conflict of interest is a real issue for LMRK. It's a factor in over three quarters of their purchases.
Massive cash flows may result from FlexGrid deployments. It's possible, but ponder this: If FlexGrid is such a great product then why isn't it flying off the shelves and why isn't LMRK spending more money on it versus making overpriced acquisitions? LMRK spent only $5 million on FlexGrid in the latest quarter and it wasn't even mentioned in the 2Q 2018 earnings press release.
For the uninitiated, FlexGrid is LMRK's own hardware solution for wireless sites. I estimate LMRK has approximately $25 million invested in the technology as of June 30, 2018.
Be that as it may, neither of these possibilities is likely.
What about 3Q 2018 results on November 7, 2018?
Management will defend their acquisitions and business model and come up with a lot of balderdash about how it will take time for their acquisitions to improve coverage ratios and how the quarter didn't include a full quarter of cash flow from recent deals. However, they will tell the market they will not increase the distribution 10% for the fourth quarter. Third quarter coverage ratios will remain weak.
What should LMRK do?
LMRK is stuck in a position where it has too much debt and preferred stock with too many fixed charges to sustain the current distribution to common unit holders. Overpaying for acquisitions is making things worse. Something needs to give! LMRK needs to cut its distribution by 30% to $0.25 per unit per quarter so that on a pro forma basis (adjusting for both the formation of the JV with Brookfield and the expiration of the Omnibus Agreement) coverage becomes 1.1x. Under these conditions, LMRK will have free cash flow after payment of distributions to repay debt and grow equity value. Until LMRK takes this step then it should be sold, shorted or avoided altogether.
Disclaimer: Note this author has a short position in LMRK and may buy or sell the company's securities at any time. All content in this report represent the opinions of the author. The author has obtained all information within this document from sources believed to be accurate and publicly available. However, such information is presented "as is," without warranty of any kind – whether express or implied. The author makes no representation, express or implied, as to the accuracy, timeliness, or completeness of any information or regarding the results obtained from its use. All expressions of opinion are subject to change without notice, and the author does not undertake to update this report, or any information contained within it. This document is for informational purposes only. The information contained in this document may include forward-looking statements which would include any statements that are not statements of historical fact. Any or all the author's forward-looking assumptions or beliefs about future events may turn out to be wrong.
Disclosure: I am/we are short LMRK.
I wrote this article myself, and it expresses my own opinions. I am not receiving compensation for it (other than from Seeking Alpha). I have no business relationship with any company whose stock is mentioned in this article.
Additional disclosure: I/we may buy, sell or short LMRK at any time.