Sprint (S) continues to propose in merger discussions regarding T-Mobile (TMUS) the need to merge due to weakness, while projecting a view of strength via better earnings results. Ironically, the lack of focus on prepaid customers might be the ultimate undoing of the merger.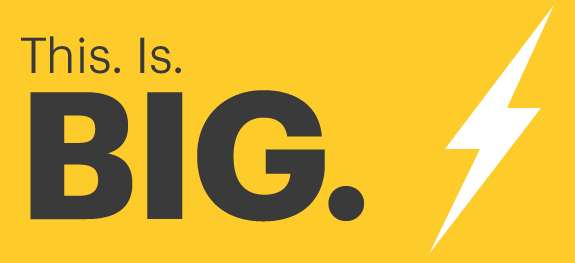 Image Source: Sprint website
Improving Results
As the 4G era winds down, one can probably argue that Sprint is doing better due to the top players focusing on 5G deployments. Regardless, my investment thesis has held that Sprint would be far better off reporting weaker numbers and not highlighting the strengths of FQ2, including wireless service growth, the highest adjusted EBITDA in years and operating income again.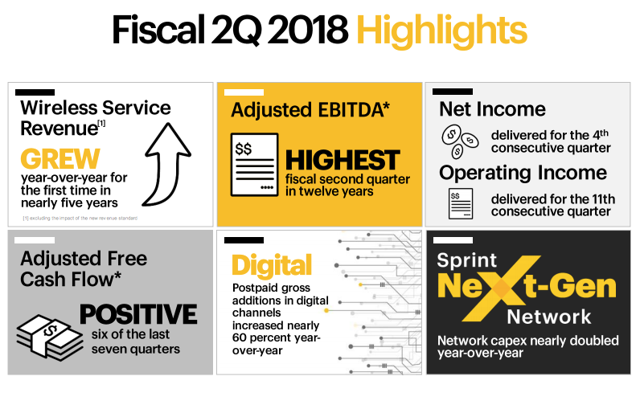 Source: Sprint FQ2'18 investor update
Pretty amazing to see the wireless company finally generate some decent financials. The only real negative of the quarter was the weakness in postpaid phone net adds. T-Mobile continues to dominate here, while Sprint already is starting to struggle again with a 34K decline in postpaid phone adds.
A big caveat from the appearance of strong quarterly results is that the big net income for the quarter was due to the new accounting standard. Under the old method, Sprint would've only generated $18 million in quarterly net income. Revenues were boosted, while customer acquisition costs are now amortized over the expected customer relationship. This standard means higher costs down the road.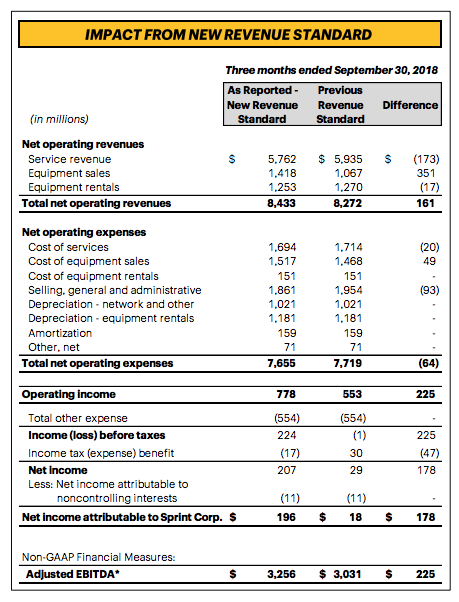 Source: Sprint FQ2'18 investor update
The biggest takeaway is that the impressive results weren't actually that impressive. Sprint needs to show weakness to help get the deal done, and ironically, ASC 606 boosted profits at exactly the wrong time.
Prepaid Merger Risk
One of the biggest risks to the merger is the concern over how Sprint and T-Mobile will focus on prepaid customers. According to SNL Kagan data (via New York Post), the wireless carriers control this portion of the prepaid market.
T-Mobile via MetroPCS - 27%
Sprint via Virgin/Boost - 12%
AT&T (NYSE:T) via Cricket - 21%
Verizon (NYSE:VZ) - 6%
Tracfone - 29%
The combination of Sprint and T-Mobile will control nearly 40% of the prepaid market. For this reason, New York's Attorney General's Office is probing the merger.
A merger focused on competing with the wireless giants via a leading 5G network would naturally suggest a desire to move away from customers that can't get postpaid plans that was more necessary when these wireless network operators were struggling players in the wireless market.
The ironic part is that regulators wouldn't be able to prevent either Sprint or T-Mobile from moving away from aggressive prepaid pricing. A merger case is different, since a natural market scenario would see one player moving away from aggressive pricing, allowing the other player to pick up customers.
Even worse for Sprint is that the whole FQ2 Investor Update shows prepaid customers as an afterthought, yet the company has 9 million prepaid connections at the end of September. Regulators are probably highly content with the current wireless market setup of four valid wireless networks.
Takeaway
The key investor takeaway is that the FQ2 results continue to support the thesis that Sprint is doing far too well for merger approval and not good enough to warrant owning the stock. The market isn't going to pay $25 billion for a wireless player still struggling to generate income with a high debt load, making the merger a binary situation. My view remains negative to the merger, so my recommendation is to continue avoiding Sprint.
Disclaimer: The information contained herein is for informational purposes only. Nothing in this article should be taken as a solicitation to purchase or sell securities. Before buying or selling any stock, you should do your own research and reach your own conclusion or consult a financial advisor. Investing includes risks, including loss of principal.
Disclosure: I/we have no positions in any stocks mentioned, and no plans to initiate any positions within the next 72 hours.
I wrote this article myself, and it expresses my own opinions. I am not receiving compensation for it (other than from Seeking Alpha). I have no business relationship with any company whose stock is mentioned in this article.