Here's a brief history of Micron Technology's (MU) stock over the last few months: Micron kept doing better, investors kept becoming more fearful. The main reason behind this fear is "cyclicality," which signifies the view that Micron's profitability will soon decline because memory prices will soon deteriorate. Such cyclical deteriorations have happened many times before, so investors' worries about Micron certainly have some merit. But might this time be different?
Some argue that this time is different for Micron because the memory industry will not be hit as hard by cyclicality. There is something to be said for this position (discussed below), but like many investors, I am not yet entirely convinced. However, I do think that there is one respect in which this time is actually different. Investors are anticipating cyclicality much more strongly this time, and this anticipation has brought Micron's valuation fairly close to cyclical trough levels even though its fundamentals are still at least near their peak. Micron is currently trading at an extremely attractive valuation because much of the potential downside risk from cyclicality has already been not only priced in but also realized. As a result, Micron looks like a strong buy at current prices even if investors' fears regarding cyclicality are well-founded.
A. Micron's Valuation Has Run Ahead
Provided below is a comparison of Micron's current position against the last memory cycle. My contention is that this time around, Micron's valuation has dropped drastically well ahead of schedule (even if we assume that Micron is currently at cyclical peak). In fact, Micron's valuation multiples have gotten fairly close to levels seen during last cycle's trough. As such, it seems reasonable to conclude that investors are anticipating the memory cycle sooner and with stronger conviction this time around.
Micron's cyclical position can be gauged fairly well using margins, EPS, and FCF. All three are reasonable proxies for cyclicality, since margins, earnings, and cash flows tend to contract rapidly whenever the memory industry enters a down-cycle.
Micron's valuation is trickier. P/E ratios are not very useful, since they tend to be rather wonky for firms in cyclical industries (like Micron), or firms that fluctuate around being profitable and not profitable (also like Micron). As such, price/sales and price/book seem like better options for evaluating the multiples being assigned to Micron, and for getting a rough gauge of investor sentiment regarding Micron.
Thus, we can use margins and EPS to see where Micron's fundamentals are with respect to cyclicality; and price/sales and price/book to see where Micron is in terms of valuation (and, indirectly investor sentiment). Plotting these variables together, we see below that Micron's valuation seems to have run ahead of its fundamentals compared to the last cycle: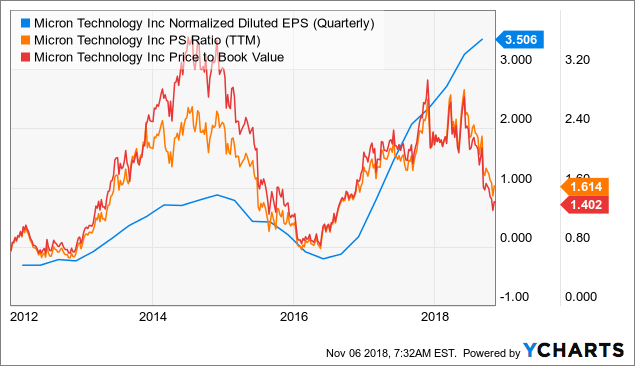 MU Normalized Diluted EPS (Quarterly) data by YCharts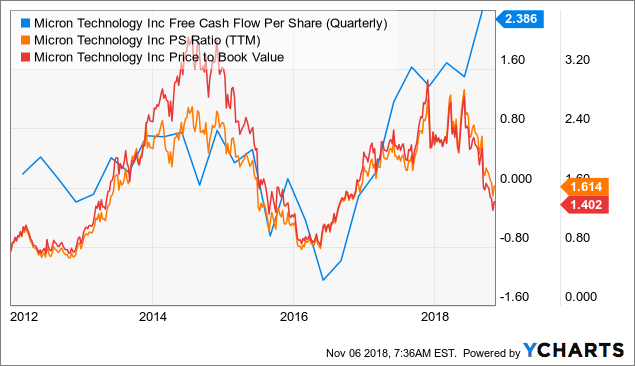 MU Free Cash Flow Per Share (Quarterly) data by YCharts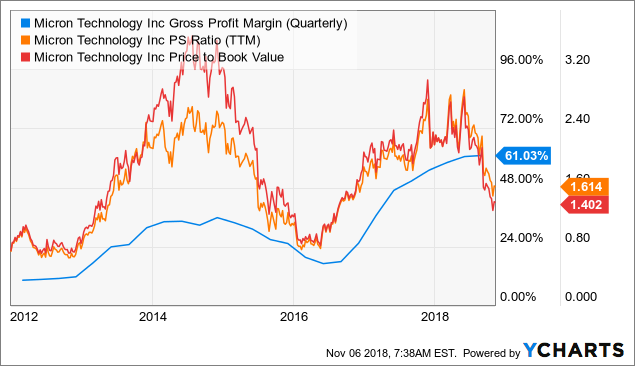 MU Gross Profit Margin (Quarterly) data by YCharts
As readers can see, even though Micron's margins, EPS, and FCF have all been much larger this cycle than last, the valuation multiples assigned to Micron stock were even at their peak no more generous than last time. Moreover, multiples have already declined to levels comparable with the last cyclical trough even though the next quarter is the first in a while that Micron's margins, EPS, and FCF are guided to decline. As such, even though Micron's fundamentals are currently at peak levels, Micron's valuation has dropped to trough levels. Investors are treating the next trough as a foregone conclusion, and valuation already reflects this near-certainty.
B. Is Cyclicality Even A Foregone Conclusion?
Even though Micron's valuation already treats cyclicality as a foregone conclusion, it is not clear that the memory market is in for an imminent cyclical decline. True, Micron has guided that quarterly EPS will decline from last quarter to this one from $3.53 to $2.95. However, as I have argued elsewhere in more detail, much of this decline is attributable to factors beyond the health of the memory industry or Micron's core business. Specifically, of the $0.58 sequential decline in EPS guided by Micron, approximately $0.17-0.33 is owed to a higher tax rate; another $0.03-0.06 to tariffs; and probably another $0.04 or so due to a temporary CPU shortage. As such, it is not clear that the memory industry is in a cyclical decline rather than only a temporary downward fluctuation.
Moreover, investors are not the only ones accounting for a potential cyclical downturn. The major memory players are as well. Samsung (OTC:SSNLF, OTC:SSNNF), SK Hynix (OTC:HXSCF, OTC:HXSCL), and Nanya (OTCPK:NNYAF) have all announced plans to cut back on capex and constrict bit supply growth. As such, it is possible that the cyclical downturn that is currently priced into Micron's valuation may not materialize because weakness in demand might be offset by a reduction in bit supply growth. We will have to wait and see the magnitude of both effects, but it does not seem obvious that pricing will decline too drastically. Samsung seemed to agree on the most recent earnings call:
"Looking further ahead to 2019, earnings are forecast to be weak for the first quarter due to seasonality, but then strengthen as business conditions, particularly in the memory market, improve."
An impending cyclical downturn, then, might not be a foregone conclusion, even though Micron is priced as if it were.
C. How Bad Will The Next Memory Cycle Even Be?
In addition, even if we assume that the memory industry faces an imminent downturn, it is not clear that the next one will be as bad for Micron as the last. There are at least a few reasons to think that Micron is significantly better positioned this time:
First, demand for memory is much more diversified this time than last. Micron used to be extremely reliant on PC demand at the beginning of the last memory downturn, but has since expanded into mobile, servers, and specialty as well. As such, it is possible that a cyclical downturn in one or two of these segments might be dampened by strength in the rest.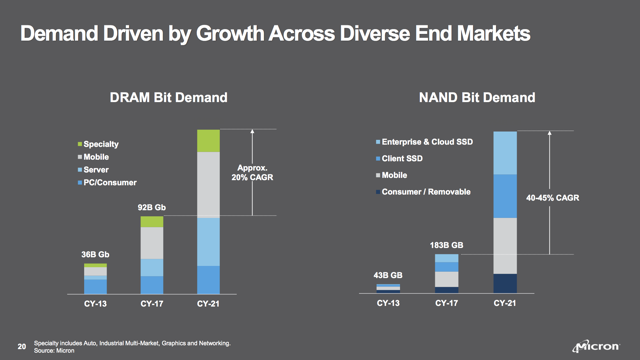 Source: Micron analyst day, May 2018
Second, Micron's peak margins this time are much higher. A significant proportion of the outperformance is not attributable to healthy memory prices, but to operational efficiencies introduced by Micron. Micron estimates operational improvements since 2016 to have improved profitability by $6b annually, with another $3b expected through 2021. As such, it is possible that Micron will fare much better during an upcoming cyclical downturn in terms of profitability even if oversupply is comparable to last time.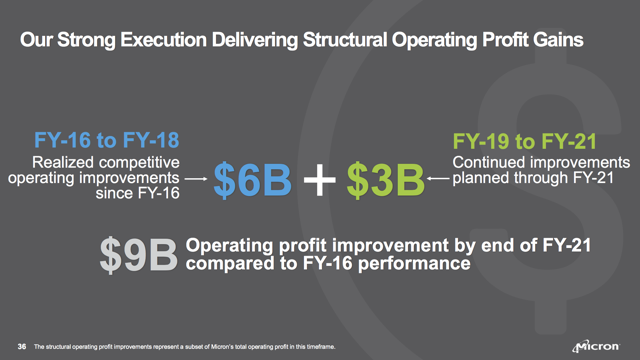 Source: Micron analyst day, May 2018
As such, it is quite possible that Micron will be able to weather cyclicality much better this time than last. Again, we will have to wait and see how things go, but there is certainly some cause for optimism in the meantime.
Conclusion
There we have it, then. Even though an imminent cyclical downturn is not guaranteed, and even though the next memory cycle might not be as difficult for Micron to bear as the last, and even though Micron's fundamentals are at their peak, Micron's valuation has plummeted to almost the levels seen during the last cyclical trough. This suggests that Micron's valuation has run ahead of fundamentals, and that anticipation on the part of investors has created a situation where much of the potential downside risk of a cyclical downturn has already been priced into Micron's share price.
Perhaps a cyclical downturn is imminent, of course. I don't know. But either way, much of the decline in valuation that accompanies Micron's cyclical downturns seems to already have been realized, and it's not clear that Micron's valuation will fall much lower even if cyclicality hit Micron like a ton of bricks. I have written about this in more detail here and here. The worst that could happen, in terms of share price, has to a significant extent already happened. Micron is priced for catastrophe even though catastrophe is not guaranteed. As a result, Micron looks like a strong buy at current levels. Either cyclicality will hit very soon, which Micron is already priced for. Or it will not, in which case Micron will likely see extremely good returns in a year or two.
I know it hurts to hold Micron through the ongoing slump, but at this point the worst seems to already be over. Might as well keep holding (and buying).
Disclosure: I am/we are long MU.
I wrote this article myself, and it expresses my own opinions. I am not receiving compensation for it (other than from Seeking Alpha). I have no business relationship with any company whose stock is mentioned in this article.
Editor's Note: This article discusses one or more securities that do not trade on a major U.S. exchange. Please be aware of the risks associated with these stocks.