WTI crude oil has fallen from $76.03 a barrel, reached on Oct. 3, 2018, to $62.87 over the last month. Consequently, this has dragged down the United States Oil ETF (USO) by 18%. Apart from the last one month, the oil ETF had actually been performing well this year, as shown by the chart below. Markets are wondering whether oil can fall any further from here. Or is it a good time to buy into the 18% dip in the USO ETF.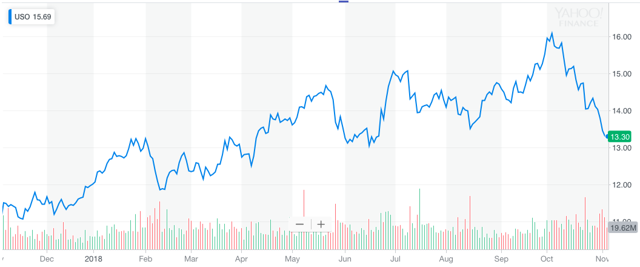 Source: Yahoo Finance
Iran Sanctions
One of the factors that had pushed up the price of crude oil this year was the fact the United States would once again put sanctions on Iran, whereby it would no longer be able to supply oil to the world. However, these sanctions have now been priced in. Moreover, eight countries have been given exemptions from the sanctions for 180 days. Hence Iran will still be able to supply oil to some of its largest consumers, which is part of the reason the oil price is falling recently.
Moreover, while the sanctions would limit oil supply, the lost supply can easily be replaced by three of the largest oil producers in the world, Saudi Arabia, Russia and the United States, whose production levels are rising. The world consumes about 100 million (barrels per day) bpd of crude oil, and three nations collectively produce over 33 million bpd. Therefore, any supply shortage worries from the Iran sanctions were clearly overblown, and this could cause the oil price rally to unwind further.
Hawkish Fed
The main reason for oil's poor performance over the past month has been the strengthening US dollar, thanks to an increasingly hawkish Fed. The oil price and USO ETF peaked on Oct. 3, 2018, which was the day Fed chairman Jerome Powell stated that rates were "a long way from neutral." His comments caused the US dollar to spike.
Most commodities are dollar-denominated. This means that when the dollar strengthens, these commodities become more expensive to purchase across the globe, which in turn reduces demand. The Fed only seems to be getting started, because recent more positive economic data is only likely to encourage the Fed to raise rates faster. Therefore, there is a good chance the USD can appreciate further in value from here, which would further hurt the performance of the USO ETF.
Trade war fears
The trade dispute going on between the US and China could quite possibly translate to slower global economic growth, which is also a bearish factor for oil. In fact, the Chinese economy is already slowing down. GDP growth for the second-largest economy in the world came in at 6.5% in Q3, missing the 6.6% expectation.
Last week, there was talk of a potential trade agreement between the two nations being closer, and this could potentially be bullish for oil. However, keep in mind that if a trade deal is agreed upon, the economic uncertainty amid the trade war fears would then disappear, and this would give the Fed one more reason to turn more hawkish. Therefore, any upward movement in the USO ETF as a result of a trade deal would be undermined by higher interest rates and a stronger dollar.
Emerging markets' crisis
Over the past several months, emerging markets are facing widening current account deficits and economic pain. As a result, Asia's largest economies including India and Indonesia are already experiencing collapsing domestic currencies.
For example, India is facing a domestic financial sector crisis, which is threatening to slow down its GDP growth rate. While economic slowdown is already bad enough to cut oil demand, the Indian rupee has also depreciated by about 14% this year against the USD. Consequently, the dollar-denominated oil imports become more expensive, thereby further reducing demand for oil.
Therefore, until the current emerging markets' crisis shows signs of improving, it is risky to make bullish bets on the USO ETF.
Strategy
The 18% fall in the USO ETF may seem attractive to buy into; however, several of the reasons why oil has declined recently are not going away anytime soon. While improvement in economic conditions in emerging markets is one factor that could push oil prices back up, I believe investors should keep a close eye on the Fed as well. The current, strongly hawkish Fed is certainly bearish for oil. A more ideal scenario for oil bulls would be the combination of strong economic growth and a moderately hawkish Fed. Therefore, wait for the Fed to turn a little less hawkish and more accommodative before buying into the USO ETF.
Disclosure: I/we have no positions in any stocks mentioned, and no plans to initiate any positions within the next 72 hours.
I wrote this article myself, and it expresses my own opinions. I am not receiving compensation for it (other than from Seeking Alpha). I have no business relationship with any company whose stock is mentioned in this article.