By Alan Newman
We're asking the same question today and are again answering in the negative, partially based on the same chart we showed two weeks ago and another chart every bit as interesting.
Our follow-up chart on Nasdaq volatility has hardly changed and clearly shows a lot of room for more volatility. Truth be told, we haven't seen all that much to date, despite a few big down days.
The VIX (Volatility Index) only reached 28.84, far from the 50.30 achieved in the February decline. The VIX soared to 53.29 in the 2015 correction and to 89.53 in the 2008 rout. Another journey to the 50s or much higher is certainly not out of the question if we are correct on how this will all play out.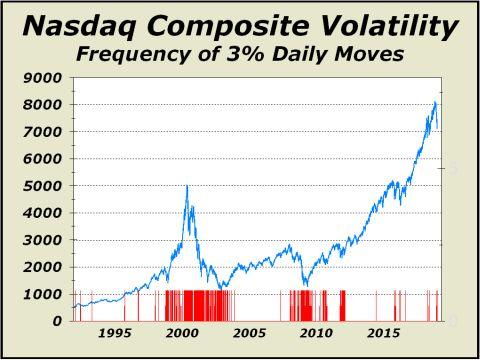 Despite the damage, the Shiller Cyclically Adjusted P/E ratio (CAPE) is still above 30 and would need to slide over 45% to reach historical norms.
Our second chart is another look at Nasdaq volatility - the occurrence of days in which downside volume swamps upside volume by a ratio of at least 9 to 1. These are instances of capitulation. Without capitulation, it can be argued that a correction cannot end.
Fear must be instilled in order for stocks to be sufficiently "sold out" that the upside can take root and hold. As you can see, not only has capitulation not taken place, it has not taken place for many months. The last time this occurred, we wound up with a correction that extended nearly 20%.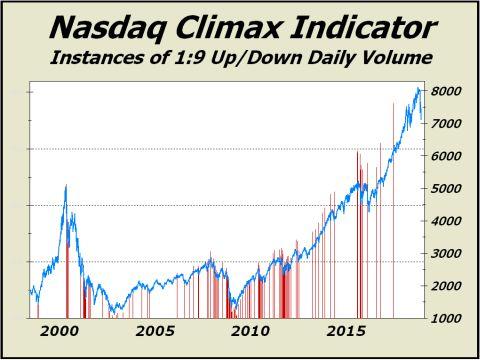 Despite the action of recent days, we have seen no changes in any of our longer term indicators. Most interesting of all, the Investor's Intelligence poll of advisors remains in a mode of stark disbelief - bulls remain over 50% and bears are still under 20%.
The circumstances are clearly not friendly to the short side, yet we must stress systemic dangers seem as profound as we have seen in over a decade. Risks are extraordinarily high! We remain bearish.