The real estate market is unsettled at the moment which has caused home-builders to significantly underperform the S&P 500 this year. Investors are nervous as home sales and median sale prices have declined recently, and inventory has risen to its highest level in years.
Builders have significant room to increase construction and keep improving financial results though. Affordability concerns and rising interest rates are slowing price appreciation, but housing starts are not yet high enough to accommodate population growth in the US much less make up for the lack of construction that followed the crash in 2008.
Pulte looks incredibly cheap with an EV to EBIT ratio under 7. Well below its average historically.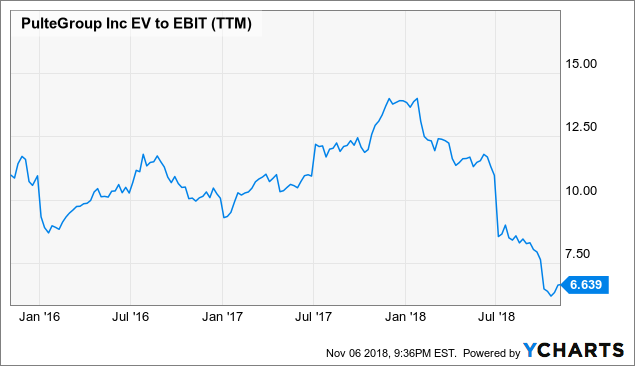 The company has an enterprise value of nearly $9.5 billion, and management is expecting between $1 billion and $1.2 billion of cash flow in 2018. Revenue growth should moderate going forward, but it came in at 25% in the recent quarter, and management is optimistic about Q4.
Home prices are high, but it's being caused by a lack of new home construction, not a debt-fueled bubble. With home-builders trading at depressed valuations and reporting exemplary financial results, I've begun purchasing shares in Pulte and other large home-builders with the view that the slowdown in the real-estate won't last.
Industry Consolidation
As housing starts stagnated after the crash, the US population was still growing.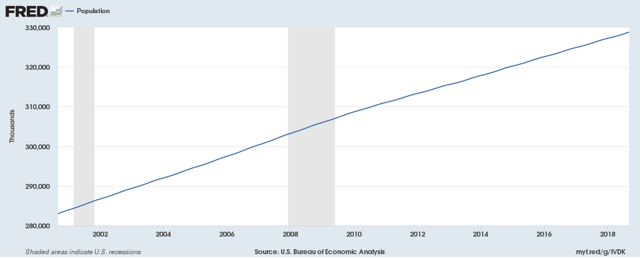 The depressed housing market devastated the home-building industry, and the recovery in housing starts has been alarmingly slow. The ratio of housing starts to households in the US is currently near historic lows, creating a dangerous imbalance in the market.
Housing starts need to be significantly higher to keep with population growth, and years of depressed housing starts mean the number needs to be higher than average. This explains why inventory shortages have persisted despite a robust economy.
Almost half of all home-builders went out of business (mostly small players) in the aftermath of the crash. With fewer competitors, builders could afford to be more cautious. Major consolidation occurred and continues to happen with Lennar acquiring CalAtlantic earlier this year to become the largest home-builder in the US.
This has had profound ramifications for the industry and has given publicly traded builders increased market power. Less competition among builders may be partly behind the slow rise in housing starts.
Moderating housing prices will hurt Pulte's business, but a major decline is very unlikely. Housing starts remain at unsustainably low levels. The lack of new housing will put incredible strain on the housing market in the coming years even if the economy slows down.
Temporary Slowdown
The WSJ reported last year that the mobility rate was at a 30-year low and at the lowest level since the NAR started tracking it in 1985. Homeowners have been reluctant to sell as interest rates have risen significantly. Owners who refinanced or bought when interest rates were low have been reluctant to give up a low fixed rate. This trend will reverse at some point.
The current slowdown is a much needed correction. Housing prices can't sustainably increase faster than income growth forever. Sellers have had the upper-hand during this continuous rise in housing prices, but with inventory rising, the market should move towards a more healthy buyer-seller dynamic, which will help encourage more sales and mobility throughout the country.
More selection means sellers will be more confident in finding a replacement home, creating a virtuous circle which further increases inventory. This helps create more demand for new construction, as sellers can utilize their built-up equity in their homes.
Affordability will remain an issue as rates negatively affect buyers' purchasing power, but wage growth and slowing price increases will ensure brisk sales for home-builders.
I've targeted home-builders with relatively low average sales prices for homes. While higher interest rates hit first time home-buyers particularly hard, other buyers will see the overall price of the home they can afford decline, leading to increased demand for lower-priced homes.
Pulte's average selling price was $427,000 in the most recent quarter. Higher than D.R. Horton's average price, but much lower than high-end builder Toll Brothers. It is well-diversified nationally, so it isn't overly exposed to highly-priced coastal markets.
Price gains since the crash have been especially strong in Northern California, and there was some weakness there in the most recent quarter.
Net new orders decreased 13% overall, which was concentrated in Northern California, primarily due to a lower number of active communities combined with actions taken in certain communities to manage backlog.
But the unemployment rate has continued to stay low (at 3.7% currently), and wage growth has continued to tick up (up 3.1% from a year earlier). In my view, this trend is set to continue.
Builders are under pressure from rising labor and materials costs, but the larger companies benefit from economies of scale. The major home-builders tend to be more efficient and have higher margins. You see this in Pulte's margins which have been improving in 2018.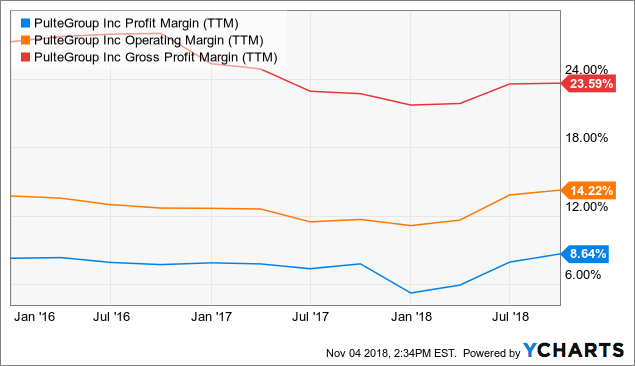 Takeaways
The crash eliminated a lot of competition, and it won't be easy for new competitors to challenge the industry. You can't build homes if you don't own land and getting entitlements to build takes years and is highly uncertain. PulteGroup is protected by its land ownership and option agreements giving investors some margin of safety.
Growth will likely slow in the near term but builders' stock prices have already come down to account for this. Long-term growth in the population and the effects from the crash will ensure growing demand for housing.
Management reported that they are still seeing strong traffic to Pulte's stores and website, so the slowdown may be short-lived. Margins have also been improving as SG&A expenses were down significantly as a share of revenue in the quarter.
I'm cautiously building my position in Pulte and other home-builders. Stock prices of builders have recovered somewhat, so I'm waiting to see if shares will sell off again. It may take some time for a recovery, but Pulte and its competitors are ideally positioned long-term. With the company paying a decent dividend and steadily repurchasing shares, I'm willing to wait for that to happen.
Disclosure: I am/we are long PHM, DHI.
I wrote this article myself, and it expresses my own opinions. I am not receiving compensation for it (other than from Seeking Alpha). I have no business relationship with any company whose stock is mentioned in this article.