The October Price Strength in Coffee was Impressive. But the Fundamentals don't Agree.
It came.
The dry Brazilian October weather, that is.
The same weather that seems to come every year - the same weather you heard about in the September issue of this newsletter.
October begins flowering season for next year's Brazilian coffee crop - a particularly crucial time for bean development. The October flowers will soon drop off the tree, leaving small "cherries" that will eventually ripen into coffee beans. Thus, the more flowers, the more coffee beans next year.
As the world's largest producer and exporter of coffee, Brazil plays an important role in the world coffee balance.
October and November weather are critical for flowering. The timing comes on the cusp of the Brazilian "dry" season and its "rainy" season.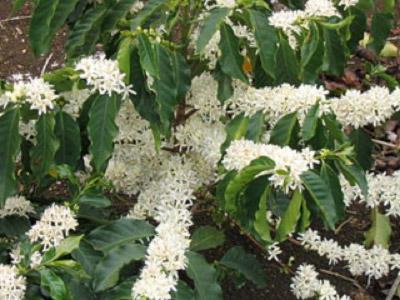 Flowering season began in October for the upcoming Brazilian coffee crop.
The seasonal tendency discussed here 60 days ago now appears to be playing out in earnest. It seems as though every year, traders forget what comes after the dry season. Stories begin to appear about the "dry spell" in Brazil and the "concern" over flowering this year.
Speculators buy. Price goes up. And with them, call option values.
And then, as happens most years, the rain arrives. Low and behold, we have a coffee crop after all.
And thus the seasonal price tendency.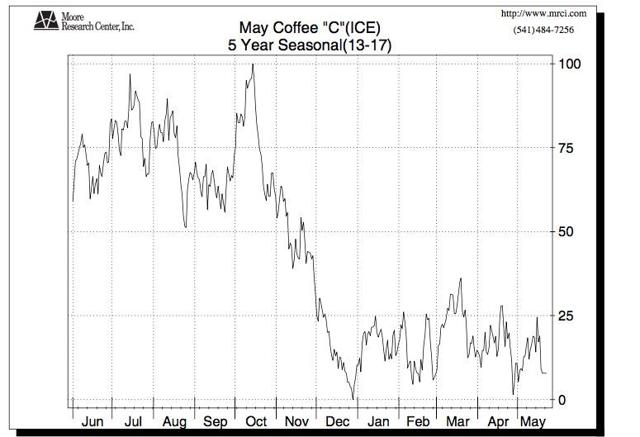 Coffee prices have historically tended to rise during the beginning of flowering season and then decline as seasonal rains arrive.
To this point, it is now our opinion that this is exactly what is playing out in the coffee crop this year. But seasonality is not the only thing affecting the price of coffee this month.
Undercurrents of Currency
Coffee prices are not completely immune to external macro-economics. In particular, the value of the Brazilian currency, the Real, plays a role. As of late, the Real has been showing signs of life. The currency hit a new 10 week high in Mid-October.
As the real becomes more expensive, so do Brazilian products on a net basis. Thus, a more expensive real can mean more expensive coffee. This is not always a 1 to 1 correlation. But the real's value can influence the price of coffee. And its recent rise has played a role in coffee's price strength.
But don't expect the real to run away anytime soon. With Brazil's economy shaky at best and US rate hikes continuing for the foreseeable future, upside for the currency is likely limited.
Coffee prices, however, are not pegged exclusively to the real. While currency values have influence, it is the market's core supply demand fundamentals that will ultimately dictate price. And those continue to appear oppressive.
Coffee Deficit? Not this Year.
Bulls are already talking up a potential "coffee deficit" in 2020.
Really?
With enough unpredictable variables, you can make a case for just about anything - especially when its two year away. Maybe that's all they have - because 2018 and 2019 look like years of BURDONSOME supply.
Sure, you can "estimate potential crop losses" during dry season. But then you'll have to go back to do your numbers again after it rains. 2019 will be an "off year" for production for Brazil (Read more about the "on off" cycle of Brazilian production in The Complete Guide to Option Selling 3rd Edition - www.OptionSellers.com/Book ). But lately, Brazil's "off" years have looked a lot like the "on" years of five years ago.
What we have now are hard numbers and real coffee. And it looks like a lot.
As the 2018 harvest wraps up, Brazil will net its largest coffee crop ever - likely about 60 million bags of coffee.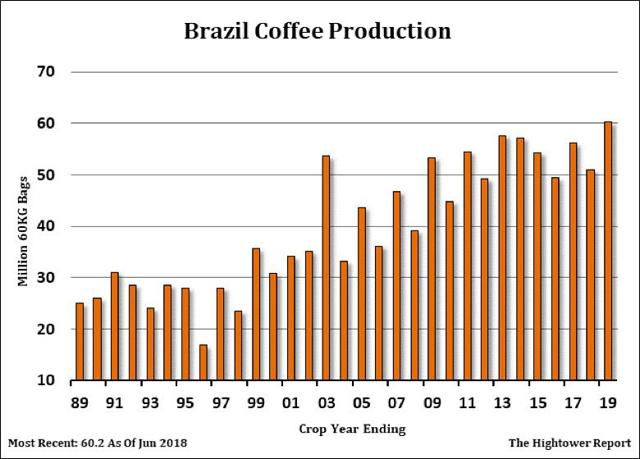 Brazil's 2018/19 coffee harvest will be the largest ever
But you've already read about that here.
The latest development, however, is that Vietnam, the world's second largest producer of coffee, begins its harvest next month. Vietnam's is expected to harvest ITS largest coffee crop ever in 2019 - near 30 million bags.
Vietnam, the world's second-largest producer of coffee, will begin harvesting what could be its largest coffee crop ever next month.
Thus, 2019 global coffee production is expected to hit a record.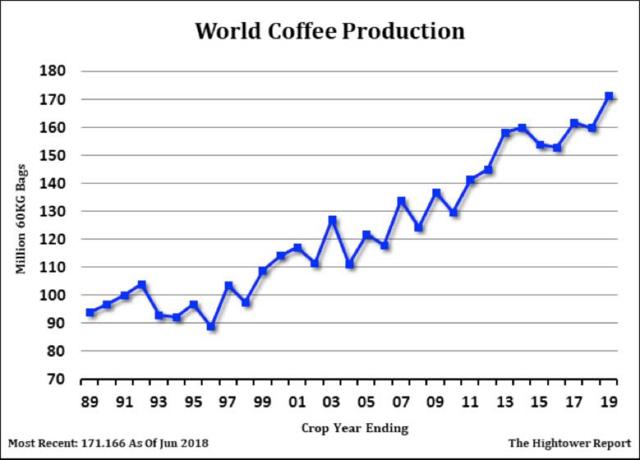 2019 global coffee production will likely be the largest ever
For those uninitiated in commodities trading, this is NOT a recipe for a bull market. But rising prices into bearish fundamentals is a recipe for something.
It's a recipe for call selling.
Conclusion and Strategy
It is not often that you'll see the same market featured for 2 out of 3 months in this newsletter. However, the 2018 coffee market so clearly illustrates some of the key principles for option selling , we felt it important to cover for you again. It was advised to wait for an October rally in which to sell calls.
You now have your rally.
Prices are rallying in October off of weather fears (and a little help from the real) during flowering season.
At the time of this writing, seasonal rains are already in the forecast for late October. If prices are falling when you read this, you'll know it already started raining. If it has not, you'll likely get a shot at selling higher priced calls.
Either way, the opportunity should exist.
Keep in mind, this is not a guarantee. They plant coffee in Brazil for a reason. It's a rain forest. They call it a rain forest for a reason. Because it rains. Nonetheless, some kind of rogue weather event could always take place. As an option seller, you simply bet against the least likely scenario. Right now, that is the least likely scenario - but never impossible. You take your chances here like anywhere else.
That being said, the current rally has inflated far distant calls to near irresistible levels in the coffee market. We'll be pricing a variety of strikes and strategies for our privately managed clients this month.
Self-directed traders can consider selling the May Coffee 1.75 calls at premiums at or around $500 per contract. With a margin requirement of $1120 each, these calls will yield a 44.6% return if and when they expire worthless.
May 2019 Coffee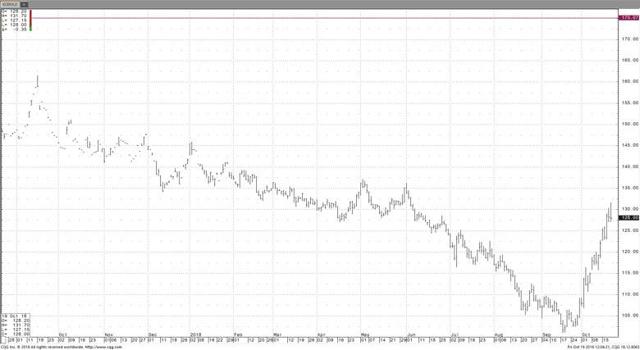 Selling the 1.75 call strike
Coffee prices have already rallied by nearly 30% during the 4 weeks ending October 19th. To hit the 1.75 strike, they would have to rally an additional 35%, in the face of burdensome supply and a non-favorable seasonal price tendency.
There is no traffic signal in options trading that tells you when to go and when not to. However, for call sellers, rising prices in the face of bearish fundamentals is about as green of a light as you're going to get. Feel free to hit the gas.
Just don't spill your coffee.