JD.com (JD) is an e-commerce retailer which is a typically overlooked name in the Chinese market, as most may only know Alibaba (BABA). While JD does not have nearly the same scale as BABA, it still makes for a very compelling investment thesis and the recent Chinese volatility has created an attractive entry point. Further, its hands on approach and expanded logistics network give it differentiation that allow it to compete for e-commerce market share. Shares are a strong buy with 73% upside in the next 12 months.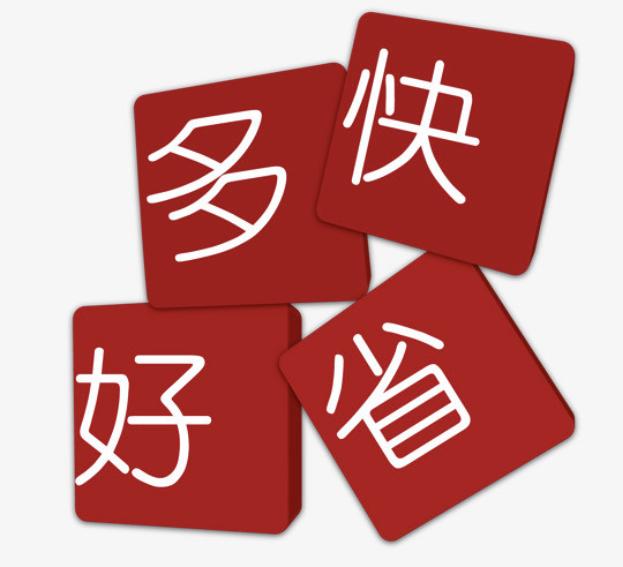 (90sheji)
Why China?
With all that's going on in relation to China, especially the ongoing trade war, some may be wondering why I am recommending a Chinese name. I suppose I'm an optimist. Along with the all the headline news has come attractive valuations as Chinese stocks now trade at around 11 times earnings: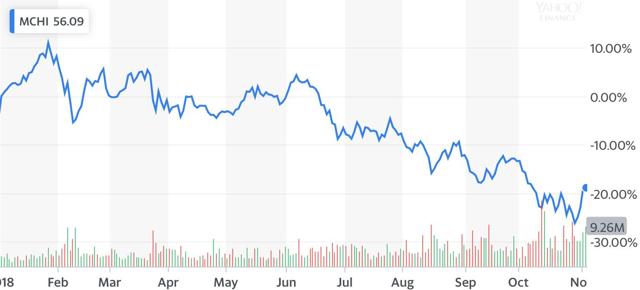 Furthermore, Chinese fundamentals continue to be strong, especially for the e-commerce sector. China has seen rapid growth in its retail market: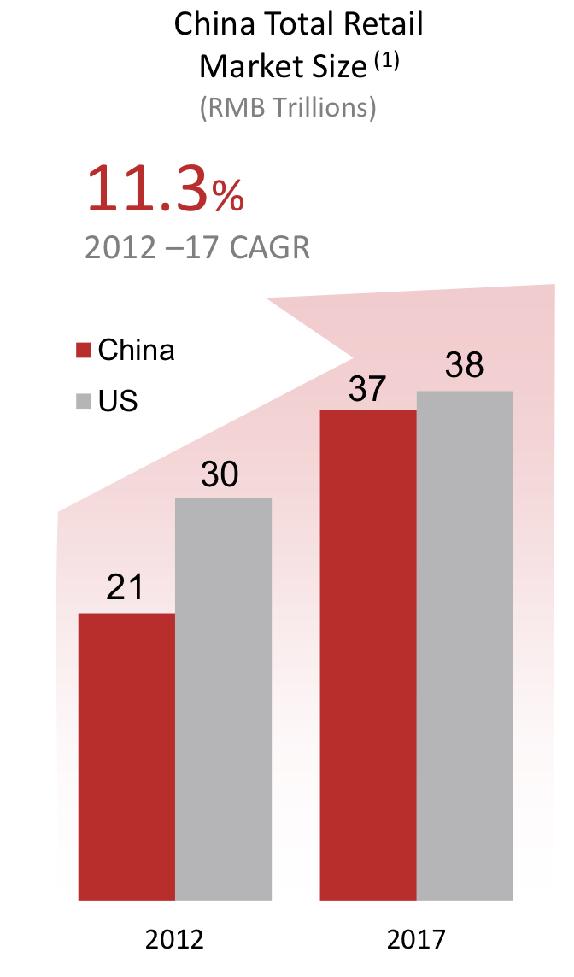 (2018 JD Investor Presentation)
The Chinese retail market, however, remains relatively fragmented, giving way for opportunity of consolidation. What is the best medium for retail consolidation? Without a doubt, the answer is online retail and this too has seen tremendous growth: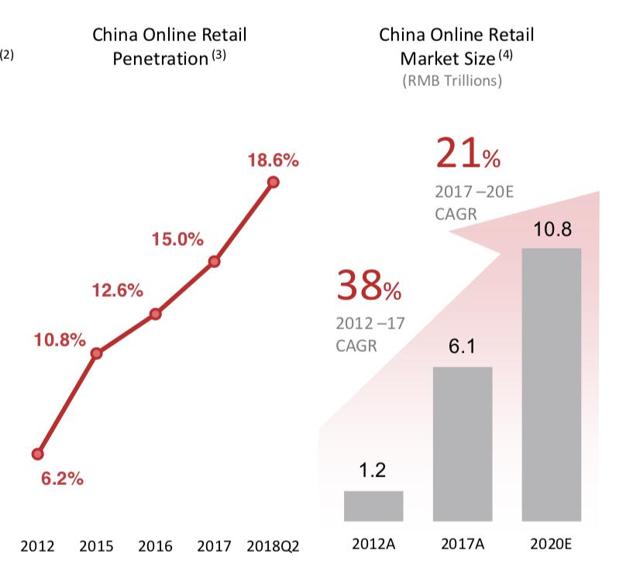 (2018 JD Investor Presentation)
JD has succeeded in taking retail market share, and is now the largest retailer with the largest YOY growth: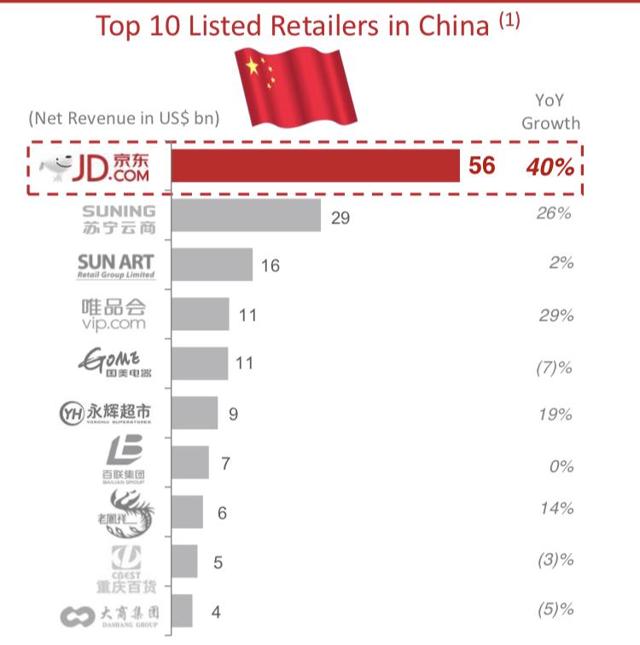 (2018 JD Investor Presentation)
Now that we understand the retail opportunity in China, let's now tackle the question: what's the difference between BABA and JD?
How JD Differs From Alibaba
Readers who have investments in Chinese companies may be most familiar with BABA, and given that both BABA and JD operate in the e-commerce segment, what's the difference? Which is the true Amazon (AMZN) of China?
In a nutshell, a combination of both surmises the AMZN business model. As some readers may know, AMZN has two modes of retail distribution: first-party sellers and third-party sellers. BABA operates primarily with the third-party seller business model, where third-party sellers list their products on their Taobao and Tmall platforms in exchange for fees. This results in very high margins: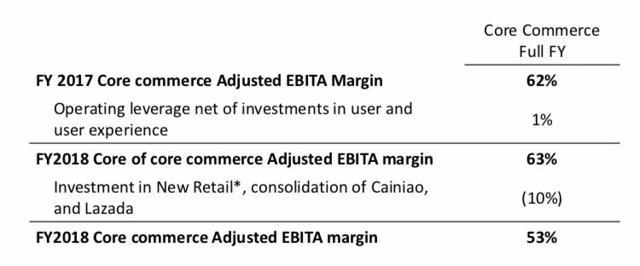 (Alibaba Investor Presentation)
On the other hand, JD more resembles the "first-party seller" business model, in that JD purchases the goods from suppliers and sells the products themselves. This has resulted in lower margins: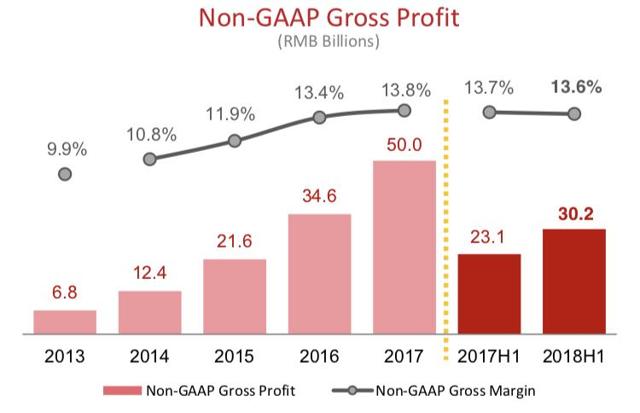 (2018 JD Investor Presentation)
This distinction has led to JD somehow having more revenues (416B RMB) than BABA (311B RMB) on a trailing twelve-months basis. I hope that this explains why it makes no sense to compare these two based on price to sales.
Their differences go further than just profit margins. Whereas BABA has only recently begun moving into the logistics side with their Cainiao Logistics division, JD has been building out their logistics network from the very beginning: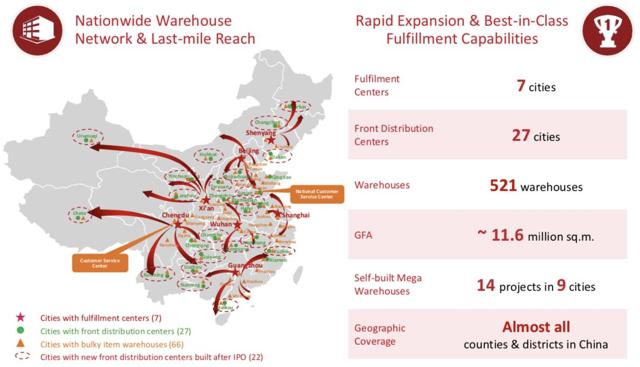 (2018 JD Investor Presentation)
This distinction means that JD has more control over fulfillment, including quality control and keeping costs down on fast shipping services. Consider this - JD notes on their website that over 90% of orders are fulfilled the same day or the next day. That's a figure which is unheard of by any major company in the world, even AMZN.
While JD reports GMV of US$199 billion as compared to BABA's $699 billion, they are different enough that I view the two simply as competing e-commerce platforms. At the end of the day, the market has room for more than one player and JD has differentiated itself through its greater handle on the fulfillment which has led to very fast shipping times.
Roaring Financials
In spite of the trade war, JD continues to report very strong financial results.
Revenues have continued to grow over 30% annually: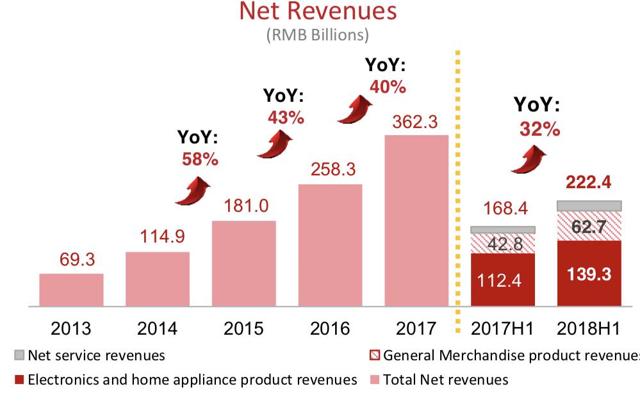 (2018 JD Investor Presentation)
As JD continues to gain scale, they are also seeing customers increasing their spending on their platform: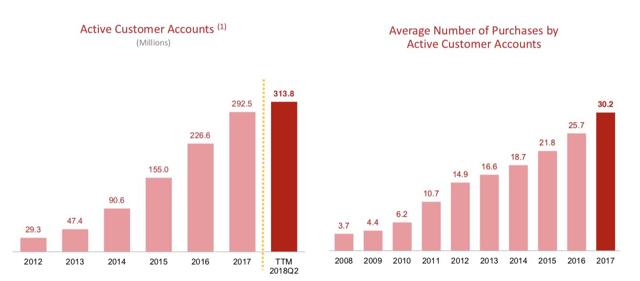 (2018 JD Investor Presentation)
That said, JD has still struggled to turn a profit. While on a non-GAAP basis they did report US$230.5 million in net income in the first 6 months of 2018, this did include adjustments which added back, among other things, $237.5 million in share based compensation.
Also, JD has indeed reported free cash flow, as seen below: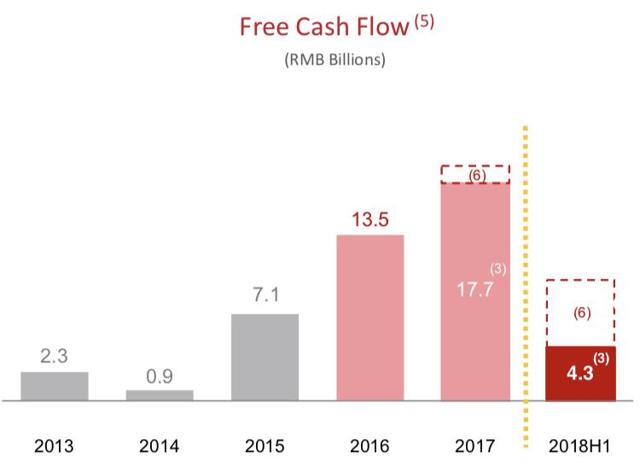 (2018 JD Investor Presentation)
We, however, can see below that the free cash flow in 2017 was mostly attributable to an accumulation in accounts payable: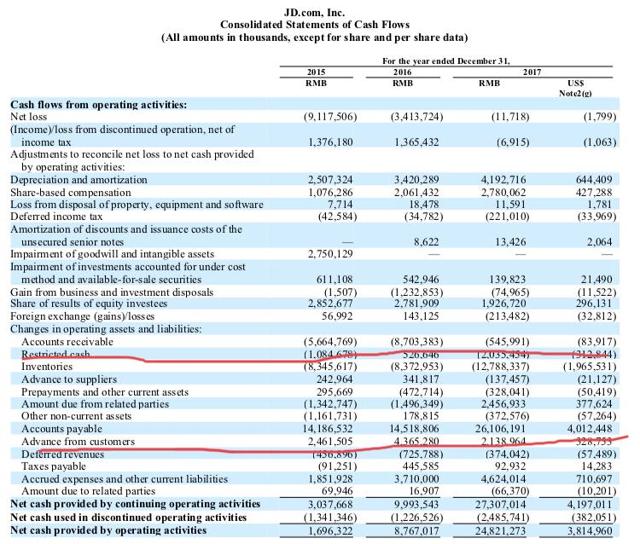 (2017 JD 20-F, emphasis by author)
As we can see above, changes in accounts receivable has significantly lagged accounts payable. This has led to accounts payable jumping to US$13.2 billion as of the latest quarter, versus $2.6 billion for accounts receivable. Because accounts receivable must eventually be paid, in my opinion, this should not be adjusted out when computing free cash flows. When accounting for the rise in accounts receivable, JD in 2017 still burned through around 9 billion RMB.
How Are You Supposed To Look At This?
Given that JD is still not producing real profits nor free cash flow, how would one go about valuing this?
JD includes this line on one of the slides in their presentation:

(2018 JD Investor Presentation)
I have written about such an opportunity in the past about AMZN. Basically, the end game is that due to the importance of their platform in facilitating retail sales, JD may be able to collect greater percentages of every transaction in the future ('margin expansion potential'). This can be done through taking greater commission fees from suppliers and potentially also passing on costs to consumers (AMZN has been doing this with their Prime membership fees). When viewed in this light, the investment thesis for JD becomes more clear. As we can see below, small increases in margin percentage per transaction dollar would lead to significant bottom line growth and earnings power:

(Chart by Author)
While I do not anticipate JD to aggressively raise commission fees in the near future because delaying so would improve their ability to do so, this exercise shows clearly the business model endgame for operating a powerful e-commerce platform.
Valuation and Price Target
Based on the adjusted earnings power shown above, JD sells for 60 times earnings (assuming a conservative 2% margin increase per transaction). Considering that management has guided for revenues to keep growing 25-30% in the third quarter, this is a very cheap earnings power multiple, especially considering that JD still has a significant growth runway. My 12-month price target for JD is $40, or 100 times the estimated earnings, representing almost 75% upside. I should note that 52-week highs were actually in the $50s, and even then JD would arguably still be attractively priced.
Significant Partnerships
Your author obviously is not the first investor to take notice of JD. In fact, some very notable names have formed partnerships with JD.
Walmart (WMT), the low-prices retailing giant in the U.S., has a 10.1% stake in JD, after they purchased 144 million shares in 2016.
Chinese social media giant Tencent (OTCPK:TCEHY), through its wholly subsidiary Huang River Investment Limited, owns an 18% stake in JD. This partnership gives JD access to the massive social network base of WeiXin (Wechat).
Alphabet (GOOGL) (NASDAQ:GOOG) invested $550 million in JD in a partnership aimed at bringing e-commerce to the rest of the world.
With such big name endorsements, I am confident that JD will be able to execute on continuing their path of creating a competitive customer-centric e-commerce platform in China and even potentially, abroad.
Risks
JD is a variable interest entity ('VIE'). This adds significant corporate risk over traditional American companies. Because the Chinese government does not formally allow foreign investment in Chinese companies, JD is incorporated in the Cayman Islands as a VIE, which means that investors in JD own not JD.com, but instead contracts that give them ownership of the earnings in JD.com. If the Chinese government were to rule that this is an illegal corporate structure, then American investors may have little say and little to no shareholder protection. I, however, view the risk of this to be low as doing such a thing may close off China from foreign investment in the future.

JD's biggest competitor and barrier to the thesis is BABA. If JD is unable to prove its platform can compete with BABA, then JD would be unable to exert even the conservative 2% number I used in my valuation estimations. I, however, believe that JD has already gained scale and reputation due to its hands on approach and logistics network, so they should be able to continue executing moving forward.

Because JD's revenues are in RMB, this means that American investors are exposed to currency exchange rate risks. If the trade war continues to weaken the RMB, then JD's earnings would be less valuable on a currency basis alone.
Conclusion
An important investing motto is to "buy when there is blood on the streets." The pessimism in Chinese equities due to the trade war has led many high quality growth names to trade at very attractive valuations. JD appears poised to capitalize on the fragmented retail market in China and is a strong buy with almost 75% upside in the next 12 months.
If you liked this article, please scroll up and click "Follow" next to my name to not miss any of my future articles. I am always looking to expand my network of intelligent investors. I have a reputation for replying to every comment, leave a comment below!
(Tipranks: JD - Buy)
Disclosure: I am/we are long BABA, JD, GOOGL, TCEHY, AMZN.
I wrote this article myself, and it expresses my own opinions. I am not receiving compensation for it (other than from Seeking Alpha). I have no business relationship with any company whose stock is mentioned in this article.