Introduction
BT Group (NYSE:BT) has released a positive update on its performance in the first half of the year. Although I didn't notice anything special, the share price jumped by approximately 10%, indicating the bar was set pretty low. This provides an excellent opportunity to check on how BT Group really is doing and whether or not the company still belongs in the Nest Egg Portfolio.
Did you miss the previous edition of the Nest Egg Portfolio? You can re-read it here.
Portfolio update
BT Group remains a very strong "hold"!
A look at the financial results
Despite a 1% adjusted revenue decrease, BT Group saw its adjusted EBITDA increase by approximately 2% to 3.675 billion GBP. Despite the strong EBITDA result, the normalized free cash flow decreased by 22% after a poor performance of the Openreach business pillar. However, this is very likely caused by the higher capex (which increased by 31%), which takes the further investments in growth (the G.fast and FTTP networks) and the deferral in government grants (which will probably be recorded in the current semester).

(Source: Press release)
BT Group's income statement is still being plagued by the specific items, which had an impact of in excess of 10% on the operating profit: excluding the specific items, the operating profit would have been 1.94 billion GBP, which would have resulted in a net income of 1.32B GBP, or 13.3 pence per share. However, due to those "specific items", the net profit (on a reported basis) was just 1.05B GBP, or 10.6 pence per share: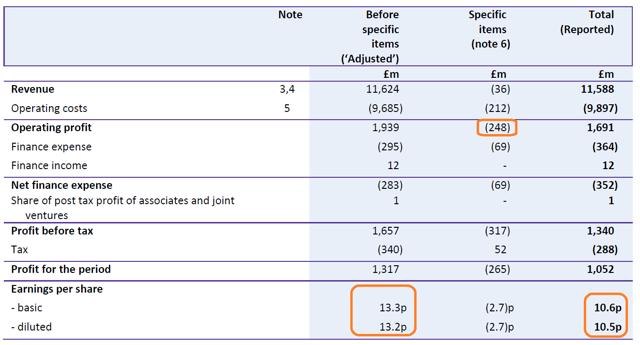 (Source: Financial statements)
And just to provide a little more background information on those specific items: in one of the footnotes to the financial statements, BT Group offers a more thorough explanation on these specific items: some of it was related to regulatory changes, but the biggest chunk was caused by the ongoing restructuring charges. BT Group is trying to become a "lean and mean" organization again, and is slimming down its workforce. The incentives offered to people to leave the company are recorded as a restructuring charge.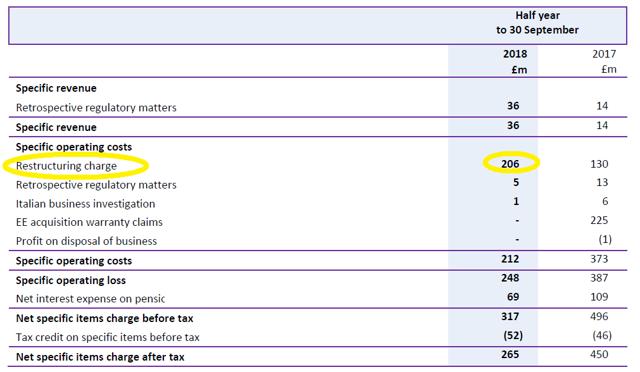 (Source: Financial report)
My original investment thesis was built around BT Group's cash flow performance, so let's cut to the chase.
In the first half of the year, BT Group reported an operating cash flow of 754 million GBP, and just 518 million GBP after taking the interest expenses into account. That's substantially lower than in the same period last year, but you immediately notice the 2 billion GBP cash payment into the retirement fund. That, as well as the higher investment in the working capital position, caused the reported operating cash flow result to be much lower than anticipated.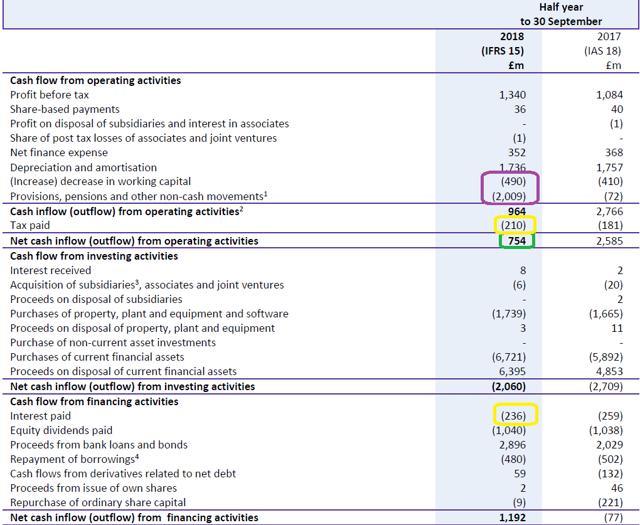 (Source: Financial statements)
On an adjusted basis (and taking the full tax payments into account), the adjusted operating cash flow in H1 came in at 3.02 billion GBP, which is quite a bit higher than the 2.81 billion GBP in the first half of last year. So far, so good, and it proves the company's ability to generate cash flow hasn't been hit yet.
After deducting the 1.74 billion in capital expenditures, BT Group's free cash flow result in the first half of the year was almost exactly 1.3 billion GBP, which means the company remains on track to meet its full-year free cash flow guidance of 2.3-2.5 billion GBP. I think BT Group should be able to get a result closer to the 2.5 billion GBP, but it will depend on the cost of its debt, as the 2 billion GBP payment into the pension fund will increase the interest expenses.
So, the financial results in the first six months of the year are definitely satisfying me, and the first large payment into the retirement fund is an important step forward to strengthening the balance sheet and keeping the workforce happy (knowing there was a multi-billion pound deficit in the retirement plan can't have been good for the mood).
BT Group's main focus should now be on making sure it remains competitive, as the landscape for telecom companies remains challenging. Connecting more homes to the ultrafast internet offering will be a good move, but let's hope the domestic regulator doesn't force BT Group to open up its infrastructure to third parties that could subsequently undercut the company's marketing efforts.
The dividend has been reconfirmed, and is still safe
Although BT Group had to walk back on its "progressive dividend policy" last year, it is now promising to keep the dividend stable at 15.4 pence per share. An interim dividend has been declared and will be payable in February (the ex-dividend date is December 27th). The interim dividend has been fixed at 4.62 pence, which is 30% of last year's full dividend.
At just over 15 pence per share, the company's full-year dividend commitment will cost it approximately 1.5 billion GBP. Given its anticipated free cash flow expectations of 2.3-2.5 billion GBP (confirmed by the 1.3 billion GBP free cash flow in the first semester), the dividend is still very safe with an FCF coverage ratio of in excess of 100%. I'm not sure why the market pushed BT Group's share price lower, as the dividend has never been in jeopardy.
Investment thesis
BT Group appears to have surprised the market with a decent financial report over the first half of the year, but this doesn't surprise us. I have consistently maintained the position that BT Group was doing just fine, and the cash flow result (on a normalized and sustaining basis) is sufficient to cover the dividend. I was also positive on the plans to cover the pension deficit on the balance sheet, as that was a strong commitment to improve the financial situation of the company.
The dividend is safe, and the only reason why the net debt increased is the pension deficit. But that's fine, as I had already included that as a financial liability when I determined whether or not I should invest in BT Group. So as far as I'm concerned, nothing has changed on the balance sheet front, and as the dividend remains fully covered by the (increasing!) cash flows, the position in BT Group remains an integral part of the Nest Egg Portfolio.
Other additions/removals
I'm also getting increasingly interested in adding Befimmo (OTC:BFMOF) to the portfolio, but I would only do so on weakness. Perhaps after the company goes ex-dividend in December, I might be able to pick up some stock, but it will also depend on the performance of Wereldhave (OTC:WRDEF) and Klépierre (OTCPK:KLPEF). The put option (strike price 32 EUR) expiring in December is currently "in the money", and I might not be able to add another REIT to the portfolio. That being said, I do remain convinced about the long-term potential of Befimmo, and you can re-read my most recent update here.
Eurocommercial (OTC:EUCMF) has announced the conversion rate for its stock dividend. Just like the previous years, the company's new stock would be issued at a premium to the market price, as you'd need 18 dividend rights for one new share (although there would be no 15% Dutch withholding tax). The stock dividend could be attractive if you don't have any domestic dividend taxes, but I will take the NEPO dividend in cash. I would have appreciated a small discount to buy my loyalty.
Orange Belgium (OTC:MBSRF, OTC:MBSRY) has done pretty well in the past few weeks after decent Q3 results, and the share price has now reached its breakeven point again. I would have liked to write a call option on 100 of the 300 shares at a higher strike price (just to reduce the 5% stake in the portfolio a bit), but the option premiums aren't great right now. However, I am keeping an eye on it, and should I take any action, I will make sure to let you know via my Seeking Alpha blog.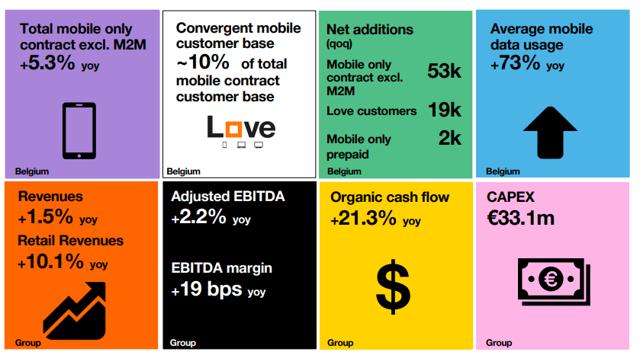 (Source: Company presentation)
Incoming dividends
I haven't seen any incoming dividend payments, but as I'm travelling, I will do a thorough sweep in the next edition of the Nest Egg Portfolio, as I think the quarterly dividend from Wereldhave hasn't been added to the cash position yet. BT Group's next dividend (ex-div in December, payable in February) will bring in approximately 175 EUR.
The current portfolio + updates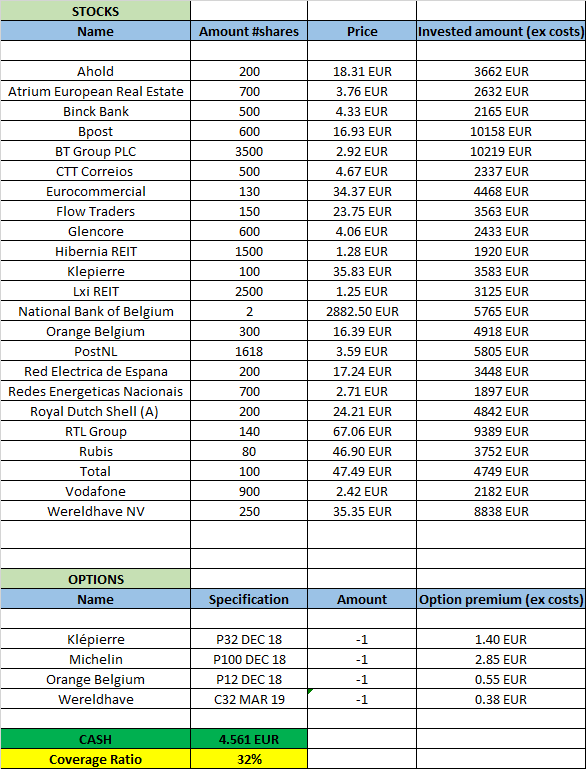 Noteworthy Europe-focused articles and recent news from Europe
Hamish Maertens scored an Editors Pick with his article on Siemens (OTCPK:SIEGY). According to his DCF model, "there's plenty of room for share price increases". Using a WACC of 7%, Maertens' target price is 126 EUR.
As the financial results of the large oil and gas conglomerates are rolling in, several authors have provided their opinions on the Q3 results. Achilles Research says investors should be "buying the drop" in BP plc (NYSE:BP), while Bram de Haas is zooming in on the performance and outlook of Royal Dutch Shell (RDS.A, RDS.B), which is one of the Nest Egg Portfolio stocks. Just like de Haas, we are also charmed by Shell's plans to repurchase up to $25 billion of its own stock. Additionally, and this was not mentioned in the Q3 review, The Investment Doctor thinks the decision to build a new LNG plant on Canada's west coast could be an excellent decision from a (very) long-term perspective. Canadian gas is cheap, and shipping it overseas to Asia would make a lot of sense for all parties involved: local producers would receive a higher price for their output, while Shell will still make plenty of money by converting it to LNG and shipping it to markets where the natural gas price is a multiple of the North American price. That's also good news for TransCanada (NYSE:TRP), which has been mentioned as the preferred pipeline partner.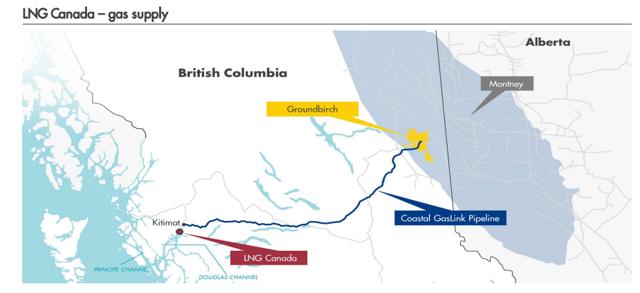 (Source: Shell)
I also had a look at a few oil companies lately, and I think a case could be made for Galp Energia (OTC:GLPEF, OTCPK:GLPEY), as two new offshore oil projects will be brought on-line in the current semester. This should boost Galp's production rate in the next few years and increase the net income, cash flows and dividends. Elsewhere in the commodity space, Africa-focused mineral sands producer Kenmare Resources (OTC:KMRPF) is capitalizing on the higher ilmenite, rutile and zircon prices, and the company has now unveiled a first dividend policy. The dividend will be relatively low in the first few years, as Kenmare is still expanding its production rate, but further down the road, I think there's a very realistic chance to see a high-single digit dividend yield. Kenmare is on my shortlist for the Nest Egg Portfolio, but as it's a volatile sector, any position will remain pretty small.
Jussi Askola had a look at Klépierre, one of my favorite European mall operators. I agree with Jussi's thesis: Klépierre is undervalued and could be a very useful addition to a diversified portfolio. The decreasing French dividend withholding tax (from 30% to 12.6%) should also help to attract new investors that were previously put off by the high tax rate.
Conclusion
I will have to make some harsh decisions in the next few weeks, as both Klépierre and Michelin (OTCPK:MGDDF, OTCPK:MGDDY) are trading at a lower share price than the strike price of the put options. Unfortunately, the portfolio doesn't have enough cash to fund both purchases, so it looks like I will have to repurchase the Michelin December put and write a new one that's a bit further out to "buy some time". Thanks to the strong performance of the share price, the Orange Belgium put will very likely expire out of the money.
Consider joining European Small-Cap Ideas to gain exclusive access to actionable research on appealing Europe-focused investment opportunities, and to the real-time chat function to discuss ideas with similar-minded investors!
Take advantage of the TWO WEEK FREE TRIAL PERIOD and kick the tires!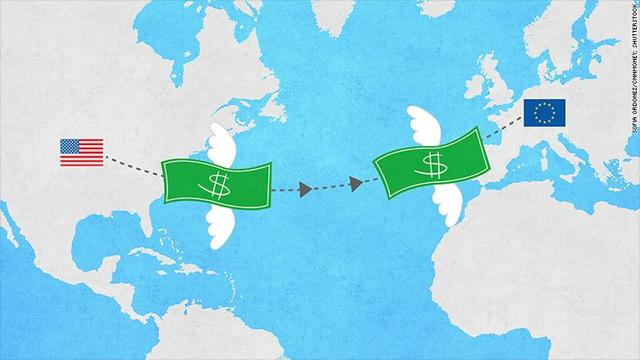 Disclosure: I am/we are long BT, BFMOF, EUCMF, KLPEF, KMRPF, MBSRF, MGDDF, WRDEF.
I wrote this article myself, and it expresses my own opinions. I am not receiving compensation for it (other than from Seeking Alpha). I have no business relationship with any company whose stock is mentioned in this article.
Editor's Note: This article discusses one or more securities that do not trade on a major U.S. exchange. Please be aware of the risks associated with these stocks.