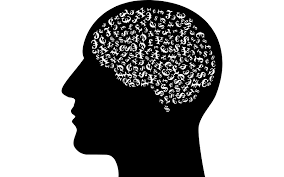 Figure 1 Source
What more do you need from STAG?
Back on October 28, Achilles Research wrote an article about why he still wasn't buying STAG Industrial (STAG). Achilles points out that STAG's consistent occupancy rate above 94% indicates a strong and in demand portfolio of properties. STAG also has a stable balance sheet with a BBB credit rating (from Fitch). Core FFO easily covers the dividend payments. Achilles' sole point against STAG is that he thinks it is too expensive.
From my perspective, the recent earnings release has core FFO up 4.6%, same store NOI up 1.4%, and EBITDA up 13% from the same period last year. What more can you really ask?
Is STAG at a good place now?
So first off is STAG really expensive? Achilles offers a YChart showing the price to book ratio of several companies. The first problem is that Duke Energy (DUK) isn't a REIT, it's a utility company. Here is a much better selection of actual industrial REITs.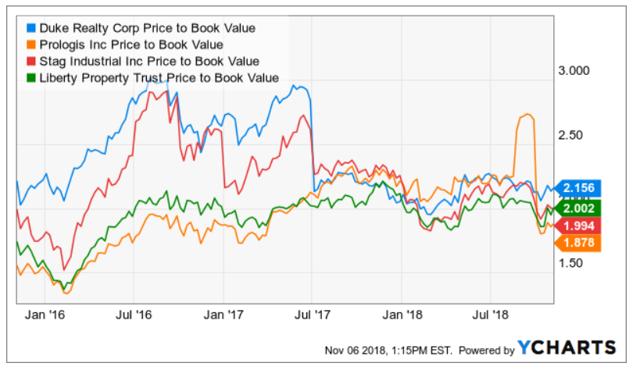 Notice that I have replaced Duke Energy with Duke Realty (DRE) which is an industrial REIT (Duke spun off DRE a few years ago). Also notice that instead of STAG coming in near the top of the pack, it comes in close to the bottom. While I do not use book value in evaluating property REITs, it's clear that comparing it to other industrial REITs on that basis, that STAG isn't more expensive than its peers.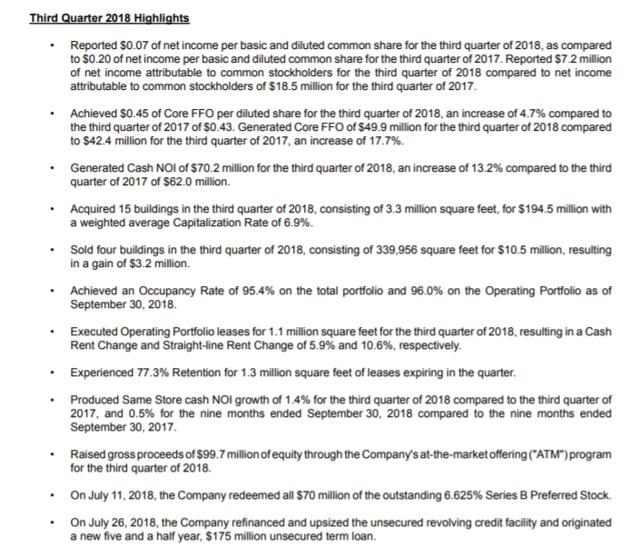 Source
The slide above contains an impressive list of accomplishments for Q3. While the 4.7% growth in core FFO per share was good, the 17.7% ($6.8 million) was even more impressive. This shows that even as STAG grew its share count, it grew the cash generated by the properties it acquired even faster.
A 13.2% growth in generated cash NOI is also very good. I always like it when various cash metrics increase at double digits. The same-store NOI growth of 1.4% also shows that existing properties are paying more rent, so poor performance in existing properties isn't being hidden behind new purchases.
On the debt management front, it's good that the company was able to refinance its revolving credit facility and up-size the amount it can borrow. The new term loan also gives it access to more cash so it can buy more properties and pay off some higher interest rate (or expiring debt). That STAG can still sell nearly $100 million at the current share price, using its ATM program, also says that the market doesn't see the shares as overvalued.
How safe is the dividend?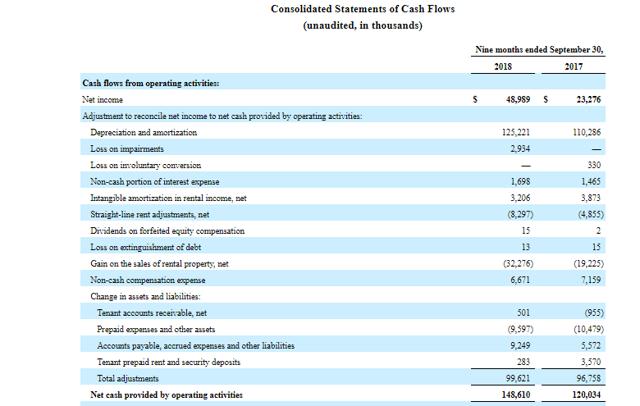 Figure 2 Source
The good news here is that while CFFO (Cash flow from Operations) increased some $28.6 million, dividends and distribution payments only increased just under $14 million. Cash left over after the dividends were paid went from $16.4 million last year to $31.5 million.

I start with the fairly conservative assumption that CFFO for the next 12 months will match the last 12 months. I got the share count from the latest 10-K and assume that over the next 5 years, share count will grow an average of 5% a year. With the idea being to determine minimum conditions needed to support the dividend 5 years (or 60 months) from now, I think that gives a reasonable end number of shares. While management has been redeeming preferred shares, I assume that the preferred dividend payments remain fixed (since this is a worst-case scenario management is spending money elsewhere).
Under those conditions, CFFO needs to grow 3.1% CAGR to have enough CFFO to cover the dividend I project of $1.66 a share. Given at the present time management was able to grow CFFO some 23% while growing share count almost 10% so far this year, I think it's reasonable that growing share count by 5% will allow them to generate more than 3.1% growth in CFFO. I think this leaves the dividend and the growth I project as very doable.
***** UPDATE *****
In response to some reader concerns that the predicted 4% dividend growth rate starting in a year from now isn't supportable, I have updated the above calculations. I pulled the latest share count from the 10-Q instead of the average share count over the last 3 months. Looking at what money was spent on what, since going forward there won't be a need for cash to pay down the revolver, I decided to push the amount of new shares issued each year to 6% of the total outstanding. I think that should easily cover cash needs beyond debt to buy new properties. So the updated calculations look like this:

That does bump up the amount of CFFO growth needed to maintain the dividend. I still think even 4.6% is reasonable given how much they have grown it over the last few years. Notice in the YChart below, growth over the last 3 years has been 57%. Over the next 5 years anything over a 25% increase leaves more CFFO than the dividend.
***** End of Update *****
What's a good price?
To figure out a good price, I do a DDM calculation using my Excel®-based DDM calculator (pictured below, you can see the web-based calculator I based it on here and read a discussion on how the formulas were developed here). Looking at David Fish's CCC List (which contains data on companies that have raised their dividend each year for 5 or more years), I see 8 years of annual increases.
To be conservative, I will project the next 12 months of dividends at the currently declared rate for a total of $1.42. I fully expect however that the dividend in 2018 will be higher. Given my calculations on how well the dividend is supported and the continued growth STAG has enjoyed, I think dividend increases in the future will return to near historical levels, so I will use a 4% CAGR for the dividend growth rate over the next 5 years. I will also use a 0% terminal growth rate because the current yield is so high.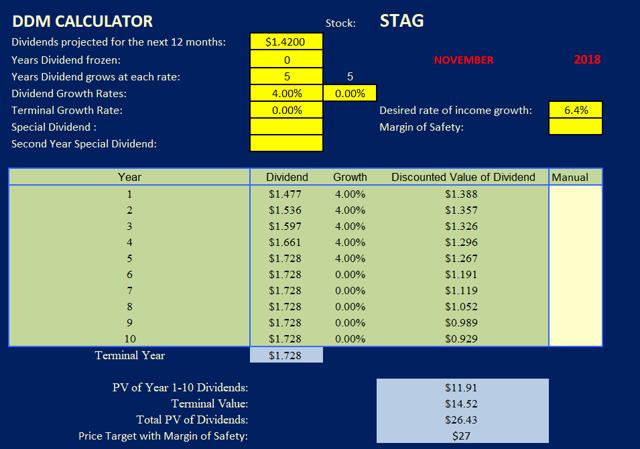 Using those parameters, I calculate that the NPV (Net Present Value) of the predicted dividend stream is $26.43. That sets my buy price as anything under $27. With STAG trading just over $26, that makes it a buy at the current market price.
What to watch for going forward?
Going forward, as a dividend growth investor, I want to see that the size of the next dividend increase is larger than the small recent increases. I will be very disappointed if the monthly dividend isn't increased to at least 12 cents a month.
Conclusion
STAG Industrial is a solid REIT with continuing good performances. I do not think it is overpriced at this time, although it is near maximum, I would pay for it. While the best time to buy shares was back when it was struggling to close deals fast enough, it is a good time to buy shares now. While the 5.44% yield might be a little low for those looking for high-yield stocks, given the growth the company is experiencing I believe over time it is a good investment for both dividend growth investors and dividend investors in general.
About High Dividend Opportunities
If you are an income investor looking for the most profitable dividend ideas, check out our Marketplace Service High Dividend Opportunities. We are largest community of income investors and retirees with over 1600 members. The service provides a model portfolio targeting a 9-10% overall yield. Members get access to many free tools including a "Dividend Tracker" and a "Portfolio Tracker" to help you track your dividend income and holdings accurately. For more info, click here.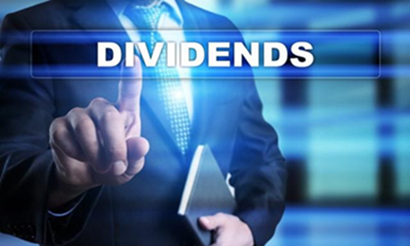 Note: I hope you all got something out of this article. I do appreciate the time you took reading it. If you are one of those who follow me here, I appreciate it; if you'd like to include yourself amongst those individuals, please hit the "Follow" button next to my name as well as following other contributors whose work you enjoy. As always, please leave any feedback and questions you may have in the comments below. SA has also added a like button at the bottom of articles.
Disclaimer: This article is intended to provide information to interested parties. As I have no knowledge of individual investor circumstances, goals, and/or portfolio concentration or diversification, readers are expected to complete their own due diligence before purchasing any stocks mentioned or recommended. The price I call fair valued is not a prediction of future price but only the price at which I consider the stock to be of value for its dividends.
Disclosure: I am/we are long DUK, STAG.
I wrote this article myself, and it expresses my own opinions. I am not receiving compensation for it (other than from Seeking Alpha). I have no business relationship with any company whose stock is mentioned in this article.