On Thursday, November 8th, Americold (COLD) will announce their 3rd quarter earnings. The consensus is $.12 per share, bringing their forward PE to 57. The following is from Schwab.com
Think about that; a forward PE of 57 for a company with near zero revenue growth for the past five years and a PE that may drop to 46 times in 2019, remaining more than double the Transportation Industry and triple the S&P.

It's widely known in the cold storage industry that Americold and its competitors are essentially full, so growth can only come from costly new facilities or acquisitions, both of which would put pressure on cash flow and/or debt.
Their IPO in January 2018 started at about $16. Their common share price has run up to $24-26 range. This cannot be explained by anything in their financials. Their current dividend of 3% is below US REIT averages, and their market cap, calculated as a multiple of EBITDA (Source: CNBC Business News: COLD EBITDA of $266 million) results in a $3.6 billion valuation. That's a 14 multiple of EBITDA, 40% higher than any of the 20+ private equity transactions I've been aware of in the cold storage industry over the past decade.
The Equity Summary Score published by Fidelity.com (see chart below) has dropped to Very Bearish. On 9/24, Thomson Reuters/Verus issued a press release stating they have dropped coverage over Americold altogether. On 10/10, Zacks further reduced their rating. The analysts are finally catching on.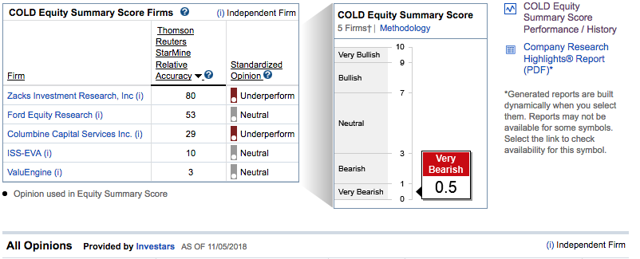 Insider trading has been strong with the primary share owner (R. Burkle) dumping 30% of his stock. Overall institutional holdings have been dropping, including Fortress Investment Group pulling out entirely, disposing of all 7.2 million of their shares in mid-September. Source: Fidelity.com

So, what explains the current stock price (closing at $24.75 on November 6). There are any combination of four factors:
1. COLD is the first in the refrigerated warehousing market to go public. They are, in fact, the largest; however, the competition from private equity and private operators for this business (storing and reshipping refrigerated and frozen food) is fierce. Equally capable competitors exist in every market Americold resides. (Lineage Logistics)(U.S. Cold Storage)
Competition has held down the opportunity to increase profit margins for decades. Major food processors and producers are free to store their products at any one of the cold storage companies, frequently without any formal contract or agreement. Cold storage is a "commodity"; anyone can build and operate with off the shelf inventory systems and a manager with reasonable experience.
2. Americold claims to operate in three segments, including the highly valued Transportation Segment. Note the statement in their Company Profile as published on Schwab.com:

This is a gross exaggeration; their participation/opportunity in transportation is minuscule. Nearly all transportation management is controlled directly by the food producers (Heinz, etc.) and the retailers (Kroger, etc.) and food service providers (Sysco, etc.). I am hopeful someone will ask Americold to break out their "Transportation Segment" projections.
3. Institutional investors and insiders, led by Goldman Sachs, hold a major stake in COLD; over 60%. The chart below is from Fidelity.com. As mentioned, Fortress's exit is the first crack in this group. The others have been holding tight for now to maintain a high price per share. I believe after Thursday's earnings, you will see others 'jump ship' which will put the stock price under significant pressure.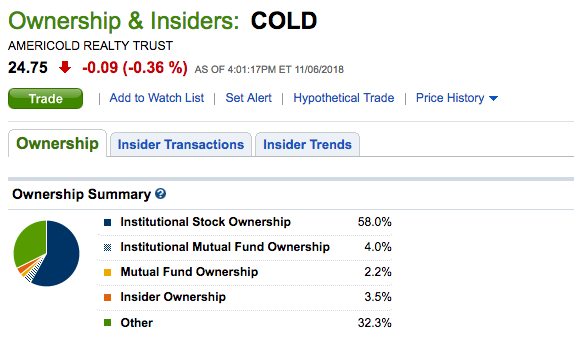 4. There is a common misconception that frozen food is growing as a share of all food products. Industry reports are all over the field on this issue. I suggest you talk with the manager of your local supermarket. I've talked with dozens who say fresh and organic is the trend. Most say they have plans to hold steady or shrink their frozen food shelf space. None talk of expanding.
As I've stated in earlier articles, COLD's shares should be priced in the mid-low teens. One of these quarters, perhaps this one, will produce results that will push the stock price downward. According to the attached Ned Davis Report, Americold's short interest ratio has crept up to over 12. You can access this report and others through Fidelity and Schwab. These reports suggest a growing interest in COLD as an excellent candidate for shorting. I suggest shorting at any level above $20.
Disclosure: I am/we are short COLD.
I wrote this article myself, and it expresses my own opinions. I am not receiving compensation for it (other than from Seeking Alpha). I have no business relationship with any company whose stock is mentioned in this article.
Additional disclosure: I am considered (by my real name) as an industry expert, routinely providing insights to private equity and wealth managers.