Just another sign that the U.S. cannabis market is heating up and quickly turning into one of the most active cannabis markets in the world, Terra Tech (OTCQX:TRTC) announced on Monday that it will acquire Golden Leaf (OTCQB:GLDFF) in an all-stock deal. In our recent article "Best Ways To Play The U.S. Cannabis Industry (Part 1)", we discussed both companies and concluded that both stocks are among the weakest players in the space right now. We think Golden Leaf shareholders are probably not overly excited about this transaction because Terra Tech is not a particularly strong company as an acquirer. However, we think the deal is a game changer for Terra Tech as it embarks on its journey to rebuild its struggling business.

Transaction Overview
The two company announced the deal on Monday morning whereby Terra Tech will acquire Golden Leaf in an all-stock deal. Golden Leaf shareholders will receive 0.1203 shares of Terra Tech for each of their shares. Based on Terra Tech's closing share price of US$1.83 and USD/CAD of 1.31, the offer was worth C$0.2883 for each Golden Leaf share which is obviously subject to changes in Terra Tech's share price going forward. Golden Leaf shares last traded at C$0.23 last Friday, implying a premium of 25%. The transaction is subject to a few closing conditions including one that requires Terra Tech to successfully list on the CSE before closing.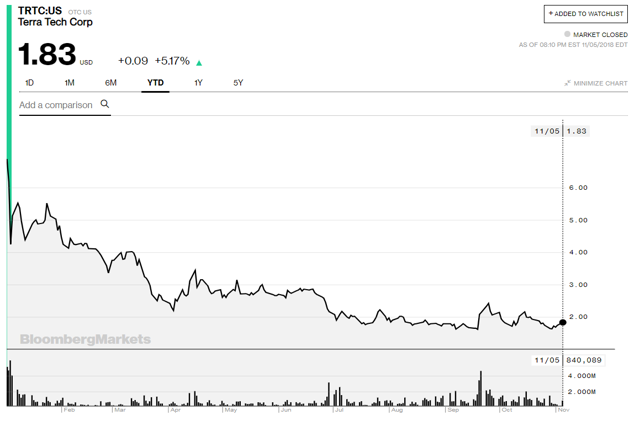 Great Deal for Terra Tech
After the deal Terra Tech will be required to list on the CSE joining the majority of its U.S. peers. When we first published our analysis on Terra Tech after it published an open letter to President Trump, we stated that its OTC listing was one of the biggest drawbacks for the stock. Secondly, we highlighted that Terra Tech has faced significant difficulties raising capital in the past and it struggled to use its stock to acquire other companies because its stock was illiquid, OTC-listed, and has a horrible track record after losing more than 75% of its value this year. We think the deal is an upgrade to Terra Tech because it will take the opportunity to list on the CSE which will improve its access to capital and corporate imagery among investors. The stock will also gain scale and become more attractive to potential investors from a liquidity point of view. Terra Tech's management team has clearly failed to take advantage of their early start and has run the company into its current dire state. The acquisition of Golden Leaf is helpful in that it adds to its portfolio another mature asset that is generating substantial revenue and the combined entity is better equipped to consolidate its emerging footprint in Nevada.
However, the deal is dilutive to Terra Tech because it is paying 8.7x revenue for Golden Leaf at the implied offer price of C$0.2883 while its own shares were trading at 3.5x as of last Friday. The fact that its share price traded up 5.1% on Monday after the deal was announced indicated that the market agreed with us in that Terra Tech likely gains more from this deal than it loses on the higher multiple it had to pay.
Not So Great Deal for Golden Leaf
While the deal makes sense for Terra Tech from multiple angles, we believe Golden Leaf shareholders have little to cheer about. For an overview of Golden Leaf and its recent struggles, refer to our previous articles "Golden Leaf: Is This U.S. Cannabis Company Near A Turnaround?".
In short, Golden Leaf has suffered from constant management changes and a struggling Oregon cannabis market. Its Chalice Farms business produces solid revenue but investors have no interest in investing in the Oregon market which is suffering from serious oversupply and rapidly falling prices. Its recent deal to acquire Tahoe assets comprised of a Nevada and California presence came at the expense of a 25% dilution to existing shareholders. Golden Leaf's share price has been falling throughout 2018 accumulating a loss over 50% before the deal. The implied premium of 25% based on Monday's trading is hardly something that Golden Leaf shareholders should be excited about.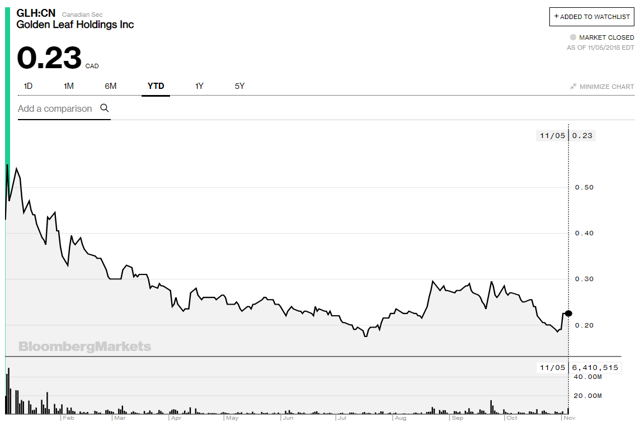 Besides the low premium, Terra Tech is also not the most desirable acquirer in an all-stock transaction. We previously thought Golden Leaf would have a hard time surviving by itself, but at the same time, we struggled to see a logical buyer for its Oregon-focused asset base which is viewed as undesirable to other multi-state operators. However, Terra Tech's tainted history and unproven management team is hardly an upgrade compared to Golden Leaf's existing conditions. Terra Tech also has to successfully list on the CSE in order for the deal to close, which adds another level of uncertainty to this deal given its current OTC listing which has much lower reporting requirements.
A Combination of the Two Weakest
Based on the valuation from last Friday, we can see that Terra Tech and Golden Leaf are two of the weakest players among our coverage universe. Both companies are tiny in market capitalization and both trade at inexpensive revenue multiples when compared to the peers. A combination of the two companies seems like an attempt to seek a bigger scale and better access to capital and investors. Terra Tech is finally going to attempt a CSE listing and we expect the combined company to rival Liberty Health in terms of market value and CSE listing. However, the combined company still boasts one of the worst asset portfolios with its large focus on Oregon, inherited from Golden Leaf, in addition to emerging footprints in Nevada and California.

Conclusion
We previously concluded that Terra Tech represents an inferior investment relative to other U.S. cannabis plays and our position remains unchanged after this deal. However, we do think Terra Tech got a good deal by acquiring revenue-generating assets at a reasonable multiple, despite likely being dilutive in the short term. If Terra Tech can be successfully listed on the CSE (we don't see any reason why it couldn't due to the low listing requirements) we believe its appeal to potential investors would increase due to improved reporting and better liquidity compared to its OTC listing currently.
For Golden Leaf shareholders, we think a 25% premium off prices near the 52-week low is nothing to be excited about. We would also be sellers given our cautious view on Terra Tech and its management track record (the reverse split was a big red flag). However, we see a very low probability of another bidder emerging due to the weak asset base of Golden Leaf that is heavily concentrated in Oregon. Our suggestion to Golden Leaf investors would be to take the premium and invest the proceeds in other U.S. cannabis names.
Author's Note: Follow us to receive our latest publications on the sector. We also publish a widely read Weekly Cannabis Report, which is your best way to stay informed on the cannabis sector. We are the only place to find detailed research on over 50 cannabis companies in the U.S. and Canada.
Disclosure: I/we have no positions in any stocks mentioned, and no plans to initiate any positions within the next 72 hours.
I wrote this article myself, and it expresses my own opinions. I am not receiving compensation for it (other than from Seeking Alpha). I have no business relationship with any company whose stock is mentioned in this article.
Editor's Note: This article covers one or more microcap stocks. Please be aware of the risks associated with these stocks.