It is time for the first update of the Motorhome Portfolios. So far, I have introduced the permanent portfolio and the high yield portfolio. You can read the introduction of the permanent portfolio here and the introduction of the high yield portfolio here.
A bad month for the permanent portfolio.
The Permanent Portfolio was developed by Harry Browne in the 1980's. Its mission is to have suitable investments for each economic environment. The Motorhome Retirement permanent portfolio was created on October 1st, 2018 to test the concept for potential use when keeping track of a portfolio of individual stocks becomes more mentally challenging as I age. The portfolio was funded with $10,000, a small portion of the overall retirement funds. Here is what it looked like the day it was created.
Permanent Portfolio - 10/1/2018

Shares

Cost/Sh

Initial Value

%

VOO

9

$ 267.86

$ 2,410.74

24.1%

IAU

212

$ 11.41

$ 2,418.92

24.2%

SHV

24

$ 110.27

$ 2,646.48

26.5%

TLT

21

$ 116.20

$ 2,440.20

24.4%

Cash

84.64

$ 1.00

$ 84.64

0.8%

Total

$ 10,000.98

100.0%
Source: Author spreadsheet.
After a decent September, October was a brutal month for stocks with the Vanguard S&P 500 ETF (VOO) falling from about $267 to $250. The main catalysts for this were trade war fears and rising interest rates. Speaking of rising interest rates, the ten-year treasury rose from 3.08% to 3.21% in October. This, of course, caused the iShares 20+ Year Treasury Bond ETF (NYSEARCA:TLT) to drop from $116 to $112. The drivers for this appear to have been a good jobs report that increased fears of inflation and Federal Reserve Chairman Powell saying that rates were a long way from neutral and they planned to keep raising them. Chart of both the VOO and the ten-year treasure interest rate are presented in the figures below.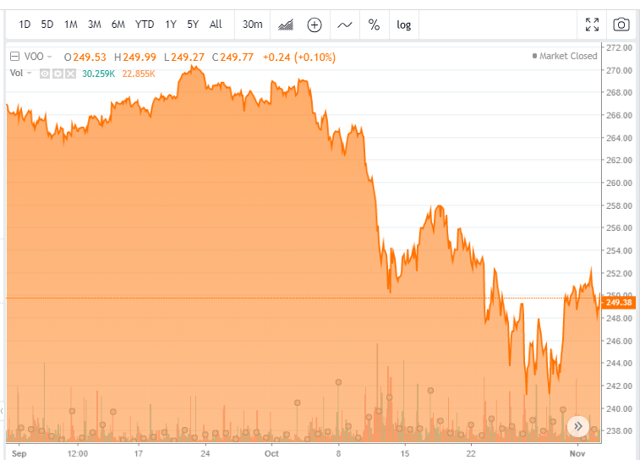 Souce: Seeking Alpha charting tool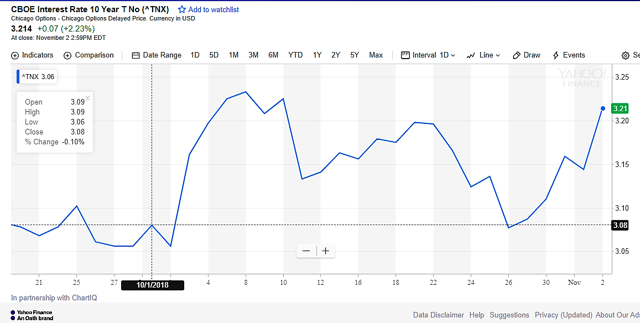 Source: Yahoo! Finance charting tool
So, 50% of the portfolio was down for the month. The only bright spot was gold as the i-Shares gold ETF (IAU) rose from 11.41 to 11.82. Most likely this is the result of folks looking to get out of stocks and bonds and guarding against inflation. Overall for the month, the permanent portfolio was down 1.63%.
Permanent Portfolio 11/2/2018

Shares

Cost/Sh

Initial Value

%

VOO

9

$ 249.81

$ 2,248.29

22.9%

IAU

212

$ 11.82

$ 2,505.84

25.5%

SHV

24

$ 110.27

$ 2,646.48

26.9%

TLT

21

$ 112.00

$ 2,352.00

23.9%

Cash

84.64

$ 1.00

$ 84.64

0.9%

Total

$ 9,837.25

100.0%
Source: Author spreadsheet.
High yield portfolio activity
In the high yield portfolio there were no purchases, one sale, three dividend raises and one dividend cut. There were also 6 dividends received for a total of $459.55.
The dividends received were:
Three companies in the high yield portfolio announced dividend increases in October. Enterprise Products Partners LP (EPD) raised the quarterly dividend to $0.4325 from $0.43 or 0.6%. This seems really small but EPD has been raising its dividend every quarter and this increase represents a 2.4% increase over the year ago dividend of $0.4225. This is still small, but it does keep up with current inflation and it beats the heck out of a cut.
Genesis Energy LP (GEL) raised its quarterly dividend to $0.54 from $0.53 or 1.9%. GEL cut its dividend last October from $0.7225 to $0.50. When it did, GEL indicated they would raise the dividend $0.01 per quarter. They have been true to their word. The current dividend is an 8% increase over the year ago dividend.
Finally, United Technologies (UTX) raised their dividend to $0.735 from $0.70 for a 5%. UTX joins the Dividend Aristocrat club as this is the 25th consecutive year of rising dividends.
The dividend cut.
Owens and Minor (OMI) cut the quarterly dividend to $0.075 from $0.26 and the stock immediately dropped about 40%. The dividend cut was not expected. The company had rising dividend streak of 19 years and it was not cut in 2017 when the dividend was not covered by cash flow. In 2018 the dividend is covered by earnings and cash flow. The CEO Cody Phipps had this to say
"The new fourth quarter dividend rate achieves a more balanced capital allocation strategy. By right-sizing the dividend, we can continue to provide a reasonable return of capital to shareholders as we transform the business."
To me, this is management speak to say that he thinks that money does not belong to the shareholders. He doesn't seem to understand that his job is to keep paying the shareholders and "transform the business". He went on an acquisition spree over the last year or so to increase his fiefdom, buying both Hilyard and Byram Healthcare. These were supposed to build value for the shareholders not destroy it. In considering whether to hold or sell my shares, I decided I would take a look at Cody Phipps' history. According to the (OMI) website, Mr. Phipps was the CEO and Essendant (ESND) before taking the job at OMI. A quick look at ESND showed that he presided over the beginning of the fall at that company as well. Luckily for him, he managed to leave ESND before it got really bad. I do not trust him to perform his job duties with the best interests of the shareholders in mind. Therefore, the motorhome portfolio will be selling OMI at some point in the future.
The motorhome portfolio sold Buckeye Partners (BPL) as noted in the high yield portfolio introduction article here.
High yield portfolio composition
The current composition of the high yield portfolio is in the table below.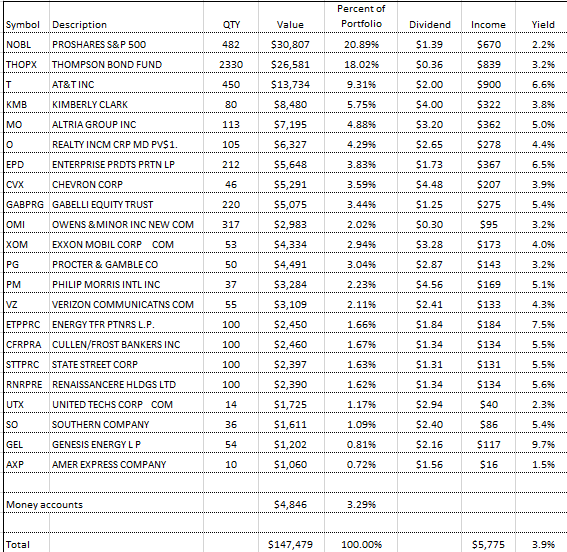 Source: Author Spreadsheet
There was $2,000 added to the portfolio in October, bringing the cash balance to $4,846. The cumulative effects of the new cash, sale of BPL, the dividend increases and the one dividend cut decreased the annual dividend proceeds in October to $5,775 from $6,024 at the end of September. The yield is 3.9%, just below the target range of 4%-5%. Note, the previous article regarding the high yield portfolio was written mid-October so the figures between the two articles don't reconcile.
As noted by some commenters when this portfolio was introduced, there are quite a few stocks in the portfolio. However, with a couple exceptions, I feel pretty good about the individual issues. Right now, I do not have any rules about the number of stocks in the portfolio. However, that is something I may consider. I would like to strike the right balance between limiting the exposure to negative events at any one issue and the amount of time it takes to follow multiple investments. I welcome your comments on this topic.
How is the Motorhome Retirement plan tracking?
The monthly dividend income amount dropped from $502 to $481 in October while $5,550 was added to the cash accounts. The tracker is pasted in the figure below.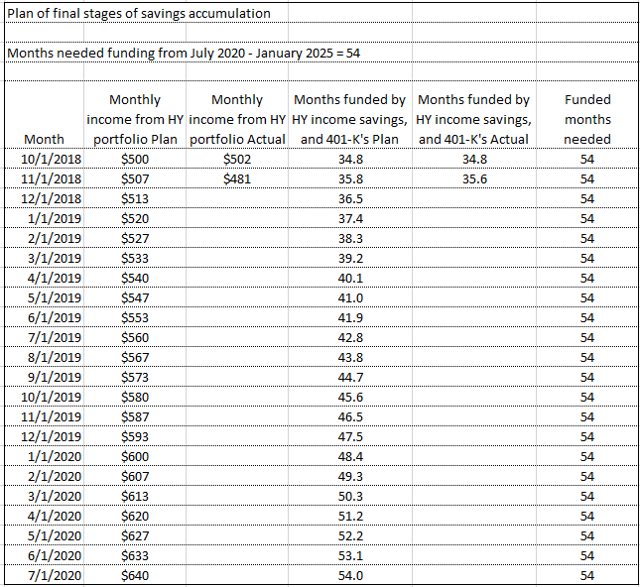 Source: Author Spreadsheet.
The reduction in dividends put the Motorhome Retirement behind schedule by 0.2 months or about 5 days. With over $4,800 cash awaiting investment and potential redeployment of the capital we will get from selling OMI, we should be able to get back on track in the next few months.
Finally, GrayBeard Retirement took a look at high yield portfolio and dividend growth portfolio holding Kimberly-Clark (KMB) in October. You can read the analysis here. Illinois Tool Works (ITW) was added to the dividend growth portfolio in October. You can read the analysis here.
Summary
Both the permanent portfolio and the high yield portfolio had a bad month. This is due to rising interest rates, along with trade war and inflation fears. Additionally, the high yield portfolio suffered an unexpected dividend cut that knocked it slightly off track. This should end up being small bump in the road to the Motorhome Retirement.
GrayBeard Retirement writes about retiree appropriate investments, asset allocation and other financial aspects of retirees, especially those that retire early. Please give me a follow and take a look at my article here how to estimate your social security payment if you retire before the IRS minimum retirement age of 62.
This is not investment advice. This is only a review of what we are doing with our situation. Your situation is different and will call for a different plan and a different investment portfolio.
Disclosure: I am/we are long VOO, IaU, tlt, epd, GEL, UTX, O, KMB.
I wrote this article myself, and it expresses my own opinions. I am not receiving compensation for it (other than from Seeking Alpha). I have no business relationship with any company whose stock is mentioned in this article.
Additional disclosure: I am long all stocks in the article except BPD and ESND. I may sell OMI in the next 72 hours