I've published my first article in Seeking Alpha about Medical Transcription Billing (NASDAQ:MTBC) on May 29, 2018. At that time, the shares were trading at $3.39 and I estimated a target price of $7.20 for the 'normal case scenario'.
On November 6, 2018 the company's shares closed at $5.45 or an increase of 61% from my first article. On the same date, the company reaffirmed its guidance with revenues of $49-50 million, or an increase between 54% and 57% compared to the FY2017 revenue of $31.8 million, even exceeding my previous estimates.
My updated target price for the 'bull case' is $11.55 (112% upside potential) and $8.67 for the 'normal case' (59% upside potential) after the recent Q3 results, from the current share price of $5.45 at the November 6, 2018 trading close.
If you want to know more about the company, its sector, business model as well as my justifications for my bullish thesis, please check my previous articles:
Orion Integration
Orion, the acquired company, was integrated on July 1, 2018. Revenues for Q3 2018 were $17 million, an increase of 127% compared to the Q2 2017 or 96% versus the previous quarter: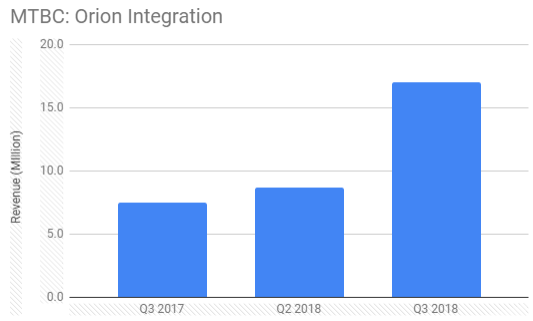 Source: Author using company filings
MTBC purchased Orion for a cash consideration of $12.6 million. The revenue growth from the previous quarter was $8.3 million - I'll round it to $8 million to exclude the organic growth, resulting in an assessed annualized revenue of $32 million from the Orion assets. This would represent a Price/Sales ratio of just 0.4 times, but it was really even lower because:
Cash flow from operations for the quarter was $2.8 million, in part reflecting the advantageous terms of the Orion acquisition, where we were able to retain accounts receivable but did not assume most accounts payable.

Source: Company
Now, the company is focusing on the reduction of the Orion's operating expenses:
"The Orion transaction will help us significantly scale our business, enabling us to grow revenues without a corresponding increase in overhead.

As we leverage our experienced U.S.-based and offshore team members, reducing dependence on third-party contractors, and move to smaller, less expensive facilities, we expect to expand our margins while providing world class service".

Source: Company
The copany could achieve a similar expenses reduction as they did with their previous largest acquisition, when they reduced MediGain's operating expenses by ~62% during the first year: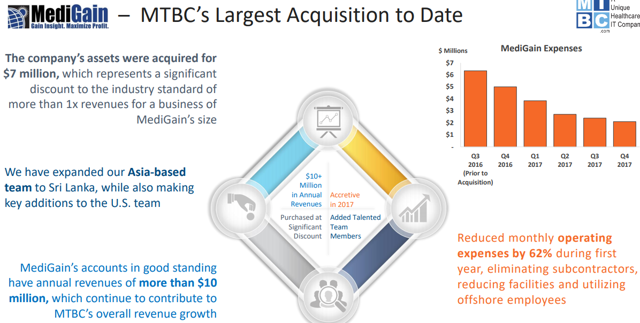 Source: Company filings
After taking a look to the company's Q3 results, increases in expenses are coming from Direct Operating Costs, and General and Administrative Expense.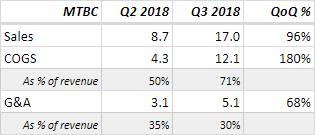 Source: Author using company filings
As the company reports in its 10-K form:
Direct Operating Costs: salaries and benefits related to personnel who provide services to our customers, claims processing costs, and other direct costs related to our services. Costs associated with the implementation of new customers are expensed as incurred.

General and Administrative Expense: personnel-related expense for administrative employees, including compensation, benefits, travel, occupancy and insurance, software license fees and outside professional fees. Our Pakistan and Sri Lanka offices accounted for approximately 28% and 26% of general and administrative expenses for the years ended December 31, 2017 and 2016, respectively.

Source: Company 10-K.
I believe that the company has room to reduce both 'Direct Operating Costs' and 'General Administrative Expense', simply by applying its low-cost operating model as they did during the MediGain integration in 2016 and 2017.
I think that the best way to check the evolution of the Orion Integration is to focus on cash, because the GAAP accounting is affected by several non-cash considerations like share-based compensation, intangibles amortization and so on. Due to these reasons, I prefer to focus on the Gross and Operating Cash Flow Margins, comparing them to the SG&A Expenses as % of sales: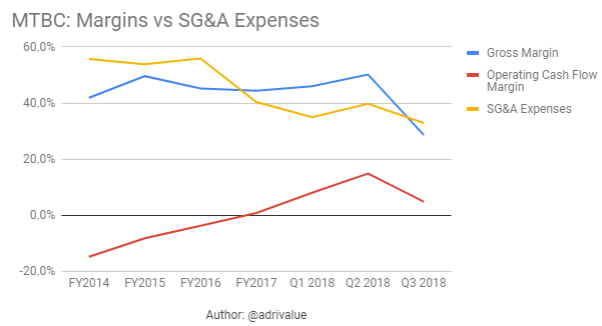 Source: Author using company filings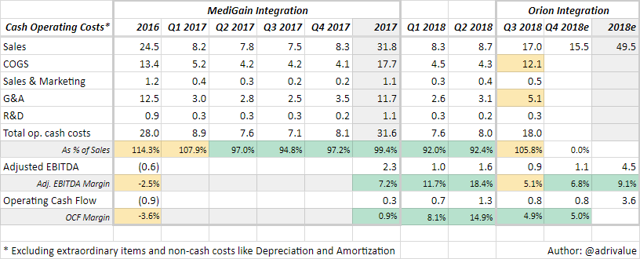 Source: Author using company filings
As you can see, 'Cash operating costs' were reduced as a % of the revenues during 2017 and the first half of 2018, when the company was still integrating the MediGain acquisition. Thanks to that, the company achieved positive Adjusted EBITDA and Operating Cash Flow, reporting record margins in the previous quarter.
My guess is that the Q3 2018 is the inflection point of the operating expenses and these costs could be significantly reduced in the upcoming Q4 results. This could lead to a improvement in the Gross and Operating Cash Flow margins.
Guidance
In the latest Q3 results, the company reaffirmed the previous guidance for the fiscal year 2018:
Revenue: $49 - $50 million
Adjusted EBITDA: $4.0 - $5.0 million
Bill Korn said, "With revenues of $34.0 million for the first nine months of 2018, we are reaffirming our guidance for full year 2018 revenue, which represents growth in excess of 50% over 2017 revenue.

We expect adjusted EBITDA to be $4.0 to $5.0 million for full year 2018, approximately double our 2017 adjusted EBITDA, after achieving $3.4 million of adjusted EBITDA during the first nine months of 2018".

Source: Company
Valuation
The company is gaining scale by increasing its sales and the market is valuing MTBC with a higher P/S ratio: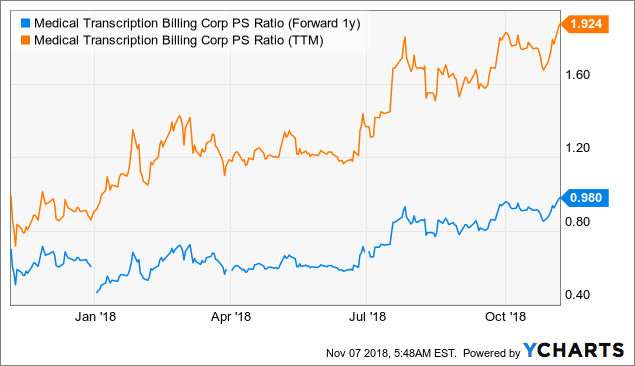 My estimates are as follows: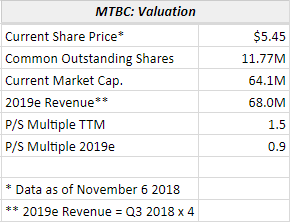 Source: Author using its own estimates.
The 'bear case' valuation, in my opinion, reflects a small margin of security, limiting the downside risk if something goes south, but in this case the P/S multiple could ultimately be lower!.
I think that the upside potential could be closer to the 'normal case' if the company keeps reducing its operating expenses from the Orion acquisition, offering a target price of $8.67 or a 59% upside potential.
The 'bullish case' is just optionallity if the company founds a new opportunistic acquisition.
Conclusion
MTBC's management team keeps delivering sales growth and solid financial results without negative surprises.
The transformative acquisition of Orion could also improve the margins of the company in the next quarters, helping the company to become less dependent on the preferred shares issue.
Valuation summary:

Source: Author using its own estimates.
Disclosure: I am/we are long MTBC.
I wrote this article myself, and it expresses my own opinions. I am not receiving compensation for it (other than from Seeking Alpha). I have no business relationship with any company whose stock is mentioned in this article.
Additional disclosure: Thank you for reading this article. If it has been useful for you, please leave a "Like" and/or a "Follow".

This article does not represent any kind of investment recommendation.