The biggest news of Apple's (AAPL) earnings results was what Apple decided they will not do in the future – stop publishing iPhone unit sales.
I applaud CEO of Apple Tim Cook for putting this to rest because it is starting to get out of hand. The outbreak of criticism and grief targeted at Cook has to stop because analysts do not understand.
On one hand, it's important to be aware of the metrics tech companies are judged on, but if analysts aren't in tune to what these numbers mean in the bigger scheme of things, then it is irrelevant.
Apple is doing everything it can to turn into a software company. They are not interested in battling it out at the low-end of the totem pole because that path is a scrap down to zero margins.
Migrating up the value chain is something that management has identified, and this strategic shift should be met with rapturous celebrations.
Unit sales growth, gross payment value, and monthly views are all metrics that growth companies hold dear to their heart, and a way to show to investors they are worth investing in regardless of the cash burn and cringeworthy operating margins.
Apple is way past that point if you haven't noticed, and should be focusing on how to monetize the existing base of customers.
Plain and simple, Apple is not a start-up growth company and taking away this reporting metric will help investors refocus on the real story at hand which is its core of software and services.
With software and services, profitability by way of innovative software offerings will be magnified and highlighted as the roadmap ahead.
As for the last batch ever of iPhone data, Apple has done a brilliant job, to say the least. They exceeded all expectations by smashing the average selling price of iPhones at $793.
This is a monumental jump from $618 at the same time last year, a 28% YOY increase.
I did not say that Apple is the world's best tech company at the Mad Hedge Lake Tahoe Conference, but I did say Apple is by far the highest quality company and this earnings report is a great example of that.
EPS routinely is beat and raised on a sequential basis.
Doubling down on the theme of quality is the revenue numbers from Japan which were up 34% YOY for a group of people who have the harshest view of quality control in the world.
Believe me, Japanese consumers have no desire to ever buy a Chinese smartphone.
The spike in ASPs was triggered by a flight to its collection of ultra-premium smartphones that has enthralled consumers. The ballooning ASP prices led iPhone revenue to spike 29% YOY to over $37 billion crushing the almost $30 million in quarterly revenue the prior year.
According to data from Hyla Mobile Inc., American iPhones traded in between July 1 and the end of September were 2.92 years old on average, up from 2.37 years old the same period two years earlier.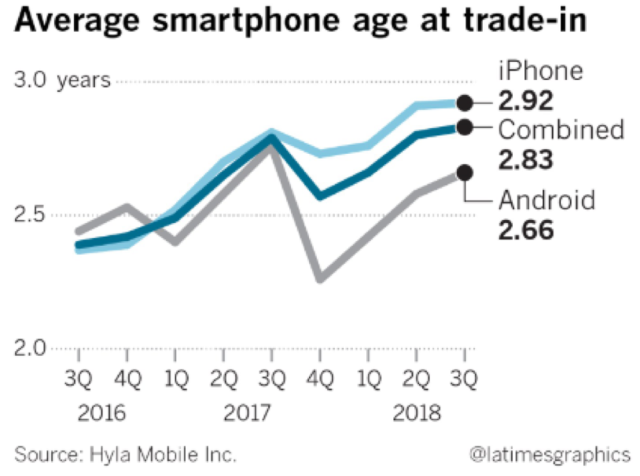 The reasons are two-fold.
Companies are producing better performing smartphones negating the need to impatiently upgrade right away.
The second reason is that they are just plain out pricey, and not everybody will have the dough to splurge on a new iPhone every year or two.
Thus, Apple has strategically placed itself in the correct manner, by producing the best smartphone that customers will eventually adopt, but carving out as much revenue while consumers are using their phones longer.
During this time, data usage has exploded as consumers are addicted to their smartphones and relying on a whole host of apps to complete their daily lives.
Apple would be stupid to not position themselves to capture this tectonic shift to more hourly data usage and breaking itself from the reliance of smart device revenue itself.
This is what other tech companies are doing like Roku, albeit it at an earlier stage in their growth cycle.
In the future, smartphones will become obsolete replaced by something smaller, nimbler, and perhaps integrated with our brain or body or both.
Apple is also acutely aware that the bombardment of Chinese smartphones and the upward trend in the quality of these overall phones has siphoned off part of the iPhone market in specific segments of the world.
Thus, Apple has barely even touched the emerging markets of India that has been flooded by Chinese mid-tier phones without the branding power of Apple.
Apple doesn't create these trends, they are merely stitching together smart decisions based upon them.
The next step is also a two-pronged proposition.
Apple needs a full-blown enterprise service based upon the cloud.
They can either buy one and they certainly have the cash to do so. Or they can develop one internally from scratch.
The second issue is that Apple also needs to widen its product service offerings that not only include an enterprise cloud option, but also entertainment, news, sports, and everything else that could hook user's attention that would stick them to the iOS operating system until death.
Cementing users to the iOS operating system is the overall goal of all of this software infusion, because if users start migrating over to the Android platform, it's really game, set, and match for Apple as we know it.
Instead of myopic analysts focusing on "unit sales," smart analysts should be focusing on whether what Apple is doing will tie future users to iOS or not.
I am happy with what I have seen so far but there can be a great deal of improvement going forward.
I think my 2-year-old nephew even knows that iPhone sales are maturing by now. This has not been a new story and I would call it poor reporting from a group of lazy-minded analysts.
It's true that Apple rode the coattails of its miracle hardware products to a $1 trillion market cap. It was a magnificent achievement. I pat all who were involved on the back.
However, it's clear as daylight that hardware is not what is going to propel Apple to a $2 trillion market cap.
Lost in all the smoke and mirrors is that revenue was up 20% YOY which is a staggering feat for a $1 trillion company.
Even more muddied in the rhetoric is that there has been the minimal slowdown in China, even after all the trade war jostling which is a miracle in its own right growing 16% YOY.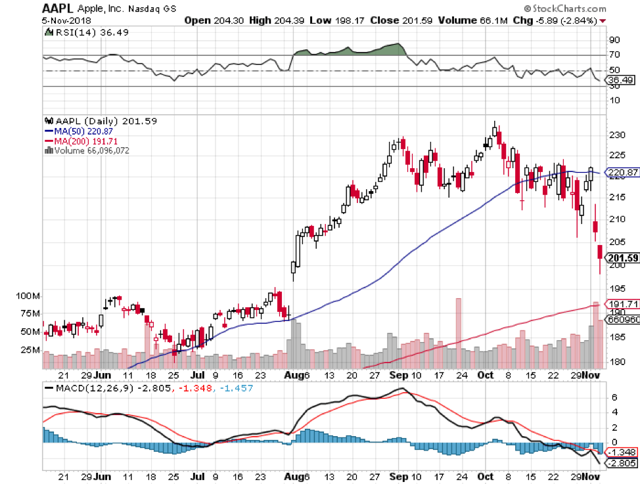 Software and services were up 27% YOY pulling in $10 billion and the Apple ecosystem has now reached 330 million paid subscribers, a growth of 50% YOY.
Paid subscribers are the most important metric to Apple now as it shows how many users are percolating inside their eco-system wielding their credit card around for software and services whether it's maintenance spend or Apple Pay.
Apple Pay transaction volume tripled in the past year with four times the growth rate of FinTech player PayPal (PYPL).
Wearables still maintain broad-based growth climbing 50% YOY which is slightly down from the 60% YOY last quarter.
All of the wearables such as the amazing Apple Watch, AirPods, and Beats products have a nice supplemental effect to the Apple eco-system and is an over $10 billion business per year.
I am interested to see if Apple can make the quick pivot to an enterprise software company, and Apple's announcement of Apple Business Manager, a method to deploy iOS devices at scale, had an initial signup of 40,000 companies. Apple needs to bet the ranch on this direction and do it fast.
I would like to see Apple attack the enterprise market with zeal because there is a long runway for them to scale and the bulk of companies would welcome Apple products and services littered around their mobile offices.
The most important soundbite was by CFO of Apple Luca Maestri saying, "given the increasing importance of our services business and in order to provide additional transparency to our financial results, we will start reporting revenue and total services beginning this December quarter."
There you go… Apple explicitly saying they are the newest software company on the block that should go alongside the likes of Microsoft (MSFT).
The software theme will continue with the Mad Hedge Tech Letter because there are some real gems out there in the software landscape tied to the cloud.
As for Apple, the earnings report reaffirms my opinion that they just keep getting better and are magicians at adjusting to the current tech climate.
Wait for the stock to find some footing then it's a definite buy, and for long-term holders, it's a screaming buy.
Disclosure: I/we have no positions in any stocks mentioned, and no plans to initiate any positions within the next 72 hours.
I wrote this article myself, and it expresses my own opinions. I am not receiving compensation for it (other than from Seeking Alpha). I have no business relationship with any company whose stock is mentioned in this article.