Introduction
With all the market volatility that's spiked in October, safe stocks to own have become a trending topic in my local investment club. Starting from a top down approach to finding an opportunity Fidelity.com has a great visual of sector returns given where we are in the business cycle.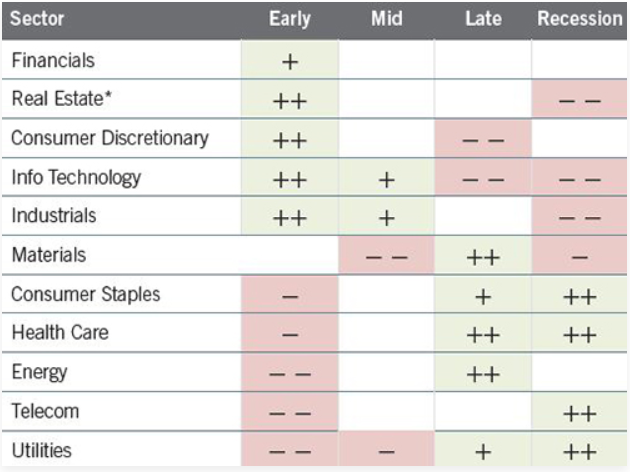 From Fidelity.com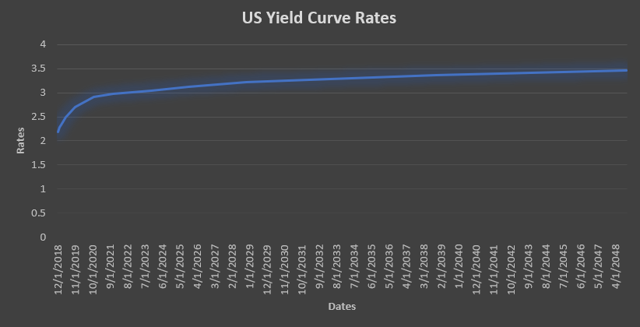 Made by author with data from treasury.gov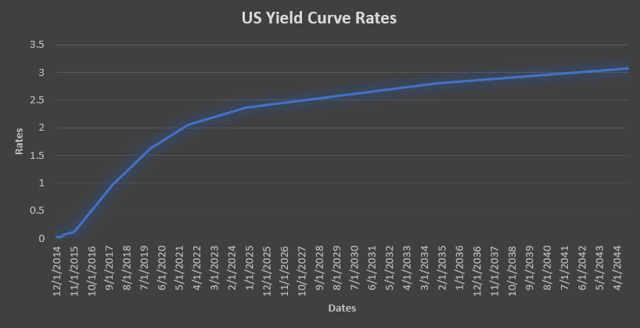 Made by author with data from treasury.gov
One of the best tools we have for figuring out where we are inside the business cycle is hands down the current U.S. treasury yield curve. Watching how it's trending is the best indicator of not just where we are in the debt cycle and economic cycle but where we are headed. While normally Health Care would be the ideal sector to look at, with all the political changes occurring and no advanced industry knowledge or foresight I'm avoiding it. That leaves Consumer Staples, Energy and Utilities.
Utilities - Personal Experience and Nuclear
Having worked inside commercial nuclear power plants for 9 years, finding some value and being able to assess the real state of things for nuclear power plants and their related companies (engineering or technical services companies and utilities) seems like the next natural progression in my investment analysis work.
Southern Company has been in the news a lot lately for its current plant construction problems and wither or not they were going to keep construction going on Vogtle units 3&4.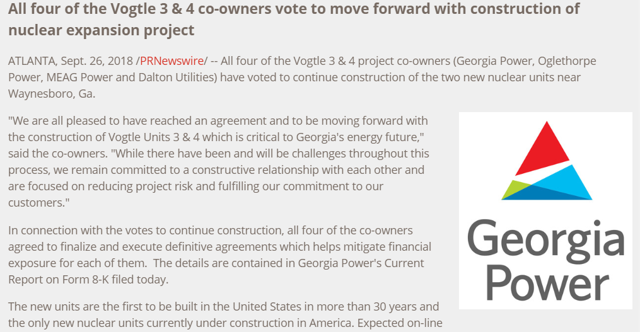 From Southern Company's News Releases
With the decision made on continuing the plants, it's a good time to look at what the past and future of Southern holds.
Southern's Historic Returns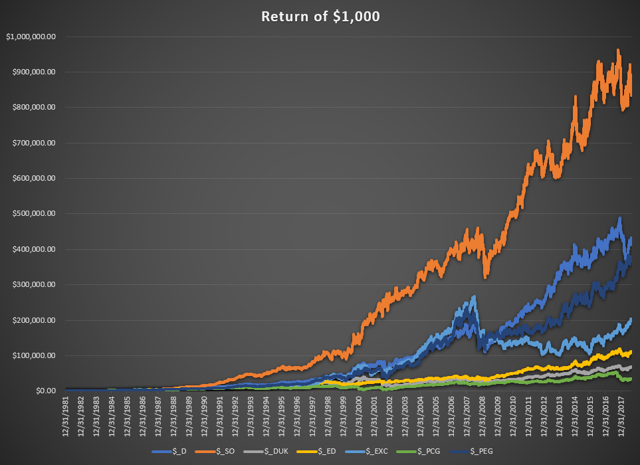 Created by author using data from Finance.yahoo.com
The return on Southern stock from the early 1980's till now has outpaced the rest of the industry by a lot. This is intriguing given the mostly fixed returns that utilities have under government regulation. Part of this is driven by their mergers and acquisitions, the other part of their higher returns has been driven by building new plants (both nuclear and other).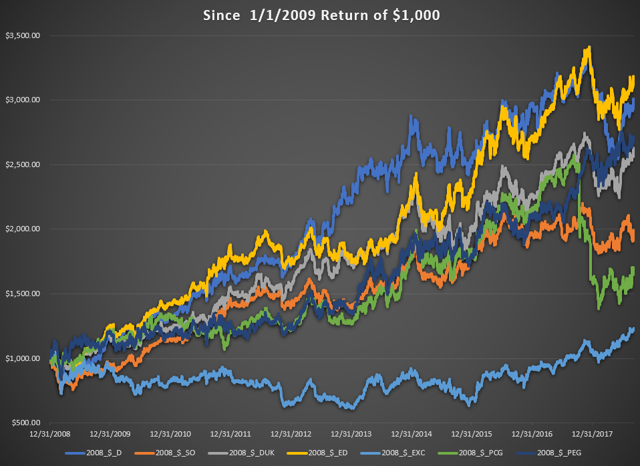 Created by author using data from Finance.yahoo.com
However, recent returns compared to the rest of the industry are less exaggerated and puts southern in the lower-middle of the pack.
Ratio Analysis and Industry Comparison

Created by author using data from Finance.yahoo.com
Yet its ratio analysis put it's in the upper middle of the electrical generating industry.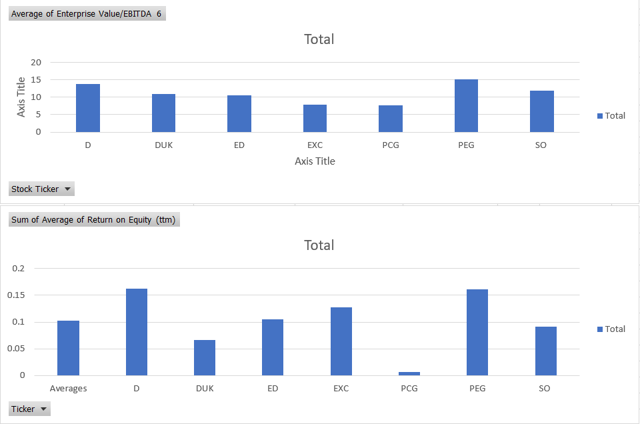 Created by author using data from Finance.yahoo.com
It's EV/EBITDA is great comparatively to the rest of the sector and ROE is just slightly below average. It's good ratios but lower than sector average returns have been driven by two large construction projects.
Kemper, Vogtle Units 3 and 4 and the Financial Impact
The news for Southern's latest projects has not been great with unexpected losses piling up.
Even worse is that the company has decided to scrap the Kemper project with no support from rate payers or the federal government in sight despite the white house's pro coal stance.
News of the recent $1.1 billion dollar cost Southern is taking on to keep the construction of the new AP 1000's at Vogtle 3 & 4 isn't exactly exciting in the wake of costs from Kemper.

From 10-K 2017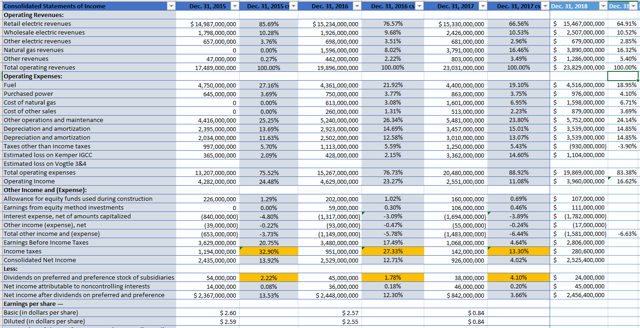 Created by author with data from 10-K and 10-Q filings on SO from SEC.gov/edgar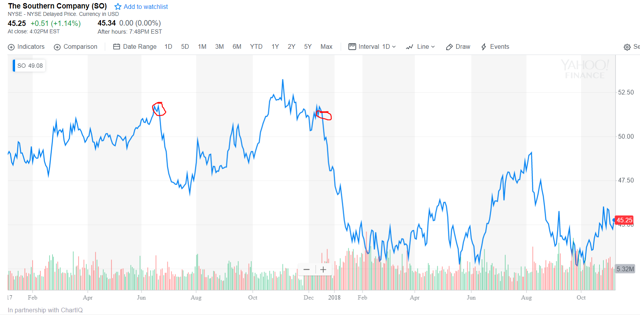 Taken from finance.yahoo.com
The financial impact of writing off Kemper's loss was 14.60% of operating revenue or 315% of earnings before income taxes. The two dates highlighted are the price drops from the announcement of the potential write off and then the announcement of officially writing the project off. This led to a 20% loss from the peak at the end of the year to the middle of March.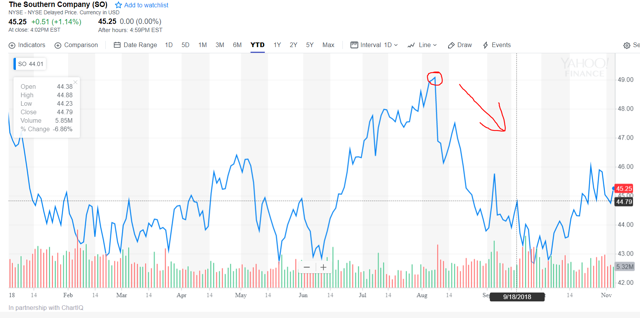 Taken from finance.yahoo.com
The financial impact of taking on almost $1.1 billion in costs for the construction of Vogtle 3 and 4 is way less at 4.6% of operating revenue and is 39% of earnings before income tax. This announcement still led to a 16% drop in the stock despite the much more minor impact in the financial returns of the company.
So, is $SO a lost cause? Absolutely not! Despite having higher debt, it's investing in its long-term value through new plants unlike their competitors. Unlike Kemper, which was a much more experimental project, Westinghouse's AP 1000 is actually up and running in China!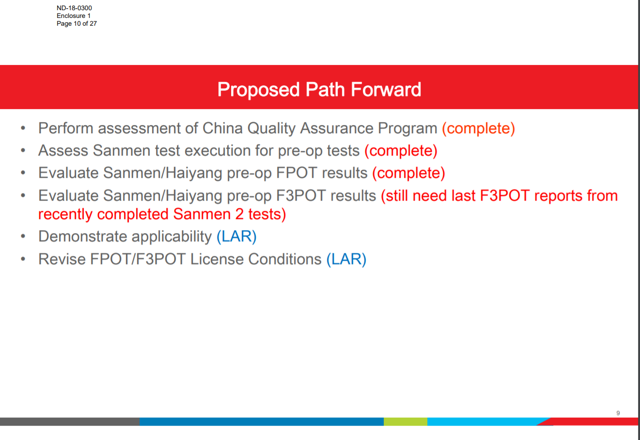 From Southern Company Homepage
While this slide is now slightly dated, Sanmen is approved for operation and Haiyang just completed their full power week also allowing them to start generating power. This is great news for the future of Vogtle 3 & 4.
There's a catch.
While the timeline has already been delayed on construction and the market believes that the worst is over, when it comes to construction there's too many things that can happen to cause more delays.
If the stars align perfectly, Vogtle will have the plants up and running per their proposed schedule. If there's any hiccup at all, they could be pushed back 2 more years and another negative announcement would lead to at least one more drop in the 15-20% range.
This next drop would be the perfect long-term buying opportunity for a company with a great future and great future returns that will outperform in turbulent markets.
Conclusion
The take away from this is that Southern's future returns after construction is complete should be better than the rest of the sector, but the next two years of returns are going to be driven by the construction delays and how the ownership stake of the plants plays out as more delays happen. Look to purchase this stock at a discount after the next announcement in delays coming from Vogtle 3&4 with the added advantage that the financials should not be impacted strongly by the added costs of the delays.
Disclosure: I/we have no positions in any stocks mentioned, and no plans to initiate any positions within the next 72 hours.
I wrote this article myself, and it expresses my own opinions. I am not receiving compensation for it (other than from Seeking Alpha). I have no business relationship with any company whose stock is mentioned in this article.